How Much Are Slip and Fall At Work Settlements Worth?
By Daniel Pike. Last Updated 19th April 2023. Are you interested in knowing how to calculate slip and fall at work settlements? Perhaps you fell in your workplace because of missing health and safety precaution and safety signs and you are considering a claim?
Was your employer responsible for a situation in which you slipped or fell at work and were injured? This guide explains what you can do about being compensated for any injuries that were caused by negligence like this.
In the sections below we explain and provide highlighted text links to other resources on this subject. We look at injuries that could happen in slip, trip and fall accidents at work and what these injuries could be awarded. Throughout the guide, we will explain how legal help could better your chances of succeeding with your personal injury claim. Why not get in touch with our expert advisors for a free consultation, you can:
Call our team to begin your slip and fall at work settlement search on 0203 870 4868
Access instant help by completing our 'claim online' form
Or make contact through our 'live support' option below
Select A Section
What Is A Slip And Fall Accident?
A slip and fall accident in the workplace can be the result of many various factors. It could happen because of negligence or just as an unavoidable accident. In this guide, we are going to focus on accidents caused by negligence that cause injury. The Health and Safety At Work, etc Act 1974 is a piece of legislation that applies a duty of care on all employers to provide a safe and healthy workplace.
This law requires employers to protect the health and safety of their employees as far as reasonably practicable and ensure that their workplace has any hazards reduced or removed. We discuss in detail below how an employer can achieve a safe working environment.
Its worth remembering that not every accident that happens in the workplace is the fault of an employer. To successfully claim for slip or fall at work settlements it's necessary to prove how the duty of care owed to you by your employer or even another employee was breached.
Anyone who is an employee, sub-contractor, or even self-employed worker on-site can be protected by this law.
There is a three-year time limit to start an accident at work claim against your employer (with some exceptions). Call our team today to find out which time limit applies to your case so that you know how much time you have left to start your claim.
Fall At Work Time Limits
Following a slip and fall the workplace, you have 3 years from the date the injury was sustained to begin legal proceedings. This time limit can be found in the Limitation Act 1980.
However, exceptions can apply to this time limit, such as for:
Claimants under 18.
Those who lack the mental capacity to claim.
In circumstances where someone is not permitted to make their own claim, the time limit is paused. During this time, a court-appointed litigation friend can make the claim on their behalf.
To find out more about claim time limits following a slip at work, get in touch with our advisors today.
How Do Slips And Falls At Work Happen?
Why are employees injured in this way? What negligent circumstances can give rise to a slip or fall accident in the workplace? Incidents such as this can occur for the following reasons:
Polished, wet, unmarked floors or areas during routine cleaning can be an immediate and obvious hazard
Untreated ice or rainwater is a similar hazard
Uneven floor surfaces can cause a trip and fall
Sudden changes in floor heights or slopes
Stairs at work that are uneven or in poor repair can  wrong-foot an employee, causing them to fall
Trip hazards in walkways or exits.
A good application of the health and safety law should involve regular risk assessments and prompt attention to any issue that could cause a trip or slip in the workplace. If you can demonstrate how you suffered any injury because of failure to uphold health and safety requirements, speak to our team about slip and fall at work settlements that you could be owed.
Statistics On Slips, Trips And Falls At Work
The Health and Safety Executive (HSE) regulates and promotes health, safety, and wellbeing guidance in the workplace. Each year they produce a wealth of statistics that show the prevalence of non-fatal injuries such as our chart which illustrates non-fatal workplace injuries for 2020/21: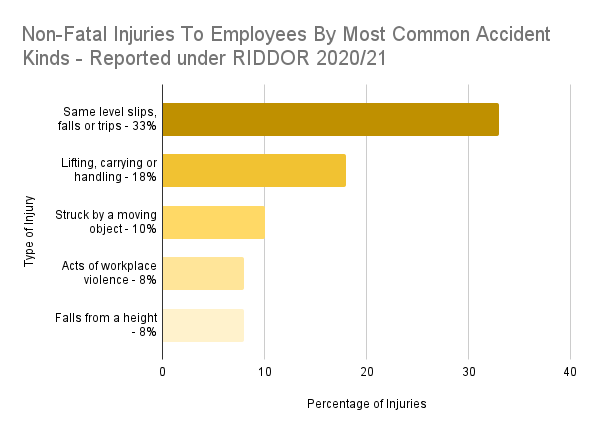 Source: https://www.hse.gov.uk/statistics/causinj/index.htm
How Could Slips and Falls Be Prevented?
As previously stated, your employer owes you a duty of care to take reasonably practicable steps to ensure the safety of their employees under the HASAWA. As part of this duty of care, they may take steps to reduce the risks of slips and falls. To be eligible to make a fall at work claim, you must be able to prove that your employer did not adhere to this duty of care and it was this that caused your injuries.
According to the HSE, "most slips occur in wet or contaminated conditions and most trips are due to poor housekeeping". For example, you could slip and fall on ice at work. It may not be reasonably possible for your employer to remove the ice. However, they could take steps to prevent injuries, such as putting down grit or sign-posting the icy surface.
If you suffer an injury due to a slip and fall at work, you will need evidence for a valid claim. In the case of slipping on ice, you could take photographs of the icy surface with the lack of warnings or grit. Additionally, there could be witnesses who reported the icy surface to your employer, but your employer failed to take action to reduce the risks. There may also be witnesses to your accident.
You will require evidence that your slip at work caused your injuries. Medical records could be helpful in a claim. Additionally, the accident logbook may have details of any injuries you suffered.
To prevent workplace injuries, your employer could:
Carry out risk assessments.
Use appropriate cleaning methods.
Consider the flooring along with the work environment. For example, a kitchen may need a non-slip surface.
Replace damaged flooring.
How Much Are Slip And Fall At Work Settlements Worth?
Slip and fall at work settlements may be calculated by firstly sitting for an independent medical assessment. This enables an impartial GP or specialist to write a full report of the extent of your injuries.
A guide for compensating pain, suffering, and loss of amenity is then referred to called the Judicial College Guidelines. The excerpt below comes from that guide and focuses on the sort of injuries a fall or slip could cause:
| Slip or fall injury area | How bad? | JC Guideline amount | Supporting notes |
| --- | --- | --- | --- |
| Head | Moderate brain damage (c) (i) | £150,110 to £219,070 | Increased risk of epilepsy, a change of personality and moderate to severe intellectual deficit. |
| Head | Minor head or brain injury (e) | £2,210 to £12,770 | Award depends on severity and length of recovery |
| Knee | Moderate (b) (ii) | £52,120 to £69,730 | Twisting, bruising, lacerations, continuous aching but a good recovery overall |
| Back | Severe (a) (iii) | £38,780 to £69,730 | Soft tissue and disc damage, giving rise to severe pain, mobility problems and depression, despite treatment |
| Wrist | Significant permanent disability (b) | £24,500 to £39,170 | The sort of injury that leaves a permanent disability but with some remaining movement |
| Elbow | Less severe (b) | £15,650 to £32,010 | Injuries that impair normal function but do not necessitate major surgery or create significant disability |
| Ankle | Moderate (c) | £13,740 to £26,590 | Ligament and fracture tears that make standing and walking painful |
| Shoulder | Moderate (c) | £7,890 to £12,770 | Cases of limited movement, soft tissue injuries and issues that persist for 2 years |
| Pelvis | Lesser injuries (c) (i) | £3,950 to £12,590 | A complete recovery within 2 years despite being a serious injury at the time |
| Fingers | Fracture of index finger (j) | £9,110 to £12,240 | An injury that has repaired but leaves a weakened grip and risk of arthritis |
It's very important to note that these mere guideline figures are not confirmed amounts you will receive. 
Special Damages and Financial Losses That Could Be Included In Slip and Fall At Work Settlements
Special damages can be made up from all the out-of-pocket expenses you suffered due to your injury. Receipts or bank statements, as well as wage slips and invoices that show how you needed to pay money out, can be presented and that money can possibly be reclaimed.
It's essential that you have documented proof that these costs are directly related to the injury, but you could claim for:
Travel costs to hospital or work
Domestic care at home from family, friends, or professional carers
Negative impact on your pension or attendance bonus at work
Costs for medical care outside the remit of the NHS (this might be scar treatment or counselling for example)
Adaptations needed at home to cope
Damage to personal items (eyewear, mobile phone, etc)
You may have incurred other expenses? Call our team and they can advise what other costs could be eligible for inclusion in your claim for slip and fall at work settlements.
Claim Slip And Fall At Work Settlements With A No Win No Fee Solicitor
A No Win No Fee agreement is a type of legal arrangement that helps you fund the services of a solicitor. When a solicitor works under an agreement like this there are:
No upfront fees to pay the solicitor
Or any to pay the solicitor as the case moves forward
Nothing to pay the solicitor if the case is not successful
Only a maximum fee of 25% from the compensation payout becomes due to cover the solicitor's fees if the case wins
Whilst you can represent yourself in a personal injury claim, a No Win No Fee solicitor has the 'hands-on' experience of knowing exactly how much to ask for and when to accept or decline any slip and fall at work settlements.
Acting in your best interests, you can concentrate on getting well while they take care of all the fine details. Find out more about how a No Win No Fee service could help you by:
Related and Further Resources
In conclusion, the links below offer more information about compensation claims similar to slip and fall at work settlements: