What Are Your Rights After An Allergic Reaction At A Restaurant?
By Megan Newton. Last Updated 18th January 2023. If you experience an allergic reaction at a restaurant through no fault of your own, you could be entitled to compensation. People have to be careful about what they eat and drink if they have allergies. Even when cautious though, they can be caught out by something
they ordered at a restaurant, cafe or food retailer. 
Food businesses have to take reasonable steps to ensure their food and drink does not trigger an allergic reaction in certain people. If it happens, it could be determined that the food provider acted negligently. This can happen whether the food was purchased in person or through a delivery service.
In this guide, we cover what rights you have regarding food safety. We also look at the steps you should follow if you wish to claim for a food allergy reaction you suffered. If you've recently suffered an allergic reaction to something you've bought, you should look at whether you can put in a compensation claim. 
Get In Touch With Our Team
Here at UK Law, we can offer you specialist advice and support on personal injury claims. Our panel of lawyers can help if you have questions about food allergy claims. You're more than welcome to contact us for free advice online or by phone.
You're more than welcome to contact us for free advice online or by phone. You can reach us through our online contact form or by using our online chat function. If you want to speak to us on the phone, you can call 020 3870 4868
Services And Information
Everything You Need To Know About Your Rights After An Allergic Reaction At A Restaurant
If you've been affected by any type of food allergy, you may have questions regarding making a claim. You may be asking if you're allowed to claim because of an allergic reaction suffered at a restaurant. 
Food allergy accidents can happen in restaurants or other food providers for various reasons. Sometimes a customer could overlook something about a meal and accidentally order something they're allergic to. Other times, the food provider could have made a mistake that led to the allergic reaction.
A food allergy can cause a range of injuries. Some are mild, but they can be much more severe or even life-threatening in some cases. 
If you're thinking of making a food allergy claim, there are some questions you have to ask yourself. One of these is did the injury happen because of someone else's error or negligence? If the honest answer is yes, you could be entitled to compensation.
To succeed in your case, you may need the right legal support. You will also need evidence that shows that someone else's negligence caused the allergic reaction. 
Read on to learn more about how food allergies can happen, how they can be avoided and how to claim if it does happen to you.
What Is An Allergic Reaction In A Restaurant?
Whether an allergic reaction happens in a restaurant or a different type of food outlet, how it's defined is virtually the same. A food allergy occurs when your body's immune system reacts unusually to a certain type of food or drink. 
Basically, your immune system interprets proteins in certain foods as a threat. This releases a number of chemicals that cause an allergic reaction. 
Many symptoms of food allergy are mild. In more serious cases, however, a food allergy can cause a very serious or even fatal injury.
An allergic reaction can happen when someone eats or drinks something which they are not aware contains an allergen they're vulnerable to. 
Someone who has an allergic reaction could have missed information warning them about the allergen. If, however, a restaurant or other food provider didn't take reasonable steps to warn about the allergy, they could be considered negligent.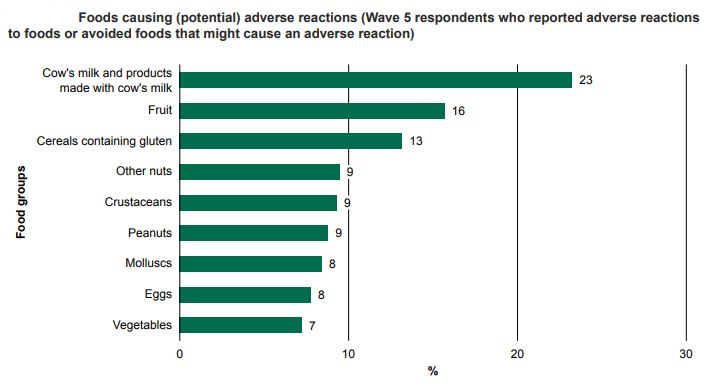 The graph above comes from The 2019 Food and You Survey by the Food Standards Agency. As part of the survey, people from England, Wales and Northern Ireland were asked if they suffered adverse reactions to eating certain foods. 
The graph shows how frequently certain food allergens were mentioned by the people surveyed who had at least one food allergy. Cow's milk and products made with cow's milk was by far the most mentioned allergen.
What Are The Causes Of Allergic Reactions In Restaurants?
Allergic reactions can occur in a restaurant for several reasons. One way it could happen is if a certain meal contains an allergen but the restaurant fails to disclose this. If an allergen within a meal is not mentioned by staff or on the restaurant's menu, then someone could order it assuming they're safe when they are not.
Cross-contamination is another way allergic reactions can occur in restaurants. If restaurant staff prepare food that contains a certain type of allergen, they could unintentionally spread traces of it to other foods. 
This can be a problem at restaurants if they make several food products on the same premises. If a restaurant isn't careful enough, a customer could order something which is normally fine for them but unintentionally contains something they are allergic to.
If you have been harmed in any of these ways, we can help. Simply get in touch with our team to find out more.
Common Allergic Reaction Symptoms
An allergic reaction caused by food can create a wide range of symptoms. While many are mild and could last just a few hours, others can last for days or even weeks. 
Food allergies can lead to very serious symptoms if the condition is not treated. It's therefore worth being aware of what the symptoms can be if you or someone close to you has a food allergy.
Potential food allergy symptoms can include the following:
An itchy, red rash

Swelling (especially of the face, mouth and/or throat)

Difficulty with swallowing

Dizziness

Wheezing or lack of breath

Nausea or vomiting

Tingling or itching within the mouth

Pain in the abdomen

Diarrhoea

Sneezing or itchy eyes (similar to hay fever symptoms)
More severe cases of an allergic reaction can lead to what's called anaphylaxis. Symptoms of anaphylaxis can be similar to those listed above but are more severe. Without emergency treatment, anaphylaxis can cause a person to pass out and eventually die. 
People who could potentially experience a severe allergic reaction may carry an emergency treatment with them while out and about. This usually comes in the form of what's called an auto-injector, or EpiPen.
Your Rights To Be Informed Of Allergens
When you go to a restaurant or another type of business that provides food, you have the right to be informed about any allergens contained in what's available. By law, food business operators have to take reasonable steps to make their customers aware of allergens contained in any foods/drinks they offer. 
How exactly a food business accomplishes this depends on a couple of things. What type of food business it is and whether they sell pre-packed or non-prepacked food.
Prepacked food refers to any food which is partly or fully enclosed by packaging before it's sold. Such foods can contain a label that warns potential customers of any allergens present in them, usually highlighted in bold font.
If a restaurant or another food outlet serves non-prepacked food, then they can warn of allergens in other ways. A restaurant menu can contain warnings that certain meals contain or 'may contain' certain allergens. Alternatively, you could ask if a food you're considering contains any allergens. The staff providing the food should be able to answer this question accurately.
If a certain food you're thinking of having does contain something you're allergic to, you could possibly ask to have that ingredient removed. However, restaurants and other food providers are not obliged to remove an allergen for you. They may be happy to do it, but in some cases, it may not be feasible. The food business is only obliged to make you aware of the allergens present.
What Allergens Should A Restaurant Warn You About?
By law, all food businesses including restaurants have to declare 14 allergens if at least one of them is in something they provide. These allergens include the following:
Celery

Cereals containing gluten

Crustaceans

Eggs

Fish

Lupin

Milk

Molluscs

Mustard

Peanuts

Sesame

Soybeans

Sulphur dioxide and sulphites

Tree nuts
Allergic Reaction Settlement Examples
Compensation in food allergy claims is determined by the harm that was caused to a person due to the allergic reaction.
Any compensation you claim for pain and suffering is known as general damages. The table below shows what your allergic reaction settlement could potentially look like. The figures shown are taken from the Judicial College Guidelines, which is used by legal professionals to help value claims.
| Injury | Notes | Compensation |
| --- | --- | --- |
| Digestive System (b)(i) | Acute pain, diarrhoea, vomiting and a fever caused by severe toxicosis. The person may also have to be admitted to hospital for a few weeks. | £38,430 to £52,500 |
| Digestive System (b)(ii) | For 2-4 weeks the person will suffer with vomiting and diarrhoea. After this point they will still suffer with some discomfort and disturbed bowel function. | £9,540 to £19,200 |
| Digestive System (b)(iii) | Fatigue, altered bowel function and stomach cramps. Symptoms could last for a few weeks. | £3,950 to £9,540 |
| Digestive System (b)(iv) | For a few days or weeks the person will suffer with varying degrees of disabling pain, diarrhoea and cramps. | £910 to £3,950 |
| Psychiatric Damage Generally - Moderately Severe | The person will suffer with serious problems, such as their ability to cope with daily life, but the prognosis will be optimistic. | £19,070 to £54,830 |
| Psychiatric Damage Generally - Moderate | Despite suffering with various issues, the person will have made marked improvements and there will be a positive prognosis. | £5,860 to £19,070 |
| Post-Traumatic Stress Disorder - Moderate | The person will have made a large recovery and any persisting effects won't be greatly disabling. | £8,180 to £23,150 |
| Post-Traumatic Stress Disorder - Less Severe | An almost complete recovery will have been made within 1-2 years with only minor symptoms continuing. | £3,950 to £8,180 |
Any compensation you claim for suffering from financial losses is known as special damages. For example, you could seek compensation for treatment costs, loss of income or any other losses that were caused by the injuries you suffered. Evidence, such as receipts, will be necessary.
If you would like to learn more about how to claim for an allergic reaction, or the compensation amount you could receive, please reach out to one of our advisers.
The Law And Allergens In Restaurants
Certain legislation sets out what information has to be provided to customers with regards to allergens when in a restaurant. The enforcement of these rules is overseen by the Food Standards Agency (FSA). 
Restaurants need to take steps to inform customers of any allergens in non-prepacked and prepacked foods they sell. This applies whether a customer is ordering in the restaurant or as a takeaway service online or by phone. 
If a restaurant runs a buffet, then allergen information should be provided for each food separately. Signs or labels on the individual foods can be used to achieve this.
Restaurants are also be legally required to prepare and store food in a safe manner. They should also adequately train their staff to achieve this goal. There are many steps that restaurants can take to minimise the risk of cross-contamination. This includes regularly washing utensils, storing ingredients in closed and labelled containers and staff washing hands thoroughly in between food preparations.
Specific laws relevant to restaurants and other food businesses include the following:
Your Rights Under The Consumer Rights Act 2015
The Consumer Rights Act 2015 is a law that protects you when buying most kinds of goods and services. It gives traders (including food businesses) certain obligations when they supply goods to customers.
To summarise, the products a business sells must match their description, be fit for purpose, installed correctly (if applicable) and be of satisfactory quality. If a product you've bought doesn't meet these requirements, then you could possibly claim under the Consumer Rights Act. 
The rights under this particular Act are against the retailer (the company which sold you the product) rather than the manufacturer. So any claims under the Consumer Rights Act should be made towards the retailer.
Your rights under the Consumer Rights Act 2015 can also be applied to the food you've bought in a restaurant or from other kinds of food businesses. Under the Act, you can refuse to pay for the food you ordered if it does not match the menu description. 
You can also refuse it if it does not meet 'satisfactory quality'. Importantly, the Consumer Rights Act also gives you the right to claim a refund and compensation if you get food poisoning from a business.
How Much Time Do I Have To Claim For An Allergic Reaction In An Restaurant?
If you're considering claiming compensation after an allergic reaction at a restaurant, you may wonder how much time you have. We always recommend that you start a personal injury claim as soon as possible when you want to pursue one. This gives you the maximum chance of getting all available evidence and presenting the case to the defendant accurately, as it will be fresh in your mind.
Normally, the time limit for claiming against a restaurant for a food allergy is three years from the day the allergic reaction occurred. Three years may sound like a long time, but starting claims for a food allergy can be complex. Depending on the circumstances, it may take a while to gather sufficient evidence to prove that negligence from a restaurant caused a food allergy.
How the time limit could change
There are certain circumstances where the three-year time limit works differently. If someone under the age of 18 suffers an allergic reaction in a restaurant, then the time limit is temporarily frozen for them. The three-year time limit only begins when the potential claimant reaches their 18th birthday. 
Therefore, you can not make a personal injury claim yourself if you are under the age of 18. However, a claim can be started by a chosen representative on behalf of someone else before they reach 18. This chosen representative is known as a litigation friend. A parent or guardian are examples of someone who can claim as a litigation friend.
Another way the three-year time limit for claiming may be frozen is if someone lacks the mental capacity to claim on their own behalf. In severe food allergy cases, the injured person may need time to recover before they can reasonably be expected to start a claim. 
When they have sufficiently recovered, the time limit starts on the day that is determined to have happened. Alternatively, a litigation friend could start a claim on behalf of someone who has suffered a food allergy before they've regained their mental capacity to start it on their own.
Allergic Reaction To Food – How To Claim Compensation
If you have suffered an allergic reaction in a restaurant, you may be wondering, 'can you sue a restaurant for an allergic reaction?'.
If you have informed a restaurant that you have a food allergy, the restaurant has a responsibility to ensure that they take this allergy seriously. They must inform you if any of the menu items contain something you are allergic to and if there is a risk of cross-contamination in the other dishes. They also must inform the chefs of your allergy so that they can ensure that your meal is free from your allergen. Additionally, restaurants must ensure that the items listed on their menu state any allergens in them so that you, as a customer, are aware.
However, if a restaurant failed to list any allergens on their menu or inform you of them and you suffered an allergic reaction to the food, you could make a claim. Remember, when making a claim for an allergic reaction, the settlement you could receive may differ from the amounts we listed in our previous table. This is because the various factors of your claim could affect how much you are awarded in compensation.
Do not hesitate to contact our friendly team of advisors today if you have any questions about making a claim for an allergic reaction. They could also help you know whether you may be eligible for compensation. However, there is no obligation to make a claim.
Do You Handle Allergic Reaction At A Restaurant Claims On A No Win No Fee Basis?
Our panel of lawyers can handle food allergy claims on a No Win No Fee basis. This includes claims which may be made specifically against a restaurant following an allergic reaction. You get certain guarantees if you sign a contract with a solicitor on a No Win No Fee basis. This type of agreement provides certain financial protection when you're making a claim. The benefits include the following:
You won't need to pay any solicitor fees upfront while your case is being set up.

You won't be required to pay any fees as your case progresses (before the end) either.

If your case is unsuccessful, you will not need to pay your solicitor's legal fees.

This should give you confidence that your solicitor should work hard on your case since they face more risk.
You will only need to pay your solicitor's legal fees if your case is successful. A small percentage will be taken from your compensation to cover this cost. This is standard practice under a No Win No Fee agreement. You can review this and other details of your contract with your solicitor before signing it.
Contact Us For More Help
If you have any questions about making a food allergy claim, you're welcome to contact UK Law for specialist advice. You can reach our team through the following methods:
Useful Information
Looking for more information on food allergies and related laws for restaurants? The resources below provide more useful details on these subject matters.
This NHS page provides detailed insight into food allergies. You can learn all you need to know about the causes, symptoms and treatments for this condition.
Technical guidance on food allergen labelling
This page on the Food Standards Agency website gives you access to technical guidance which restaurants and other food businesses in the UK must follow in regards to labelling and info requirements.
Food Standards Agency's Guide to 14 Allergens
This PDF guide created by the Food Standards Agency details the 14 major allergens. These major allergens must be clearly indicated to customers if they are present in the food and drink which they sell. The guide lists examples of popular foods and drinks which often have each major allergen.
Our Guide to Personal Injury Compensation
Head here to learn more about claiming compensation for personal injury.
How To Make Food Allergy Claims
Another of our guides on making food allergy claims
If you've tripped over in a restaurant, this guide will help.
Other Useful Guides
FAQs About Your Rights After An Allergic Reaction At A Restaurant
How do restaurants deal with food allergies?
By law, restaurants are required to inform customers about any major allergens contained in foods and drinks they offer. Restaurants are also required to follow procedures to minimise the risk of contaminating their food with allergens.
What should be done in the event of an allergic reaction?
Whatever the exact cause of an allergic reaction, your first priority should be to get the medical care you require. After you've received treatment, you should start gathering evidence if you have reason to believe someone else's negligence caused your allergic reaction. When you've collected your evidence, you should then contact a solicitor who could start a potential compensation claim for you.
Thank you for reading our guide on your rights if you have an allergic reaction at a restaurant.