As A Cyclist I Was Hit By A Car, Can I Claim Compensation?
By Lewis Aaliyah. Last Updated 3rd November 2023. Are you a cyclist who was hit by a car? If so, our guide could help you understand how these types of accidents could happen and your rights involved following a cycling incident.
There can be a lot of complicated legal terms to decipher while looking into this topic. This article is here to help you to understand it all and to make you feel more confident about making a claim.
Our advisors are here to help you better understand how this process works. We may even be able to connect you with our panel of expert personal injury solicitors who have experience handling cycle accident claims.
The more we know about the circumstances surrounding your claim, the more accurately we will be able to help you. Get in touch with us today or read on for more information.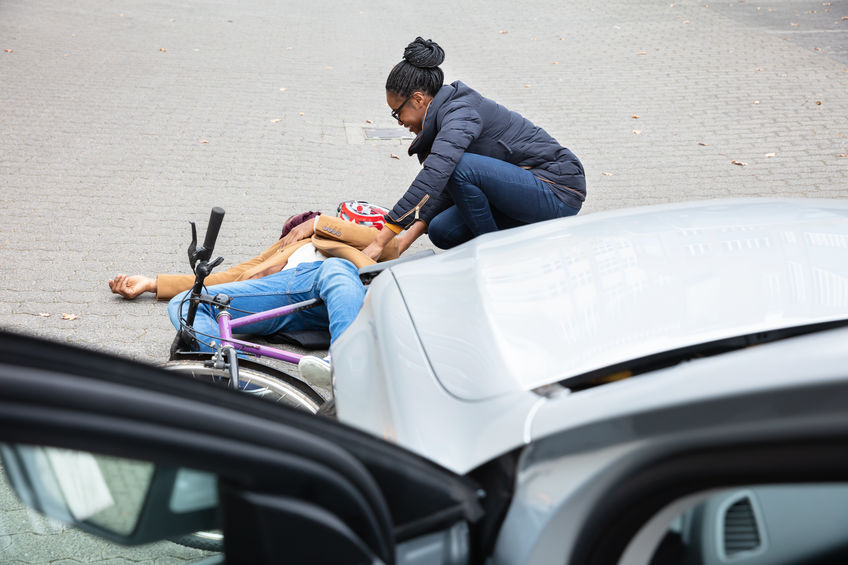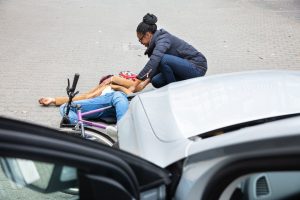 There's more than one way to reach us, such as:
Select A Section:
I Was Hit By A Car As A Cyclist – Could I Claim?
If you were hit by a car while riding a bike, you might be wondering if you could claim compensation. However, in order to make a valid claim, you first need to establish whether you were owed a duty of care.
All road users owe each other a duty of care, including motorists and cyclists, to navigate the roads in a way that prevents causing harm to themselves and others. To uphold this duty of care, they are required to comply with the Road Traffic Act 1988 as well as the Highway Code.
In order to have good grounds to make a cycle accident claim after a road traffic accident, you have to establish that:


Another road user owed you a duty of care

They breached this duty of care

You suffered injuries because of this
If you were hit by a car on a bike, contact our team of advisors today. They can assess your eligibility to claim, can offer more information on the cycle accident claims process, and may be able to connect you with a solicitor from our panel.
How Could A Cyclist Be Hit By A Car?
There are various ways that a cyclist could be hit by a car. However, to make a personal injury claim, you will need to prove that the driver of the car breached their duty of care and that this caused your injuries. Later in this guide, we will discuss the duty of care that road users owe each other in more detail.
Some examples of how you could be hit by a car are:
A driver doesn't check that the road is clear before opening their door, resulting in you being hit by the door and knocked from your bike.
A drunk driver doesn't pay attention to the road, causing them to crash into you on your bike.
A driver fails to check that a junction is clear before pulling out, causing them to crash into the side of your bike.
In the next section, we will look at some of the injuries you could suffer if you were to be hit by a car.
Contact our advisors today to see whether you could make a claim as a cyclist in an accident. They could also offer you free legal advice regarding your specific claim or answer any questions you may have.
What Injuries Could A Cyclist Hit By A Car Experience?
A cyclist hit by a car could experience various types of injuries in a cycling accident, such as:
Facial injuries: The cyclist may hit their face when they collide with a car door, causing them to sustain a fractured eye socket or broken jaw.
Broken bones: The cyclist could be thrown off their bike causing them to sustain a severe broken back injury or neck injury.
Psychological harm: A cyclist may face psychological harm if they experience any life-changing injuries, such as paralysis or severe road burns that cause significant scarring.
What Evidence Do I Need To Claim As A Cyclist When Hit By A Car?
As discussed, you could be able to claim compensation if a driver breached their duty of care, leading to you sustaining injuries because you were hit by their car.
Supporting evidence is important in order to make a successful claim. You will need to collect evidence that shows how the driver was at fault and that you were injured.
You could collect evidence in the form of:
CCTV footage
Contact details of witnesses to the accident
Photos taken at the scene of the accident
A medical record of your injuries
Photos taken of your injuries
Records of costs that you have incurred or financial losses that were caused by your injury.
If you were hit as a cyclist by a car and would like to claim compensation for your injuries, please reach out to one of our advisers to check your eligibility.
Car Hitting Cyclists – What Is The Claim Time Limit?
If you are a cyclist who was hit by a car and injured, you may be wondering about how long you have to claim. With personal injury claims, you generally have 3 years to begin the process. You can find this time limit in the Limitation Act 1980. There can, however, be exceptions.
If a child is injured due to being hit by a car, then they cannot make a claim themselves until they turn 18. Before then, their time limit is suspended. However, a litigation friend can be appointed to do so before this time.
If the injured party has a reduced mental capacity, their time limit is also suspended until the date they are deemed capable of claiming for themselves. As with claims on behalf of children, a litigation friend can also be appointed to claim during the suspended period.
If you are a cyclist who has been hit by a car, get in touch if you have any queries about the limits involved regarding claiming. Our advisors could also help you if you are a motorist with questions such as, 'what happens if a cyclist hits my car in the UK?'.
Cycling Accident Compensation
If you have been injured in a cycling accident, compensation could be awarded to you for your pain and suffering. In your settlement, the pain and suffering your injury has caused you and how it has impacted your quality of life are compensated with general damages.
Using the figures listed in the 16th edition of the Judicial College Guidelines (JCG), we have created the following table. This is to help you gain a clearer idea of how much you could receive in general damages following a successful cycle accident claim. The JCG is used by many legal professionals to help them value claims as it lists compensation brackets for various physical and mental injuries at different severity levels. This is why we have used their figures when creating this table.
Please only use this table as a guide. How much compensation you could receive may differ from those listed, as the factors of your claim will affect how much you could be awarded.
| Injury | Comments | Amount |
| --- | --- | --- |
| Very Severe Brain Damage (a) | There is little to no language function or response to the surrounding environment, and a need for full-time professional nursing care. | £282,010 to £403,990 |
| Moderately Severe Brain Damage (b) | The claimant will be very severely disabled, either physically or cognitively, and will depend substantially on professional care. | £219,070 to £282,010 |
| Chest Injuries (a) | Total removal of one lung, with serious damage to the heart causing ongoing disability. | £100,670 to £150,110 |
| Chest Injuries (c) | Damage to chest and lung(s) causing some continuing disability. | £31,310 to £54,830 |
| Knee: Severe (ii) | A leg fracture that extends into the knee joint and causes constant pain with limited movement. | £52,120 to £69,730 |
| Jaw Fractures: (i) | Very serious multiple fractures that required ongoing treatment and caused permanent consequences. For example, severe pain and restriction in eating. | £30,490 to £45,540 |
| Neck: Moderate (i) | Injuries such as fractures or dislocations that may necessitate spinal fusion. | £24,990 to £38,490 |
| Hand: Severe Finger Fractures | Severe finger fractures that might lead to partial amputation. | Up to £36,740 |
| Elbow: Less Severe | Causing impaired function but no major surgery required. | £15,650 to £32,010 |
Additionally, any of the financial losses you have suffered due to your injury could be compensated with special damages, such as:
Medical costs.
Mobility aids.
Travel costs.
It is important to provide evidence of these financial losses. Without it, you might not be able to claim them back. Bank statements, invoices and payslips could all be used as evidence.
Contact one of our advisors today if you have any queries about making a claim for a cycle accident.
As A Cyclist I Was Hit By A Car, Can I Make A No Win No Fee Claim?
If you were a cyclist hit by a car, you may wish to seek legal representation. However, if you're unsure of your options, this section could help.
A No Win No Fee agreement means that the client would not be responsible for paying their personal injury solicitor's fees following an unsuccessful claim. Should their claim be successful, their solicitor will be paid via a legally capped fee taken from their payout.
If your lawyer's services aren't offered under this arrangement, it's possible that you could still owe them money even following a lost personal injury claim.
Our panel of solicitors for road traffic accident claims have worked with many clients under a No Win No Fee arrangement in the past. Operating this way can help to alleviate some of the financial stresses associated with using the services of a solicitor to make a personal injury claim.
If this method of pursuing your cyclist claim against a motorist appeals to you, then get in touch with us today and we can get started. There's more than one way to reach us.
More Information On Cycling Accident Claims
We've included some helpful links to aid your understanding of this and similar subjects. 
Thank you for reading our guide on making a cyclist hit by a car claim. If you have any further questions, please call the number at the top of the page.
Writer IB
Checked by HT