Compensation For an Operation Gone Wrong
By Danielle Fletcher. Last Updated 16th August 2023. Welcome to our guide, which answers the question of 'I was harmed by an operation gone wrong, could I claim compensation?"
We trust doctors, surgeons and medical professionals with our health and wellbeing, but things don't always go to plan. If you've been harmed by an operation gone wrong, you may be able to make a claim for compensation.
Claiming For An Operation Gone Wrong – Your Questions Answered
When we undergo an operation, we often do so with the expectation that we'll be better off having done so. So when an operation goes wrong, it can be incredibly frustrating and upsetting to come to terms with. Not only this but you could be left with physical injuries that affect you for a long time. 
In order to be able to make a claim for medical negligence compensation, you need to be able to show that your condition was caused or made worse by the procedure you underwent. If you're unsure, or you need help regarding your claim for a surgical procedure gone wrong, then we may be able to assist you.
Our expert legal advisors are on hand to answer your questions. Feel free to get in touch now to start your claim or if you need any clarification regarding the information you find in this guide.
Get In Touch With Our Team
There are a number of ways that you can reach out to us:
You can call us on 020 3870 4868.

Speak to us using the live chat window in the bottom right.

Claim online

using our website.
Services And Information
What Is The Eligibility Criteria For Surgical Error Claims?
There are eligibility requirements that must be met in order to have valid grounds to claim for medical negligence. You will need to prove that:
      You were owed a duty of care by a medical professional.
      This duty was breached.
      You suffered unnecessary harm as a result.
When a surgical team or hospital agrees to treat you, you are automatically owed a duty of care. Per their duty of care, they must provide you with the correct standard of care. This duty also requires that a medical professional takes reasonable care to investigate your medical history as well as the symptoms, provide an accurate diagnosis and make required referrals, amongst other items.
Operations gone wrong could arise due to a breach in this duty. However, to be eligible to make a medical neglgience claim, you would need to prove that you suffered unnecessary harm due to a medical professional breaching their duty of care.
There may be certain instances where you may suffer harm during an operation, but a medical professional did not breach their duty of care. In this instance, you might not be able to make a claim.
If you have any questions about wrong surgery claims, please contact an advisor from our team. They can answer your queries about surgical error claims as well as provide a free claim assessment. They may also pass you on to a No Win No Fee solicitor from our panel.
Surgical Error Claims
When a mistake is made during an operation resulting in a personal injury, this could be considered a surgical error. For example, a doctor may operate on the wrong body part causing damage to your artery or a nerve. A surgical error could also occur due to a misdiagnosis or if improper advice is given. Additionally, drug errors may occur if you are prescribed the wrong medication or given the wrong dosage of anaesthesia, for example.
Surgical error claims must be backed up with evidence to establish that medical negligence caused the claimant to be injured. Medical professionals owe a duty of care to provide a reasonably expected level of care. Therefore, if they breach this duty and you suffer harm or loss, you may have grounds for a valid bad surgery claim.
Get in touch for a free consultation and legal advice on surgical error claims.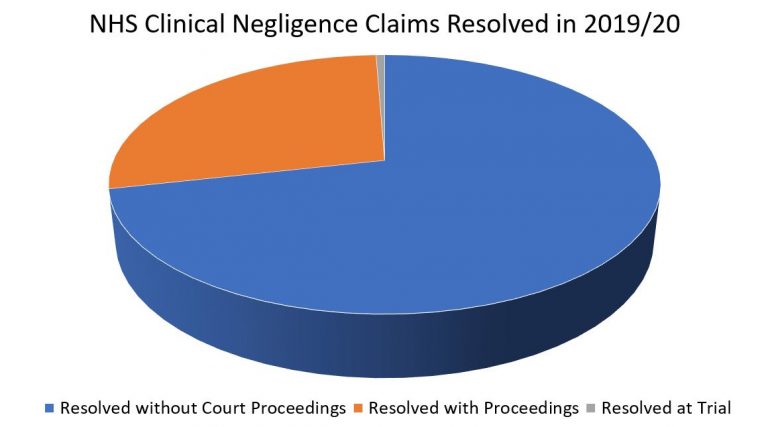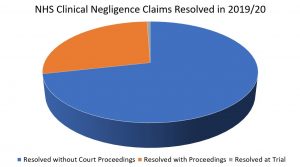 In 2020/21, negligence cost the NHS a significant amount of money. You can see these figures below.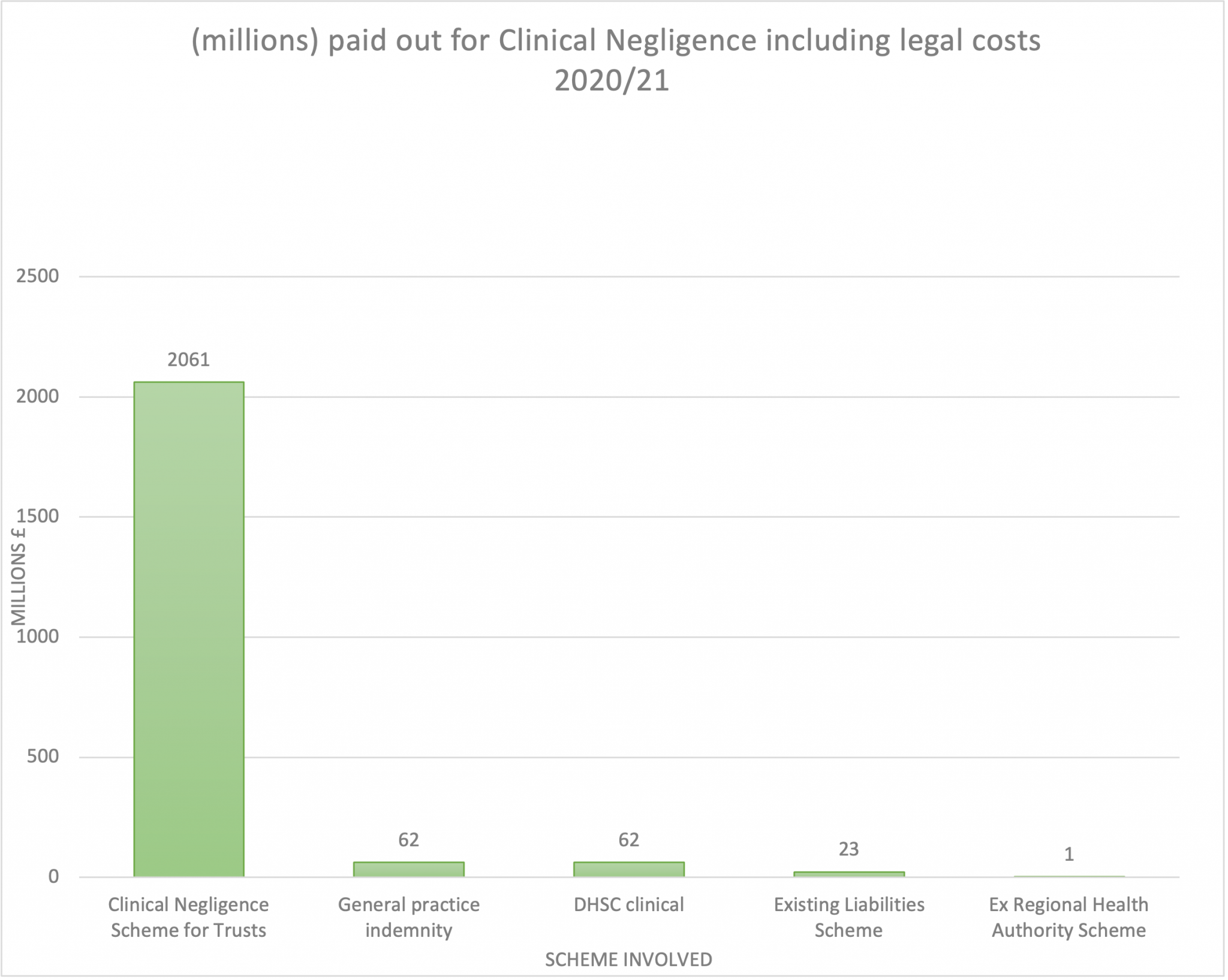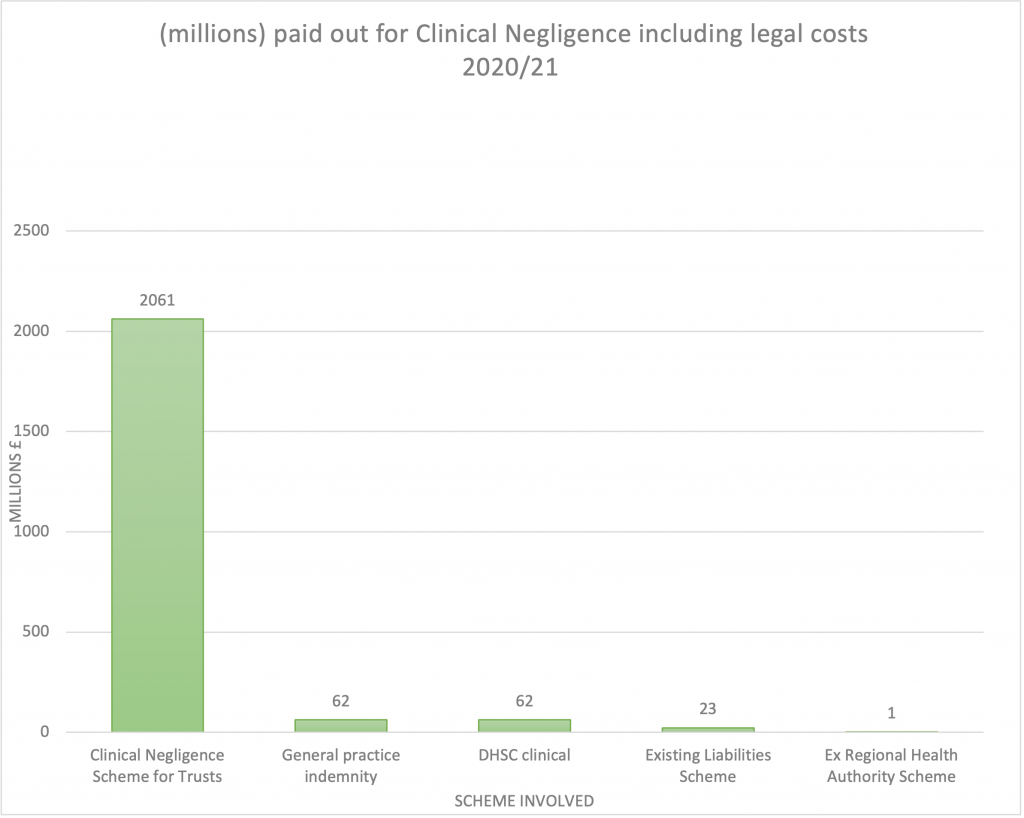 What Is Surgical Negligence?
Medical negligence is when an individual receives inadequate or substandard care when receiving treatment for an injury or condition. It can result in the patient developing new symptoms, or a pre-existing condition could be made worse.
Surgical negligence is a type of medical negligence specific to surgical procedures. It refers to when an operation leaves a patient with new or worsened symptoms due to mistakes being made. These mistakes can include things like infections caused by poor hygiene, surgery performed on the wrong site or foreign objects being left inside the patient.
If the level of care you received by the surgeon performing your operation fell short of the standards expected of their occupation, then it may be considered surgical negligence. Provided that the surgical negligence resulted in you being injured, you may be able to make a claim.
Surgical Never Events
A surgical never event is a serious but largely preventable error made during surgery. Never events must always be investigated under the Serious Incidents framework. 
These events have the potential to cause serious harm or even death in patients, but a specific incident does not need to have caused harm to be classed as a never event. However, in order for you to make a claim for compensation, you must have suffered some kind of injury or harm. A never event alone is not enough to form the basis for a claim for compensation. 
What are some examples of never events?
The NHS has provided a list of never events. These don't just cover surgical errors; the list of never events also includes medication errors, general errors and errors in mental health care. Below, we've included a list of some never events that might occur in a surgical setting. 
Wrong-site surgery

– This is where a surgical procedure is carried out on the wrong patient. It could also include a patient receiving the right treatment but at the wrong site (for example, where a knee replacement surgery is performed on the wrong knee).

Wrong implant/prosthesis

– When an implant or prosthetic device or component is surgically implanted into the patient, that differs from the one they had agreed upon. The location of the prosthesis being implanted can also be a factor. It should be noted that there are certain circumstances where a medical professional uses their clinical judgement and alters the implant required at the time of surgery

Retained foreign object post-procedure

– If a foreign object is left in a patient's body in error during surgery, this is classed as a never event and is an example of surgical negligence.  If the foreign object that's been left in your body causes you injury or harm, then you may be able to claim compensation. 
This is not a comprehensive list of surgical never events. If you feel that your health has been impacted due to an error during surgery, then get in touch with our advisors today.
Surgery Gone Wrong – How Long Do I Have To Claim?
If you have undergone surgery that has gone wrong, and you are eligible to make a surgical negligence claim, you might be wondering how long you have to start legal proceedings. The Limitation Act 1980 states you generally have three years from the date that the medical negligence occurred to take action. However, the three years may also start from the date of knowledge, which is when you became aware that you sustained avoidable harm as a result of medical negligence.
However, some exceptions can apply. For example, for claims involving children, the time limit to claim is suspended until their 18th birthday. Additionally, if a claimant does not have the mental capacity to make a claim themselves, the limitation period is suspended indefinitely.
A litigation friend can start a claim on behalf of a minor or someone who lacks the mental capacity to claim while the time limit is paused. This could be a parent, guardian or relative. The court will appoint this position on the basis that the person acts in the interests of the claimant, as well as other factors.
Please don't hesitate to contact us if you are unsure whether you are within the limitation period to start a medical negligence claim for operations gone wrong. Our advisors work around the clock and can answer your questions free of charge.
How Could An Operation Gone Wrong Impact You?
People who suffer from an operation gone wrong may claim compensation as a result. Even if the surgery that went wrong was elective, such as cosmetic surgery, then the impact on your quality of life can be great. Sometimes, you may suffer from permanent effects. 
For instance, you may have had surgery performed on the wrong part of your body by a surgeon who acted negligently. This could then result in unsightly scarring and an uncomfortable and unnecessary recovery process from the surgery. Furthermore, you may then have to undergo surgery again on the correct site of the body.
Another way that surgical negligence can occur is through infections caused by poor hygiene. If your surgeon didn't adhere to the required standards of cleanliness when operating on you, this could result in you contracting an infection that could cause you to become very ill. However, it is important to note that all surgery carries some risk of surgical site infections, and just because you've contracted an infection does not mean that your surgeon breached their duty of care. 
If you've experienced an operation gone wrong and suffered injury or harm as a result, you may be able to claim compensation. Get in touch with our team today to find out more.
Compensation Payouts For Surgery Gone Wrong
For medical negligence claims for operations gone wrong, compensation could include both general and special damages.
General damages compensate you for the harm you have suffered due to medical negligence. Below, we have created a table to help you gain a clear idea of the compensation you could receive. The amounts listed have been taken from the 16th edition of the Judicial College Guidelines (JCG). We have used the JCG's figures, as it lists compensation brackets for various injuries. It is also used by many legal experts to help them value various claims, such as surgical error claims.
Please only use this table as a guide. How much compensation you receive could be affected by the factors of your claim and may differ from the amounts listed below.
| Injury Type | Notes | Compensation Bracket |
| --- | --- | --- |
| Moderately Severe Brain Damage | Very serious disablement with a substantial dependence on others and a need for professional care. | £219,070 to £282,010 |
| Male Reproductive System | A complete loss of the male reproductive organs. | In excess of £153,870 |
| Female Reproductive System | Permanent sexual dysfunction in a person with no children. The higher end is applicable to cases with serious medical complication such as requiring multiple surgeries or an ectopic pregnancy. | £43,010 to £102,100 |
| Bowel Injuries | Passive incontinence and faecal urgency persisting after surgery. | In the region of £79,920 |
| Total Loss Of One Eye (d) | Consideration given to age, cosmetic and psychiatric effect. | £54,830 to £65,710 |
| Digestive System (a)(i) | Continuing pain and discomfort due to severe damage to the digestive system. | £43,010 to £61,910 |
| Chest Injuries | The person suffers with a continuing disability due to the chest and lungs being damaged. | £31,310 to £54,830 |
| Kidney Injuries | Losing one kidney but no damage to the other. | £30,770 to £44,880 |
| Spleen Injuries | Loss of spleen with damage to the immune system which causes a continuing risk of internal infections. | £20,800 to £26,290 |
| Hernia | Direct inguinal hernia with risk of recurrence following repair. | £7,010 to £9,110 |
Any of the financial losses you have suffered due to being harmed by medical negligence could be compensated with special damages. Some of the financial losses you could claim under special damages include:
Travel costs.
Care costs.
Medical expenses.
Home adaptations – e.g., stairlift or wheelchair access.
You will need to provide evidence of these financial losses in order to claim them back under special damages. Bank statements, invoices and receipts could all be used as evidence.
Contact our advisors today if you have any questions about surgery compensation claims. Our advisors could also provide you with free legal advice and inform you whether you still have enough time to make your claim.
What Could Cause Operations To Go Wrong?
There's no singular answer that can address the issue of why operations can go wrong. Sometimes, a problem with an operation may result from miscommunication between various departments about the needs of the patient. This may be the reason for wrong site surgery or for surgery performed on the wrong patient. 
Similarly, a surgeon's breach of duty of care can contribute to operations gone wrong. This may be the case if, because of a lack of concentration or care, they make a mistake in the surgery or leave a foreign object in the body. 
Surgical negligence can happen for a number of reasons. We will list some of them below.
Wrong Site Surgery
For someone to receive a procedure on the wrong part of the body (or sometimes performed on the wrong patient altogether) is an example of negligent behaviour. Patients' medical records should be checked and cross-referenced to ensure that all details are up to date. They need to be accurate to avoid being confused with the details of other patients.
Wrong site surgery could be the result on the part of the surgeon performing the operation, for instance, if they've failed to correctly read the patient's chart. It could also come about if the surgeon was given the wrong information. 
Wrong site surgery can result in an operation gone wrong claim. Even if the surgery was elective, you could still suffer ill effects if the surgery has been performed incorrectly. Other things such as scarring from unnecessary procedures can lead to avoidable anxiety and self-image issues.
 Unnecessary Surgery
Surgery can be quite an invasive experience. It can be physically and mentally tolling, and so patients will rarely undergo a procedure without careful consideration. There may even be a less invasive medical alternative.
An individual may be told they require surgery. But, if it turns out there were other treatment options available that they were not made aware of, then this could be seen as unnecessary surgery. 
You may also be able to claim if you were given surgery to treat a condition that you don't suffer from. Misdiagnosis can cause a number of issues, and if you've had incorrect surgery, then you could be able to make a claim. 
General Surgical Negligence
Mistakes with anaesthetic can cause patients to suffer unnecessary pain and discomfort during surgical procedures. Further damage caused by surgery can also be considered surgical negligence. Being unhappy with the outcome of surgery, complications related to recovery from surgery do not necessarily mean that negligence has occurred.
However, if it can be proven that the effects you're experiencing were the result of a medical professional neglecting their duty of care, you may be able to claim. Get in touch with our team to find out more.
I Was Harmed By Operations Gone Wrong – What Should I Do?
If your surgery has gone wrong and you have been injured as a result, then this could be considered medical negligence. If so, you may be entitled to receive compensation. Whilst different claims may require some processes that others don't, it's important to be aware of some of the more common steps involved. We've included some below:
Inform the facility you intend to make claim – Whether you were injured in a public or a private healthcare facility, there will be someone such as a general manager or other senior figure who you can report the negligence to. You should also inform them that you intend to make a claim for compensation for your injuries.
Gather evidence – For instance, medical records can be helpful to show the extent of any harm caused . You could also take photographs of any physical injuries before they heal.
Seek legal advice – You may choose to hire a solicitor to assist you with making a claim. If so, the lawyers on our panel are very experienced in cases of medical negligence.
If you have any questions about surgery compensation claims, please do not hesitate to reach out to our advisors today.
Surgery Compensation Claims – What Evidence Will I Need?
Surgery compensation claims can only be successfully made if sufficient evidence is provided. There are various forms of evidence that could potentially help you make a claim after your surgery has gone wrong.
This includes:
A letter or email that shows a medical professional failed to warn you about a potential risk of your surgery
Medical notes which can show they failed to take a required action
Witness statements if someone can corroborate the suffering you experienced
You can then present evidence to support a claim for any financial losses you are claiming for. People who have suffered from surgery operations that have gone wrong could need financial help because of:
Lost income
Treatment or care costs
Adaptations to help them cope with the acquired injury
Your losses will be unique to you but these are examples of financial losses that can feature in a claim for compensation. Supporting evidence can come in the form of receipts, payslips or medical recommendations for aids.
As mentioned, a No Win No Fee solicitor could help you with collecting and maintaining evidence for your claim.
Contact us
Speak to us today, and we can get to process started together:
Phone us on 020 3870 4868.

You can use the live chat window in the bottom right corner of this page.

Alternatively,

claim online

using our website.
Surgical Error Claims – No Win No Fee
Hiring a specialist solicitor could potentially make the surgical error claims process easier. However, you may be concerned regarding the potential cost of this legal representation. All of the lawyers on our panel can offer their clients a No Win No Fee deal.
It means that your lawyer takes a legally capped percentage from your settlement if your claim succeeds. If you do not receive any compensation, then you are not required to pay them.
If you get in touch with our advisors, they can discuss more of the surgery compensation claims process and let you know if you are eligible to claim after a surgery gone wrong. If they feel your claim has a good chance of success, they could potentially connect you with a No Win No Fee lawyer from our panel to help you claim for an operation gone wrong.
Other Information Relating To Claims For An Operation Gone Wrong
We have assembled some additional reading material for you to better understand this kind of claim.
FAQs About Operation Gone Wrong Claims
What happens if an operation goes wrong?
If an operation goes wrong, it can be for reasons other than medical or surgical negligence. But if you suspect negligent behaviour, obtain legal advice to find out if you have a valid claim for compensation.
I wasn't harmed by an operation gone wrong, but negligent aftercare, could I claim?
If you have suffered harm from negligent aftercare by a medical professional, you could be eligible for compensation.
You would need to prove that the medical professional had breached their duty of care with regards to your aftercare, and it had harmed you.
Examples could include a failure to check your wounds for signs of infection when they should have. Another example could be a failure to monitor you properly after surgery, leading to a delay in treatment of a condition resulting from the surgery. You would need to prove the negligence and delay harmed you more than if you received the right level of care.
Could I claim for an operation gone wrong if it was cosmetic surgery?
Yes, if a breach of a duty of care resulted in you suffering harm you should not have suffered.
No matter whether you've had a botched tummy tuck or a rhinoplasty gone wrong, we could assess your case. We could let you know whether you could have a favourable chance of getting compensation.
Could I claim against the NHS for an operation gone wrong?
If you could prove the negligent NHS care you received led to you suffering undue harm, you could be eligible to make a claim for compensation.
You could claim for undue suffering and pain you would not have experienced had your treatment not been negligent. You could also claim for costs and losses incurred because of the negligence, such as loss of earnings.
Other Useful Compensation Guides
Thank you for reading our claims guide for an operation gone wrong. We hope it has been helpful to you.