How to Report a Doctor For Medical Negligence – UK Guide
By Jo Duggard. Last Updated 7th July 2023. Welcome to our guide on how to report a doctor in the UK for negligence.
If you've received treatment that has resulted in a new or exacerbated condition, you may want to report a doctor for medical negligence. If you feel that your health has been negatively impacted because of a medical mistake, then we may be able to help you. It can be difficult to know if the decline in your health was inevitable or a result of an avoidable error.
This guide aims to aid you in understanding when you may have been on the receiving end of medical negligence.
By getting in touch with us today, our expert advisors will be able to offer you advice in this area. We can deem whether you have a valid claim. If so, we may connect you with an experienced personal injury specialist from our panel.
Get In Touch With Our Team
There are a number of ways that you can reach us. The easiest ways are listed below:
Call us – 020 3870 4868

Speak to us using the live chat function in the bottom right corner

You can start your

claim online

through our website
Get in touch with us at any point if you need any clarification regarding this article. Read on for more information.
Services And Information
Everything You Need To Know About How To Report A Doctor For Medical Negligence
Cases of a doctor acting negligently can occur in a GP practice or a hospital. Both a general practitioner and a physician working in internal medicine can be reported for negligence. Sometimes a patient will be unhappy with their treatment and report a doctor for negligence. 
Taking legal action against a healthcare professional needs to be due to substandard care. A well-executed procedure that doesn't have the desired effect does not necessarily constitute negligence.
Doctors make mistakes like people in other professions. However, their errors can cause lasting damage and sometimes drastically alter a patient's life. To best avoid a medical negligence report, a doctor must be extra vigilant at all times.
Below, we'll cover various types of doctor negligence and advise you on your legal rights. If you have any questions or would like to proceed with a claim, please call us on the number above.
What is Considered Medical Negligence in the UK?
Every medical professional in the UK owes their patients a minimum standard of care. The standard of care can be defined as:
A responsibility to not cause harm to a patient
A responsibility to meet the standard of a competent medical professional in any actions they take in treating or assessing the patient.
A doctor can be negligent if they fail to meet this required standard of care. If this leads to harm to the patient, then the doctor could be found liable for medical negligence in the UK.
There are many ways a doctor can be negligent. Examples of negligent actions can include:
Failing to recognise presented symptoms: If a patient presents or describes symptoms that a doctor as a competent professional will be expected to recognise as indications of a particular condition or disease, then a doctor may be acting negligently if they fail to do so.
Failing to take actions they are required to: These are actions such as scheduling appointments, requesting scans or failing to administer medicine when it would have been required to do so as part of a patient's treatment.
Administering the wrong medicine/treatment: If there were no signs to indicate that you required treatment such as surgery or medication, and a doctor wrongly recommended the action, they could be found to have been acting negligently.
A patient could still suffer harm at the hands of a doctor, despite a doctor taking the correct set of actions, or actions in line with the information they had. This will not always be medical negligence.
Please speak to one of our advisors to see if you could be eligible to claim for medical negligence In the UK.
NHS Medical Negligence Statistics
You can report a doctor for medical negligence in a variety of settings. This includes your GP, but also doctors in hospitals and other medical facilities. It doesn't matter whether or not you received private treatment or you were seen at an NHS facility. This doesn't affect your eligibility to claim.
The statistics in the graph below show certain financial statistics regarding medical negligence claims made against the NHS in 2020/21. These figures have been taken from the latest NHS Annual Resolution Report. As you can see, there was a total of £2,209 million spent in costs associated with NHS medical negligence claims over this period.
However, this figure is not just made up of claims made against doctors. You can claim for medical negligence compensation if you have been injured by a dentist (dental negligence) or surgeon too. For example, if you have undergone unnecessary surgery.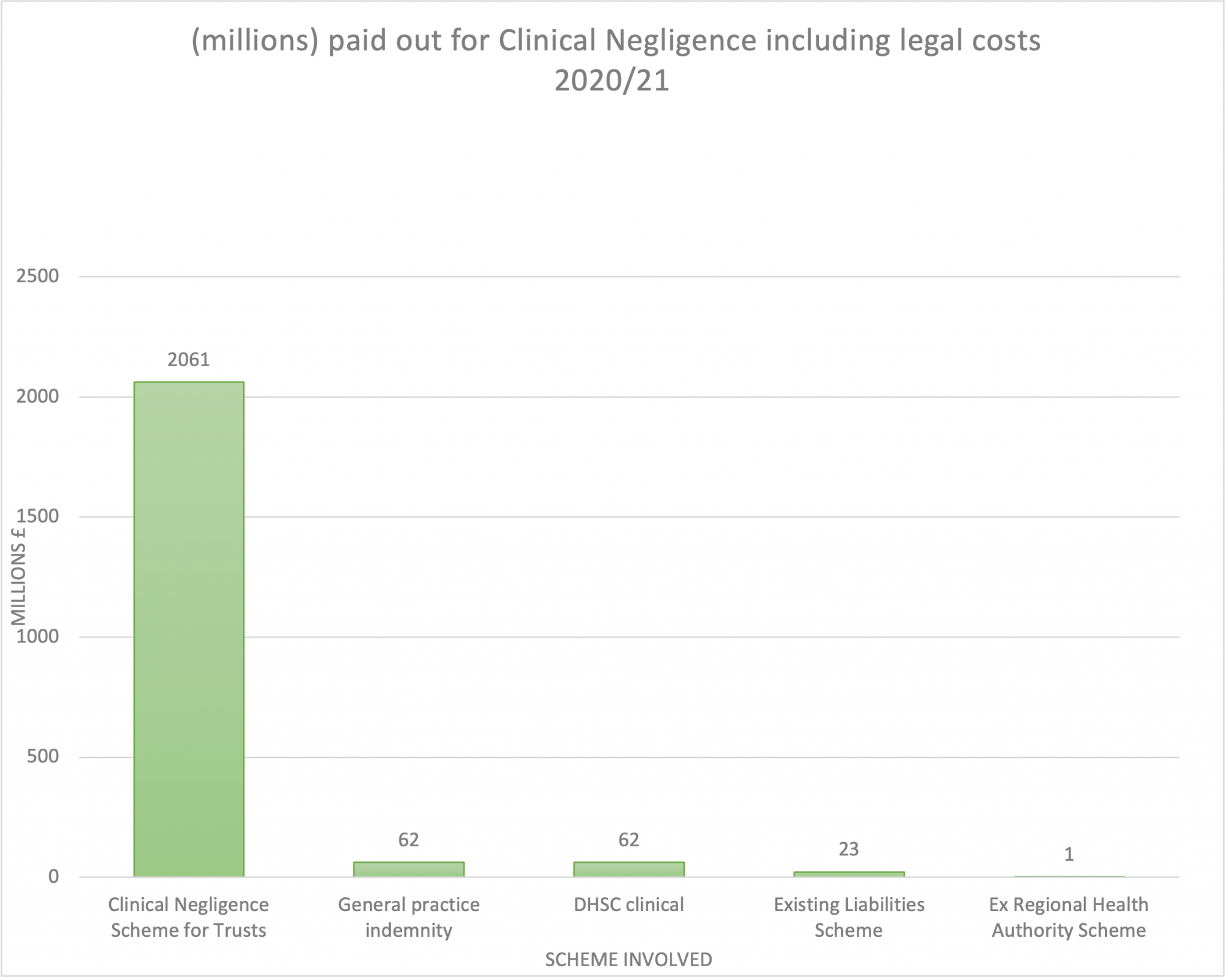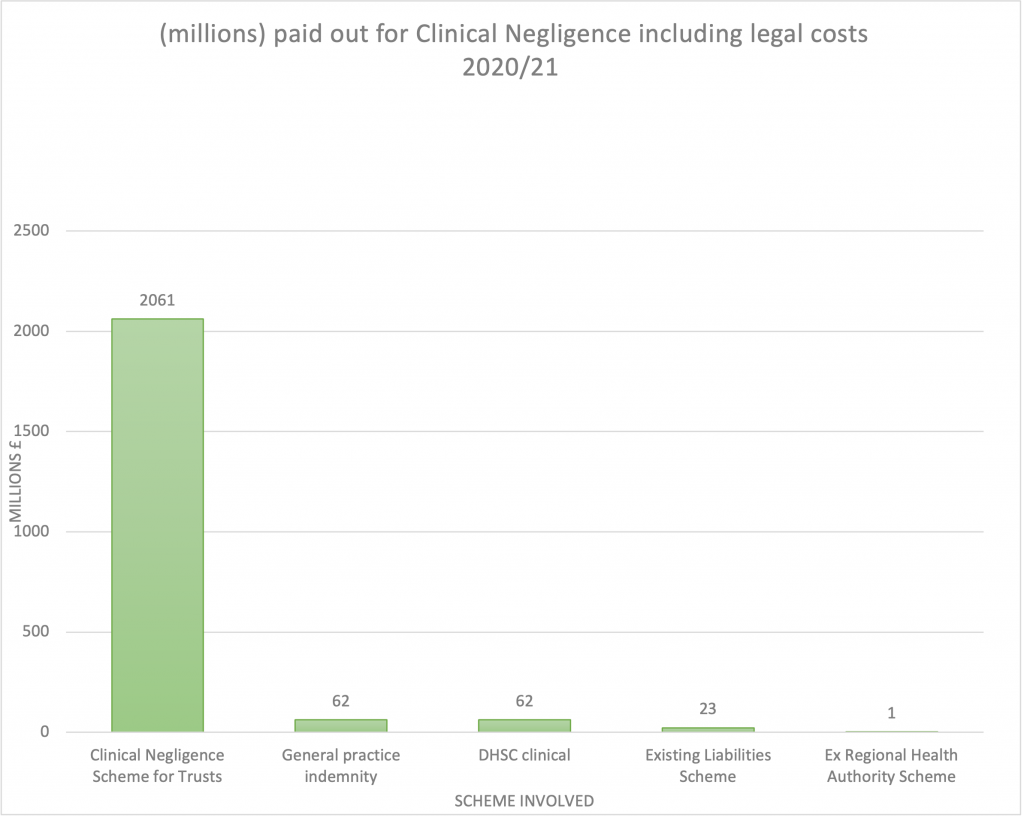 How Do I Know If I Have A Case For Medical Malpractice?
Knowing whether or not you've been the victim of medical malpractice can be tricky. There are often risks involved with many medical procedures and medications. Your doctor should explain these risks to you beforehand so that you can make an informed decision. 
If you understand the risks involved and choose to go ahead with the treatment, those same risks become yours to take. That isn't to say that mistakes can't still be made on the part of the doctor or GP. It could even be that the wrong treatment has been advised in the first place.
We've compiled a list below of some of the main reasons why you could report a doctor for negligence.
Types of medical negligence by a doctor
The list below includes some potential medical negligence cases in the UK to give you an idea of what a valid claim against negligent doctors might look like.
They include:
This list is not exhaustive. If your case of medical negligence isn't listed above, you may still be eligible to make a claim. Get in touch with our advisors at any time, and they can verify your eligibility free of charge.
Evidence To Support A Claim Against A Negligent Doctor
It's crucial to gather evidence to support a claim against a negligent doctor. You'll need to prove that medical negligence has occurred and provide proof of any harm you have subsequently suffered.
Below are some examples of evidence to give you an idea of what to collect:
A letter of complaint – it may be worth making a formal complaint to the medical organisation or doctor that breached their duty of care to you. If you report a doctor, your solicitor can request copies of the complaint as well as the outcome and any documentation relating to it.
Witness contact details – any witnesses to your negligent treatment can offer a statement providing insight into what happened. Ask for their contact details so that your solicitor can get in touch and prepare a statement.
Medical records – your medical records will include information on any medical care or treatment you have received. Your records will also include the information of any negligent doctors who have treated you.
Medical report – a solicitor can organise for you to meet with an independent medical expert. Their diagnosis can establish the extent of any harm you have endured.
If you are based in the UK and medical negligence has resulted in you suffering harm, please don't hesitate to speak to our advisors for free, friendly advice.
How Are Medical Negligence Claims Calculated?
If you make a successful medical negligence claim, your compensation settlement may include general and special damages.
General damages compensate you for the pain and suffering you have endured due to being harmed by a negligent doctor.
When valuing this head of claim, many legal professionals will refer to the Judicial College Guidelines (JCG). This document lists guideline compensation brackets for different types of harm. In the table below, we have included some of the amounts stated in the 16th edition of the JCG.
Please only use this table as a guide.
| Injury | Notes | Amount |
| --- | --- | --- |
| Male Reproductive System | A complete loss of the reproductive organs. | In excess of £153,870 |
| Female Reproductive System | Infertility with sexual dysfunction and depression potentially due to an ectopic pregnancy failing to be diagnosed. | £114,900 to £170,280 |
| Bowels | Passive incontinence and faecal urgency persisting after surgery. | In the region of £79,920 |
| Lung Disease | Lung cancer in an older person that impairs the lungs function and causes severe pain. | £70,030 to £97,330 |
| Bladder | Serious impairment of the bladder's control with some incontinence and pain. | £63,980 to £79,930 |
| Digestive System (b)(i) | Acute pain, vomiting and diarrhoea caused by severe toxicosis. The person may have to be admitted to hospital for a few weeks. | £38,430 to £52,500 |
| Chest Injury | A continuing disability caused by damage to the lungs and chest. | £31,310 to £54,830 |
| Kidney | One kidney is lost with the other suffering no harm. | £30,770 to £44,880 |
| Spleen | Complete loss of spleen with damage to the immune system and a continuing risk of internal infections. | £20,800 to £26,290 |
| Hernia | After the hernia has been repaired, the person will suffer with continuing pain with a limitation on physical activities. | £14,900 to £24,170 |
You may also be awarded special damages. This aims to compensate you for the financial losses you have suffered due to medical negligence. To be able to claim special damages, you will need to provide proof of these losses, such as bank statements or invoices.
Examples of the financial losses you could be compensated for include:
Travel expenses, such as taxi fares to and from medical appointments.
Medical costs, such as having to pay for prescriptions.
A loss of earnings caused by taking time off work to recover from the harm you have experienced.
Speak to our advisors if you would like a personalised estimate of the award you could receive. Furthermore, they can offer free advice on how to raise a complaint against a doctor.
Report A Doctor To The NHS For Negligence
When people tell us, "I want to know how to report my doctor's surgery for negligence" we let them know that it can vary depending on where in the country they are. Whilst you can approach the doctor's surgery or hospital directly, some may find this too intimidating. If you have received private care, you may have no other option. Although some larger companies may have a complaints department.
For reports concerning NHS services, how you direct your claim will differ depending on where you are in Great Britain. England, Scotland and Wales all have a service available for you to report your doctor for negligence.
Report A Doctor To The NHS Ombudsman For Negligence
If you want to report a doctor for Medical negligence who works for the NHS, there is an alternative way for you to pursue this. This is by approaching another service known as the NHS Ombudsman. 
It is independent of the NHS and doesn't cost you anything to use. However, you must be able to prove that you have first attempted to resolve the complaint locally. You should not directly approach the Ombudsman as the first port of call.
Similar to reporting your doctor directly, the NHS Ombudsman's method of contact is regional. It depends on whether you are in England, Scotland or Wales.
Reporting A Doctor To The General Medical Council
If you would like to make a report about a doctor, you could do so by contacting the General Medical Council (GMC). The GMC are the independent regulator for doctors in the UK.
The GMC encourage you to raise your concern with your doctor before making a report to them, in case the situation can be resolved without the GMC needing to step in. When reporting a doctor to the GMC, they will ask you for specific information about the doctor and the incident you are making a report about. The GMC encourage you to make a report to them for cases of:
Repeated or serious mistakes in carrying out medical procedures or in a diagnosis.
Fraud or dishonesty.
Failure to examine a patient properly, or to respond reasonably to a patient's needs.
Serious breaches of a patient's confidentiality.
Any serious criminal offence (in this instance, the GMC also encourage you to make a report to the police).
If you would like further insight into the action you could take against negligent doctors, including making a report or a medical negligence claim, you can contact an advisor.
Time Limits For Medical Negligence Claims
If you have suffered harm due to a negligent doctor or other healthcare professional breaching their duty of care, you could make a claim. However, there is a time limit for stating a claim for medical negligence in the UK. Generally, this time limit is 3 years from the date that you were harmed by medical negligence.
There are certain exceptions to these time limits, as stated in the Limitation Act 1980. These include:
Date of knowledge – You could have 3 years to start your claim from the date of knowledge. This is the date you first realised that medical negligence caused you harm, even if this is later than the date of the incident.
Minors – If your child was harmed by negligent doctors, they will have 3 years to start a claim once they turn 18. Before this point, the time limit is suspended, and a litigation friend could make a claim on their behalf. A litigation friend is someone appointed by the court and could be a solicitor or family member.
Those who lack the mental capacity – If someone lacks the mental capacity to make a claim for themselves, the time limit is suspended, and a litigation friend could claim on their behalf. If they were to regain this mental capacity, they would have 3 years to start their claim from this date.
Do not hesitate to contact our advisors today if you have any questions about starting a medical negligence claim. Our advisors are available 24/7 to offer you free legal advice and answer your questions.
No Win No Fee Solicitors For Medical Negligence
The expert solicitors on our panel have handled many medical negligence cases in the UK. The solicitors on our panel could also offer their services on the basis of
Under this type of arrangement, you aren't responsible for paying your solicitor if your claim is not successful. You also typically will not need to pay any upfront costs.
Other benefits of using No Win No Fee solicitors for medical negligence claims include:
You'll discuss any charges with your solicitor before proceedings begin, therefore avoiding any hidden costs
If your claim succeeds, a success fee is deducted from your compensation amount. This is capped as per the
Find out your eligibility to claim for medical negligence via a free consultation with our advisors. If you are interested, you can get in touch by:
Other Information Relating To How To Report A Doctor In The UK
Here's some more information regarding medical negligence. Feel free to read at your leisure.
Head And Neck Cancer Was Misdiagnosed – Can I Claim Compensation?
Thank you for reading our guide on how to report a doctor in the UK for medical negligence.