Can You Sue For Falling Down Stairs At Work?
Falling down the stairs at work can be a painful and traumatic experience. If you fell down the stairs at work and it wasn't your fault, then you may be able to claim compensation if you were injured. That's where we're here to help.
Our advisors are available to take your call night or day. Once we know more about the circumstance surrounding your case, we may be able to put you in contact with our panel of personal injury solicitors.
By getting in touch with us today, you could get the process of claiming compensation started. Whether you had a slip, trip or fall, if you were injured and it wasn't your fault then you could have a valid claim. Get in touch with us today and we will do our absolute best to assist you. Read on for more information.
Get In Touch With Our Team
Our expert advisors are ready and waiting to help you. They're available 24/7 and give free legal advice. 
You can call us on 020 3870 4868.

Use the live chat function in the bottom right corner.

Use our

online claim

form so we can get back to you at a time best for you.
Services And Information
Everything You Need To Know About Falling Down The Stairs At Work
Falling down the stairs at work can lead to severe injuries. Whilst minor injuries such as sprains and bruising do occur, the accident can result in more serious consequences.
As long as you are using the stairs for their intended purpose, the responsibility for any accidents that are sustained could rest with your employer. It is up to them to maintain the standard of all their walking surfaces, including stairs, as a part of their regular health and safety checks. Any disregard for hazardous flooring conditions, especially on the stairs, could lead to a workplace injury.
That's why we created this guide. We aim to help you understand what could lead to a valid claim.
What Is A Slip, Trip Or Fall On Stairs At Work?
A slip, trip or fall on the stairs at work may be considered a fall from a height under certain circumstances. The analysis of a total of 150 falls from height sustained in the food and drink industry over a period of three years can be divided into categories. Falling down the stairs at work, in this instance, comprises 8% of the total.
It's not specified why these people fell down the stairs at work, only that they sustained an injury as a result. It's important to remember and these statistics reflect only a small cross-section of the food and drink industry. The industry at large and other sectors of work altogether may have differing figures.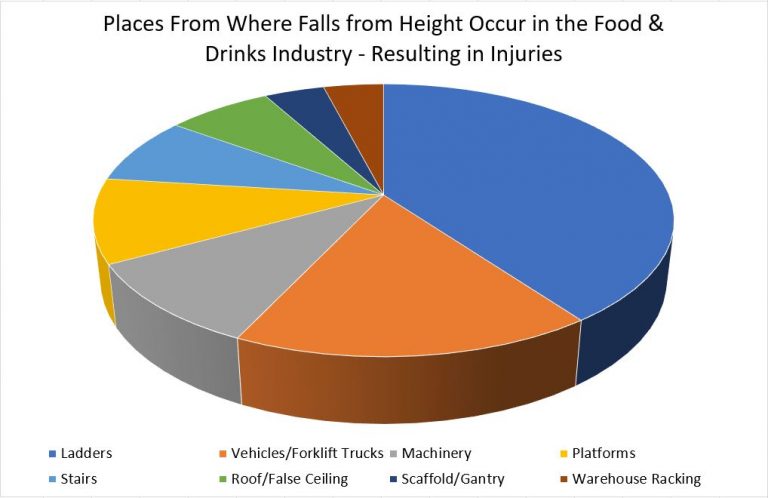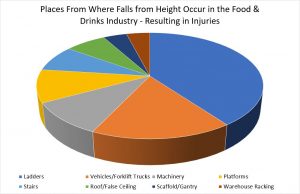 What Can Cause You To Fall Down Stairs At Work?
There are many possible scenarios that could lead to you falling down the stairs at your place of work. The causes could range from damaged stairs or a damaged floor to items being left or dropped on the stairs.
Some other causes for falling down the stairs at work include:
Loose or unstable handrail/bannister

Torn carpet or another form of damaged floor

Wet floor signs not being properly displayed

Spilt liquids not being attended to

Inappropriate flooring material without non-slip properties
Your employer has a responsibility to protect your health and safety. If you're injured due to their negligence, you could claim. 
The Kind Of Injuries Can You Get From Falling Down The Stairs
As a result of falling down the stairs at work, there are a number of injuries you could sustain. The severity of these injuries can vary depending on a number of factors. Some injuries that could be sustained are:
Spinal/disc injuries

: Compressed or slipped discs are not uncommon after falling down the stairs. Not only is the pain known to be very extreme in some cases, but there can also be a great deal of treatment/physiotherapy involved during recovery. 

Nerve damage

: This can be felt in a number of ways. Tingling and burning are not uncommon symptoms, but some fine motor function has also been known to be lost or affected. This kind of injury may not present itself immediately following the accident but could start to display itself further down the line. There can be extensive rehabilitation involved.

Head/brain injuries: A head injury or brain injury can range from minor to severe. Taking a blow to the head can lead to a

concussion

. Whilst a concussion can seem to rectify itself relatively quickly in a number of days or weeks, there can still be lasting damage for some. Memory loss, changes in behaviour and waves of nausea are all concussion symptoms that have been known to occur to varying degrees of persistence. Severe damage to the brain can lead to irreversible side effects.

Broken bones: Fractures can occur in almost any bone in the body as a result of falling down the stairs at work. The height of your fall and the angle at which you hit the ground can affect which bone could be broken, and how badly. Sprains and bruising can sometimes be mistaken for broken bones, so it's always best to seek medical attention to make sure.
Seeking Medical Advice
All of these injuries can be very severe, and life-threatening in some cases. If you suspect you have suffered an injury after falling down the stairs at work, you should seek medical attention to check if you require any treatment.
We are not medical professionals, and so may not be able to elaborate further on these injuries. We are however personal injury experts. If you have any questions about an accident at work that wasn't your fault, then get in touch with us today.
Calculating Compensation For Falling Down Stairs At Work
There are two potential heads of claim in personal injury cases: general damages and special damages.
General damages are intended to address the level of physical or mental pain and suffering that the individual endured as a result of someone else's negligence. Recovery time also factors into this amount.
This figure can be calculated using a publication known as the Judicial College Guidelines (JCG). The JCG is used by legal professionals to help them value injuries. It contains a list of different injuries and recommended awards for differing levels of severity.
We've created the compensation table below to illustrate the potential compensation awards you could receive.
| Damages | Awarded For | Amount |
| --- | --- | --- |
| Less Serious Leg Injuries | (iii) Simple Fractures to Tibia or Fibula or Soft Tissue Injuries | Up to £11,110 |
| Moderate Brain Damage | (iii) Cases in which concentration and memory are affected | £40,410 to £85,150 |
| Back Injuries | (a) Severe (iii) | £36,390 to £65,440 |
| Chest Injuries | (f) Injuries leading to collapsed lungs from which a full and uncomplicated recovery is made. | £2,060 to £5,000 |
| Back Injuries | Severe back injuries (a)(i) - The most extreme of back injuries resulting in incomplete paralysis and impaired bodily functions. | £85,470 to £151,070 |
| Knee Injuries | Moderate knee injuries (i) - Injuries that result in minor instability, wasting or weakness. Other mild future disability or worsening of pre-existing symptoms.  | £13,920 to £24,580 |
| Ankle Injuries | (a) Very Severe | £46,980 to £65,420 |
| Ankle Injuries | (c) Moderate | £12,900 to £24,950 |
| Foot Injuries | (g) Modest | Up to £12,900 |
| Toe Injuries | (b) Amputation of the Great Toe | In the region of £29,380 |
The second head of claim is special damages. Special damages are calculated on a case-by-case basis. This bespoke amount is paid to cover any financial losses or additional outgoings that the claimant may have experienced due to their injuries after falling down the stairs at work.
For example, as a result of the injuries, you may have taken time off work which resulted in a loss of earnings.
You can prove special damages by providing documents such as bank statements or payslips.
If you'd like a free, accurate estimate of what you could claim, why not get in touch today?
How To Reduce The Risk Of Falls On Stairs
There are certain regulations that stairs should meet to be deemed suitably safe for use. They are laid out in Buildings Regulation Approved Document K. 
The main points to be considered are:
Each step should have clearly marked edges.

They should be free from debris and other trip hazards.

The material(s) used should have slip-resistant properties. This is especially important at the leading edge of each step.

Stable handrails should be present, at an appropriate height relative to the surroundings.

They should be well lit while in use.
If all of these health and safety precautions are in place, then the risk of slips, trips and falls should be greatly reduced. 
Employers' Duty Of Care To Prevent Slips, Trips And Falls
Under the Health and Safety at Work etc. Act 1974, employers are required to protect your safety in the workplace. This is known as a duty of care. Not only does this include your immediate working environment (office, warehouse, etc.), but also other areas you need to access such as the stairs.
Due to this, your employer should check for dangers surrounding staircases and other walking surfaces. Additionally, if they're made aware of hazards that could cause accidents or injuries, they should take reasonable measures to reduce or remove them. 
These hazards can include for below. 
A broken floor that wasn't fixed due to a poor risk assessment causes someone to trip.

A spillage that isn't attended to, even though it's been noticed, causes someone to slip. 

An unsafe hand railing (that the employer has been made aware of but hasn't fixed) causes someone to fall down the stairs. 
Should any injuries occur in the workplace as a result, the person who suffered them could claim against your employer. 
Should I Go To The Doctor After Falling Down Stairs?
It's always strongly advised that you seek medical attention following an injury that requires it. Even seemingly minor injuries can result in more serious consequences in both the near and distant future.
Your health following a workplace injury is of paramount importance. For example, it's important to seek medical advice regarding a head injury or suspected brain injury if you're experiencing concussion symptoms.
Seeking medical care is not just vital for ensuring your own physical wellbeing. By visiting a doctor, you will be medically assessed as you are treated. The entry in your medical records can be used as evidence when pursuing a personal injury claim.
However, if you didn't seek medical help at the time, you may still be able to claim. That's because, during the claims process, you would attend a medical assessment. An independent medical professional would check your injuries and create a report which aims to:
Assess the severity of your injuries.
Establish whether your injuries were caused or exacerbated by the accident (or whether there's no link between the accident and the injuries). If there's no link between your injuries and the accident, you may not be compensated.
If you use the help of a solicitor, they could use this report to help value your injuries.
How Much Time Do I Have To Claim For Falling Down Stairs At Work?
If you fall down the stairs at work and it wasn't your fault, you generally have 3 years from the date of the accident to make a claim. 
An exception to this rule is if you sustain an injury in a workplace accident but don't become aware of it or that it was caused by someone else's negligence until a point in the future. This is known as the date of knowledge.
The 3-year time limit can begin from the date of knowledge, but it can be difficult to prove. One of the best ways to prove the date of knowledge is with a medical examination. The medical report could be used as evidence whilst pursuing your claim.
Child Accident Claims
If someone under the age of 18 suffers a workplace accident, they have until their 18th birthday before the 3-year time limit begins. Prior to this date, their case can be pursued by someone else for them.
Anyone under 18 cannot legally make their own personal injury claim. However, an individual known as a litigation friend could do so on their behalf. For example, a litigation friend can be a parent, guardian or solicitor.
Claiming For Individuals with Reduced Mental Capacity
If someone lacks the mental capacity to claim, then the 3-year time limit functions slightly differently again. The time limit only starts from the date the injured party regains sufficient mental capacity to pursue their own claim. However, before this happens, a litigation friend could claim on their behalf. 
I Had A Fall At Work, What Should I Do?
Following a fall at work, you should always seek medical attention. Even superficial-looking injuries can result in more sinister outcomes, so it is always best to be safe and get looked at by a medical professional.
Seeing a medical professional should also result in an entry in your medical records. This evidence could prove useful in proving the date, severity, and prognosis of any injuries sustained.
Obtaining other evidence is also an important next step. Taking photographs of hazards that could have caused your injury (such as a broken floor or damaged stairs) could also help your case. Contact details of witnesses are also very useful to get hold of for witness statements. The incident should also have been logged in your place of work's accident book.
Once you have all your evidence in place, you could be ready to claim. You could get in touch with a lawyer who deals with personal injury claims. Our panel of solicitors are very experienced in these matters. Call our advisors today and they may be able to connect you with them.
Do You Handle Claims For Falling Down Stairs At Work On A No Win No Fee Basis?
Our panel of solicitors can offer their services on a No Win No Fee basis. This means that you would not need to cover any solicitor fees if your claim doesn't win. Should you win your case, the solicitor's fee would be a small percentage of the compensation.
However this 'success fee' is legally capped and can only be taken once the compensation has come through. 
Other benefits of No Win No Fee include:
No ongoing solicitor fees.

No upfront solicitor fees. 

 
Whilst it is permitted for you to represent yourself during the claims process, we recommend using the services of a No Win No Fee solicitor. The personal injury claims process can be a stressful endeavour. No Win No Fee not only gives you an affordable way of funding a solicitor, but it also allows you to benefit from legal advice too. 
Get In Touch About Falling Down The Stairs At Work
To find out more, why not get in touch with our advisors? They give free legal advice and are available 24/7. Plus, you won't be under any obligation to proceed with our services. You can get in touch by:
Other Information
Here are some additional resources to explore regarding your injury:
Statistics for injuries sustained from falls from a height in the food and drink industry
NHS advice regarding falls
More on concussions and related symptoms
We also have our own guides that are related to claiming:
Your rights following an accident at work in the UK
Guide to claims for accidents on holiday
How much compensation you could be awarded following a slip, trip or fall
Frequently Asked Questions
In this final section of our guide, we look at frequently asked questions regarding fall injuries.
What do you do if someone falls down the stairs?
Your first step if someone has fallen down the stairs is to seek medical attention if appropriate. In some cases, you shouldn't try to move the injured person. Some injuries can be made worse by movement without proper medical assistance such as a paramedic.
If you're unable to get up after a fall, the NHS advises that (if possible) calling 999 may be the best course of action. 
What should you look for after a fall?
Superficial injuries after a fall may be easy to spot at first glance. These include cuts, bumps and bruises. Deeper-lying problems are often much harder to see. If the person's fall has caused them to lose consciousness then you should seek medical attention.
In the event that the injured person seems dazed, confused or not themselves, then this could be a sign of a concussion. 
Thank you for reading our guide exploring whether you could be eligible to claim after falling down the stairs at work. 
Writer IB
Checked by HT