The Meaning Of Loss Of Amenity In Personal Injury Claims
Welcome to our guide looking at the meaning of "loss of amenity". You may have heard this phrased before but be unsure exactly what it means in a personal injury claim. In this guide, we will answer questions like "what does loss of amenity mean?" and "how are damages for pain and suffering calculated?"
Claims for loss of amenity can feel complicated and difficult to navigate on your own. That's where we come in. Our advisors are standing by to answer your questions.
This article is also written to be as easy to understand as possible. We're aware that certain legal terms can make the process harder to understand. We try our best to avoid terminology that makes the process more daunting.
The more our advisors know about your loss of amenity claim, the better they will be able to help you. If you have a valid claim, then we can connect you with an expert lawyer from our panel. So, for the most accurate valuation we can give you, it's best to get in touch today.
Get In Touch With Our Team
You can speak to us over the phone. However, there are other methods by which you can reach us. You can:
Services And Information
Everything You Need To Know About Loss Of Amenity Meaning
So, what does the loss of amenity mean? In the context of personal injury law, this is when you are injured due to someone else's negligence, and these injuries result in your ability to carry out certain tasks being reduced or even lost completely. This can be temporary as you recover, but you might also be affected on a permanent basis.
It's not just physical injuries that can prevent you from carrying out certain tasks. Mental injuries can be just as debilitating. Becuase of this, you can claim for mental injuries as well as physical ones.
What Is Loss Of Amenity In An Injury Claim?
Loss of amenity covers you for a loss of enjoyment in life. If your mental or physical capacity is affected due to personal injuries, then your ability to carry out certain tasks may be lost or reduced.
For example, there could be a certain amount that's awarded for a severely broken ankle. If this never fully heals, then the figure tends to be higher. However, if the injured party was a keen amateur footballer, then this could mean that they're no longer able to do something they really enjoy. Therefore, the figure could be even higher still.
This is just one example of how loss of amenity can influence the value of a claim. For more information on how it could affect your claim, speak with a member of our team today. 
Examples Of Loss Of Amenity
There are a number of scenarios where a loss of amenity could affect your life. We have provided some examples below that demonstrate how your life could be affected by a loss of amenities.
These are just a few examples; it's not an exhaustive list. If you want to find out if what you have experienced falls under the category of "loss of amenity", then get in touch with us today.
How Do I Maximise My Compensation?
To increase the chances of your loss of amenity claim being worth as much as it possibly can, there are a few things you should do. For example, you should make a note of all instances and occasions that your injury prevents you from participating. This can include events like weddings and birthdays, but also tasks such as going or work or recreational activities.
However, these must be things that you would have been able to do prior to your injury. For example, if you claim that you could play the piano prior to a severe hand injury and now you can't, this will be investigated. You could suffer consequences if you are untruthful.
Special Damages In Injury Claims
Special damages for a loss of amenity claim are made up of the financial losses you have experienced due to your injuries. Some examples of this include:
For more information regarding what else can be claimed back via special damages payments, call our advisors today.
Calculating Damages For Personal Injuries
Another sum that is related to a claim for loss of amenities is known as general damages. This figure is awarded to you to account for the physical pain and mental suffering caused by your injuries. General damages are calculated with the assistance of a publication called the Judicial College Guidelines (JCG).
These guidelines were last updated in 2019, and they are made up of a list of injuries and their potential value in compensation. More severe injuries tend to be awarded high amounts.
We've included a table below that contains some of the entries from the JCG. Get in touch with us if you don't see your injury listed. It doesn't mean you can't sue for loss of amenity. This is only a small sample of the injuries in the JCG.
| Injury | Description | Amount |
| --- | --- | --- |
| Paraplegia | (b) impact on things like mental health and sexual function | £205,580 to £266,740 |
| Brain damage | (c) Moderate - (i) various senses will be affected and there'll be no employment prospects | £140,870 to £205,580 |
| Post-traumatic stress disorder | (a) the injured person will be left unable to work, or function anywhere near the level they did prior to the trauma | £56,180 to £94,470 |
| Sight | (b) Total blindness | In the region of £252,180 |
| Hearing | (b) Total deafness | £85,170 to £102,890 |
| Chest | (a) injuries to the chest, lungs and/or heart that result in lasting damage and physical disability with a reduced life expectancy | £61,710 to £94,470 |
| Back | (a) Severe - (iii) fractures of discs or similar injuries that result in things like ongoing pain, impaired agility and sexual function etc. | £36,390 to £65,440 |
| Arm | (a) Loss of both arms - when the claimant is fully aware, and is left in a considerable state of helplessness | £225,960 to £281,520 |
| Elbow | (a) The injury will be severely disabling | £36,770 to £51,460 |
| Wrist | (b) where the injury is permanent, but some useful movement does remain | £22,990 to £36,770 |
In order to work out the value of general damages in your claim, you will be invited to a medical assessment. Here, an independent expert will assess your injuries and confirm that they were caused by your accident. They will compile these findings in a medical report which can be used with the help of the JCG to value your claim.
How Is Loss Of Amenity Valued?
So, as we've laid out in this article, there can be a few things to consider when valuing a claim for loss of amenity. This means each claim will be worth different amounts. 
Basically, the severity of your loss amenity will need to be carefully considered by legal professionals whilst the claim is being made. Both your special damages and general damages figures can be affected by your loss of amenity.
Claim For Loss Of Amenity On A No Win No Fee Basis
All of the lawyers on our panel work with their clients on a No Win No Fee basis. What this means is that if your claim is successful, you won't be responsible for covering their legal costs. You will only need to pay their legal fees if you are awarded compensation.
Even in this instance, the amount they are owed will be taken from your settlement amount in the form of a small percentage. What's more, this percentage is legally capped, ensuring that you always get the majority of the compensation you're awarded. 
Arrangements like these exist so that everyone has access to the legal help they require to make a claim. There are no hidden costs or upfront fees. So, get in touch today to start the process.
You can:
Resources
Here are some additional links for further reading on similar topics
Q&As On Loss Of Amenity Meaning
We've answered some of the more common questions we are asked here at UK Law.
What is an amenity in law?
You may be making a claim for loss of amenity, meaning your capacity for certain tasks has been reduced or removed due to a physical or mental injury.
What is a loss of services claim?
This claim focuses on when the claimant suffers a fatal injury. The calculation takes into account any dependents they may have left behind, and what would have been provided to them if the claimant had survived.
For example, the claimant may have died due to a fatal accident at work. Statistics from the HSE show how common this occurrence was in 2020/21 across Great Britain.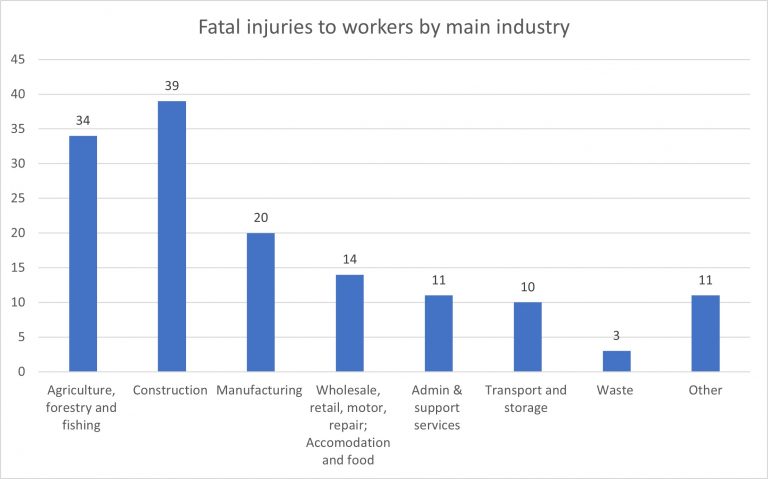 How are damages for pain and suffering calculated?
The amount you receive for pain and suffering will be based on your medical report. This will be valued with the assistance of a publication called the Judicial College Guidelines (JCG). 
Thank you for reading our guide on the loss of amenity meaning.
Writer IB
Checked by NC