A Guide To Slip, Trip And Fall Accident Claims In UK – What's The Average Payout For A Slip And Fall?
By Danielle Fletcher. Last Updated 16th August 2023. In this guide, we'll explain how slip and fall at work settlements may be calculated. We'll also discuss what the average payout is for a slip and fall in the UK. We'll talk about how much compensation you could potentially receive if you are able to claim for a slip, trip or fall accident that was caused by another party's negligence.
Have you been injured because of a slip, trip or fall accident that was not your fault? Then you could be entitled to claim compensation for slip, trip and fall injuries. Trust UK Law's excellent panel of personal injury claims solicitors to handle your case.
Get In Contact With Our Team For Insight Into The Average Payout For A Slip And Fall In the UK
To begin your claims for compensation for slip and fall accidents, call 020 3870 4868 today. We offer our prospective clients a free personal injury claims consultation.
You can also chat with us now via our live chat box.
Or you can contact us today in writing.
We're looking forward to hearing from you.
Services And Information
Can I Claim Trip Or Fall Compensation?
In order to make a personal injury claim to seek trip or fall compensation, you need to demonstrate that negligence occurred. This means:
A duty of care was owed to you
This duty of care was breached
You were injured, physically or psychologically as a result.
Certain third parties owe a duty of care, including employers, road users and occupiers. As part of the slip, trip and fall claims process, you can gather evidence that shows this duty was breached.
To find out more about slip and fall compensation amounts, such as the evidence you could gather or how much compensation for a fall you could receive, get in touch with our advisors today.
Slip And Fall Claims – Example Scenarios
For slip and fall claims to be successful, it's important to establish that negligence resulted in the accident in which you were injured. Therefore, we've put together some example scenarios that could result in slip, trip or fall claims.
Here are some typical ways a slip or fall accident may occur:
If a restaurant or bar was aware of a spillage and it isn't cleaned up in due time, you might slip and suffer a broken ankle.
You might visit a public place, like a shop, where a mopped floor hasn't been marked with a wet floor sign. Therefore, you aren't aware of the hazard and slip on the floor.
A trip accident at work may occur if your employer fails to carry out checks, thus not identifying or rectifying issues such as hazardous flooring. For example, your workplace may have cracked floor tiles or trailing cables.
Continue reading to find out about the average payout for a slip and fall in the UK. Alternatively, speak to our advisors, and they could connect you with a slip and fall lawyer from our panel.
Slip, Trip And Fall Injuries – Examples
There are various injuries you may suffer in a slip, trip and fall ranging from minor to severe. In the section above, we explored scenarios where a breach in a duty of care owed to you can cause injuries. In this section we look at a small selection of the injuries you could suffer.
Examples of injuries you could suffer if you slipped on a wet floor include:
A broken ankle could occur if you twist it or land on it should you fall.
Head injuries could occur if you bump your head during the slip. These can range from minor bruising that heals within a few weeks to very severe injuries that leave the sufferer with permanent brain damage.
A forearm fracture could occur if you put out your arm to break your fall or if you are trying to maintain your balance during a slip and hit an object.
Facial cuts and fractures. These could also cause scarring. Like with head injuries, they can occur if you bump your head during the slip. They can also occur if you land on broken glass or gravel.
A shoulder fracture can occur if you land on your shoulder or hit your shoulder on another object when you fall.
Our advisors can discuss the situation that resulted in your injuries, even if they aren't included on the list above. In addition to that, they can provide a free claim evaluation. If it seems like you have a valid case for compensation, you could be put in touch with a slip and fall lawyer from our panel. Call us today using the number at the top of the screen.
How Is The Average Payout For A Slip And Fall Calculated?
If you are eligible to claim compensation for a slip and fall accident, you could be compensated for the pain, suffering and loss of amenity that your injuries have caused as 'general damages'. You may also be able to claim compensation for any financial losses directly caused by your accident and injuries under 'special damages'. Examples of special damages may include lost earnings from taking time off work unpaid or the cost of using public transport to receive treatment for your injuries.
As such, there is no set average figure when it comes to compensation payouts for a slip, trip or fall in the UK. The amount you may be offered when eligible to claim for such accidents can depend on various factors. These may include the following:
How severe your injuries were
The length of time of your suffering
Whether there were any long-term permanent impacts or risks of developing complications
The costs you've incurred due to your injuries.
If you have strong grounds to make a claim for a slip, trip or fall accident, then you are welcome to contact UK Law for advice on potential compensation amounts. We may be able to assist in providing a compensation estimate which reflects the circumstances of your case.
Call us today to find a slip trip fall injury lawyer to handle your claim and find out more about compensation payout for slips and falls in the UK.
Slip Trip And Fall Injury Statistics
Slips, trips and falls are very common accidents. According to the Health and Safety Executive (HSE) 33% of reported accidents in the workplace are slips, trips and falls on the same level. You can see how this compares to other causes below.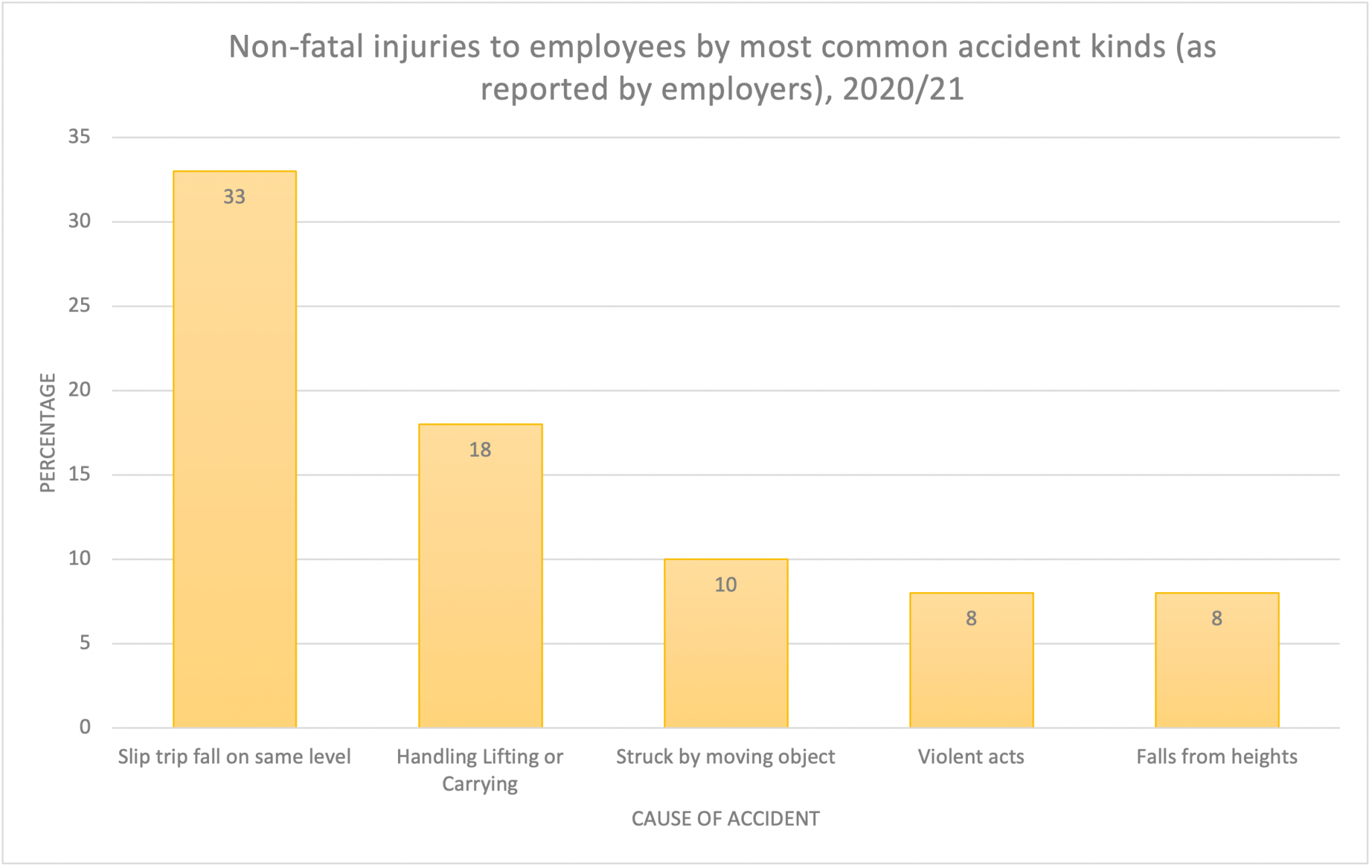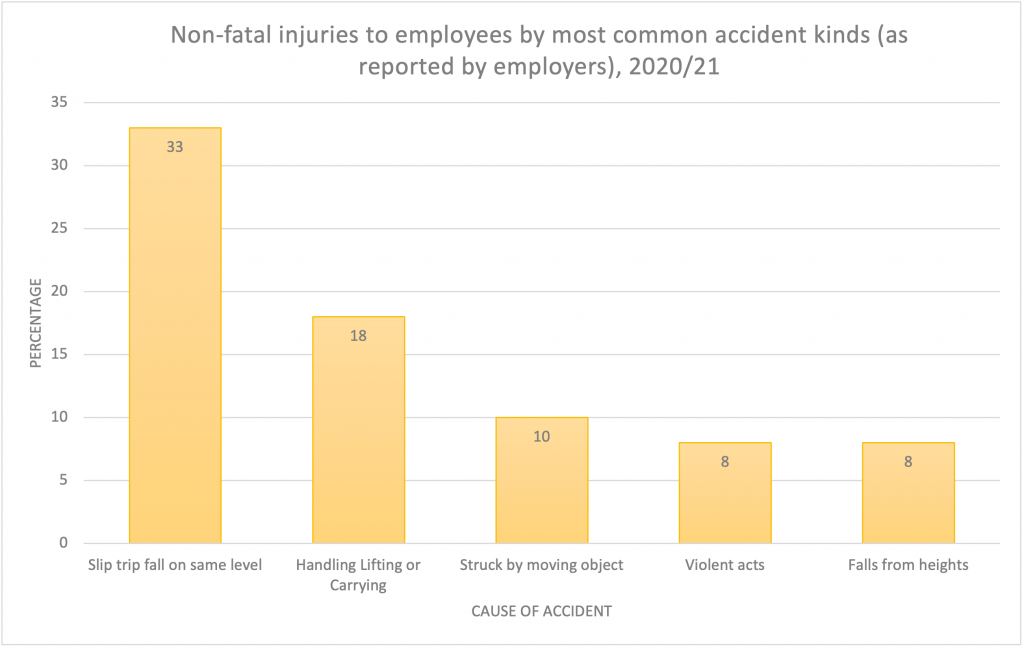 What Is The Average Payout For A Slip And Fall In The UK?
Personal injury compensation can typically be split into two heads of claim: general damages and special damages. The first head of claim, general damages, is aimed towards your injuries and the way they affect your life. This includes both physical and psychological injuries. All successful claimants will receive general damages.
When solicitors and other legal professionals calculate compensation under this heading, they often refer to the Judicial College Guidelines (JCG). This is a document that offers guideline compensation amounts for a number of different injuries. You can find some examples of the amounts listed in the 16th edition of the JCG in the table below.
It is important to note that compensation for slip, trip and fall claims is assessed on a case-by-case basis. Please only use the figures below as a guide.
| Severity | Part of body injured | Notes on this injury | Settlement bracket |
| --- | --- | --- | --- |
| Severe | Head | Serious head injuries causing brain damaage. At this level the injured part may require constant care. | £282,010 to £403,990 |
| Moderate (i) | Head | This may include more 'moderate' levels of brain injuries. Symptoms may be less severe than in cases of serious injuries. | £150,110 to £219,070 |
| Very severe | Facial scarring | To be eligible for this category of claim the scarring must be severe and affect those between teenage years to the early thirties. | £29,780 to £97,330 |
| Moderate (b) (iv) | Leg or legs | Such injuries could include a fracture or multiple fractures of the legs. May include crushing injuries. | £27,760 to £39,200 |
| Less Severe | Arm or arms | The injured party may be left disabled to a degree. However, some level of recovery either has or will take place. | £19,200 to £39,170 |
| Moderate | Neck | This may include different forms of injury which affect any part of the neck inclulding the bones and soft tissues. | £24,990 to £38,490 |
| Moderate | Back | A 'moderate' injury may cover many different types of injury at different levels of severity within the category of 'moderate'. May include injuries to the bones or soft tissues, or to the spinal coloumn. | £12,510 to £38,490 |
| Moderate (i) | Knee | Moderate covers a wide variety of different potential injuries to the knee joint. | £14,840 to £26,190 |
| Facial Fracture (b) | Facial fracture | The claimant may have sustained a degree of facial deformity which is permanent. | £14,900 to £23,950 |
| Moderate | Shoulder | Could include injuries limiting movement in the shoulder joint. May persist for one to two years. | £7,890 to £12,770 |
Some slip and fall compensation amounts also include special damages. This head of claim addresses the financial losses that you have endured as a result of your injuries. For example, this could include lost earnings, or travel costs to and from hospital appointments.
This heading can also cover:
  The cost of domestic help, such as help with cleaning or cooking.
  Childcare costs.
  The cost of home adjustments, such as the installation of a stairlift.
  Mobility aid costs, like wheelchairs or a cane.
  Prescriptions and over-the-counter medication expenses.
It's important to note that in order to claim under this heading, you have to be able to provide evidence to prove your losses. Because of this, it can be a good idea to keep any invoices or receipts related to your injuries.
Contact our team of advisors today for a free valuation of your potential personal injury claim.
Can A Slip And Fall Accident Lawyer Help Me Gather Evidence?
All slips, trips and falls claims must be supported with sufficient evidence that proves you suffered your injury due to a relevant third party breaching their duty of care. Some examples of evidence that could help support a personal injury claim include:
Photographs of the accident scene. For example, if you tripped over uneven pavement, you could photograph this.
A copy of your medical records with information about the nature of your injuries and the treatment required.
The contact information of any witnesses to the accident so they can give a statement later into the claiming process.
Videos of the accident, such as CCTV footage.
You may wish to instruct a slip and fall accident lawyer to help you. Our panel of No Win No Fee lawyers have years of experience with personal injury claims. One of them could help gather the evidence for your trip claim. Get in touch with one of our advisors for a free claim check. If it seems like you have a strong case, you could be passed onto a lawyer from our panel.
Slip And Fall Claim – How Long Do I Have To Begin My Case?
Generally, you need to start your claim for a fall within 3 years, in line with the personal injury claims time limit. The time starts either from the date of your injury or from the date of knowledge. The date of knowledge is the date you either were made aware of your injury (if this was not the accident date) or the date you became aware you were injured due to negligence. However, there are exceptions to the time limit, which can be found in the Limitations Act 1980.
Those with reduced mental capacity have the time limit suspended. The time limit only applies again when or if mental capacity is back to normal. However, a ligation friend can claim on their behalf before this point.
If the claimant is under 18 years old, the 3-year time limit does not apply until they turn 18. However, a fall claim could still be made using the help of a litigation friend.
Contact UK Law for more information today. We can tell you if you're still eligible for fall compensation.
Slip And Fall Claims – Claim With A No Win No Fee Solicitor
If you've been injured in a trip and fall accident, then you could be owed compensation if your injury was the result of negligence. If you're eligible to claim for a trip and fall, we recommend hiring a No Win No Fee solicitor. All of the lawyers on our panel can work in this way.
When working with a No Win No Fee solicitor, they only take a legally capped percentage from your settlement if your claim is successful. If your claim fails, you won't be required to pay your solicitor for their work. Also, you are typically not expected to pay an upfront fee.
Get in touch with us today to learn more about claiming with a No Win No Fee lawyer, including how much compensation for a fall you could be owed. We also have more information on the average payout for a slip and fall in the UK.
Falls Prevention And Resources
Further Information On How Much Compensation For A Fall You Could Claim
You may also find some of the following guides helpful:
We hope this guide on slip, trip and fall claims and the average payout for a slip and fall in the UK has been helpful. If you have any further queries, please get in touch at any time.