What Is The Weight Limit for Manual Handling?
By Cat Reeves. Last Updated 13th September 2023. Welcome to our guide on the weight limit for manual handling. Here, we explain the maximum weight to lift at work, as well as what to consider when it comes to manual handling limits.
Some workplace environments require greater levels of manual handling than others. When dealing with manual handling, the weight limit deemed safe to lift is sometimes unknown to people. If you've been injured at work due to being asked/made to lift or move something too heavy for you then you could be entitled to compensation. In order to make a valid claim for a manual handling injury at work, you would have to prove through evidence your injury was caused by negligence. This must show that your employer or a colleague acted in a negligent way causing you harm.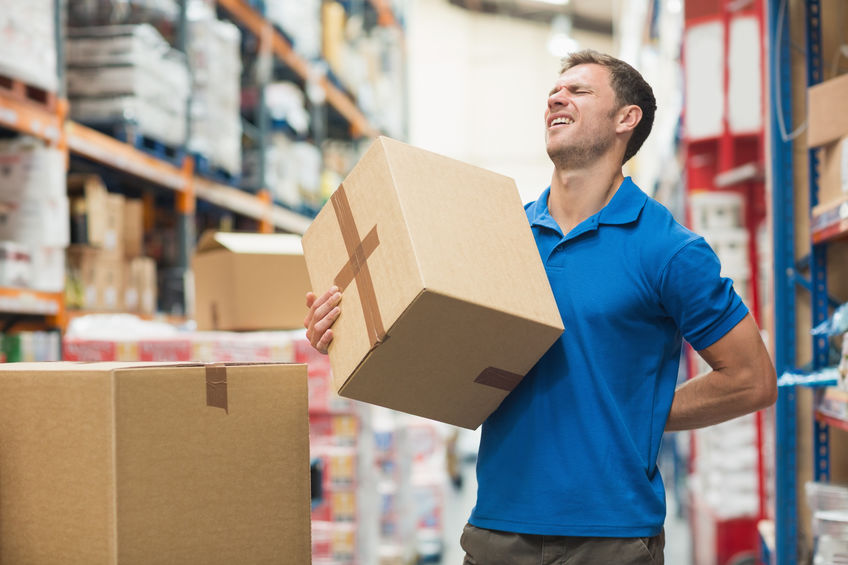 When you get in touch with our advisors they will evaluate your claim for you. Here you can ask as many questions as you need to. If they can see you have a valid claim they can offer to put you in touch with a personal injury solicitor. 
Get In Touch With Our Team
Our advisors are ready and willing to help you. Reach out to us today so we can find out more about the circumstances surrounding your claim.
You can do so by:
Calling us on 020 3870 4868

Using the live chat function in the bottom right corner

Heading to the "

claim online

" section of our website
Choose A Section
Everything You Need To Know About Manual Handling Weight Limits
Manual handling doesn't just include lifting, although it is included. There are other physical actions listed in the Manual Handling Operations Regulations 1992. The other physical actions included in manual handling involve:
Putting down

Pushing

Pulling

Carrying

Moving a load via hand or bodily force
Somewhat surprisingly, there's no legal weight limit for individuals to abide by when engaging in manual handling. There are however advised guidelines. The weight differs between the genders, with men being advised they can handle slightly heavier loads. 
The maximum safe weight to lift at work may not have a legally enforceable limit, but personal injury claims can still be made for injuries sustained when lifting an item that is heavier than 25kg alone. How the load is being handled/transported can also lead to different weight limits being advised. Injuries being sustained by lifting heavy loads are more common in some workplaces than others. 
What Is The UK Weight Limit For Manual Handling?
There are no legal limits on lifting weights in the UK. However, guidance does exist on safe lifting weights and procedures that can make manual handling safer.
This guide will discuss the responsibility your employer faces regarding manual handling at work and your safety. Despite there being no official maximum lifting weight at work, your employer could still be found liable for an injury that is caused by asking you to lift beyond the recommended safety limits. We will then explain how you can prove your employer may be liable for injury and how to begin a compensation claim.
If you have any questions about making a claim or the manual handling limit, then please reach out to an adviser.
Examples Of Manual Handling Weight Limit Breaches
While there is no manual handling weight limit that must be followed by law, there are still health and safety guidelines that advise on a safe lifting weight in the workplace and actions that people can take to avoid manual handling injuries.
Your employer's duty of care means they have a responsibility to ensure that they do not put your health at risk. Asking you to lift a weight above the safe lifting weight could be a breach of the duty of care they owe you. Examples of how a manual handling weight limit could be breached due to negligence include:
If you are not provided with proper training on safe lifting techniques
Someone is not assigned to help you if you are lifting a particularly heavy weight
Risk assessments are not performed to ensure that the weight was safe to lift alone or that you were capable of lifting it.
If you were injured because your employer asked you to perform an unsafe task, please reach out to one of our advisors.
Manual Handling Weight Limit Guidelines
"What is the maximum weight you can lift at work?" is a question we're often asked. In this section, we answer more commonly asked questions and provide essential guidance on the weight limits for both one person and two people. 
Manual handling weight limits for one person
When it comes to manual handling weight limits for one person, the law is clear on what you can lift and the manner in which it can be done.
This image below, published by the Health and Safety Executive, gives a clear guide on what's allowed by law: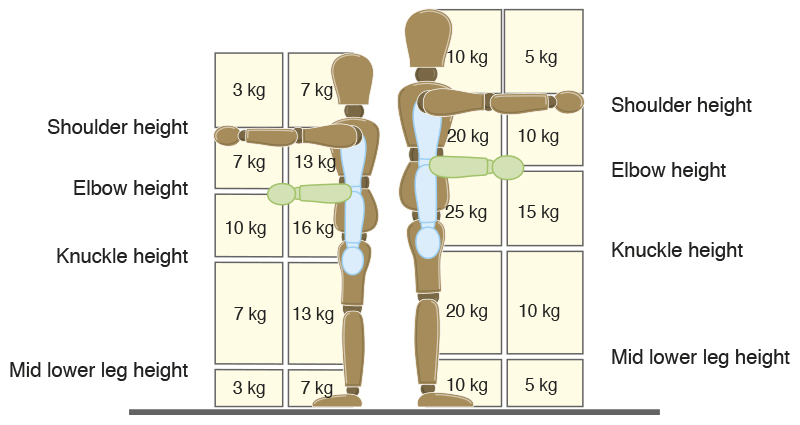 Image Credit – HSE Guide To Manual Handling
As you can see, the legal manual handling limits vary depending on how the item is carried. Heavy items can be held close to the body, but if they have to be lifted above head height and placed on a shelf, for example, that limit decreases significantly.
It's much harder to carry heavy things when your arms are extended, with greater strain placed on muscles and tendons. It's at these ranges that injuries can occur, such as torn or strained muscles.
What is the 2-man lift weight limit in the UK?
The 2-man lift weight limit in the UK is different from the one-person limit. When two people lift a heavy item, they can carry a greater weight between them.
As a rule, they can increase the total sum of both individuals' lifting limits by around two-thirds (2/3rds).
For example, two women (who can carry a maximum of 16kg each), could lift an extra 10.5kg (approximately), meaning they could carry 26.5kg between them as the legal weight limit.
Manual Handling Injury Compensation Examples
Compensation payouts for injuries caused by manual handling can vary widely. This is not only because different parts of the body could be injured, but also due to the severity of any injuries. These factors will be taken into consideration when valuing your claim. Alongside this, the Judicial College Guidelines can assist solicitors in valuing claims.
We have used figures from the latest edition, published in April 2022, in the table below. These figures relate to the general damages part of manual handling compensation claims. These cover the pain and suffering of the injuries you have sustained.
However, compensation payouts for injuries caused by manual handling are determined on a case-by-case basis. As such, the example compensation amounts in the table below do not determine your payout but are used only as guides.
| Injury | Description | Amount |
| --- | --- | --- |
| Back - Severe (i) | Damage to the spinal cord and nerve roots that lead to unusually serious consequences that are usually not found in most back injuries. | £91,090 to £160,980 |
| Back - Moderate (i) | A compression or crush fracture to the lumbar vertebrae that causes constant pain and discomfort. | £27,760 to £38,780 |
| Neck - Severe (i) | An injury associated with incomplete paraplegia or resulting in permanent spastic quadriparesis. | In the region of £148,330 |
| Neck - Moderate (i) | Fractures or dislocations that may require spinal fusion and result in severe immediate symptoms. | £24,990 to £38,490 |
| Hand - Amputation of Index and Middle and/or Ring Fingers | The grip will be extremely weak and the hand will be rendered of very little use. | £61,910 to £90,750 |
| Hand - Serious Damage to Both Hands | This type of injury will lead to a permanent cosmetic disability with a significant loss of function. | £55,820 to £84,570 |
| Knee - Severe (ii) | Leg fracture extending into the knee joint that causes permanent and constant pain as well as other issues. | £52,120 to £69,730 |
| Elbow - (a) | A severely disabling elbow injury | £39,170 to £54,830 |
| Hernia -(a) | Even after repair, the person will experience continuing pain with a limitation on physical activities. | £14,900 to £24,170 |
| Shoulder - Serious | A dislocated shoulder with damage to the brachial plexus that causes neck and shoulder pain. | £12,770 to £19,200 |
Special Damages For Manual Handling Claims
Another head of loss that might be awarded in manual handling claims include special damages. These compensate for any monetary harm or losses incurred from your injuries and are designed to put you in the same financial position that you were in before the accident.
For example, financial loss you could experience after an accident at work include:
A loss of earnings from taking time out of work to recover from your injuries
Prescription fees incurred because you need medication to alleviate your pain
Travel expenses accrued as a result of travelling to and from hospital appointments relating to your injuries
It's important that you can provide supporting evidence when claiming special damages i.e. you could retain your pay slips to prove a loss of earnings. Other useful evidence might include a receipt of your prescription, or a bus or train ticket to prove travel fees.
If you seek compensation following an accident involving manual handling, your questions can be answered free of charge by our advisors. Get in touch with us at any time.
How Could You Be Hurt If You Exceed The Maximum Lifting Weight At Work?
If you carry more than the maximum weight for manual handling in the workplace, then this could lead to an injury being sustained. In the list below, we've included a few examples of possible injuries. However, every incident is unique, and therefore certain injuries may only occur in certain circumstances.
Broken bones – In order to stay safe, lifting weights needs to be done in a certain way. If no training is given, then this could lead to a loss of balance or improper technique. If you were to fall as a result of this, then the impact with the ground or the heavy objects falling on you could cause this kind of injury.
Back injuries – Strain on the back could cause damage on a long- or short-term basis.
Psychological impact – If you carry more than the manual handling limit, then any incidents that happen as a result could cause mental health issues such as PTSD to occur.
To find out if your injury makes your eligible to receive compensation, get in touch with our advisors today.
What Evidence Can Help Me Prove A Manual Handling Injury Claim?
As stated in the Health and Safety at Work etc. Act 1974, your employer has a duty of care to take reasonable steps to ensure your safety in the workplace. When your employer fails in this duty of care, resulting in an accident at work in which you are injured, you may be able to make a manual handling injury claim.
However, it is important that you have evidence of your employer's negligence and any harm you suffered as a result of the accident. You are unlikely to receive compensation for a manual handling injury if you are unable to provide evidence to support your claim.
Below are a few examples of evidence you might consider collecting:
Request CCTV footage of the accident if your workplace has security cameras. The footage will prove that an accident occurred, how it happened and may show who was responsible.
Make a note of what happened in your workplace accident book. Your notes can later be used as evidence. If you're unable to fill it in at the time, try to do so as soon as you're able. It's worth noting that all workplaces with more than 10 employees should have an accident book.
Gather the contact details of any witnesses. Your solicitor will contact them at a later stage in the claims process to gather a statement explaining what happened from their point of view. This will then be presented to the defendant.
If you went to the hospital after suffering your injury, there will be hospital records that can prove both your injury and that an accident happened. Any notes from a doctor or medical professional regarding your injury may also be used as evidence.
Speak to our advisors at whatever time is most convenient for you if you'd like to learn more about evidence in manual handling claims. They can give you free guidance on what useful evidence you could gather. Furthermore, if you have endured an injury because your employer failed to provide safe lifting at work techniques, we could connect you with our panel of expert workplace injury solicitors.
Manual Handling Injury Claims – Can A No Win No Fee Solicitor Help Me?
If you were injured because your employer asked you to lift over the maximum manual handling weight, you may be able to make an accident at work claim. Working with a solicitor on your claim can help to make the process seem less complex, amongst other benefits. 
For example, the solicitors on our panel work on a No Win No Fee basis. They do this by offering their clients a Conditional Fee Agreement (CFA). Under this kind of contract, you can access the services of a solicitor without paying any upfront fees. Similarly, you won't need to pay any ongoing fees for your solicitor to continue their work, nor will you pay for their work if your claim does not succeed.
If it does succeed and you receive manual handling injury compensation, then your solicitor will take a success fee. They take this as a small percentage of your compensation, but this percentage is limited by a legislative cap. This means that you keep the majority share of what you receive.
To find out if working with a solicitor from our panel could be right for you, contact our advisors today. They can offer more information on the accident at work claims process, and may be able to connect you with a legal professional. To get started:
Other Information
We've included some links to additional information regarding the manual handling weight limit and more.
Thank you for reading our guide on the weight limit for manual handling.