A Guide To Accident At Work Claim – How Much Compensation Can I Claim? – How To Claim?
Accident At Work Compensation Claims Guide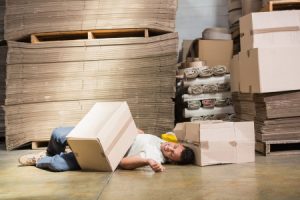 If you have been injured in an accident at work which was not your fault, whether caused by your employer or a fellow employee, you may be able to claim compensation. There are lots of different types of accident which could happen in the workplace. So long as this accident was caused by the actions of another person and that the incident either took place in the last three years, or you became aware of the injury in the last three years, you could claim compensation.
In this guide, we provide you with the information which we think you need to know about claiming compensation with a solicitor.
Get In Touch With Our Team
If you have been injured in any form of accident at work for which someone else was responsible and require help or advice, you can get in contact with our team by dialling 0800 376 0150 or by clicking above to make an online enquiry.
Services And Information
Everything You Need To Know About Accident At Work Claims
If you have been injured in the workplace you may have several questions such as "what pay do I get after an accident at work", "I had an accident at work what are my rights" and questions about how employment law relates to claims. In this guide, we shall provide the answers to questions on these and other topics related to workplace accident claims.
There is not a strict definition of what is and is not an accident in the workplace. Accidents could happen in lots of different ways and at different times. In general, the term would describe a circumstance in which someone was injured during the course of their work. The accident may have been caused by something which your employer either did or which they failed to do.
Your personal injury lawyer will endeavour to show that the accident may have happened because your employer did not carry out regular and adequate risk assessments. They may also have failed to act on the findings of these risk assessments. Injuries may also have been caused because of a lack of personal protective equipment, or because you were allowed to use equipment or machinery which was known to be faulty.
Slip And Fall Accidents At Work
Slips, trips and falls are one of the most common forms of accident at work and reason for making an injury at work claim. There are lots of different circumstances in which a slip or fall accident could happen. People could slip over on wet or otherwise slippery floors, they may trip up because of damaged or broken flooring surfaces, or fall downstairs due to poor lighting or broken handrails.
No matter the circumstances in which your accident took place and the injuries you sustained, if you had an accident at work, you can claim if someone else or your employer was responsible.
Manual Handling, Carrying And Lifting Accidents At Work
One of the most common reasons for which a personal injury at work claim may be made could be for manual handling accidents. These are the most common form of accident at work in the UK and have accounted for as many as 20% of all workplace accidents in recent years. If you have been injured because of a lifting, carrying or other manual handling accident, you could make a work injury no win no fee claim as your employer may have been in breach of the 1992 Manual Handling Regulations.
Your personal injury solicitor will identify in which way your employer may have breached legislation surrounding workplace safety and manual handling guidelines. Your no win no fee injury at work claim may cite that your employer did not provide you with the correct or all necessary equipment to prevent you from being injured. Your UK lawyer may also find evidence that your employer-provided you with faulty or damaged equipment.
If you suffered a personal injury at work and wish to claim compensation, speak to a UK law firm today.
Struck By A Moving Object At Work
Being struck by a moving object could cause injuries to any part of the body. Such accidents at work could be caused by an object falling on you or a moving object crashing into you. Looking at one industry – the food and drink industry, we can see that around 10% of major injuries which have been reported to the HSE were caused in this way. In total this accounted for 700 such instances per year in total, 100 of which are major or serious injuries.
Breaking down this type of accident or injury, one third are caused by an object falling onto the person. This could be something falling from overhead storage onto a person. Twenty-five percent are caused by hand tools and others are caused by people being struck by moving pallets or vehicles.
Violence In The Workplace
Part of your employers' duty of care to keep you safe in the workplace is to prevent and protect you from any form of violence in the workplace. Whilst this may not strictly be considered an 'accident at work' it is a way in which people can be harmed at work and reason for claiming compensation from an employer through a personal injury solicitor.
A UK lawyer could help you to claim compensation for injuries caused by assaults in the workplace. The UK places very strict responsibilities on employers to keep you safe. This means preventing you suffering an injury at work caused by an assault or attack.
According to the Health and Safety Executive, assaults in the workplace are defined as incidents in which the claimant has been threatened, abused or physically assaulted whilst carrying out the course of their work. Abuse may take the form of verbal abuse which is homophobic, sexist or racial in nature.
You can find information on work-related violence as provided by the Health and Safety Executive at this guide.
Falls From A Height At Work
There are stringent regulations and guidelines for working at heights. Falls are a potential consequence of working at a height and so employers must take steps in order to ensure that employees can carry out duties – such as working with ladders or on scaffolding in a safe way. You can learn more about recommendations for safe working at heights from the Health and Safety Executive. There are also more general tools for heights in this HSE guide.
Falling from a height could lead to people suffering from serious or even life-changing types of injury. For example, you could suffer a serious back injury at work which leads to you being left with a permanent form of disability, such as forms of paralysis in very serious instances.
In addition to the severity of the injury, those injured by falling from a height may take longer to recover from their injuries or require more extensive medical care. As such they may take more time off work and have to claim compensation for additional time spent recovering.
Accident At Work Compensation Calculator
One of the most common questions that people ask in relation to any type of claim is how much compensation they may be owed in damages. In order to help you see examples of how much compensation you could be awarded for different injuries, we have included the below accident at work compensation calculator.
We should note that the figures in our personal injury claims calculator below are examples of how much people could be entitled to. Each and every accident and injury is different and so each and every accident at work claim will be different.
To answer the question of "I had an injury at work, what can I claim", we also need to look at other factors which can affect your settlement. In addition to claiming for an injury – such as those highlighted in the personal injury claims calculator below – you could be awarded compensation for other factors such as lost income, medical expenses and care costs.
For an accurate assessment of what your workplace injury claim may be awarded, talk to a UK lawyer today.
| Type Of Injury / Affected body part | Comments on the injury | Possible compensation awards |
| --- | --- | --- |
| Serious head injury | An injury resulting in severe brain damage. This is the most serious head injury bracket and could include claimants who need constant care. | £247,280 to £354,260 |
| Moderate head injury | Moderate brain damage will present with less severe symptoms than those in the category above. The degree of dependency may be lower. | £131,620 to £192,090 |
| Facial fracture | Multiple facial fractures which lead to some degree of permanent facial deformity. | £13,080 to £21,000 |
| Facial scarring | To be awarded compensation in this bracket, there must be very severe scarring affecting those whose age ranges from teenagers to the early thirties. Claimant is left with cosmetic disfigurement and a severe psychological reaction. | £26,120 to £85,340 |
| Moderate back injury | Moderate injuries is a very wide category of injuries affecting the whole of the back, such as the soft tissues, muscles and connective tissues, spine or spinal collumn. | £10,970 to £34,000 |
| Moderate shoulder injury | Such injuries may include a frozen shoulder and limited range of movement. Symptoms may persist for up to two years. Other soft tissue injuries may last for two years or longer with minimal symptoms. | £6,920 to £11,200 |
| Moderate knee injury | This is a wide bracket covering a range of different injuries and severities of injury to the knee. There is no lower bracket for this type of injury. | Up to £22,960 |
| Moderate leg injury | This may involve serious crush injuries or multiple fractures across the leg bones. | £24,340 to £34,370 |
| Less severe arm injuries | The claimant may have sustained a disability, but a substantial level of recovery is either expected or have taken place. | £16,830 to £34,340 |
| Moderate neck injury | Wide range of different types of injuries affecting the soft tissues or bones of the neck. | £6,920 to £33,750 |
What Are Your Rights After An Accident At Work?
What are my rights if injured at work? There are several rights which you have as someone who has been injured in the workplace. Firstly, you had the right under different laws in the UK to be kept safe and free from harm in the workplace. You can learn about health and safety legislation here and guidelines for workers safety here.
If injured at work you may have the right to take paid time off in sick leave or to statutory sick pay (SSP). You can check eligibility to SSP and what the current weekly rate of statutory sick pay is in this resource.
You also have the right not to be discriminated against by your employer and the right not to be unfairly treated.
Could I Be Fired For Reporting My Accident Or Claiming Compensation
If you have had an accident at work and intend to make an accident at work claim you could worry about any potential effects on your employment status. Sometimes people worry that they could be dismissed either for the accident happening, for reporting it, or for making a claim.
Whilst there are different laws in the UK relating to employment, your employer can not fire you either for being injured which was not your fault, nor for making a workplace injury claim. If you have been with your employer for more than 24 months, you can not be dismissed under these conditions. In the event that you are, you may be able to bring an unfair dismissal case.
How Do I Report My Accident Work?
Who has the overall responsibility for recording injuries at work may depend on your employment status. At the same time, who you report your accident to may also depend on factors such as where you were working at the time of your accident. You can click here to check what your employment status is.
If your accident happened where you usually work then you should report your accident to your line manager (unless there is another person designated to report the accident too). Those who are self-employed should report their accident on their own premises to the HSE – Health and Safety Executive. Accidents affecting the self-employed which happened on a client's premises should be reported to the client.
If the company who you reported your accident at work to employs more than ten people your accident should also be recorded in an accident report book (this may be a computerised log). If the company is smaller or does not have an accident report book, you should still write down what has happened to you and give a copy of this to the person you report the accident to.
What Should I Do If Injured At Work?
If you have been injured in the workplace there are simple steps which you should make sure that you take, both whether you intend to make a compensation claim or simply seek statutory benefits such as sick pay.
The first things which you should do are to report that the accident has happened (as outlined above) and to make sure that you seek appropriate medical treatment.
In addition to this, we also recommend that (where possible) you collect as much evidence as you can in order to support a possible workplace injury claim. We would recommend taking photos of the injury you suffered (if visible) and the cause or scene of your accident. For example, if you tripped over, take a picture of what caused the accident – such as a broken floor. There may have been witnesses to the accident who could provide valuable evidence. Ask for their contact details and if they are happy to act as a witness. If they are, you could ask them to write a brief note as to what happened as soon as they can after the accident taking place. It can also help your own memory if you write down what happened to you as soon as possible after the accident.
How Much Time Do I Have To Make An Injury At Work Claim?
In general, the personal injury claims time limit for most injury at work claims will be three years from either the date on which the accident took place. However, this may not always be the case. Whilst most cases will observe this three-year limitation period, there are instances where you may have longer in which to claim.
There are many industrial illnesses, diseases or work-related conditions which develop very slowly over a long period of time without the person affected being aware of its development. Whilst the effects of a back injury at work may be immediately apparent, conditions such as hearing loss caused by exposure to loud noises over a long period of time may not be. In these cases, the three year period begins at the date on which you were diagnosed.
People can begin part-time work from the age of 13 and full-time work at the minimum school leaving age of 16 – see here. However, people are unable to make a personal injury claim on their own behalf until they reach the age of 18. Those affected may be able to use a litigation friend to claim on their behalf. If the claim has not been made before the injured parties eighteenth birthday, they then have three years to make a claim.
Are There Circumstances Where I Can't Claim For An Accident At Work?
There are circumstances in which you may not be able to make an accident at work compensation claim. In order for you to be able to make a successful workplace injury claim you need to be able to show that another person or organisation was in whole or in part responsible for your accident, and thus injuries. If you caused the accident in which you were injured, it is therefore unlikely that you will be able to claim compensation.
If you were partially to blame for an accident you may still be able to claim compensation. Talk to our team today to check your eligibility to make an accident at work compensation claim.
Returning To Work After An Accident
What happens if you are injured at work and how can employers help you return to work after an accident and making an injury at work claim?
The first thing to note is that each and every injury is different and each person involved in a workplace accident may be affected in different ways and take different lengths of time to recover from. Things such as treatment, medication and stamina can all affect when you are ready to return to work.
Once you and your doctor feel that you are ready to return to work, your employer will often ask you to meet with them and your line manager. Don't worry if offered this appointment. This is a standard meeting to help welcome you back to work. It is also an opportunity for you to discuss your health, how you feel and how your employer can support your needs going forward. If you require adjustments to your job-role, work pattern or workplace, this is the opportunity to highlight these needs and for your employer to make necessary adjustments. Your employer is likely to know a lot of this information in advance and therefore may have already started making necessary adjustments.
Your employer may alter your workload, working hours or role to meet your needs. They may also help to organise meetings with occupational therapists to further help you settle back into work.
Do You Handle Accident At Work Claims On A No Win No Fee Basis?
Broadly, a no win no fee agreement is a contract made between a solicitor and the client they are helping. Whilst it will include things such as details of the solicitors' terms and conditions and may contain details on what services are being provided. The important part for claimants to look at are the terms and conditions or payment.
The no win no fee agreement should include clear information on the conditions under which you will need to pay your solicitor and the fees they could expect to be paid. For example, it should state that in the event that your solicitor does not win your case, they should not expect to be paid. If the solicitor does with your claim they then expect to be paid for their services and a success fee. Typically you could expect to pay up to about 25% of your settlement to them. This is capped at this amount.
To find out more about how a no win no fee solicitor could help you, please call our team today.
Other Information
In addition to the information which we have provided in this guide, you can also use the resources below to learn more about what to do if involved in or injured by an accident at work.
Statutory Sick Pay
Information from the UK Government about how much statutory sick pay is, when you are entitled to claim it and how long it may be claimed for.
Expenses And Benefits
Information from the UK Government for employers who have an employee injured in the workplace.
RIDDOR
If an accident at work involves specific conditions or injuries it must be reported under the Reporting of Injuries, Diseases and Dangerous Occurrences Regulations. See here.
Pay And Work Rights Helpline
You may call this helpline recommended by the UK Government to learn more and answer questions such as "what are my rights if injured at work?"