How Do Hit and Run Claims Work?
This is a guide on the process of making a hit and run claim. You could potentially be eligible to claim compensation if you've been involved in an accident and the faulting party does not stop at the scene.
If you're involved in a motor accident, you could have serious injuries. If the party at fault can be traced, and you could prove they had breached their duty of care, you could claim compensation from them for your injuries. 
Under the Road Traffic Act 1988, drivers must stop at the scene of an incident if they cause some form of damage or harm. This is so that both parties can exchange details and contact the correct bodies about claiming compensation or covering repair costs.
If the driver at fault for the accident does not stop at the scene, you may still be able to claim compensation. Keep reading to find out how. 
If you would prefer to speak to someone directly about making a claim, you can contact us via the methods below. You'll be put through to one of our advisors, who can offer you legal advice free of charge. If they think your case has a good chance of success, they will put you in contact with a solicitor from our panel, who can help you start a claim. 
Select A Section
How Do You Make A Hit And Run Claim?
Under the Road Traffic Act 1988, failing to stop after a road accident is an offence. The responsible party could face imprisonment for up to 6 months. 
Claiming compensation for a failure to stop an accident can be different from a general road traffic accident claim, especially if the driver at fault cannot be traced. You can still claim compensation, but it will likely be through the Motor Insurer's Bureau (MIB).
The MIB is an independent body funded by insurance providers that compensates people if they have been in a road traffic accident and the other party was untraceable or uninsured. This works similarly to a general personal injury claim, where the MIB stands in the place of the faulting party. However, you need to have reported the incident to the police first. 
Get in touch today to find out more about how you could claim for a hit and run accident. 
How Do Hit And Run Claims Work If The Driver Is Untraced?
In some cases, if the faulting party has fled the scene after causing damage or injury, it may not be possible to identify them in order to make a claim. You could potentially still claim general and special damages through the MIB if this happens. 
General damages aim to compensate you for how your injuries have affected you. Special damages cover specific financial losses related to the accident, such as a loss of earnings or property damage. 
Could The Motor Insurers Bureau Help Me?
The MIB aims to compensate victims of road traffic accidents if the party at fault cannot be tracked or does not have insurance. 
If you apply to the MIB for compensation, they will conduct an investigation into your case. It is best to provide them with as much evidence as possible, as it could make the process quicker and easier.
Evidence could include CCTV footage, witness details and photographs. This is also the reason you should report the incident to the police as soon as possible, as the MIB will likely contact them for further details. 
The MIB could ask for medical records if you are claiming for a personal injury. They may also invite you to a medical appointment for an independent assessment of your injuries. 
Get in touch with our advisors today to find out more about how the MIB works and when it might be appropriate to make a hit and run claim through them. 
When To Make A Hit And Run Insurance Claim UK
The MIB attempts to conclude most cases as quickly as possible. However, some cases may be more complex and take longer to settle. You could make a claim via your insurance provider for damage to your vehicle during this time. 
Insurance claims can be a lot quicker than MIB claims and could cover the costs of damage to your vehicle. You can claim compensation for the damage caused to your vehicle, and then make a hit and run claim through the MIB for injury at a later date. 
Hit And Run Accident Statistics
The Department for Transport collate statistics on road traffic accidents. From these statistics about motor vehicle offences, we can see that in 2019 there were 3,369 accident offences. 
This grouping of offences includes failing to stop after an accident, failing to report an accident within 24 hours and failing to give a name and address after an accident.
In the graph below, we look at various contributory factors for car accidents. This graph focuses on car accidents caused by injudicious actions, as hit and run accidents are driving offences. The statistics shown here are from reports made by police officers who may have attended the scene after the accident had already occurred. This means they may not be the most accurate. 
You can also claim through the MIB as a pedestrian, cyclist, motorcyclist or vehicle driver. We have focused on car accidents for the purpose of this graph.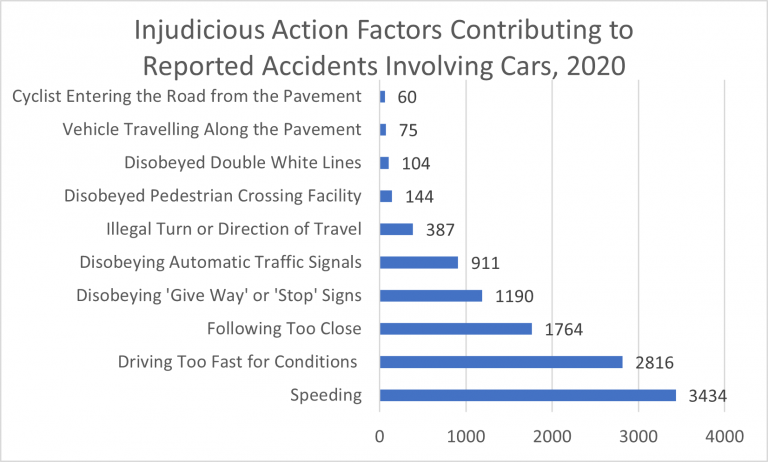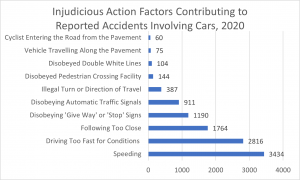 How Much Could You Claim For A Hit And Run
This section includes an explanation of how compensation might be valued in a hit and run claim. Legal professionals use the Judicial College Guidelines to estimate how much a claimant could receive in general damages. General damages are the part of your settlement that covers you for your injuries. 
These figures are not a guarantee for your claim, as they are based on past cases where compensation has been awarded. 
| Injury | Severity | Amount | Notes |
| --- | --- | --- | --- |
| Neck | Moderate (i) | £23,460 to £36,120 | Dislocations or fractures that cause immediate symptoms and may necessitate spinal fusion. Could also include chronic conditions, usually involving a serious soft tissue injury to the neck and back combined. There will be impaired function and a vulnerability to further trauma. |
| Leg | Less Serious (ii) | £8,550 to £13,210 | Simple femur fracture with no damage to articular surfaces. |
| Back | Minor (ii) | £2,300 to £7,410 | A full recovery takes place without surgery between 2 months and 3 years. Short-term exacerbation of injuries for less than 2 years. |
| Finger | (f) | Up to £34,480 | Severe fractures to the fingers. This may lead to partial amputations and result in deformity, reduced function, disturbed sensation and impairment of grip. |
| Achilles Tendon | Most Serious | In the region of £36,060 | Tendon and muscle will be severed, giving rise to swelling, cramp, restricted ankle movement. |
| Teeth | (iii) | £2,070 to £3,710 | Loss of or serious damage to one front tooth. |
| Sight | (c) (ii) | £60,010 to £99,440 | Loss of sight in one eye with reduced vision in the remaining eye and/or additional issues such as double vision. |
| Ankle | Modest | Up to £12,900 | Less serious or minor sprains, ligament injuries and undisplaced fractures. |
| Psychiatric Damage | Less Severe | £1,440 to £5,500 | The length of time the disability has lasted will be considered, as will the extent to which daily activities and sleep were affected. |
| Wrist | (a) | £44,690 to £56,180 | There will be a complete loss of function in the wrist. |
Special damages are the part of your claim that compensates you for any financial losses caused by your injuries. Some examples of what you could claim in special damages could include a loss of earnings, the price of independence supports, or travel expenses.
You could also potentially claim for calculable future losses, such as continued lost wages. To evidence your losses, you could provide:
Receipts

Payslips

Invoices
Get in touch with us today to find out more about what you could claim through the MIB in a hit and run claim. 
Talk To Us About Your Hit And Run Claim
You may have heard of something called a No Win No Fee agreement as a way to fund the work of a solicitor. This section looks in more detail at how a No Win No Fee agreement could benefit you in a hit and run claim. 
You don't need a solicitor to claim through the MIB; however, hiring one to represent you may be useful. They can guide you through the process of claiming, and their experience and training could give your claim a better chance of success. If a solicitor offers you their services on a No Win No Fee basis, what could this mean for you?
No ongoing or upfront costs

Not having to pay your solicitor if you don't receive compensation

Only paying your solicitor a legally capped

success fee

if your claim does succeed
If this type of agreement sounds beneficial to you, we encourage you to contact us today. Our team of friendly advisors are available 24/7 to help you, with no obligation to start a claim with us. If you do wish to hire a solicitor from our panel, our advisors can pass you on to them. They could help you start your hit and run claim.
Road Traffic Accident And Injury Claims
Thank you for reading our guide on hit and run claims. We hope you found it helpful. For further relevant resources, please see below.  
Passenger Road Traffic Accident Claims – How to claim as a passenger involved in a road traffic accident. 
Limitation Period in a Personal Injury Claim – Learn more about the time limitations attached to starting a personal injury claim. 
What Are Car Accident Victims Rights? – What are your rights after a car accident? Find out here. 
Whiplash Reform Programme – Recent changes in legislation mean some car accident claims under £5,000 are now handled using an online portal. Find out how this could apply to you. 
Compensation for Victims of Hit and Run or Uninsured Drivers – The government guide on how to claim after a hit and run. 
Guide to Making a MIB Claim – Detailed guidance on how to claim through the MIB. 
If you have any more questions about making a hit and run claim, speak to our team today. 
Guide by AO
Publisher ET