When To Make Cycling Accident Claims
By Cat Reeves. Last Updated 5th May 2023. This guide on cycling accident claims has been put together to help you understand in which scenarios you could be entitled to compensation for injuries sustained in a cycling accident. 
One of the most important criteria that must be met is that your injuries need to have been caused by the negligence of someone else. You can be partially at fault and still claim, but your compensation may be adjusted accordingly.
You may have heard of an online government portal called the Whiplash Reform Programme. It was introduced so that any injuries sustained in a road traffic accident below the value of £5,000 can be claimed more easily. However, cyclists are not eligible to claim through the Programme. It is only drivers and passengers over the age of 18 who can do so.
However, you can still make a claim in the traditional way. Get in touch with our advisors today and we may be able to assist you in starting the process. If we think you have a valid claim, then we could connect you with an expert personal injury lawyer from our panel.
Read on for more information. You'll also find our contact details below.
Select A Section
What Are The Most Common Cycling Accidents?
Some of the most common cycling accidents involve a cyclist being hit by a car. In order to claim as a cyclist hit by a car, however, you'd need to show that you suffered injuries due to the vehicle's negligence. You'd need to establish who was at fault.
To illustrate, a driver could be found to have acted negligently if they collided with a cyclist who was riding where they were supposed to be at the side of the road. For example, the driver may not be paying proper attention to their surroundings. It's also possible that they were exceeding the speed limit and didn't have enough time to react to an appearing cyclist.
However, cyclists also have a duty of care to themselves as well as other road users. There are certain reckless acts that a cyclist can engage in that may increase the chances of them being injured. For example, they may choose not to wear a cycle helmet. Whilst there is no legal requirement to wear a helmet, The Highway Code advises to do so. This is so that if there is a collision with another vehicle, their risk of sustaining a head injury could be reduced. 
So, if a driver collides with a cyclist who is not wearing a helmet, the cyclist could be found to be partially liable for their injuries. In these cases, you could still claim. 
The government pedal cycle factsheet for 2017 states that 92% of cyclist casualties were a result of them colliding with a motor vehicle over the period 2011 to 2016.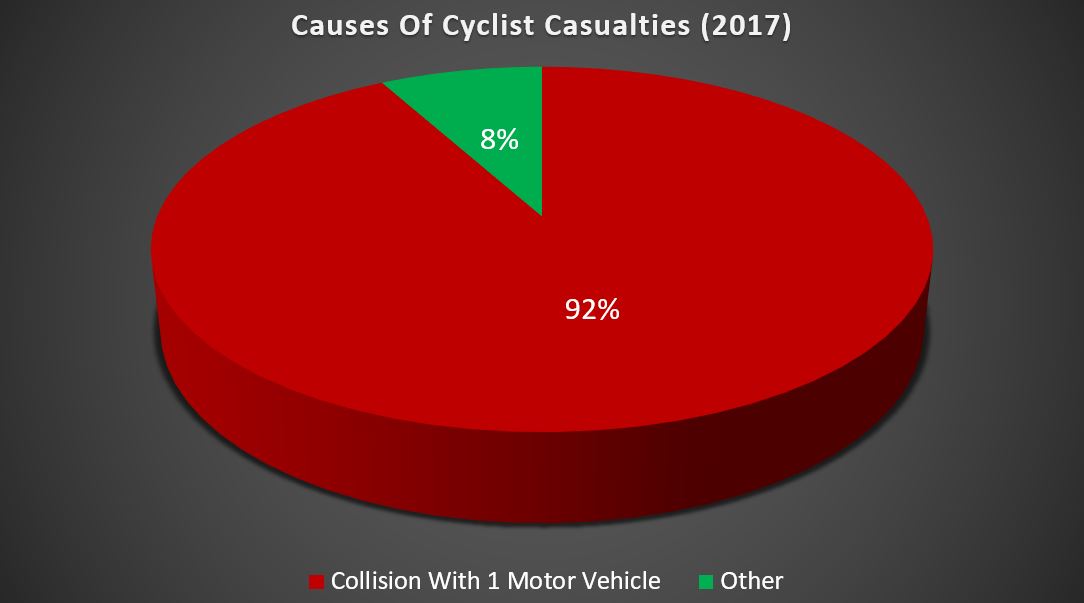 Types Of Cycling Accident Injuries
If you're injured in a cycling accident, the level of damage can vary depending on a number of factors. Cycling accident claims can arise from:
Cuts and lacerations

Dislocations

Road rash

Psychological issues (PTSD, anxiety, etc.)
If you'd like any information on what injuries you could claim for or anything else about cycling accident claims, get in touch with our advisors today.
How Do You Treat Bike Accident Injuries?
All injuries should be looked at by a medical professional. Whilst they may initially seem quite minor, it could be that they develop into something more serious if not treated properly.
For cuts and grazes, the NHS recommends that you stop any bleeding before applying a dressing to the wound. Seeking medical attention can help reduce the risk of infection.
For other injuries, you may need to attend a medical facility as soon as reasonably possible. Things like broken bones can be set with a plaster cast so that they can heal in the proper position.
Psychological issues can arise at a date following the actual accident. There are mental health specialists who can aid you with these symptoms.
If you'd like to see how your injuries could be valued, get in touch with our advisors today.
Cycling Accident Claims Against Local Authorities
It's possible that cycle accident claims could also arise due to scenarios where there are no other vehicles involved. For example, the road on which you were cycling may have been damaged. Potholes are a good way to illustrate this.
If the local authority (such as a council) knows of damage to a road surface they control, they have an obligation to make repairs. This responsibility is stated in the Highways Act 1980. 
If this duty of care is not fulfilled, then injuries could be sustained as a result. This could be interpreted as negligence. Therefore, a road traffic accident claim could be made against the authority.
How Is Compensation For A Cycling Accident Calculated?
Compensation for cycling accident claims could include general and special damages. General damages compensate you for the pain and suffering your injuries have caused you.
When solicitors are valuing cycling accident claims, they may use the Judicial College Guidelines (JCG) to help. The JCG lists compensation guidelines for various injuries at different severities. You can see some examples of these guideline figures from the 16th edition of the JCG in the table below.
| Injury | Description | Amount |
| --- | --- | --- |
| Head/brain | (c) Moderate brain damage - (ii) where the intellectual deficit is moderate to modest | £90,720 to £150,110 |
| Head/brain | (e) Minor - if there was any brain damage, it will have been minimal | £2,210 to £12,770 |
| Post-traumatic stress disorder | (b) Moderately severe - when the issues will have been more severe but the prognosis will be much better than in more serious cases | £23,150 to £59,860 |
| Post-traumatic stress disorder | (c) Moderate - claimant will have mostly recovered with any lasting symptoms not being too disabling | £8,180 to £23,150 |
| Chest | (c) Chest/lungs(s) damaged in a way that causes lasting disability | £31,310 to £54,830 |
| Chest | (g) Rib fractures, soft tissue injuries, where serious pain is experienced over a period of weeks | Up to £3,950 |
| Neck | (c) Minor (ii) - recovered completely in a timeframe of between 3 months and 1 year | Up to £2,450 |
| Shoulder | (e) Broken clavicle | £5,150 to £12,240 |
| Hips/pelvis | (b) Moderate (i) - significantly injured but no great chance of permanent disability in the future  | £26,590 to £39,170 |
| Arm | (d) Simple forearm fractures | £6,610 to £19,200 |
Special damages compensate you for the financial losses you have suffered due to your injuries. For example, if your injuries mean you need to take time off work, you may be able to claim back your lost earnings. Special damages can also cover:
The cost of prescriptions or medical treatment.

Home adjustment or mobility aid costs.

Childcare expenses.

The cost of domestic help.

Travel expenses to and from work or between hospital appointments.
To see whether you may be eligible for cycling accident compensation, you can contact our team of advisors today.
Learn More About Cycling Accident Claims
Reach out to us today to see if you can get started on your claim. Once our advisors have spoken to you, we will be able to offer bespoke advice regarding your circumstances. All of the expert solicitors on our panel work on a No Win No Fee basis. This is also known as a Conditional Fee Agreement (CFA). 
This means you won't need to pay your solicitor their fee unless they are successful in helping you win your claim. They are then paid via a legally-capped percentage taken from your settlement. The fee is only paid after the compensation comes through. 
Arrangements such as these exist so that everyone has the chance to affordably enlist the services of a legal professional should they require it.
Get in touch today to see if you could make a No Win No Fee claim. 
Further Resources
Here are some additional links for further reading.
The Highway Code safety guidelines can help reduce the risk of road traffic accidents.
Read up on the rules for cyclists on the road.
Find out what the rules for pedestrians are.
We have an article that discusses what you could do if you're a pedestrian and are hit by a car at a junction.
We also have a guide on making a claim following a road traffic accident.
You can also read about symptoms of injuries after a car accident.
If you have any queries about cycling accident claims, don't hesitate to get in touch.
Writer IB
Checked by HT