Make A Claim For An Accident In The Street | No Win No Fee
By Lewis Aaliyah. Last updated 25th July 2023. In this guide, we look at the circumstances under which people can claim for an accident in the street.
There are various ways an accident could occur on the street. For example, your accident may have resulted from a cracked paving slab that was raised by more than an inch and caused you to trip or fall. Or a retailer may have left a hazardous item on the pavement, causing you to become injured in the street.
There is a common misconception that if a pedestrian has an accident in the street, they are always at fault. However, this is not always the case and another party may be liable for their injuries.
Get In Touch With Our Team
Our team of friendly advisors are available 24/7 to answer your questions. Additionally, they could assess your case to see whether the claim you hold is valid. If it is, they could appoint a solicitor from our panel to begin working on your case.
Simply, use the details below to get in touch:
Call us on 020 3870 4868 or
Make an online enquiry
Speak with an advisor through the live chat function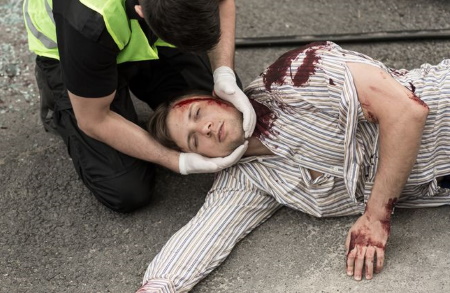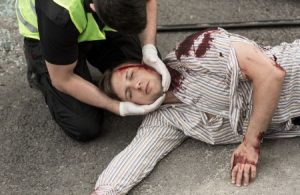 Services And Information
What Is An Accident In The Street?
Accidents in the street are mishaps that take place on public pavements and walkways, resulting in injury. They can also occur on privately owned grounds that the public has access to, such as an outdoor shopping centre or a university campus.
Some street accidents can happen because of clumsiness or because the injured person behaved irresponsibly. For example, a person may have failed to pay reasonable attention to their surroundings because they were texting while walking. On the other hand, other street accidents can happen because the party in control of the space acted negligently—for example, a council or private land management company.
Negligence occurs when someone causes you to sustain harm by breaching the duty of care they owed you. For example, they may have failed to take reasonable steps to prevent an accident from occurring.
If you have been injured in the street because of an accident caused by someone else's negligence, you may be owed compensation. As well as compensation for your injuries, you could receive funds to cover the cost of any medical treatment you may need.
However, you must be able to prove that someone else was responsible for the accident in which you experienced harm.
We will explore how to determine whether someone was liable for your accident further down in our guide. If you have any questions though, please contact our team on the number above.
What Causes An Accident In The Street?
There are many ways that accidents in the street could take place due to someone else's negligence. We have looked at some causes of street accidents and pavement accidents below.
Poor street maintenance by the council: Council's have a responsibility to maintain the safety of pavements by carrying out regular checks and acting on any hazards they find in a reasonable timeframe. If they fail to do so, it could result in potholes and broken or loose paving stones causing a pedestrian to sustain an injury.
For example, a pothole or a loose paving slab that a council is aware of but doesn't rectify can cause a pedestrian to trip and fall. As a result, the pedestrian could sustain a broken jaw or a forearm fracture from trying to protect themselves from the impact of the fall.
Obstructions left out by a retailer: Shops and other commercial tenants on a high street can cause accidents if they act negligently. For example, they may leave a spillage they caused on the pavement, which could cause someone to sustain a skull fracture in a slipping accident.
Other road users: A traffic accident can happen if a vehicle comes onto the pavement and hits a pedestrian. For example, a pedestrian can be hit by a car or a bike where the driver or cyclist doesn't take appropriate attention. As a result, the pedestrian may experience a  shoulder fracture.
Adverse weather conditions: Ice on the pavement can cause slip and fall injuries if the pavements have not been gritted. As a result, someone might sustain a broken wrist if they put their hand out, to stop themselves from falling.
Responsibility For Accidents In The Street
The responsibility of maintaining pavements, footpaths and pedestrianised walkways will vary depending on who is in control of the area. As per the Occupiers Liability Act 1957, the duty of care for public spaces falls to the person in control.
Local councils or private landowners can be responsible for maintaining pavements, footpaths and pedestrianised walkways. However, sometimes a shop or restaurant manages the pavement outside their premises. In these cases, it may be the shop or restaurant owner that's responsible for ensuring the safety of the space.
If a party is in control of a space that's accessible to the public, they owe the individuals who use these areas a duty of care. This means that they are responsible for maintaining the spaces to a standard that is safe for the public.
Regular risk assessments should be conducted by local councils and private landowners. This is to identify possible health and safety hazards on pavements and in outdoor spaces. A hazard means something that could potentially cause an accident.
When a hazard has been identified, it should have control measures applied to it, or it should be removed.
For example, if the local council find a pothole, they should take reasonable measures to repair it. Neglecting to do so could breach the council's duty of care. Consequently, accidents in the street happen because of negligence on the part of a local authority. As a result, they could be held liable for any injuries caused.
Local Authorities' Duty Of Care To Maintain Pavements
Under the Highways Act 1980, local highway authorities have a responsibility to maintain certain public walkways. This includes pavements, road crossings and footpaths. The local highway authority is usually a county council or national park authority.
Although there is no legal trip hazard height in the UK, councils usually won't consider claims where the hazard was less than 1 inch. If you tripped over a cracked paving slab that was raised by more than 1 inch, you could report it to your local council in the interest of public safety.
Did you have an accident in the street because your local council acted negligently? You may be eligible to claim compensation. Contact UK Law today for more information.
When Could A Business Be Liable For Accidents In The Street?
In some circumstances, a business could be responsible for accidents in the street, or in a pedestrianised area. Shops, restaurants and other commercial tenants will sometimes be responsible for the pavement, or paved area outside of their premises.
The terms of the business's lease usually state what space they are responsible for maintaining. Therefore, a business could be liable for an accident in the street that took place on the grounds they control.
For instance, the business could leave debris unattended on the pavement, causing a trip hazard. A business could also be liable for injuries in the street if they dump a slippery substance onto the pavement and neglect to remove it, causing a slipping accident.
How can you claim compensation from a business for your accident? Contact UK Law today to see if you could make a personal injury claim.
How Can Contributory Negligence Apply To Accidents In The Street
In personal injury law, contributory negligence means that the claimant has contributed to their accident.
One example of contributory negligence is if a pedestrian allows themself to become distracted and struggles to walk safely as a result, which would be seen as irresponsible behaviour on their part.
However, a council may have neglected to fix a loose paving slab in the street, which would be negligence on their part.
What happens if the pedestrian falls and is injured? It may be found that both parties are responsible for the pedestrian's injuries.
Can You Still Claim Accidents In The Street Compensation In Contributory Negligent Cases?
You could still claim compensation for injuries sustained in accidents in the street, in the case of contributory negligence.
However, the claimant's compensation payout may be reduced in cases of contributory negligence. The claimant would receive a rate of compensation that is in line with their liability for their injuries. For instance, a claimant who is 25% liable for their injuries, would receive 75% of their full compensation payout.
Contributory negligence accident claims may seem complicated, but our advisors could help. Please feel free to call our team today to speak to an advisor about your options, if you believe you contributed to your accident.
How Can I Prove A Claim Following An Accident In The Street?
If you have been injured in an accident in the street, and meet the eligibility criteria to make a personal injury claim, you will need to gather sufficient evidence to support your case. Collecting relevant evidence could help with proving who was liable for the accident and the type of injuries you suffered.
Some examples of evidence that could be used to help support public liability claims include:
The contact details of anyone who witnessed your accident so that they can provide a statement at a later date.
A copy of your medical records, confirming the types of injuries you suffered and the treatment you are receiving for them.
Photographs of the accident scene and any visible injuries you suffered.
Video footage of the accident taking place, such as CCTV footage.
If you have any questions about the evidence that could be used to support your potential claim, you can contact our team of advisors. They may also be able to put you in contact with one of the solicitors on our panel, who could assist you with gathering evidence for your case.
Calculate Compensation For Accidents In The Street
The compensation awarded for injuries sustained in accidents on the street will vary depending on certain factors. For example, medical evidence may be used to determine the severity of your injuries.
Furthermore, you may be invited to attend an additional medical exam which is carried out independently. The exam is often carried out to produce a current report on the full extent and nature of your injuries.
Alongside any medical reports, the Judicial College Guidelines (JCG) may be used to help value your claim. The Judicial College Guidelines offer recommended compensation figures for personal injury claims.
If you call our team, a claims advisor can estimate how much compensation you could receive for your accidents in the street claim. Alternatively, you can use the compensation table below to estimate how much compensation you can claim.
| Injury | Comments On The Injury | Compensation Estimate |
| --- | --- | --- |
| Hand Injuries | (t) Moderate thumb injury: Thumb injuries that cause damage to the tendons or nerves and reduce sensation, function and cause deformity. | £9,080 to £11,820 |
| Toe Injuries | (e) Moderate: Broken or fractured toes and accidents where a pre-existing injury has been exacerbated. | Up to £9,010 |
| Foot Injury | (f) Moderate: A displaced metatarsal fracture that causes ongoing symptoms and permanent deformity. | £12,900 to £23,46 |
| Back Injury | (b) Moderate: (i) A compression fracture that causes ongoing pain and discomfort. | £26,050 to £36,390 |
| Head or Brain Injury | (e) Minor: Injuries including minimal brain damage. | £2,070 to £11,980 |
The compensation amounts included in this table are based on guidelines from the JCG.
The table includes amounts for general damages, which is compensation for the pain, suffering and loss of amenity caused by your injuries. General damages compensate you for both physical and psychological injuries.
What Special Damages Could You Claim?
In addition to general damages, you could also seek compensation for special damages. These are compensation payouts to reimburse you for any out-of-pocket expenses you have had because of your injuries. Special damages can include funds to pay for the following:
Medical expenses
Mobility equipment expenses
Travel expenses
Care expenses
At home care expenses
Reimbursement for loss of earnings.
Please note, you will need to provide evidence of any special damages such as receipts or payslips. These will be used to support your claim for any financial losses.
For more information on what your compensation settlement may comprise, please contact a member of our team. They can discuss the specific details of your case and help you understand how compensation is calculated.
Time Limits On Claiming For Accidents In The Street
The Limitation Act 1980 sets out a personal injury claims time limit of three years.
The three-year time limit begins the day the injury took place or the day that you obtained knowledge that negligence at least contributed to the injury.
However, there are exceptions for certain circumstances. Please contact our team to discuss these exceptions and whether they may be applied to your case.
Claim For An Accident In The Street On A No Win No Fee Basis
Many claimants choose to have their claim for accidents in the street handled on a No WIn No Fee basis. For many claimants, it can be the more affordable option when using the services of a solicitor.
Firstly, you are able to make a claim without legal representation and there is no initial fee to do so. However, costs may incur while your claim is ongoing, such as medical or court fees. By claiming under a No Win No Fee agreement, you can avoid paying ongoing costs such as these as they're covered by the agreement.
Secondly, claiming under this type of agreement means there is no upfront fee to pay. You also won't pay solicitor fees if your claim fails.
If your claim wins, the solicitor would deduct a success fee from the compensation payout. This fee is taken as a percentage which is capped by law.
To see if you could make a claim for an injury sustained in an accident in the street, contact us today using the details below:
Call us on 020 3870 4868 for your free claims consultation.
Or make an online enquiry via our website.
Alternatively, ask us a question using our chatbox.
Other Information
Hopefully, this guide to claiming compensation for accidents in the street has been helpful to you. However, if you have any questions, please call us on the number above.
Alternatively, please feel free to read more of our online guides to learn more about claiming compensation following a public place accident.
Writer AL
Checked by HT
Thank you for reading our guide exploring claims made for accidents in the street.