Road Accident Solicitors – Why Work With A Claims Expert?
If the negligence of another has led to you being harmed in a road traffic accident, you may want to claim compensation with road accident solicitors. 
A road traffic accident could have serious consequences and affect your quality of life in ways you couldn't predict. If you make a personal injury claim, you could seek compensation for the suffering caused (general damages) and the financial losses incurred (special damages). 
To make a valid personal injury claim after a road traffic accident, you would need to prove that it was the fault of another and that your injuries and losses were a direct result of the accident. 
Read on to find out more about how road accident solicitors could help you. You could also get in touch with our advisors directly for free legal advice. If they think your case could have a good chance of success, it's possible they could pass you on to a solicitor from our panel, who could help you start your claim. 
Select A Section
Can Road Accident Solicitors Always Help You Claim Compensation?
It is important to determine who was at fault when making a personal injury claim. You should know that a road accident solicitor cannot help you make a claim for damages if you were wholly responsible for the accident. If you were partially responsible, you could make a claim, but your compensation would be reduced. 
To determine who was at fault, you could see if someone breached their duty of care towards you. For motorists, this duty of care means they must adhere to the standards of skill of the average motorist. For other road users, such as pedestrians and cyclists, The Highway Code is the document that should be referred to for appropriate road behaviour. 
Any road user could start a claim if someone breached their duty of care and caused harm. However, you should know that you may find it difficult to claim against pedestrians and cyclists, as they might not have the relevant insurance. 
It's also possible you could hold your local council liable for damages in a road traffic accident claim. Under the Highways Act 1980, those in control of roads, such as local councils and Highways England, should ensure they are safe and maintained as soon as is reasonably possible. If poor maintenance or a defect in the road caused your road traffic accident and injuries, you could potentially claim compensation from the council. 
Even if your accident fits these requirements, you may still need to make your claim another way. 
The Whiplash Reform Programme And Claims Portal
Under the new whiplash claim rules in the Whiplash Reform Programme, some road traffic accident claims are now handled differently. 
If you have whiplash injuries valued under £5,000, your claim is now handled using the Official Injury Claims (OIC) Service online portal. This means you will get a set amount of compensation listed in the Whiplash Injury Regulations 2021. 
These new rules only apply to vehicle occupants over the age of 18. A pedestrian, cyclist, motorcyclist or scooter rider could not claim through this online portal. 
However, we recommend that you get in touch with us before starting your claim through the OIC, as you may be undervaluing your injury. If you can make a personal injury claim, you could receive more compensation. 
Who Could Road Accident Solicitors Help?
A road accident solicitor could help many road users who suffered an injury due to the negligence of another road user. This could include:
Vehicle occupants who were partially or not at fault for the accident

Cyclists

Motorcyclists

Coach and bus occupants

Pedestrians
A road accident solicitor could also potentially help children or those with diminished mental capacity make a claim. However, these groups would also need a litigation friend to make a road traffic accident claim. A litigation friend can be any eligible adult that is allowed by the court to make decisions in the claimant's best interests. 
To find out more about how a road accident solicitor could help you, get in touch with our team of advisors today. 
When Could I Claim For A Road Traffic Accident?
The Department for Transport is a government body that gathers statistics and information on road traffic accidents and safety. From these statistics, we can see that there were 79,119 accidents involving cars in 2020, making these the most common vehicle type to be in an accident.
Accidents involving pedal bicycles were the second most common, with 16,455 accidents in 2020. There were also 13,177 accidents involving motorcycles over 50cc in 2020, making them the third most common vehicle type involved in a road traffic accident. These numbers include accidents that have caused serious, slight and fatal injuries. 
However, all road user groups could potentially be involved in an accident. If someone else's negligence caused you harm in a road traffic accident, a road accident solicitor could help you. Call our advisors today to find out more about how you could make a claim. 
Motor Vehicle Accident Statistics
In this section, we will look at the contributory factors that police have allocated to road traffic accidents. The police who reported these causes would likely have attended the scene after the accident had occurred, meaning their assessment may not be the most accurate. 
These statistics are also taken from the Department for Transport.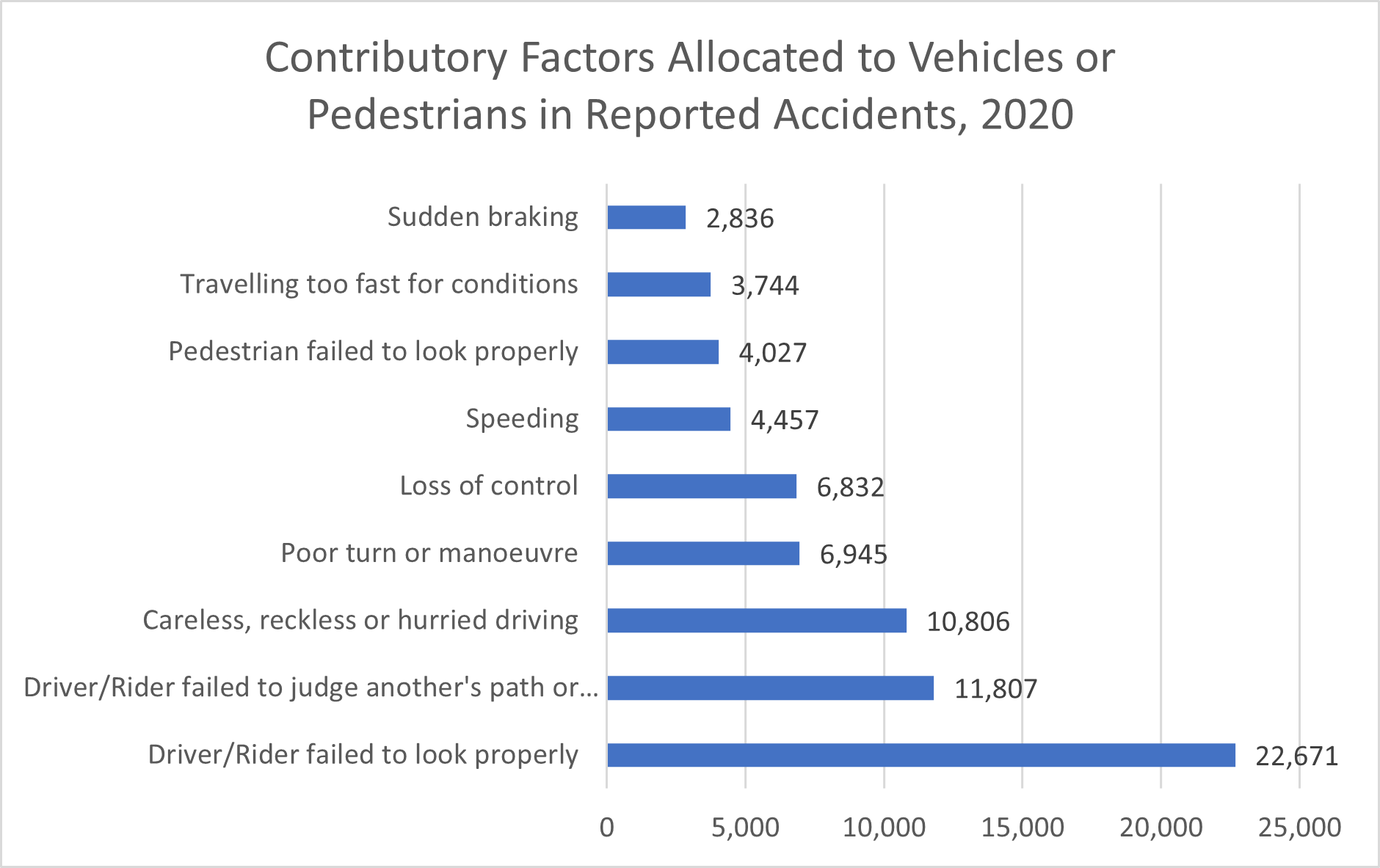 We have only included contributory factors for accidents that you could potentially claim for in this graph. 
Do I Need Road Accident Solicitors Near Me? 
You may be tempted to hire a road accident solicitor near you or in your area. However, you should know that you can use the services of a solicitor from anywhere in the UK, as long as they have the requisite experience to help you. Our panel of solicitors can conduct claims remotely, so you may never have to meet your solicitor in person to still make a successful claim. 
At UK Law, the solicitors on our panel offer a national service. They can help make the claims process easier for you from anywhere in the country. So why not get in touch with our advisors today?
Road Accident Compensation Calculator
This section looks at potential compensation amounts you could receive in a road traffic accident claim. The figures in the compensation table below are taken from the Judicial College Guidelines and are calculated using previous case studies. This means they are not a guarantee for your claim. 
You will be invited to an independent medical appointment for a more accurate estimate of general damages in your claim. A medical professional will assess your injuries and any possible long-lasting consequences of your accident. The findings of this appointment may be used as key evidence in your claim. 
| Injury | Severity | Amount | Notes |
| --- | --- | --- | --- |
| Finger | (o) | Around £20,480 | The amputation of the ring and little fingers. |
| Neck | Moderate (i) | £23,460 to £36,120 | Fractures or dislocations causing instant symptoms. Spinal fusion may be required. This bracket may also cover soft tissue injuries to the neck and back combined, or chronic conditions that involve other areas of the body as well. There will be markedly impaired functionality and an increased risk of further damage. |
| Leg | Amputation (ii) | £189,110 to £253,480 | The below-knee amputation of both legs. Amount of compensation will depend on factors such as severity of phantom pains, related psychological damage and other possible side effects such as backache. |
| Back | Severe (i) | £85,470 to £151,070 | Most severe injuries to the nerve roots and spinal cord, leading to serious consequences such as serious pain and some form of disability. There could be incomplete paralysis and impaired bladder, bowel and sexual function. |
| Toe | Severe | £12,900 to £29,770 | Severe crush injuries that may lead to the amputation of one or two smaller toes. The injury could also be one that needs only partial amputation, or falls just short. Also includes bursting wounds and other injuries that cause significant and lasting symptoms. |
| Teeth | (i) | £8,200 to £10,710 | Serious damage to, or loss of, several front teeth. |
| Cheekbones | (i) | £9,570 to £14,810 | Serious fractures requiring surgery. There will still be lasting consequences such as some element of disfigurement. |
| Jaw | (ii) | £16,860 to £28,610 | Serious fracture with permanent consequences. This could include difficulty opening the mouth or eating. There may also be some parasthesia in the jaw. |
| Facial Disfigurement | Less Severe | £16,860 to £45,440 | Less severe scarring where the disfigurement is still substantial. This bracket covers a severe associated psychological reaction. |
| Eye | (d) | £51,460 to £61,690 | The total loss of one eye. Compensation awarded will depend on age, cosmetic effect and related psychiatric consequences. |
It is also possible to claim compensation for any financial expenses incurred due to your accident or injury. This is the special damages element of your claim. You could claim for:
Property damage

Independence supports, such as a wheelchair

Adaptions to the home, such as a shower room

Travel expenses

Medical treatments not covered by the NHS
Another benefit of claiming special damages is that you could claim for calculable future losses, such as a continuous loss of earnings. To claim this as part of your compensation, you need to prove that your losses were a direct result of your accident or injury. You could provide receipts, invoices, or bank statements (for example) to do this. 
How Our Panel Of No Win No Fee Road Accident Solicitors Could Help You
If you want to make a compensation claim after a road traffic accident, you may be concerned about the fees of road accident solicitors. However, you could be offered a No Win No Fee agreement as a way to fund your solicitor's work. 
You may be wondering how this affects the way you pay your solicitor. You would only pay your solicitor if your claim is successful in a No Win No Fee agreement. This payment would be in the form of a success fee your solicitor deducts from your compensation. Your solicitor will only deduct this fee once your compensation is fully paid. They are also not allowed to charge over a certain percentage. This legal cap means you get to keep most of the compensation you are awarded. 
If your claim does not succeed, you won't have to pay your solicitor for their work. You also don't need to worry about ongoing or upfront solicitor fees. 
Get in touch with our team of advisors today to find out more about how No Win No Fee could benefit you. They could pass you on to our panel's specialist road accident solicitors. 
Personal Injury Claim Resources
Thank you for reading our guide on road accident solicitors. We hope you found this article helpful if you want to start a claim after a road traffic accident. For further related resources, please see below. 
How Often Do Personal Injury Claims Go To Court? – Read our article to find out how often personal injury claims end up in court. 
What Happens if an Uninsured Driver Hits Me? – Learn how to claim compensation from uninsured or untraceable drivers in this guide. 
Femur Fracture Compensation Claims – If you've fractured your femur, use our guide to determine how you can claim.
Whiplash – The NHS page on whiplash injuries.
Statutory Sick Pay – This government page explains how to claim SSP if you've had to take time away from work. 
Criminal Injuries Compensation Authority – You could claim through the CICA if your road traffic accident was purposefully caused by the other party and considered a violent crime. 
Here are some other guides you might find useful:
Thank you for reading our guide about road accident solicitors. 
Writer AO
Checked by UI