What Is The Minimum Payout For Whiplash?
By Mary Nora. Last updated on 20th June 2022. The minimum payout for whiplash can vary from case to case, and in this guide, we're going to answer all of your questions about this subject.
If you've been in a road traffic accident or a slip and fall, then you may have suffered whiplash as a result. You could receive compensation for this injury if the accident which caused it wasn't your fault. Below, we'll take a look at the current whiplash payout scale in the UK.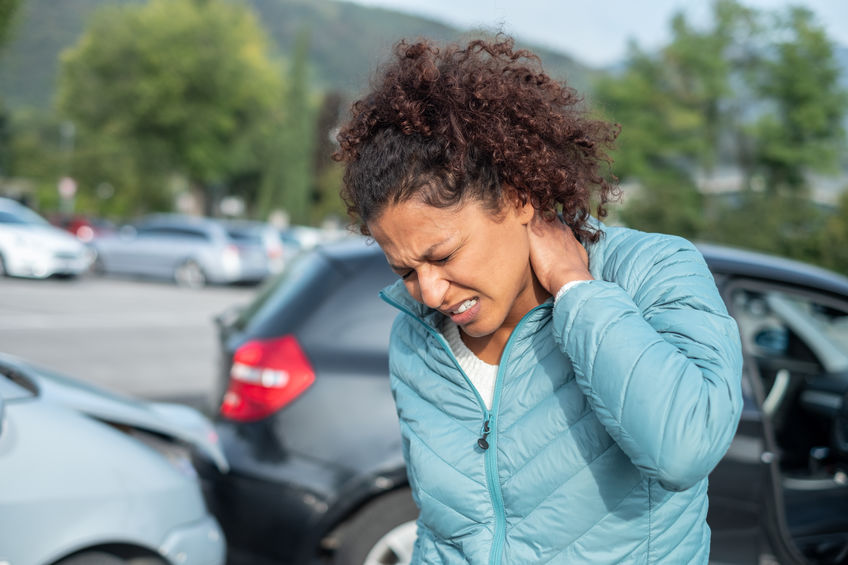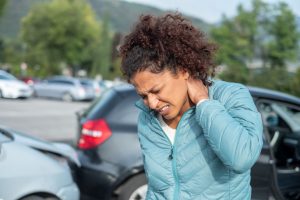 Whiplash is caused when the head is moved suddenly. Many people associate whiplash with neck and shoulder pain, but it can also cause headaches and muscle spasms in the arms and shoulders. Whiplash can have a real impact on your quality of life as you heal. Claiming compensation can help reduce the stress associated with recovering from an injury such as whiplash. 
People who suffer this injury may ask, "what is the minimum payout for whiplash?". In this guide, we'll explain what exactly whiplash is and how you can claim for it. We'll also discuss the potential payouts that may be given out to compensate for whiplash injury. Further to this, we look at the whiplash average payout for UK claims. 
Get In Touch With Our Team About The Whiplash Payout Scale For UK Claims
You can contact UK Law for free specialist advice on personal injury claims. Our advisors can help to answer any questions you may have about compensation for whiplash injuries.
You can reach us online by submitting an online claim form or you can request a callback.
You can also speak to us through our live chat service. If you would prefer to call us, you can do so on 020 3870 4868.
Services And Information
Everything You Need To Know About The Whiplash Payout Scale For 2022
You may be wondering whether there is minimum compensation for whiplash and, if so, what it's set at. To help answer this question, we will start by looking at what whiplash is.
We'll also look at the methods which may be used to assess your injuries. Furthermore, we'll explain how lawyers and insurers measure the value of whiplash injuries and what type of damages you could claim from such injuries.
To summarise, we will look at how you may be able to benefit from a No Win No Fee agreement when funding a solicitor and what percentage solicitors take as a success fee if your claim ends in compensation. We'll also provide you with some additional resources that you may find helpful in the process of claiming.
What Is Whiplash?
Whiplash is a neck injury that can occur when there is a sudden movement of the head. For instance, whiplash may occur due to a traffic accident or as the result of a slip and fall. These types of accidents can cause your head to move backwards and then forward in a quick and forceful manner. 
If the movement of your head is severe enough, it can cause injuries associated with whiplash. These can include:
Tears to the ligaments, muscles and other tissues of the neck

Nerve damage around the neck

Injury to disks between the bones

Injury to bones in the spine
Having a whiplash injury can lead to a range of symptoms. Some symptoms of a car accident that could be whiplash could include:
General pain around the neck

Neck stiffness and difficulty moving your head

Headaches

Pain and muscle spasms around the shoulders and arms 
The extent of whiplash injuries and how severe the symptoms are can vary depending on how forceful the movement of the neck was in an accident. You may recover from minor whiplash injuries within a few weeks. More serious cases could take many more months to recover from. 
A doctor may recommend that you use painkillers to manage the pain. They may also suggest that you undertake a course of physiotherapy to aid in your recovery. Very severe neck injuries can cause a lot of pain and restriction of movement on a long-term or even permanent basis.
Is There A Minimum Payout For Whiplash?
As of May 31st 2021, the way whiplash injuries are awarded has changed for road traffic accidents alone because of the Whiplash Reform Programme. These changes only apply to accidents on or after this date. If the accident that caused your whiplash was before this date then your personal injury claim will follow the old rules. There are numerous factors that need to be considered while compensation for a whiplash injury is being calculated.
Some websites offer personal injury compensation calculators to estimate how much compensation could be owed. While these can give you a rough claim valuation, they often don't collect enough information to give you an accurate estimation of your compensation.
How Much Can You Claim For Whiplash?
To help with working out compensation for whiplash claims, solicitors will refer to the guideline compensation brackets provided by the Judicial College Guidelines (JCG). These figures are based on past compensation awards for different injuries based on the type of injury and their severity.
However, the payout figure could differ from the guideline figure based on the circumstances of a particular case. Since the Whiplash Reform Programme came into effect the JCG is no longer used for whiplash awards that are below two years of recovery.
Is there a whiplash average payout for UK claims?
As there is no average whiplash payout for UK claims, the settlement you receive will vary. Different factors will be taken into consideration when valuing your claim. For instance, your compensation may vary if you:
Suffer more than just a whiplash injury – if you have other injuries, you could claim for each one.
Develop a chronic pain condition – if whiplash triggers complex regional pain syndrome (CRPS), for example, you could claim for this.
Suffer psychological injuries – This might include anxiety after a car accident.
If you would like to learn more about how the severity of your injury could affect your whiplash claim amount, we could help.
Why not call our team to discuss your case? We could give you some idea of where you could be on the whiplash payout scale for UK claims.
What Is The Current Minimum Payout For Whiplash Neck Injuries?
If your accident happened before May 31st 2021 you will receive awards in line with the Judicial College Guidelines. If the accident that caused your whiplash happened on or after this date you need to refer to the new Whiplash Reform Programme rules for the latest payouts, which we discuss in the next section.
There are numerous factors that need to be considered while compensation for a whiplash injury is being calculated. As a result, it is difficult to guess what your payout could be if you decide to make this type of claim yourself. 
Each claim is assessed on a case-by-case basis. Although the Judicial College Guidelines offer guidance to solicitors in valuing claims, the settlements agreed can vary greatly depending on a number of factors.
Because of this, there is no minimum payment for whiplash claims that you may receive. Each case is unique and will be valued based on the details of the accident and subsequent injuries.
The Whiplash Payout Scale In The UK Under The Whiplash Injury Regulations 2021
In May 2021, the Whiplash Injury Regulations 2021 was introduced by the government. It sets out the new whiplash payout scale for the UK, which you can see in the table below:
| Time Span of Injury | Amount - Regulation 2(1)(a) | Amount - Regulation 2(1)(b) |
| --- | --- | --- |
| No more than 3 months | £240 | £260 |
| 3-6 months | £495 | £520 |
| 6-9 months | £840 | £895 |
| 9-12 months | £1,320 | £1,390 |
| 12-15 months | £2,040 | £2,125 |
| 15-18 months | £3,005 | £3,100 |
| 18-24 months | £4,215 | £4,345 |
These compensation awards are fixed, meaning there's no negotiating for higher amounts. If you fall into a particular category, that is what you will likely receive.
So under the new regulations, the minimum payout for whiplash in the UK is £240, with the maximum being £4,345.
The government wanted to bring down the average payout for whiplash to levels it thinks are more suitable, which is one of the reasons why they were introduced.
It's also an attempt by the government to pass financial savings onto consumers by encouraging insurers to bring down the cost of premiums.
Minimum Payouts For Minor Whiplash Claims Or Serious Types Of Whiplash
One of the factors which influence the payout for a whiplash claim is how serious the injury is and how it has affected your quality of life. Medical evidence is crucial in determining how much compensation you could receive for your whiplash injury.
The Judicial College guidelines value injuries for a claim before the new reform. They include numerous estimated figures which may be applied to a whiplash claim. The guidelines include estimated figures specifically for neck injuries (which may be caused by whiplash) based on different levels of severity and different potential issues the victim may be experiencing.
How Will Your Injuries Be Assessed?
If you are making a personal injury compensation claim for whiplash, then it's important to have your injury assessed by an independent medical expert. When you make a claim for compensation through a solicitor, they'll arrange this for you. 
In this meeting, the medical professional will assess how severe your neck injury is. They'll chat to you about the impact that your injuries have had on you. They will then detail their findings in a medical report which will be sent on to your solicitor. Your solicitor will use this report and the JCG to value your compensation claim. This assessment by a medical expert plays a vital role in determining how much you'll receive if your compensation claim for whiplash is successful.
The Whiplash Payout Scale For UK Claims
Injuries caused directly by whiplash are known as whiplash-associated disorders (WAD), and there are five different grades that medical experts may use to classify the severity of such injuries. These grades are:
0 –

No physical signs of the injury or complaints 

1 –

Complaints of neck pain without physical signs

2 –

A combination of neck complaints and musculoskeletal signs

3 –

A combination of neck complaints and neurological signs

4 –

A dislocation or fracture has occurred, and there are complaints of neck pain
What Else Should You Know About Claiming Compensation For A Whiplash Injury?
In order to claim compensation for any kind of injury, you need to be able to show that someone else was at fault for your injuries due to a breach of duty of care. It's important that you provide evidence that else's negligence caused the accident and your subsequent injuries. 
If you have suffered whiplash in a car accident, then CCTV or witness statements may be able to corroborate your version of events. The damage on your vehicle may also be able to inform who was at fault for an accident. 
For instance, if someone crashed into the back of your car, they will almost always be deemed liable. Even if you performed an emergency stop on the road, the other driver should have left a safe stopping distance between their car and yours. Failure to do so constitutes a breach of duty of care. 
If you've suffered whiplash after a fall in public or after an injury at work, then similarly, you may be able to use witness statements or CCTV to support your claim. You should also take photos of the hazard that caused the accident and detail your accident in the accident book, if possible. 
It's also advised that you seek medical attention soon after the accident. The benefit of this is twofold; not only will you get the medical attention you need, but this will create a record of your injuries that may be able to support a claim in the future.
Would a child accident be compensated in accordance with the whiplash payout scale for UK cases?
If your child is injured in a car accident and they develop whiplash, a responsible adult could claim for them. Their whiplash claim amount would be dictated by the severity of the injury and its effects on the child.
Whiplash Neck Injury Compensation Calculator
The list below contains injuries corresponding with bracket compensation amounts taken from the most recent edition of the Judicial College Guidelines, published in April 2022. These compensation amounts are used by solicitors as guides when valuing claims alongside medical evidence. As such, there is no fixed amount that represents the whiplash claims average payout.
You can call our advisors to get free legal advice and discuss the whiplash claim amount you could receive. They may also be able to connect you with our panel of solicitors to start your potential claim, provided it is valid and has a chance of success.
| Injury | Description | Compensation |
| --- | --- | --- |
| Neck Injury - Severe (i) | Injury of the neck associated with incomplete paraplegia causing permanent spastic quadriparesis. | In the region of £148,330 |
| Neck Injury - Severe (ii) | Serious fractures or damage to discs in the cervical spine, which leads to disabilities. | £65,740 to £130,930 |
| Neck Injury - Severe (iii) | Fractures or dislocations or severe damage to soft tissues and/or ruptured tendons. These might lead to chronic conditions and cause permanent and significant disabilities. | £45,470 to £55,990 |
| Neck Injury - Moderate (i) | Fractures or dislocations which cause severe symptoms immediately. A spinal fusion may be required. | ££24,990 to £38,490 |
| Neck Injury - Moderate (ii) | Soft tissue or wrenching-type injury and disc lesion of the more severe type causing several issues with mobility. | £13,740 to £24,990 |
| Neck Injury - Moderate (iii) | Injuries which may have accelerated and/or exacerbated a pre-existing condition. | £7,890 to £13,740 |
| Back Injury - Severe (i) | This bracket includes the most severe injury that involves spinal cord and nerve root damage. | £91,090 to £160,980 |
| Back - Moderate (i) | Various injuries are included in this bracket such as compression or crush fractures to the lumbar vertebrae. | £27,760 to £38,780 |
| Back Injury - Minor (i) | Injuries in this bracket include less serious strains, sprains, disc prolapses and soft tissue injuries that recover without surgery within five years. | £7,890 to £12,510 |
What Affects The Whiplash Average Payout In The UK?
Please note for whiplash injuries and injuries of low value the awards will now differ due to the reform. The estimated figures above cover potential payouts you may receive under the general damages head of your claim, which focuses on physical injuries. In addition to receiving compensation for general damages, you may also receive special damages, which cover financial losses directly caused by your whiplash injury. 
Losses you may be able to recover under special damages can include the following:
Loss of earnings due to having to take unpaid time off work while recovering from your whiplash injury.

Costs of receiving medical treatment for your whiplash injury.

Travel expenses that you've incurred when travelling to medical appointments, or the cost of public transport if you're unable to drive.
It's really important that you keep a record of anything that should be included in special damages. This can include bills and receipts for costs you've incurred. Without evidence, expenses won't be able to be included. 
You can contact UK Law for an estimate on the amount of compensation you are likely to receive based on the circumstances of your whiplash injury claim.
How To Respond To A Low Settlement Offer?
If you are approached by an insurer with an offer of compensation for your injuries, it may be lower than the figure you expected to receive. Their figure may not be as much as you could be awarded when you use a solicitor or take your case to court instead. 
It may be tempting to some to accept an early offer to avoid more stress or delay. However, this may not be in your best interests. If you receive a settlement offer that is lower than the amount you think you are entitled to, then you could consider consulting a solicitor about this. 
A solicitor who specialises in whiplash injury claims could give you an accurate estimate of the compensation amount you could reasonably expect based on the details of your case. You may find that the solicitor's estimate is very similar to the offer you've received. Alternatively, there may be a significant difference.
It is always up to you whether you accept or reject a settlement offer. You should not feel pressured into taking a particular offer or making a decision quickly. By following advice given to you by a solicitor who has experience with whiplash injury claims, you could end up receiving significantly more than your initial offer.
How Do You Claim For More Than The Minimum Payout?
Have as much evidence about your injury as possible. This will ensure that you receive the correct amount of compensation. If you have suffered an injury following an accident it would be wise to have it checked out. Injuries are not always apparent straight away. Moreover, the severity of injuries may not come to light until some time later. 
Since the reform whiplash claims can be made in a different way. This could be done with the assistance of the Whiplash Reform Programme (WRP) The reform was introduced to make it easier for claimants to claim without legal assistant. However, claimants may still find the process complex and want the help of a solicitor. 
Whiplash Reform Programme
From 31st May 2021, the Whiplash Reform Programme will take effect across England and Wales. The reforms apply to low-value personal injury claims from road traffic accidents and include whiplash injuries. 
Under the reform, those wanting to make a small personal injury claim for whiplash can use an online service. It is an online portal that can guide you through the process of making a claim, obtaining a medical report, managing your claim and receiving compensation.
Official Injury Claim is an impartial, free-to-use service that has been developed by the Motor Insurers' Bureau (MIB). It can be used to claim up to £5,000 for personal injury, rising to a total of £10,000 when financial losses are included as well.
Get in touch with us today to speak with an advisor. 
I Suffered A Whiplash Neck Injury, What Should I Do?
If you have suffered a whiplash neck injury, then the first thing you should do is get it treated by a medical professional. It is worth obtaining evidence of the medical treatment you receive. Evidence could include medical notes and a discharge letter. This medical evidence could help later if you start a compensation claim for your injury.
RTAs, where you as the driver did not give your details at the time of the accident, should be reported to the police within 24 hours of the accident.  If you were driving, you should also inform your insurance provider about the accident as soon as you can. 
After receiving medical treatment and informing the necessary organisations, you could then seek legal advice about starting a personal injury claim for your whiplash. If you do, you should start to collect other evidence as soon as you are fit enough to do so. Potential evidence which you may be able to collect could include photos, camera footage or witness contact details.
How much can you claim for whiplash if the accident was your fault?
You would not usually receive any compensation if an accident was your fault completely. In cases where you and another party were at fault, you could still have a chance of claiming. However, your whiplash claim amount could be reduced because of your portion of the blame.
Can Whiplash Injury Claims Be Handled On A No Win No Fee Basis?
You may be worried about how much the legal process of making a claim will cost you. However, all of the solicitors on our panel operate on a No Win No Fee basis. This means that you won't be expected to pay them unless they are successful in helping you receive compensation.
In other words, If you do not win your claim but you have a No Win No Fee deal in place, then you won't have to pay them anything. There will be no hidden or additional fees.
If your claim is successful, then your lawyer will take their fee from your settlement in the form of a small and legally-capped percentage.
Whilst you are permitted to law to make a claim without legal assistance, this isn't something that we advise against. This is because if you don't have a deal such as a No Win No Fee arrangement in place, you may still have to cover your lawyer's expensive legal costs without the assistance of your injury settlement.
Click Here To Learn More About No Win No Fee Claims
Contact Us For More Help
Thank you for reading our guide on the minimum payout for whiplash. You can contact UK Law today through one of the following methods:
Other Information
For more information on whiplash injury claims, you can read the resources below:
What To Do If A Whiplash Claim Is Refused
This guide focuses on what to do if you are refused compensation you believe you are entitled to for a whiplash injury.
When And How To Report A Car Accident
Car accidents can be the cause of whiplash injuries. This guide explains when you should report being in a car accident and how to claim for it.
A Guide To Slip And Fall Accident Claims In UK
Slip and fall accidents are one of the ways in which a whiplash injury could occur. This guide provides more insight into what to do if you are injured by this type of accident.
This page from the NHS website provides information on whiplash, including symptoms and treatment options. 
This code is essential reading for all road users. It outlines the duty of care that all road users have to one another. 
The Health and Safety Executive has provided information and guidance on reducing the risks of slips, trips and falls in the workplace.
FAQs About Whiplash Injury Claims
Is there a minimum speed to sue for whiplash?
If you suffer whiplash in a road traffic accident that wasn't your fault, then you could be entitled to compensation even if it occurred at a low speed. Whiplash injuries can occur during both low and high-speed road traffic accidents.
How long will my whiplash claim take?
The amount of time a whiplash injury claim takes can vary depending on the circumstances. A more straightforward case may be completed in a few months. However, more complex cases may require a lengthy period of evidence gathering. 
How much time do I have to start my claim?
Generally, you have three years from the date of the accident to start a claim for compensation. If you were under 18 at the time the accident took place, a litigation friend can claim on your behalf until you turn 18. At this point, you will have 3 years to make a claim if one hasn't already been made. 
Can I claim if I was in a bus or taxi?
You will be entitled to claim compensation if you suffered a whiplash injury while you were a passenger in a bus or taxi. 
Could I claim against a driving instructor?
You may be able to claim for a whiplash injury against a driving instructor following an accident that involves one. However, the claim will only succeed if you can establish that the driving instructor behaved negligently, causing your injury.
Thanks for reading our guide about the minimum payout for whiplash.