As A Cyclist I Was Hit By A Car, Can I Claim Compensation?
By Meg Stein. Last updated 11th January 2022. Are you a cyclist who was hit by a car? If so, our guide could help you understand how these types of accidents could happen and your rights involved following a cycling incident.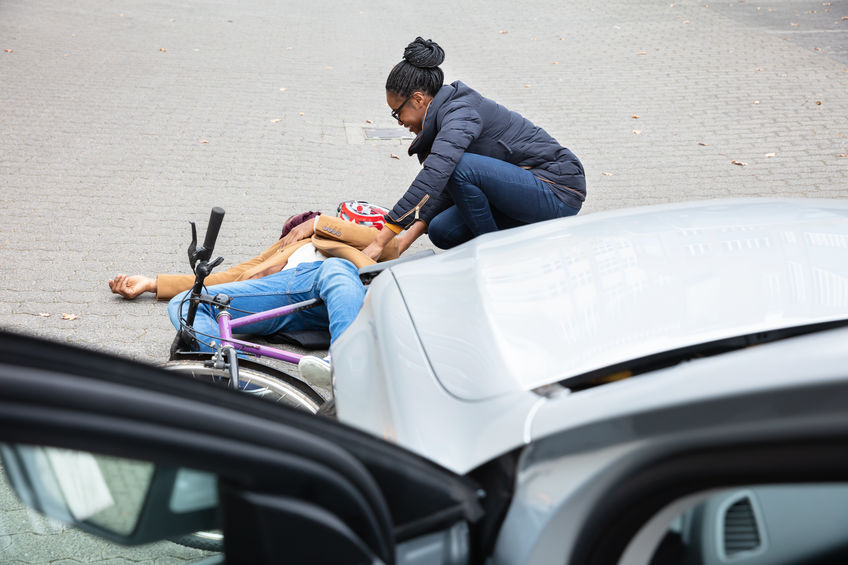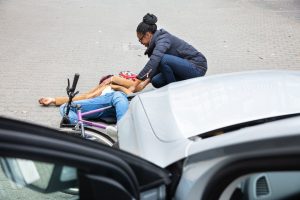 There can be a lot of complicated legal terms to decipher while looking into this topic. This article is here to help you to understand it all and to make you feel more confident about making a claim.
Our advisors are here to help you better understand how this process works. We may even be able to connect you with our panel of expert personal injury solicitors who have experience handling cycle accident claims.
The more we know about the circumstances surrounding your claim, the more accurately we will be able to help you. Get in touch with us today or read on for more information.
Get In Touch With Our Team
There's more than one way to reach us, such as:
Explore The Following Sections To Find Out If You Could Claim As A Cyclist Hit By A Car 
How Can A Cyclist Get Hit By A Car?
There are several ways in which a cyclist could be hit by a car. As per several pieces of legislation, all road users have a responsibility to ensure they take all reasonable steps to prevent others from experiencing harm while using the road.
However, there are circumstances in which they could breach their duty of care. We have explored some cycling accidents below.
Cyclist hit by an opening car door: An accident involving car dooring involves a driver or passenger of a car opening the car door of a parked vehicle and the door hits the cyclist. It can be very painful and can result in a number of injuries.
However, in some circumstances, it can be difficult to tell who's at fault. If you've been injured in a car dooring accident that wasn't your fault, then you may be entitled to compensation.
Driving under the influence: As per Section 4 in the Road Traffic Act 1988, all drivers must not drive under the influence of drugs and alcohol. If they fail to adhere to this rule, it could affect their driving abilities and judgement of hazards on the road.
For example, a driver may have failed to judge the distance correctly when pulling up to a traffic light behind a cyclist. As a result, the cyclist may have been pushed off their bike and sustained a minor head injury.
Side impact crashes: A driver is responsible for ensuring they check their mirrors before overtaking on the road. If they fail to do so, they could crash into the side of a cyclist causing them to sustain severe injuries from the impact.
What Injuries Could A Cyclist Hit By A Car Experience?
A cyclist hit by a car could experience various types of injuries in a cycling accident, such as:
Facial injuries: The cyclist may hit their face when they collide with a car door, causing them to sustain a fractured eye socket or broken jaw.
Broken bones: The cyclist could be thrown off their bike causing them to sustain a severe broken back injury or neck injury.
Psychological harm: A cyclist may face psychological harm if they experience any life-changing injuries, such as paralysis or severe road burns that cause significant scarring.
How Often Are Cyclists Involved In Road Traffic Accidents?
According to the Reported road casualties in Great Britain: Pedal Cycle Factsheet 2020, there were 141 pedal cyclists killed during 2020. An additional 4,215 were reported as seriously injured and a further 11,938 were reported as slightly injured during the same period.
More specifically, in the latest figures released by the Department for Transport to Cycling UK, between 2011–2015, the police attended 3,108 incidents that involved a "vehicle door opened or closed negligently". A vast majority of these dooring accidents caused injuries to cyclists. The number of cyclist injuries amounted to 2,009, with 5 of them resulting in fatalities. 
The graph below shows a comparison between the number of reported pedal cycle casualties by severity from 2018-2020. As you can see, the number of cyclists killed has increased but the number of cyclists slightly injured has decreased.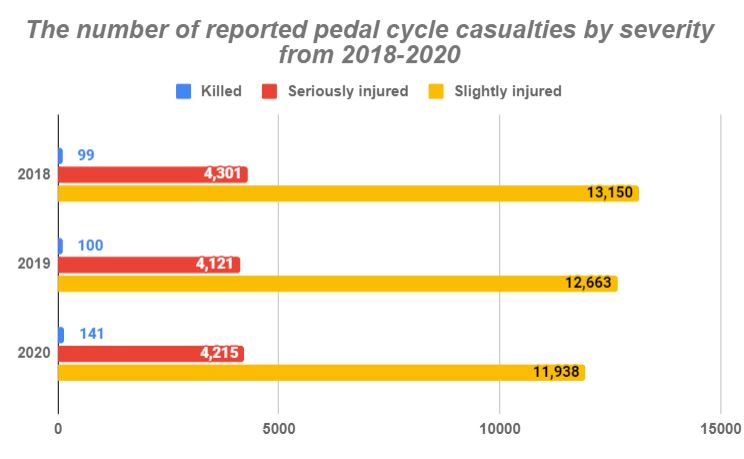 The Duty Of Care Of Drivers And Other Road Users?
The Highway Code provides guidance and rules for all road users to adhere to when navigating the road. The legislation applies to drivers, motorcyclists, pedestrians, cyclists and other road users.
The rules vary depending on the road user in question. However, generally, all road users are expected to take reasonable steps to prevent other road users from experiencing harm in an accident they caused.
We have explored some of the different rules each road user may need to follow below.
Please note that these are just a few examples of the duties road users have. For more information on your rights as a cyclist who was hit by a car and your responsibilities as a road user, contact our team on the number above.
The Legal Position Of Cyclists
There are various factors to consider when looking at liability in an accident involving a cyclist hit by a car. Whilst liability may often lie with the driver of the car, cyclists could also be responsible for causing a cycling accident. 
A cyclist could be somewhat responsible for a car accident if it's found that they weren't taking due care. For example, they may have worn reflective clothing but may have only attached lights and reflectors to the front of their bike when riding in the dark.
As a result, the driver may have crashed into the back of a cyclist because they had more difficulty seeing the cyclist on the road. In this circumstance, the driver may have still been reasonably expected to notice the cyclist by paying due care and attention.
However, because the cyclist failed to do everything they reasonably could to prevent an accident, they may also be considered at fault. If the cyclist is found partially liable, the amount of compensation they're awarded might be reduced accordingly. 
Liability can be a tricky subject to comprehend sometimes. If you're unsure who was liable for your accident, get in touch with our team of advisors today.
 If A Cyclist Is Hit By A Car, How Much Compensation Could They Get?
When calculating a compensation payout for a cyclist hit by a car, there are two main figures to take into account: general damages and special damages. General damages are paid to the claimant to account for the pain and suffering caused by their injury.
This figure can be worked out using a publication called the Judicial College Guidelines (JCG). The JCG is an extensive list of what various injuries could be worth in compensation. The amount varies depending on the severity and recovery time. It's important to note that the JCG is updated regularly and was last reviewed in 2019.
Special damages are paid to the claimant to cover any financial losses that occur due to their injury. Due to the bespoke nature of this figure, it can be difficult to work out. This is especially true during the early stages of a claim. Special damages can cover things such as:
Loss of earnings

Future loss

Damage to property

Medical costs
It's important to have proof of these expenditures. This can be in the form of receipts, for example. Without proof, you may not be reimbursed.
We have included a table below containing some examples of general damages. The general damages figures have been taken from the JCG.
| Injury | Comments | Amount |
| --- | --- | --- |
| Jaw Fractures | Very serious multiple fractures that required ongoing treatment and caused permanent consequences. For example, severe pain and restriction in eating. | £28,610 to £42,730 |
| Teeth | Loss of or serious damage to two front teeth. | £4,080 to £7,160 |
| Facial Disfigurement | Trivial facial scarring. In these cases the effect is minor only. | Up to £3,310 |
| Brain Damage | Minor brain or head injury. In these cases, brain damage, if any, will have been minimal. | £2,070 to £11,980 |
| Affecting Sight | Total loss of one eye. The level of the award within the bracket will depend on age, psychiatric consequences, and cosmetic effect. | £51,460 to £61,690 |
| Chest | Damage to chest and lung(s) causing some continuing disability. | £29,380 to £51,460 |
| Neck | Injuries such as fractures or dislocations that may necessitate spinal fusion. | £23,460 to £36,120 |
| Elbow | Causing impaired function but no major surgery required. | £14,690 to £30,050 |
| Wrist | Uncomplicated Colles' fracture | Around £6,970 |
| Hand | Severe finger fractures that might lead to partial amputation. | Up to £34,480 |
If you'd like to find out how much compensation for a motor vehicle accident you could claim, get in touch. Our advisors can offer to assess your claim and provide an estimate of how much your claim may be worth. 
As A Cyclist I Was Hit By A Car, Can I Make A No Win No Fee Claim?
If you were a cyclist hit by a car, you may wish to seek legal representation. However, if you're unsure of your options, this section could help.
A No Win No Fee agreement means that the client would not be responsible for paying their personal injury solicitor's fees following an unsuccessful claim. Should their claim be successful, their solicitor will be paid via a legally capped fee taken from their payout.
If your lawyer's services aren't offered under this arrangement, it's possible that you could still owe them money even following a lost personal injury claim.
Our panel of solicitors for road traffic accident claims have worked with many clients under a No Win No Fee arrangement in the past. Operating this way can help to alleviate some of the financial stresses associated with using the services of a solicitor to make a personal injury claim.
If this method of pursuing your cyclist claim against a motorist appeals to you, then get in touch with us today and we can get started. There's more than one way to reach us.
More Information On Cycling Accidents
We've included some helpful links to aid your understanding of this and similar subjects. 
How to tell if you've broken a bone

– NHS advice.

More government

statistics on road accidents and safety.

The Highway Code explores your responsibilities as a cyclist.

Our guide to

making a claim for a fatal accident.

How to prove

loss of income/ earnings.

Claims concerning

faulty traffic lights.

A helpful guide on situations involving a pedestrian hit by a car.
Our guide on how to prove you are not at fault in a car accident.
See our guide on

road accident solicitors.
Thank you for reading our guide on making a cyclist hit by a car claim. If you have any further questions, please call the number at the top of the page.
Writer IB
Checked by HT