Check How To Make Your Workplace Injury Claim
If you've been injured as the result of negligence, you may be able to make a workplace injury claim. This guide can help you understand the process.
We look at the laws that protect your safety at work and how an employer could be liable if they breached those laws. We also look at how compensation is calculated, as well as some of the different accident types that could occur as a result of negligence.
If you would prefer to talk to someone in person, our supportive and expert team is on hand. Simply:
Select A Section
Am I Eligible To Make A Workplace Injury Claim?
Anyone who can prove that they suffered an accident at work as a result of negligence that left them injured could have grounds to start a workplace injury claim. Employees, sub-contractors, and even self-employed people whilst on construction sites can be eligible to make a claim if injured as a result of negligence.
All UK employers have strict legal responsibilities under the Health and Safety At Work, etc Act 1974 to protect employee safety as far as reasonably practicable. In order to claim compensation, you need to show that you sustained the injury as the result of a breach of duty of care.
Other eligibility criteria include making a personal injury claim within the time limit. You generally have three years in which to start a claim; however, exceptions can apply in some circumstances. Find out more about how long you have to start a claim by speaking with our team.
Workplace Injury Statistics
Below, our graph shows as percentages non-fatal workplace injury statistics that happened during the period 2020/21 and were reported to the Health and Safety Executive (HSE) through the RIDDOR (Reporting of Injuries, Diseases and Dangerous Occurrences Regulations 2013).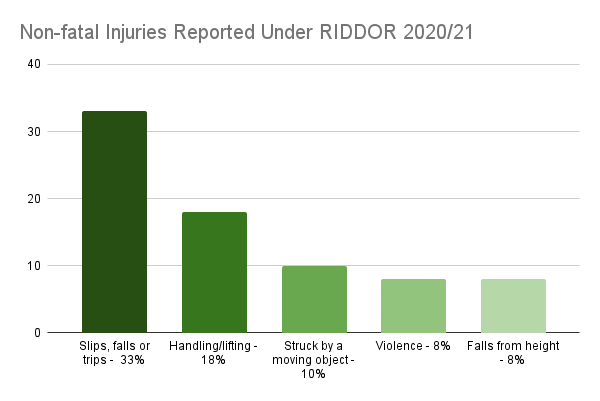 As you can see, slips, trips and falls made up the highest percentage of accident types reported. This was followed by injuries sustained when handling or lifting.
What Could I Make A Workplace Injury Claim For?
Obviously, each workplace differs, and depending on the nature of the business they could present their own set of particular hazards. Some general examples that could happen across all areas are as follow:
This list is not exhaustive. There are a number of different ways that you could be injured as a result of negligence that we have not mentioned here. Get in touch with our team for more information on making a workplace injury claim.
How Do I Show My Employer Was Responsible?
Proving that your employer was responsible for the circumstances that resulted in injuring you is central to a workplace injury claim. The HASAWA requires all UK employers to take steps to protect their employees, some of which include:
If you were injured as a direct result of a breach of this duty of care on the part of your employer, you may be able to claim compensation.
What Steps Should I Take?
There are certain steps that you can take after being involved in an accident at work due to negligence that could strengthen your claim. These include:
For more information on the steps you can take after being injured in an accident at work, speak with an advisor today. You could be connected with a solicitor to work on your workplace injury claim.
Workplace Injury Claims Calculator
The first step to calculating possible damages for your workplace injury claim is to arrange for a medical assessment. A personal injury solicitor can help you do this.
Once an independent professional has looked at you, they can put your injuries into a medical report. Guideline compensation brackets from the Judicial College Guidelines are then used to help value your claim. We have included some examples below:
Injury
severity
JC Guidelines award bracket
notes
Head
Minor (e)
£2,070 to £11,980
If there is any brain damage, this will be minimal.
Neck
Severe (a) (i)
In the region of
£139,210
There will be little to no movement in the neck despite wearing a collar 24 hours a day for a number of years.
Shoulder
Serious (b)
£11,980 to £18,020
Nerve damage and restricted movement.
Elbow
Severe (a)
£36,770 to £51,460
Injuries of a severely disabling nature
Wrist
Serious (b)
£22,990 to £36,770
Permanent disability, some remaining useful movement
Leg
Less serious (c) (i)
£16,860 to £26,050
Includes fractures from which recovery is incomplete.
Knee
Severe (a) (i)
£65,440 to £90,290
Ligament damage, disrupted joint and serious on-going pain
Ankle
Modest (d)
Up to £12,900
Mild fractures, sprains and strains
Facial disfigurement
Very severe (a)
£27,940 to £91,350
Disfiguring scars causing a severe psychological reaction
Psychological harm
Moderate (c)
£5,500 to £17,900
There will have been marked improvement of symptoms and a good prognosis.
The part of your compensation that relates to the pain, suffering, or loss of amenity you experience after your injuries is known as general damages. As well as these, if you have proof like receipts and wage slips, it can be possible to claim for financial losses. This part of your claim is called special damages and can cover:
Call and discuss your situation with our team and they could alert you to other potential costs owed back to you. Furthermore, an advisor could connect you with a No Win No Fee solicitor from our panel provided you have a valid case.
Get In Contact With A Specialist Solicitor
It's important to remember that anyone can represent themselves in a workplace injury claim. However, legal jargon can become complex and the case may require a good deal of time and attention. This could be too much on top of trying to recover from your injuries and a personal injury lawyer could help.
A No Win No Fee agreement sets out the conditions that your lawyer needs to meet before they are paid. When a solicitor works under an agreement like this with you, the benefits include:
If your claim is a success, then a fee will be deducted from your compensation by your lawyer. This is legally capped meaning you always receive the majority of the payout.
Connect with our team on the details below. They could put you in touch with a No Win No Fee lawyer from our panel today. Just:
References
Below are some further resources to help with your workplace injury claim. Please get in touch if we can help with anything as you read them:
Writer FE
Checked by NC