Car Accident Claims – A Guide To Car Crash Compensation In The UK
A car accident or car crash is any type of accident involving a car hitting or striking another vehicle, object or pedestrian. Car accidents could happen for a variety of different reasons. They may be caused by a driver who is driving recklessly due to a lack of due care and attention, or under the influence of drugs or alcohol. Car crashes could also be caused by poor or dangerous road conditions, such as patches of ice or potholes. If you have been injured due to a car accident that either was not your fault or for which you were only partially at fault, you could make a car accident claim.
Making A Car Accident Injury Claim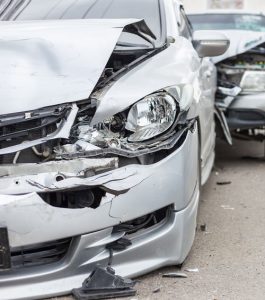 Car accidents could cause injuries to drivers and passengers involved, pedestrians who are hit or other road users. They may also pose a risk to other road users – such as cyclists, moped riders and pedestrians. Some of the most common injuries sustained may include whiplash or another soft tissue injury, a fracture or break.
If the accident in which you were injured took place in the last three years (the most common personal injury claims time limit) then our team could help you to make a car accident claim. If you claim after a car crash your compensation settlement could help in getting you back to where you were before the accident.
Get In Touch With Our Team
If you have been involved in an accident on the road and wish to make a car crash claim, doing so whilst still recovering either from physical or emotional trauma could be difficult or may even seem daunting. That is why we recommend putting your personal injury claim in the hands of our panel of experienced car injury solicitors who can handle your claim for you. Our team understands that getting your life back on track after an accident can be difficult, so are here to help ease the burden of claiming compensation and hopefully restoring your financial position.
You can request a call back from our team by clicking here and filling in the form, or dial 0800 376 0150to talk to a member of our team.
Services And Information
Everything You Need To Know About Car Accident Claims
When we are discussing a car accident we are looking at any circumstances in which a car was involved in a collision with another vehicle, stationary object or person and wherein the claimant was caused an injury. Due to the number of even minor collisions which could result in an injury such as whiplash, car accident and injury claims are one of the most common types of accident claim people need to make.
In this guide, we shall take you through everything that we think you need to know about car accident claims. We look at circumstances in which accidents could happen, injuries which people could sustain and examine statistics relating to car crashes in the UK.
If after reading this guide you do intend to claim after your car crash, we have included a car accident claims calculator, so you can see how much compensation may be awarded for different injuries. At the end, we also take you through the car accident claim process.
What Is A Car Crash?
A car crash is simply a collision between one or more vehicles or person's. A car crash may happen whilst driving at low speeds through a town centre, during high speed driving on a motorway, or even when parking in a car park. As long as you were not wholly at fault you could be able to make a car accident injury claim.
Please read on to learn more about how common car crashes and accidents are in the UK.
Statistics Highlighting Car Crashes And Accidents
To help put the prevalence of car accidents and the number of people injured or killed on the UK's roads each year we are including example statistics relating to road traffic accidents in general and specifically car accidents. Before we look at the statistics for the UK we should note that on average the number of reported road accidents and casualties has been falling steadily for many decades, as can be seen in this graph.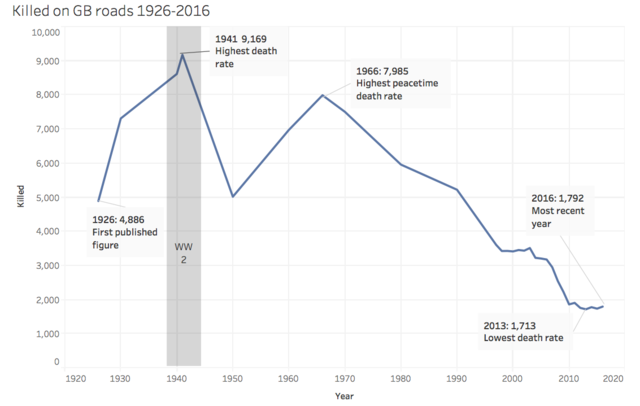 The first statistic to note is the total number of casualties from road traffic accidents in the UK. We should note that this figure includes all vehicles, not just car accidents. In 2018 there were 160,378 casualties caused by road traffic accidents. This includes all severities of injury/ casualty. And is the lowest number on record. You can find this and other headline statistics here.
Other statistics of note were that were a total of 160,378 casualties of all levels of severity caused by road traffic accidents. Of these,
There were 1,782 people were killed on the UK's roads in 2018.
Of these deaths, 777 were car occupants.
There were 25,484 serious injuries caused by road accidents.
There were 133,112 casualties with slight injuries in road traffic accidents.
Of the above total number of casualties, 93,861 were car occupants.
With cars accounting for 78% of road traffic, car occupants still accounted for the largest share of those killed on the road, accounting for 44% of casualties.
What Are The Most Common Injuries In A Car Accident?
Depending on what type of car accident you were involved in and how serious the accident was, you could have sustained a variety of different injuries. Whilst there are many different injuries that people suffer as a result of car crashes and accidents, there are some examples which car accident claims may more commonly deal with.
One of the most common injuries from car accidents is whiplash. This may be because even a low-speed impact from the rear could cause someone to sustain a neck injury. Whiplash is a type of soft tissue injury where the neck and head quickly move through an extended range of motion causing muscle tears. Other soft tissue injuries may include sprains, strains and bruising caused by the sudden impact.
People may also suffer scrapes, cuts and lacerations. These could be caused by the impact itself, or by items flying around inside the car during the impact. More serious than this, people could suffer a break or fracture in bones across the body. This may commonly happen to the arms, legs, shoulders or ribs. Victims may also sustain other leg injuries caused by the impact.
Higher speed impacts could also cause a chest injury, an internal injury, or head injury. Next, we shall look at some of the more serious forms of injury seen in car accidents.
Serious Injuries Caused By Car Crashes
Some of the most serious forms of injury which may be seen in car accident injury claims are those which affect the head (including the brain), neck, back (including spine) and chest areas.
Both drivers and passengers may sustain a traumatic brain injury or head injury caused by the head striking the internal parts of the car, such as the steering wheel, dashboard or car door. Injuries to the head could include fractures of the skull, problems with vision or hearing and brain injuries, concussions and even comas.
Back injuries can also be caused by car accidents. At their most serious, they may include damage to the nerves and/ or the spinal cord. This may lead to levels of paralysis, difficulty controlling body parts – such as problems with grip or coordination, or loss of sensation.
Due to the bones and internal organs in the region, a chest injury may also be quite serious. Sharp impacts could lead to the chest suffering blunt force trauma. This may take the form of fractures or breaks to the ribcage or sternum. People may also experience organ damage such as a collapsed or penetrated lung. An internal injury may also take the form of other internal organ damage or fractures, breaks or crush injuries of the pelvis.
Any of these injuries may require immediate and serious medical attention. Car crash claim amounts for such injuries may be higher for more serious injuries.
Car Crash Injury Compensation Calculator
If you have been injured in a car crash, you can use our car crash claim calculator below to see how much compensation you may be owed. In this personal injury claims calculator, we have included examples of car crash claim amounts for different injuries.
We should note that the figures in this table only look at how much compensation you may be awarded for the actual injuries you have suffered. It does not take into account other forms of compensation you may be owed.
In addition to providing you with compensatory damages for the injury itself, your claim could also compensate you in other ways. You could be able to claim compensation for the cost of private medical treatment, medication or care costs. If you require care in the home provided by a relative who took time off work, or through paid-for care, these costs could also be recovered.
In cases of more serious injuries, such as serious leg injuries or those affecting your ability to move about, you may require adaptations to your home or vehicle, such as adding in disabled access.
You may also be able to claim compensation for any lost income due to taking time off work to fully recover from your injury.
To find out what you may be able to claim for and how much you may be owed, discuss your claim with us today.
Car Accident Claim Calculator
| Body part Injured | Notes | Settlement |
| --- | --- | --- |
| Head - extremely serious | These are the most severe head injuries where the victim is left in a vegatitive state. | £247,280 to £354,260 |
| Head - serious to moderate | Symptoms may include physical effects of mental disabilities and even psychological changes. | £13,430 to £247,280 |
| Face - skeletal fractures | Including fractures to the facial bones. | £13,080 to £21,000 |
| Eye / eyes | Total loss of sight / blindness | In the region of £235,630 |
| Back - severe | These may occur in conjunction with injuries to the shoulders and the neck. | £79,890 to £141,150 |
| Back - moderate | Victims with this level of injury may still suffer some risidual levels of disability. | £24,340 to £34,000 |
| Neck injury - severe | At this most severe level, the injury may present as or with paraplegia. | In the region of £130,060 |
| Neck injury- moderate | Fractures, soft tissue injuries and . dislocations. | £21,910 to £33,750 |
| Shoulder - serious | Damge to the vertebrae, bones, joint and soft tissue. | £11,200 to £16,830 |
| Leg - moderate | Crush injuries and similar or related forms of injury to the leg. | £24,340 to £34,370 |
Could I Still Claim Compensation If Partially Responsible For A Car Accident?
Car accidents can involve complicated circumstances and in some instances, it may be difficult to wholely attribute fault to one party. In some instances, it may be that the blame for the accident occurring (and thus injuries being sustained) is split between both drivers or parties. Whilst either party may not have acted deliberately, they may still be responsible for the accident occurring.
Both drivers may have played some degree of part in the accident taking place and in some instances, this split may even by 50 – 50. In such instances, you could still be able to make a split liability car accident and injury claim. If it can be proven that both parties were equally at fault both drivers may be able to claim compensation for injuries suffered.
However, in these cases, as the liability is split the amount of compensation is similarly reduced. For example, if you were found to be at fault and liability is split 50-50, your car accident claim payout would only be for half the compensation you could otherwise have claimed.
Fatal Car Accident Claims
If a loved one has died as a result of a car accident, you could be able to make a car accident injury claim. If that accident was caused by another person and you are a dependant of the deceased, you could claim compensation. The ability to do so is set out in the 1976 Fatal Accident Act.
For the purposes of seeking a fatal car accident claim payout from the defendant, the claimant must be one of the following. They may be the spouse of the deceased or an ex-spouse who is still dependent on them. The claimant may also be someone who co-habited with the deceased for two years, this may be either as a married couple of civil partner.
Biological or adopted children may also be able to seek compensation as may elderly parents dependent upon the deceased for care, support, etc.
Other relatives who may also be able to claim compensation include siblings, cousins, nephews, nieces, or an uncle or aunt.
Find out if you are eligible to claim compensation for the death of a loved one by contacting a UK lawyer today.
Work Vehicle Car Crash Claims
Car accidents can also happen whilst you are driving a work vehicle, whether during the course or work or at other times. In such cases, you should still be able to make a car accident claim. As with any other car accident claim you will still need to show was responsible for the accident. If the incident was caused by the other driver your claim will be made against them. However, if it could be shown that your employer was at fault – such as if they had not repaired or maintained the vehicle then you could claim against them.
Employers should ensure that fleet vehicles are correctly maintained and are in a good state of repair, that any appropriate risk assessments are carried out and that you have been provided with any additional training necessary.
If your employer is at fault you should not worry about making a claim against them. For example, they can not dismiss you for making a claim and their insurance policy will pay out your damages.
Our panel of solicitors could help you to claim damages for injuries caused by a work vehicle accident.
Claim On Behalf Of A Child Injured In A Car Crash
Car accident claims can be made on behalf of a child who was injured in a car crash or other road traffic accident. When claiming on behalf of a child the process differs from claiming on behalf of yourself.
When claiming on behalf of a child you have from the date of the accident (or that you became aware of the injury) until the child's eighteenth birthday. After this point, there is another three year period in which the child could claim compensation. Whilst there is a long time in which to make a claim, we do still recommend that you start a claim as soon as you can.
In order to make a claim on behalf of a child with UK law firms, you will need to be considered what is legally called a 'litigation friend'. A Litigation Friend is a person authorised by the courts to represent the injured party. There are several types of litigation friend and you can find out more information at the government guide linked above.
How Much Time Do I Have To Claim For A Car Crash?
Aside from specific instances relating to claims for children or those who lack the mental capacity to claim on their own behalf, the general personal injury claims time limit is three years.
There are two points from which this time limit can begin. Firstly it may start from the date of the accident itself. If you were immediately aware of the injury or injuries you suffered the three-year limit is counted from here. Secondly, if you only became aware of the injury at a later date, this will be the starting date – called the date of discovery – for the claims period.
How Do I Claim Compensation For My Car Accident?
The easiest way to start any type of personal injury claim is to get in touch with an experienced UK lawyer, solicitor or law firm. Pass on the details of what has happened to you and let our experienced team help you to claim the compensation that you are entitled to.
Do You Handle No Win No Fee Basis Car Accident Claims?
At UK Law you can trust our no win no fee promise. If we and our panel of solicitors are able to help you on a no win no fee basis you will not need to pay your solicitor their fee unless and until your solicitor has helped you to successfully claim compensation. This promise also means that in the event that you are not successful in your personal injury claim, your solicitor will not levy any fees.
Before you make a no win no fee car accident claim, you may want to learn more about how the no win no fee car accident claim process works. A no win no fee agreement is a type of contract made between a personal injury solicitor and the person who has been injured – or their representative. This agreement should set out the services provided to the injured party – referred to as the claimant, and the terms and conditions of payments to be made.
This agreement should also clearly show that in the event that a claim is unsuccessful, you will not be charged for using the solicitors' services. At the end of a car accident and injury claim, claimants may typically pay around 25% of the compensation recovered. This is capped at this amount and may sometimes be less. There may be other fees or charges associated with making a claim. Please talk to a solicitor today to learn more about fees and charges.
Resources Related To This Guide
In addition to information on this guide on car accident claims, below we also include external resources where you can learn more about drivers responsibilities under current law, and how our panel of solicitors can help you.
Ask The Police
Here the Police answer frequently asked questions, such as what are the responsibilities of a driver if involved in an accident?
Gov.UK Vehicle Insurance In An Accident
Further information from the Government about what you should do (relating to vehicle insurance and car crash claims) if involved in a road accident.
Road Safety Data
Road safety data as updated and published by the Department for Transport (updated September – 2019).
You may also be interested in some of our other guides:
If you have any question about car accident claims, please get in touch.