How To Make A Gym Injury Compensation Claim?
Find Out How To Make A Compensation Claim For A Gym Injury Or Accident
Staying fit and healthy is becoming more and more important in the UK as many of us find that we are above our ideal weights. Visiting the gym is a great way to participate in either exercise classes, get fit with friends, or work out alone. However, for some this can end in having to make a gym injury claim.
As the number of us visiting the gym on a regular basis has risen, especially during the recent lockdown, so have the number of people suffering accidents in gyms which lead to injuries.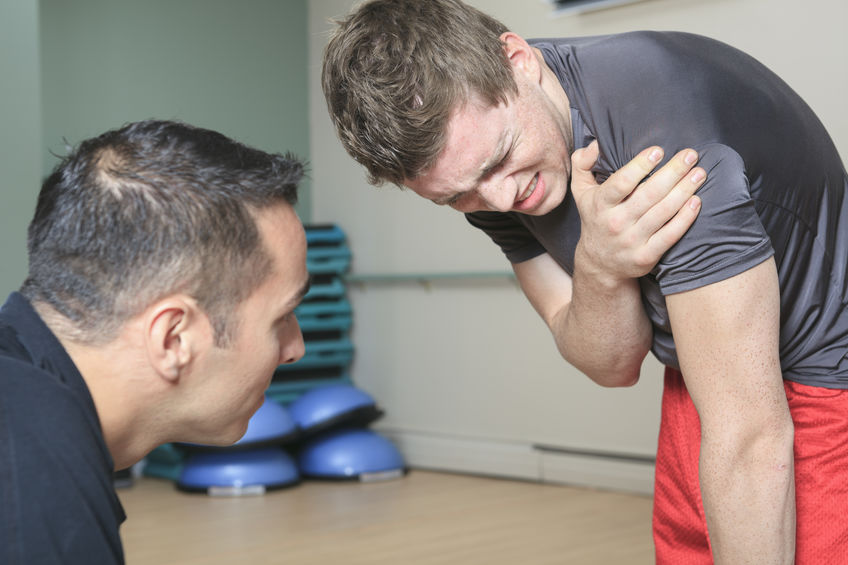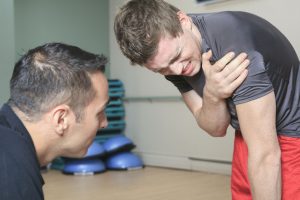 Depending on the circumstances leading to it, an accident at the gym could result in a serious injury. If the injury stops you from being able to carry out your normal day-to-day activities or your job, you may incur significant costs.
Gym injuries may be mild, they may lead to life-changing consequences or in the most serious cases, even a fatal injury. Have you been injured at the gym? If so, you may be able to claim compensation.
Finding the right personal injury solicitor for your claim can be difficult. When it comes to claiming compensation for gym negligence it can be difficult to show that the accident or injury was preventable. It can also sometimes be tricky to know what to do after suffering an accident or injury in a gym. That's why using a claims management service, such as ours, can be so helpful.
Contact our team today to find out how we can help you by calling us on 020 3870 4868. Or read the rest of our guide below to find out how to make a successful gym injury claim.
Select A Section
A Guide To Compensation Claims For A Gym Injury
There are many circumstances which can lead you to have an accident or become injured at the gym. It could include faulty equipment, staff members giving you the wrong advice on how to use a piece of equipment or carry out an exercise, or the gym not having put in place adequate health and safety processes.
Any of these could mean that the liability for your gym injury claim lays with the owner or operator itself. In any of the circumstances described above (and many others), you could have the grounds to make a gym accident compensation claim.
If you have been injured whilst at the gym, we have created this guide to take you through how you can make a successful compensation claim. We will talk you through points looking at what laws relate to the gym's liability and duty of care for staff and customers, how to start your claim (and what you should do beforehand), and what you can include in your compensation claim.
We will also look at how much compensation you may be able to claim in our personal injury claims calculator. We hope our guide will give you to tools to understand what rights you have and how you can successfully claim compensation.
Remember, if you have any questions, just give our team a call on the number at the top of this page.
Liability For Accidents And Safety In A Gym
The first thing to note is that there are no pieces of health and safety legislation that specifically relate to gyms. However, as the owner and operator of a workplace and a facility which is being used by the general public, they must observe legislation such as the Health and Safety at Work etc. Act 1974 and the Occupiers' Liability Act 1954.
These Acts of Parliament contain an employers' and an occupiers' duty of care to customers and employees. Under the OLA the body in control of the gym premises has a duty of care to anyone visiting. This could be the owner of the building or the operator of the facilities. They have a legal duty to make sure the environment is reasonably safe for people to use.
Within a gym, there are several people who could have this responsibility. They may be:
The operator or occupier of the gym – this could be the team managing the facility who have a duty of care to keep people safe and secure when on the gyms internal or external premises. This may be the local authority or a private company.
Instructors at the gym – instructors, personal trainers, and other fitness staff are responsible for making sure people know how to correctly use the facilities and equipment in the gym. They must have the right qualifications and training to do this. If they do not have this adequate training they could be found to be at fault. In such cases, the managers of the facility must ensure that their staff has the correct training. If either the operators, managers, or staff have acted negligently you could be able to seek gym accident compensation.
What If The Gym Is Not Liable?
Establishing who is liable for an accident in a gym is not always easy to do. There are some situations where, whilst the injury was not your fault, the operator of the gym cannot be considered liable either. This could be if the gym is deemed to have taken all the steps necessary to make sure the customer and staff areas are safe to use.
Incidences where the gym itself may not be liable for your injury could be where equipment is found to be at fault. It could be that the manufacturer of the equipment or exercise machine produced it with a defect.
Without knowing the particular circumstances of your accident or injury, it can be difficult to be able to ascertain where liability lies in your particular case. So why not get in touch with our team to find out more.
What If My Accident Or Injury Was Caused By Faulty Equipment?
Liability in a gym injury claim depends on the circumstances which caused the accident. You could have a legitimate claim for gym injuries compensation if the equipment is faulty or broken in some way.
The Occupiers Liability Act requires the owner or operator of any facility (such as a gym) to ensure that their equipment is kept in full working order.
Liability could, however, lay with the manufacturer if they are found to be negligent in ensuring that the machine was built to the required standards. If negligence can be demonstrated, you could be able to make a gym injury claim.
What Are The Most Common Type Of Gym Accidents And Injuries?
There is a wide range of different equipment which is commonly used by customers in a gym. Many of these things are difficult to use and can also be very heavy, such as weights.
As such, injuries at the gym could be more serious than those that people suffer when participating in other activities.
Some injuries which are commonly suffered in a gym include:
Sprains, strains, and pulled muscles.
Injuries to the shoulder.
Injuries to the knees.
Dislocated joints.
Injuries to the tendons.
Any of these accidents could lead to a person bringing a gym injury claim against the owner or operator of the gym.
What Are The Most Common Causes Of Gym Accidents?
When signing up and visiting the gym for their induction or first workout, many people can find it a bit daunting. The machinery and equipment can seem difficult to use and the weights intimidating.
New users are much more likely to have an accident at the gym due to not knowing quite how to exercise or use the equipment correctly.
To ensure that gym negligence cases and claims do not happen, most gyms will require that new users have an induction to show them how to correctly use equipment such as free weights (such as dumbbells), cardio equipment (such as treadmills and exercise bikes), and resistance machinery. A gym induction should show people how to safely use equipment without injury or harm.
One of the most common causes of people needing to seek compensation for an accident at the gym will be misusing the equipment or exercising in the wrong way, as well as faults with equipment. There are also instances of injuries suffered in classes due to poor risk assessments being conducted.
Because of this, there are lots of different ways in which a person can be injured at the gym when they are a new user. These often include:
Using the wrong weights.
A gym instructor (or other employees) giving the wrong instructions or the customer misunderstanding the instructions.
Faulty exercise machinery.
Slips, trips, and falls as well as falling objects striking you.
There are lots of different things in the gym which are, by their design and nature, to be cumbersome or heavy, or which are designed for you to move quickly. Whilst people should be shown how to use these things, accidents can happen. If this has happened to you, you could be able to seek gym injuries compensation claim.
Gym Injury Claim Case Study
Giles was taking part in a circuit training exercise class. In his view, there were a few too many people in there, but he carried out like everyone else. One station he came to involved sit-ups, and besides that was a weight-lifting task involving a free-weight bar.
After the set had been completed, Giles lay back down for a moment's rest, when he felt a sudden and sharp pain in his head. He quickly lost consciousness.
When Giles awoke he was in the hospital. He was informed he'd fractured his skull. The woman who had been using the bar on the station beside his had simply dropped the weight bar to the ground without looking around. It had landed on his head.
Giles was in the hospital for some time. He missed work and couldn't keep up with his bills. The recovery was slow-going too, with painful headaches a daily occurrence, and he'd noticed some changes in his mood. When he, at last, was discharged from the hospital, he decided to seek legal representation.
His personal injury solicitor argued that the exercise class was overcrowded and wasn't properly risk assessed. But for both factors, the accident wouldn't have happened—there would, essentially, have been a safe distance between stations, eliminating the risk of such an injury happening.
The gym disputed the claim at first but soon agreed to settle.
This case study is loosely based on an actual case.
What Happens If I Signed A Waiver Or Disclaimer?
One of the most common questions we are asked by people making a gym injury claim is 'can I sue my gym for an injury if I signed a waiver or disclaimer?'
Most gyms will require a new user to sign a contract to use the facilities and become a member. Sometimes such a contract could contain a disclaimer or waiver of some kind.
Whilst the wording may be different, the purpose of such a clause is to try to prevent you from making a claim in the event you get injured. However, these agreements are not always enforceable.
Under the Unfair Contract Terms Act 1977, it's unlawful to include a term in a contract that limits personal injury liability. An expert gym accident solicitor, such as those we work with on our specialist panel, will be able to provide you with information about whether you can make a claim or not. Call us on the number at the top of this page to learn more.
The Steps You Should Take After A Gym Accident Or Injury
Have you been injured whilst using your gym? Do you need to claim gym accident compensation? If so, there are several things that you can do before finding a personal injury solicitor to make your gym injury claim.
No matter what injury you suffer or the cause of it, your first step should always be to get any medical care that you need. After this, these are some of the steps and things which you should keep in mind.
Keep copies of your medical records and notes. These can serve as an official record of the injury that you suffered and help to boost your gym injury claim.
Ask for the names and contact information of anyone who witnessed your accident or injury take place. They could provide supporting statements in your gym negligence case.
Try to record the scene of the accident and the injuries which you have suffered. One of the best ways to do this is to take photos of the circumstances, any faulty equipment, and your injuries. With camera phones being ubiquitous, many people still have these with them on the gym floor to take selfies or to use as a music player.
Make a note of what happened, how it happened and when your accident happened. Your memory can sometimes become a bit fuzzy over time, so write down this information as early as possible. Doing so may also mean that things such as CCTV footage can be checked for the time of the injury to see if it is visually recorded.
Don't admit your own liability or fault at any point before talking to a solicitor as this could endanger your claim.
The best advice is always to talk to a specialist personal injury solicitor as early as possible after your accident happens. Not just for the reasons above, but because time limits apply to personal injury claims.
Under the Limitation Act 1980, you have just 3 years from the date of the accident to issue a claim. A failure to do so could see you prevented from seeking compensation altogether.
If you have any queries about what to do after an accident, our team can help. Simply call us on the number at the top of this page.
How To Start Your Gym Injury Compensation Claim
In order to make a successful gym injury claim, there are several things that you should do. The solicitor you work with will need to be able to clearly show that the operator of the gym, owner of the facility, or the manufacturer of the equipment was at fault in some way. The more evidence that you are able to present, the better your chance of succeeding in a claim.
If you have decided that you want to make a gym accident compensation claim and have taken the steps outlined above, your next step should be to talk to a solicitor. Making a compensation claim by yourself and without having the right legal advice can be very difficult to do. As such, we always provide new clients with a free consultation in which we go through their legal options and their chances of making a successful gym accident claim.
Our initial discussion and assessment can be through a phone call. We will discuss the individual circumstances of your claim and the best way for you to move forward.
After we have discussed your claim, we will then advise you on the best steps to take next. And if you'd like to proceed with a claim, we can connect you with our specialist panel of personal injury solicitors.
One of the next most common barriers and questions which people ask about is how much compensation they can claim, and how they can fund their case.
In the sections below we will look at how you can fund a claim through no win, no fee services as well as typical settlement amounts in our gym injury compensation calculator.
Gym Injury Compensation Claims Calculator
In any type of personal injury claim, there are two heads of claim which can go towards making up your final settlement.
The first head of claim is known as general damages. It relates to the physical pain, psychological suffering and detrimental impact on your quality of life caused by the injury.
The second head of claim is special damages, and these relate to financial losses stemming from the injury, such as medication costs, loss of earnings and travel expenses.
To give you an insight into the potential compensation that could be awarded under general damages, we've put together the table below. It's our alternative to a personal injury claims calculator. Such tools can produce misleading results from time to time, and that's something we always want to avoid.
ADD TABLE
The figures above have been taken from the Judicial College Guidelines, a document used by lawyers to help value injuries.
For a more precise estimate, please get in touch with our team.
No Win No Fee Compensation Claims For Gym Accidents
No Win No Fee agreements allow people to pursue compensation and justice without breaking the bank to do so. Also known as a Conditional fee Agreement (often abbreviated to CFA), they are a contract between the solicitor and the claimant.
The key terms of such agreements include:
If the claim isn't successful, you won't have to pay any of your lawyer's fees—hence the phrase, No Win No Fee
If the claim is a success, your lawyer will deduct a small percentage to cover their legal fees. This percentage is capped by law.
To learn more about No Win No Fee agreements, please get in touch.
Why Make Your Claim With Us?
The solicitors from our panel are dedicated to winning claims and have the knowledge and experience necessary to competently conduct your claim. By offering claimants a No Win No Fee service, we can help those who otherwise may not be able to afford to take legal action.
Talk To Our Team Today
If you are ready to make a gym injury claim or are in need of further information, you can talk to us today.
Useful Links
NHS Guide To Sporting Injuries
An NHS guide to different sporting injuries, including an overview, common causes, and treatment options.
HSE Leisure Activity Health And Safety
Advice for providers of leisure activities, such as gyms.
Check out more of our own guides below:
A Guide To Personal Injury Claims
Learn more about seeking personal injury compensation here.
Slip, Trip and Fall Accident Claims
Discover more about claims involving a slip, trip or fall.
If you've eaten in a cafe at a gym and suffered an allergic reaction, you could claim compensation. Find out more here.
Thank you for reading our guide to making a gym injury claim.