How To Calculate Special Damages In Your Injury Claim
By Lewis Aaliyah. Last Updated 6th April 2023. This article focuses on how special damages are calculated in the context of a personal injury claim. The compensation paid to you can be made up of two different "heads" of claim. We will look at them in greater detail throughout the course of this guide. 
We'll also answer questions such as "what is an example of special damages?" and "how are special damages calculated?" Our aim is to help you understand what you could be entitled to as part of your compensation. To achieve this, we try our best to avoid any unnecessarily complicated terminology. We won't try to drown you with legal terms.
How To Calculate Special Damages In Your Injury Claim
If you have any questions after you've finished this guide, you can still get in touch with us. In fact, this will enable us to help you more accurately.
The more information we have regarding your claim and its circumstances, the more precise we can be when valuing your potential compensation amount. Read on for more information about how you can contact our team.
Get In Touch With Our Team
Our advisors are available 24/7 to speak with you. This doesn't just include over the phone. You can: 
Services And Information
What Is Special Damages?
In the context of personal injuries, special damages are financial losses or costs that you incur as a direct result of your injuries. For example, you may have medical expenses or car dents in need of repair. They differ from general damages, which are awarded to account for the pain and suffering caused by your injuries.
The range of things that can be considered eligible for reimbursement via special damages can be quite vast. For example, you may be able to claim for a loss of earnings if your injury has lead to a forced absence from work. You could also claim back any future loss of earnings if you're unable to return to your job at all. 
Additionally, it's also possible to claim for something called "loss of enjoyment". An example of this could be a partial or complete refund for a holiday that you had already paid for, but you can no longer go on or enjoy it to its fullest extent.
We will give more examples later in this article. But if you would like to speak to a member of our team directly for more information, just get in touch.
Are General And Special Damages Different?
Are you wondering, 'are general damages and special damages different?' The answer is yes. Although both are types of personal injury compensation, what they relate to and how they are assessed are completely different.
We have already discussed the meaning of special damages, but just to reiterate, they relate to any out-of-pocket expenses or losses incurred as a result of your injuries. A solicitor can discuss your case and any financial harm you have suffered to work out special damages in a personal injury claim.
General damages, however, relate to the pain or suffering caused by your injuries. Any physical or mental health harm is included under this head of claim. You may also be compensated for a loss of amenity, which is when you are unable to take part in activities that you normally would. The Judicial College Guidelines (JCG) is used by legal professionals to work out general damages.
Continue reading for more details about what general damages and special damages cover. Alternatively, contact us at any time if you would like to arrange for a free no obligation consultation with our team of friendly advisors.
What Do They Cover?
General damages are intended to compensate you for physical and mental injuries. Special damages are to reimburse you for any financial losses that take place as a result.
What is covered by general damages?
If you have been injured due to someone else's negligence, then this could result in a wide array of ailments. This doesn't just include physical injuries such as broken bones and torn ligaments.
Mental trauma such as post-traumatic stress disorder or anxiety can be just as debilitating. Therefore, you can receive compensation for this too.
What is covered by special damages?
Here, we'll provide some examples regarding what can be covered by special damages.
Loss/future loss of income –

your injuries may result in missing time at work. If this is the case, the wages you are unable to earn can be calculated and paid to you as part of your special damages. This also includes cases where you are unable to return to work at all. The sum could even total the amount you would have earned up until your retirement.

Medical costs –

you may need to pay for prescriptions or other specialist care. Whilst many treatments are available for free on the NHS, not all are. You could be compensated for the cost of any medical care you have to pay for. 

Property damage –

your belongings may be damaged during the accident that caused your injuries. The cost of the repairs can also be covered. In some cases, you may even be supplied with replacements for your property.

Home adaptation –

your injuries may require your home to have certain alterations made. For example, if you become wheelchair-bound, you could have ramps fitted to help you gain access to the house.

Travel costs –

this can cover things like the cost of travelling to and from medical appointments.
For more information on what can be claimed back via special damages, get in touch with our advisors today. If your claim has a good chance of success, you could be connected with a personal injury solicitor from our panel. 
How Are Special Damages Estimated?
During various stages of your claim, your solicitor (if you choose to use one) may ask you what financial impact your injuries have had on you. By doing this, they can gain a better understanding of the value of your claim.
Some expenses you may assume are not relevant to your claim. We can help you determine what costs can be covered by special damages. By discounting certain expenses, you could be missing out on the chance of receiving the maximum amount of compensation that you deserve. 
How To Value A Personal Injury Claim
As mentioned earlier, general and special damages are not calculated in the same way. In this section, we will look at how general damages could be calculated. This will give you a better understanding of how much you could be awarded.
General Damages
The figures from the table below have been taken from the latest edition of the Judicial College Guidelines (JCG). This publication will be used to help value your claim.
This is just a small sample of the entries in the publication. Do not worry if you do not see your injury represented here; we may still be able to help you claim. 
| Injury | Description | Amount |
| --- | --- | --- |
| Hands | (b) The damage to both hands will be serious. Permanent cosmetic changes and the loss of function will be significant. | £55,820 to £84,570 |
| Sight | One eye will be completely lost. | £54,830 to £65,710 |
| Toe | Big toe amputated. | In the region of £31,310 |
| Knee | (b) Moderate - (i) injuries that involve dislocation, torn cartilage that result in minor instability etc. | £14,840 to £26,190 |
| Post-traumatic stress disorder | (c) Moderate - the person will have made almost a complete recovery. If there are any lasting effects, the disability will not be too severe. | £8,180 to £23,150 |
| Hearing | (iii) Mild tinnitus with some noise-induced hearing loss. | £12,590 to £14,900 |
| Shoulder | Clavicle fracture. | £5,150 to £12,240 |
| Teeth | (i) Loss or serious damage to several of your front teeth. | £8,730 to £11,410 |
| Wrist | A Colles' fracture with no further complications. | In the region of £7,430 |
| Mental anguish | When the claimant thinks their life may end or their life expectancy will be reduced. | £4,670 |
As part of your claim, you will usually be asked to attend a medical assessment; a UK lawyer may be able to arrange this for you. The medical report from this assessment will be used with the help of the JCG to value your claim.
Evidence To Support Your Personal Injury Claim
Even though special damages are paid to you for the financial losses you have experienced, the expenditures simply taking place is not enough. You must be able to prove that these losses do not pre-date your injury. This can be done in a number of ways.
Receipts –

many receipts will have the amount you have spent and the date the transaction took place. Maintaining these records will prove invaluable during the stages of your claim that involve calculating your compensation.

Photographs –

for example, you may be able to prove the extent of the damage caused to your personal property.

Payslips –

this will prove what your income would be over certain periods of time. Presenting payslips will make it much easier for you to be reimbursed for a

loss of earnings

caused by your injuries.
There are other forms of evidence, too, such as medical records, that could support your claim. For instance, if you claim that you have suffered a loss of amenity because you're no longer to play football because of your injuries.
If you want to know more about how special damages are calculated, then reach out to us today. You could also be connected with a personal injury lawyer from our panel. 
When May Special Damages Be Claimed?
Sometimes, special damages may not factor into a claim. For example, your injury may only be minor and not cause you any financial losses or expenses. In these cases, you could only receive an amount for general damages.
However, the setting in which your injury occurred shouldn't affect whether or not you could receive special damages. What's important is that it was caused by negligence and that you can prove that the losses you experienced were caused by this.
So, whether your injury was sustained in a road traffic accident, in the workplace, or even a result of medical negligence, you could still be eligible to receive special damages alongside general damages.
Checking Your Eligibility
The easiest way to keep track of your special damages is to think of them as "out-of-pocket" expenses. Basically, if you have had to spend money on anything as a result of your injuries, then this could be counted as part of your special damages head of claim.
It can be difficult to think of all of these things, especially if you are trying to remember expenses from weeks or months ago. If you require assistance with this backtracking, then we can help you to do this as part of the services that we provide.
Fatal Accident Statistics
It's even possible to make a claim on behalf of a deceased loved one whose fatal injuries were caused by negligence. HSE statistics tell us just how common this was in workplaces across Great Britain in 2021. As you can see from the graph below, certain accident types are more likely to cause fatal injuries than others.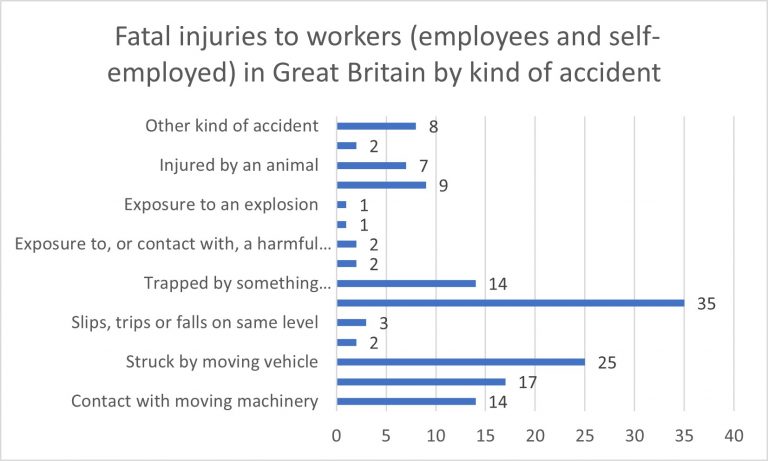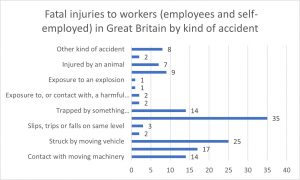 Can I Claim Both Types Of Damages?
Yes, you can. No claimant is limited to just claiming one or the other. General damages are awarded for different reasons than special damages are. They account for different aspects of your injury. So, just because you have had your general damages figure calculated, this does not mean that you are now ineligible to receive special damages.
However, you cannot receive special damages without also being awarded general damages. This is because special damages relate to the impact that the injuries have had on you financially.
If general damages are not awarded, this is because it's been decided that the third party is not liable for your injuries. Therefore, you cannot be compensated for the financial impact that these injuries have had.
Whilst they begin as two separate figures, general and special damages are combined by the time they are awarded to you. This means you will only receive one compensation award even if you're entitled to both general and special damages. 
I Was Injured In An Accident Which Was Not My Fault, What Should I Do?
If you have been injured due to negligence, then there are steps you should take to increase your chances of success when making a personal injury claim. We've made a note of three of the more important ones below.
Seek medical attention-

your health should be of utmost importance. Even if you believe your injuries to be minor, they could develop into something more serious if left untreated. Furthermore, the medical report that this generates will provide evidence to support your claim. 

Gather evidence –

this is always an important step. However, in the context of special damages, it becomes even more vital. Make sure you hold onto receipts and other evidence that can help track how much money you have to spend as a result of your injuries. Without the evidence of this, you'll find it extremely difficult to be reimbursed.

Seek legal advice – this isn't a legal requirement but could help you get more money from your claim. W

e will be able to supply you with all of the legal assistance required for you to make your claim.
If you would like further free legal advice about the process of claiming special damages, why not speak with our team today? One of our advisors could connect you with a personal injury lawyer from our panel to work on your claim.
Claim For Special Damages On A No Win No Fee Basis
All of the solicitors on our panel have many years of experience in making personal injury claims. In addition to this, they also work with clients under a No Win No Fee agreement. What this means is that you won't be responsible for covering their legal costs unless your claim is successful. This means there will be no upfront or ongoing costs for you to pay your solicitor. 
If your claim is unsuccessful and you aren't awarded any compensation, then you won't owe them a penny. You only need to pay your lawyer if you win your claim. Then, a small percentage is taken as a "success fee", protecting the majority of your settlement.
If you're interested in making a claim on a No Win No Fee basis, speak with a member of our team today. You can:
More About Personal Injury Claims
We've included some helpful links for further reading on similar topics.
Personal Injury Claim Q&As
Here, we have answered some of the questions we're most commonly asked.
Will the claim affect my benefits?
Receiving a large amount of money can affect your eligibility to receive means-tested benefits in the future. This is because your savings and income are taken into account.
Can I claim general damages?
Anyone who has been injured due to someone else's negligence could be eligible to receive a general damages payment. The fact they may also receive special damages does not mean that they cannot be awarded general damages too.
Writer IB
Checked by NC