How Much Could You Claim For A Roofer Accident At Work?
What injuries could a roofer accident at work cause? Were you harmed due to poor health and safety provisions whilst working at heights? This guide looks at who could be eligible to seek compensation for being injured in the workplace by a roofing accident. We look at the evidence needed and how damages can be assessed using it.
In the sections below we offer highlighted links to other resources. Please feel free to contact us at any point if you have a question. We can provide free information about how to start a claim with the help of a personal injury solicitor. With this in mind, you can:
Get in touch for free on 0203 870 4868
Or speak to our team through the live chat option.
Jump To A Section
How Much Could You Claim For A Roofer Accident At Work?
Below is an excerpt from the Judicial College Guidelines. This publication is used by solicitors to help guide the valuation of injuries in personal injury claims. 
The amounts you can see below are only intended to be guideline figures to assess pain, suffering and loss of amenity caused by injuries. For a more precise estimate relevant to your case, get in touch for free on the number at the top of this page. 
Compensation Payouts For A Roofer Accident
The table includes injuries that could result from a roofer accident at work:
| Area of Injury | Severity and Award Bracket | Notes |
| --- | --- | --- |
| Head | (b) Moderately Severe - £219,070 to £282,010 | The person will suffer very serious disability with substantial dependence on others, as well as a constant need for professional care |
| Head | (d) Less Severe - £15,320 to £43,060 | This bracket looks at where the injured person has made a good recovery and will be able to return to work. Perhaps some persisting issues with poor concentration and memory, also an increased risk of epilepsy. |
| Back | (a) Severe (i) - £91,090 to £160,980 | The most severe cases involving damage to the spinal cord and nerve roots. Severe pain and disability with an incomplete paralysis as well as significantly impaired bladder, bowel, and sexual function. |
| Back | (b) Moderate (i) - £27,760 to £38,780 | This bracket values residual disability of a lesser severity and as such, includes a wide range of injuries such as compression/crush fracture of the lumbar vertebrae leaving a substantial risk of osteoarthritis and constant pain. |
| Pelvis | (a) Severe (i) - £78,400 to £130,930 | Extensive fractures of the pelvis that involve issues like dislocation of a low back joint and a ruptured bladder. Intolerable pain issues that can necessitate spinal fusion. |
| Pelvis | (c) Lesser Injuries (i) - £3,950 to £12,590 | Examples where despite significant injury there is little or no residual disability. Fractures that have completely recovered within two years can attract an in the middle to upper end of the bracket |
| Knee | (a) Severe (i) - £69,730 to £96,210 | Severe disruption of the joint, the development of osteoarthritis and cases of gross ligamentous damage that necessitate a lengthy treatment and create considerable pain or loss of function. Surgery can be inevitable. |
| Knee | (b) Moderate (i) - £14,840 to £26,190 | Dislocation, torn cartilage or meniscus causing minor instability, wasting, weakness, or other mild future disability. Cases also included here involve injuries which accelerate symptoms from a pre-existing condition. |
| Leg | (b) Severe Leg Injuries (ii) Very Serious - £54,830 to £87,890 | Injuries that lead to permanent mobility problems and the need for crutches or mobility aids for life. Cases where multiple fractures have taken years to heal and required extensive treatment. |
| Leg | 9c) Less Serious Leg Injuries (i) - £17,960 to £27,760 | Cases where the injured person has made a reasonable recovery but is left with a metal implant and/or defective gait, a limp or other type of impaired mobility. This bracket also looks at serious soft tissue injuries to one or both legs that causes significant cosmetic deficit and/or nerve damage. |
| Ankle | (a) Very Severe - £50,060 to £69,700 | Unusual and severe issues like transmalleolar fractures of the ankle causing extensive soft-tissue damage resulting. Deformity results, as well as a risk that any future injury to the leg might necessitate a below-knee amputation. |
| Ankle | (d) Modest Injuries - Up to £13,740 | Less serious, minor or undisplaced fractures, sprains, and ligament injuries. Award amount is determined by whether or not a complete recovery has been made. Also, if there is a tendency for the ankle to give way. |
Special Damages For Work-Related Injury Claims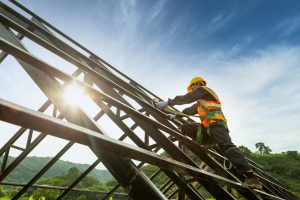 In addition to the compensation figures you can see above, a second head of claim called special damages may apply. Special damages relate to the financial impact the accident and injury have caused.
To evidence these losses you need to use the likes of receipts, paid invoices and payslips. Therefore, if you are able to prove any cost directly associated with the injury it could be included, such as:
A loss of earnings (

also any impact on future income)

Medical expenses for treatments that cannot be accessed for free elsewhere

Adaptations to your car or vehicle

The costs of domestic help at home as you recover.
A roofer accident at work can leave the person with significant, and in some cases, life-altering health issues. The impact can be long term and therefore, it's essential that all predicted future costs are included as well.
Who Is Eligible To Claim For A Roofer Accident At Work?
You may be aware of the legislation that protects your right to be safe in the workplace. The Health and Safety at Work etc Act 1974 outlines the duty of care that all employers must comply with. It states that all steps considered reasonable and practicable should be taken to prevent employees from suffering harm in the workplace. 
To succeed in a claim, it's necessary to prove that your employer breached that duty of care and, as a result, you suffered harm.
With this in mind, three main points should be established at the start of a claim:
That your employer actually owed you a duty of care at the time and place of the accident and injury

That they breached that duty

Your injuries were directly sustained or contributed to because of this breach
These three points can be classed as negligence and as such, can form the basis of a claim for compensation.
Work-Related Injury Claim Limitation Periods
Importantly, there are time limits to starting a personal injury claim after a roofer accident at work. The Limitation Act 1980 states that there is a three-year period, which starts from the date of the accident and injury. So for example, if you suffered an injury on 7th February 2023, you'd have until 7th February 2026 to issue your claim.
Furthermore, the courts can appoint a litigation friend to act on behalf of an injured person. This can apply to those under 18 or a person who lacks the mental capacity to claim themselves. 
If the claimant is under 18, the limitation period is frozen until their 18th birthday, giving them three years from that point to start a claim.
For those who lack the mental capacity to represent themselves, the time limit is frozen until they regain that capacity. 
If you'd like to get a free case check to see if you're eligible to make a claim, get in touch. We impose no obligation to proceed with a claim and can offer advice on matters such as your legal rights and potential compensation awards. Simply call us on the number at the top of this page to get started.
How To Prove A Work-Related Injury Claim
Evidence is necessary to support your roofer accident at work claim. Without it, your claim may not succeed.
With this in mind, there are steps you can follow to ensure you have the best chance possible. For example, you may be able to request CCTV footage from your employer of the area that shows the accident. You can also take photos of the area and your injuries yourself.
In addition to this, in companies with more than 10 employees, an accident book must be kept. You should try to complete this yourself. However, if you're unable to, make sure you're happy with the report that's been entered on your behalf before signing it.. Medical proof of injury, such as GP notes or letters from your hospital is also useful evidence.
A personal injury solicitor could assist with collecting evidence after a roofer accident at work. If you would like to connect with our panel of specialist solicitors to get help with this, please get in touch with our team. The advice we provide is free and carries no obligation to proceed with a claim.
Examples Of Roofing Accidents At Work
Working on roofs and therefore at heights, has its own specific legislation. The Health and Safety Executive (HSE), which regulates and enforces workplace law, describe the steps employers should take to keep scaffolding procedures and jobs that involve working at heights as safe as possible. Therefore, if these regulations are not complied with, the following could occur:
Poorly erected scaffolding might collapse

Ladders that are unsuitable or faulty can cause a fall

Safety equipment (like helmets and harnesses) may not be fit for purpose or provided at all

Disrepair and poor maintenance can create fragile, hazardous roof surfaces. Risk assessments should be completed before any work is undertaken.
Accidents such as this can cause bone fractures, spinal damage, skull fractures and soft tissue injuries. The greater the height, the more serious the injuries could be. Therefore, in some cases, the injuries can be multiple, life-altering or even fatal.
No Win No Fee Agreements And Accident At Work Claims
Legal advice could help you or a loved one start a claim for compensation after being injured in a roofing accident. The solicitors on our panel offer a type of No Win No Fee contract called Conditional Fee Agreements (CFA). Funding the services of a personal injury lawyer in this way has many advantages.
Firstly, no upfront fees are required. As the case develops, no ongoing fees are required either. Claims that are not successful do not require a fee to be paid to your solicitors at all. 
Claims that have a successful outcome require a small fee, which is a legally-capped percentage of the compensation awarded. This is known as a success fee and is designed to help cover the costs of your solicitor's services.
This amount is agreed upon between you and your solicitor at the start of your claim. .
Talk To Our Team About Roofer Accidents At Work
If you would like to take advantage of our service and connect with No Win No Fee accident at work solicitors today, please get in touch. 
We offer everyone a free consultation where we'll review your case, inform you of your legal options and advise on potential compensation awards.
Although there's no obligation to make a roofer accident claim, if you would like to do so, we can connect you with specialist solicitors from our panel who'll get to work on your case right away. You can therefore:
Get in touch for free on 0203 870 4868
Speak to our team through the live chat option.
Read More About Work-Related Injury Claims
In conclusion, as well as details on a roofer accident at work, the following resources offer more reading: