Will I Lose My Job If I Make A Claim For An Accident At Work?
By Lewis Aaliyah. Last Updated 16th February 2023. Did your employer's negligence lead you to suffer avoidable harm? Do you want to put forward a claim for compensation but feel apprehensive to do so? If so, our guide which sets out to explore the question 'will I lose my job if I make a claim?', could help.   
We understand that you may be worried about jeopardizing any working relationships or friendships you've cultivated during your employment. You may be most concerned that claiming could put your job at risk. 
However, you have more rights than you think. There are various pieces of legislation in place that provide employees further protection in the workplace. This guide will look at the duty of care you're owed by your employer. However, we will also discuss another area of law. That is employment law. And how your employer must not discriminate against you for making an honest accident at work claim. 
Our guide will also provide an idea of how compensation is calculated, what your claim could be worth and the evidence you will require to support your claim. 
Furthermore, if you feel you would benefit from having a solicitor represent you but your financial state has been impacted by the injury at work, we have an option that could help. 
Our advisors can connect you with a solicitor from our panel to represent you on a No Win No Fee basis. We will provide further information on how this works further down in our guide. 
Get In Contact With Our Team
For more information, you can contact our team using the details below: 
Otherwise, please continue reading to find out more about the process of making a claim for an injury at work that was caused by your employer's negligence.
Services And Information
Answering Your Question, Will I Lose My Job If I Make A Claim?
An accident at work could result in numerous consequences. For instance, you could suffer an injury or illness that causes severe long term repercussions as well as find yourself in a difficult financial situation. 
If the accident at work was caused by your employer's negligence, you may have grounds to claim. If you do make a claim, that is honest, by law, your employer cannot dismiss you. You have the right to not be discriminated against or sacked for making a claim. 
However, it's important to be aware that you must hold a valid claim against your employer. For this to happen, three things need to have occurred:
Your employer breached their duty of care 

Their negligence caused an accident

You suffered an injury or illness in the accident as a result
For instance, your employer may have failed to ensure work equipment such as a ladder needed to do your job was safe to use. This could have then resulted in you falling from the ladder and breaking your leg. Or perhaps, your employer failed to ensure the stairwell was kept free from equipment causing you to fall and dislocate your shoulder. 
What Is A Claim Against Your Employer For An Injury?
You could make a claim against your employer for any injury that resulted from them breaching their duty of care to you. This could include a number of different types of accidents. 
Employers have a responsibility to report certain specified injuries that occur from accidents in the workplace. This might include fractures to certain body parts, serious burns or loss of consciousness caused by head injuries. 
According to the Reporting of Injuries, Diseases and Dangerous Occurrences Regulations (RIDDOR), employers reported 65,427 employee non-fatal injuries in 2019/2020. In addition, employees reported 693,000 non-fatal injuries to the Labour Force Survey (LFS).
The graph below highlights some of the most common non-fatal injury accidents as recorded by RIDDOR.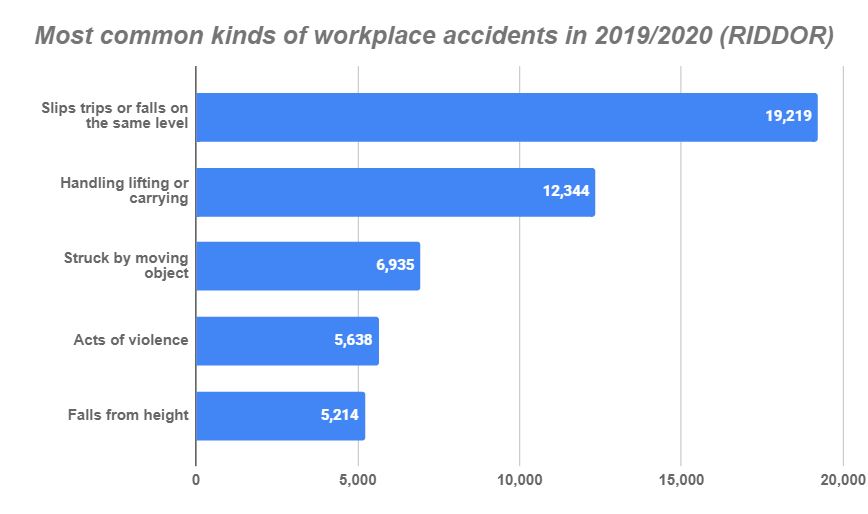 What Duty Do Employers Owe Employees?
All employers are expected to adhere to the Health and Safety at Work etc Act 1974. It states that they have a duty of care to do everything reasonably possible to prevent their employees from coming into avoidable harm. 
In addition, the Management of Health and Safety at Work Regulations 1999 guides employers on their responsibilities under the Health and Safety at Work Act 1974 more explicitly. Risk assessments are key to adhering to this piece of legislation. 
A risk assessment may involve employers carrying out checks on equipment and the workspace to ensure they catch any risks early enough, to prevent them from causing an accident.
If an employer fails to adhere to the legislation in place, it could result in an employee suffering avoidable harm. 
Your Right To Being Protected At Work
No place of work is 100% safe and secure. And not all accidents that happen at work will be due to the negligence of an employer or colleague. That said employers must do all they reasonably can to ensure that you do not come to unnecessary harm at your place of work or while working for them. 
Employers have different responsibilities and different types of industry-specific legislation to follow. However, there are basic safety measures they can carry out to ensure the safety of their staff;
Provide proper equipment to do your job safely

Relevant training to do your job both effectively and safely 

Sufficient breaks in between long working hours including breaks while working

A safe working environment that is kept free from obstructions
If you feel your employer has failed in their obligation to protect you from harm, and you make a personal injury claim against them, you have the right to protection from unfair dismissal. 
Do Employers Always Follow Workplace Protection Rules?
The legislation and policies in place to protect you when you make a valid claim mean employers should take any health and safety issue seriously. If an accident resulting in an injury has been caused by their negligence, they could be liable for any injury or illness that has resulted.
However, as part of the Health and Safety At Work etc Act 1974, section 7 asks all employees that they take responsibility for their own behaviour and conduct within the workplace. If an employee is wholly responsible for an accident in which they are injured it would not be possible to pursue a claim for personal injury. 
Injury At Work Compensation Calculator
When a claimant makes a successful personal injury claim very often their settlement is made up of two main damages. These include special damages and general damages. The latter of these damages provide compensation for the physical and emotional suffering you've endured as well as any long term impacts your injury has had on you. 
The table below provides general damages for individual injuries that you may have suffered in an accident at work. We have created the table with the help of the Judicial College Guidelines which is often used to help value personal injuries. 
| Type of injury | Level of severity | Extra Comments | Award |
| --- | --- | --- | --- |
| Leg | Less serious | (i) A fracture or soft tissue injury that has left the person unable to make a full recovery and may continue to suffer ongoing symptoms such as discomfort or impaired mobility. | £16,860 to £26,050 |
| Leg | Less serious | (iii) A simple tibia or fibula fracture that has left some ongoing symptoms but they will be minor. | Up to £11,110 |
| Arm | Severe | Arm injuries that could have resulted in amputation and have left severe symptoms that will continue to persist | £90,250 to £122,860 |
| Arm | Less severe | Arm injuries where a significant recovery has been made but some symptoms will be ongoing | £18,020 to £36,770 |
| Head | Minor | A head injury that has resulted in minimal damage | £2,070 to £11,980 |
| Brain | Moderate | (iii) The person may suffer some damage to their memory and concentration | £40,410 to £85,150 |
| Back | Severe | (ii) Back fractures that cause nerve damage and result in ongoing problems with sensation and mobility amongst other things | £69,600 to £82,980 |
| Back | Minor | (iii) Injuries such as strains, sprains and soft tissue injuries that have full recovered within three months | Up to £2,300 |
| Asbestos- Related Disease | Severe | Mesothelioma which results in severe pain and impacts a person's quality of life. | £65,710 to £118,150 |
| Psychiatric Damage | Moderate | The person may have struggled with education, work and maintaining relationships at first but will have seen a significant improvement. | £5,500 to £17,900 |
Please be aware that these are only guidelines and your actual compensation settlement amount may differ depending on the specific circumstances involving your case. 
What other damages could I claim for?
In addition to general damages, you could claim compensation for any past or future financial losses incurred directly as a result of your injury. For instance:
Care costs for you or anyone dependant on you

Travel costs

Lost or reduced earnings
However, these will vary from case to case and not every claim will have them. For that reason, it's difficult to give an overall estimate of what your claim could be worth. 
Who Will Be Informed You Are Making A Claim?
There are various people that may need to be made aware of your claim. For instance, your employer will be notified that you are putting a claim forward against them and details of the claim. However most of the time a claim will be dealt with by the insurance company and their litigation team.
In addition, your injury may have been reported to RIDDOR if it was on the list of specified injuries. Furthermore, the Health and Safety Executive (HSE) may investigate any reports of serious workplace incidents and their findings could result in enforcement action against the organisation responsible. 
However, HSE cannot award compensation, their involvement is focused on preventing accidents in the workplace and helping employers take reasonable action to keep employees safe. 
The Department of Work and Pensions (DWP) may also play a role as part of the personal injury claims process. For instance, they may provide Industrial Injuries Disablement Benefit (IIDB) if an accident at work caused you to become ill or disabled.  
Who Pays Compensation For My Injury?
We understand that along with your concern of 'will I lose my job if I make a claim?', you may be concerned about other things. For instance, the company's financial stability after paying out accident at work compensation. For instance, you may be worried about other employees there and the effect this could have on their jobs if your compensation claim causes the company to suffer. 
However, this isn't the case and the employer won't directly pay the costs. Under the Employers Liability (Compulsory Insurance) Act 1969, employers are expected to get Employers Liability Insurance. This is beneficial for both the workplace and the employees. 
The insurance fronts the cost of any claims. In addition, it gives workers the peace of mind that if they make a successful claim, employers will be able to cover the cost of their compensation.
What Should I Do If I Am Sacked Or Forced Out?
Employers must have a valid reason to dismiss you that they can justify. They must also be able to show that they've acted reasonably when handling the situation. For instance, following a formal disciplinary or dismissal process.
If your employer has sacked or forced you out of employment without a justifiable reason, you could claim unfair dismissal. 
Alternatively, your employer may not have directly fired you. Instead, they could have discriminated against you in a way that caused you to have no choice but to leave your job. For instance, by forcing you to accept unreasonable changes to your contract such as:
Reducing your working hours

Reducing your holiday entitlement

Demoting you or reassigning you without reasonable justification

Reducing your salary

Failing to take action against bullying and harassment 
If this is something you've experienced, you could make a claim for a constructive dismissal or discrimination. 
Our advisors can provide further information on how you could make a claim for unfair or constructive dismissal and look at whether you hold a valid claim to do so. Speak to a member of our team for more information by calling on the number above.
How Much Time Do I Have To Claim After Being Injured At Work?
For any personal injury claim, there is a time limit to consider. As a general rule, you'll have three years to start your claim. This will either be from the date the accident occurred or the date you gained enough knowledge that the accident either caused or contributed to your injuries. 
However, this rule doesn't apply in every case and there may be exceptions that apply to your circumstances. 
For instance, if your child under the age of 18 was injured whilst working, the three years will only start from their 18th birthday. An alternative to this is someone claiming on your behalf as a litigation friend. This could be a parent, guardian or solicitor and can be done up until they turn 18. 
Someone could also sue on behalf of someone else who lacks the mental capacity to claim for themselves. If they don't regain their mental capacity, the three years are frozen for an unlimited amount of time. However, if they do regain their mental capacity, the three years will start from the date of their recovery.
Was Injured In My Workplace, What Should I Do?
When making a personal injury claim, it's important that you have evidence. There are three types of evidence you will need to obtain, such as evidence to show:
Any physical or emotional harm 

Financial losses

The accident took place as a result of your employer breaching their duty of care
For any injuries, you'll be required to show medical evidence. This could be in the form of previous medical records outlining the diagnosis and treatment prescribed. 
In addition, another medical assessment may be organised on your behalf. This may provide an independent report detailing the state of your condition and whether it was caused in the accident you're claiming damages for.
For any financial losses, you may be asked to provide:
Receipts for buses or taxis you've needed to take to get to doctor appointments 

Payslips to show any loss of earnings or loss of future pension payments 
Furthermore, to support your claim that an accident took place, the following forms of evidence could help:
CCTV footage

Entries of the accident in the accident workbook

Contact details for witnesses
If you're struggling to obtain some of the evidence listed, you might consider speaking to one of our advisors. They could then put you in contact with a solicitor who can help take you through your claim.
Claiming For An Accident At Work – No Win No Fee Solicitors
If you are claiming for an accident at work, you might consider working with a No Win No Fee solicitor. They could offer you a type of No Win No Fee contract known as a Conditional Fee Agreement, which usually covers ongoing costs. Additionally, solicitors working under this arrangement often won't ask for a payment upfront.
One of the more attractive features of this type of arrangement is that your solicitor will not expect you to pay them for their work if your personal injury claim is unsuccessful. However, if your claim is successful, a success fee is deducted from your compensation by your solicitor. This is legally capped, however, so you won't be overcharged.
To find out more about working with a No Win No Fee solicitor from our panel ahead of making a claim at work, you can get in touch via the following methods:
Calling our free 24/7 legal helpline on 020 3870 4868
Speaking to an online advisor using our free 24/7 chat widget on your screen
Completing a claim online form and we'll call you back as soon as we can
Articles Related To Will I Lose My Job If I Make A Claim
For more information on health and safety regulations in the workplace, see the HSE document that could help.
If you're interested in the enforcement action the HSE could take, see their website for more information.
Visit the government website for more information on claiming compensation after an accident or injury.
See our guide to explore whether you can sue your employer while still working for them.
Our guide looks at how you can claim if you've been injured at work.
If you've been dismissed after an accident at work, our guide could help. 
FAQs About Will I Lose My Job If I Make A Claim
In this section, you can find more information on seeking compensation in a personal injury claim. 
Can I claim if no one was to blame?
If an employer wasn't responsible for the accident that caused your injury, you wouldn't hold a valid claim against them.
How do personal injury claims affect any benefits?
It's possible to seek other forms of benefits while in the process of claiming compensation. For instance, you could be eligible for the Industrial Injuries Disablement Benefit (IIDB) if you've been left ill or disabled due to an accident at work or industrial disease. 
Could I claim if a child or another person was injured?
Yes, you could claim on a child's behalf if they're under the age of 18 by acting as a litigation friend. Or if someone lacks the mental capacity to claim for themselves. 
Can I claim if no one witnessed my accident?
It can help to support your claim if you have witnesses. However, other evidence may be obtained as part of your claim instead. 
What can I do if my employer sacks me for making a claim?
If you find your employer has dismissed you because you made a claim against them, you could explore the option of making a separate claim for unfair dismissal. 
We hope this guide has helped provide information on the question 'Will I lose my job if I make a claim?'. Thank you for reading. 
Writer AC
Checked by IE.