A Guide To Holiday Accident Claims – How Much Compensation Can I Claim? – How To Claim?
A Comprehensive Holiday Accident Claims Guide
Have you had an accident abroad whilst on holiday, when travelling for business, or to visit family? If so, you may wish to find out if you could make a holiday accident claim. Your holiday should be an enjoyable and fun experience. It should not end in being injured or become sick and being left with the stresses of dealing with different health services and organising emergency travel back to the UK. if this has happened to you, you may be able to make a personal injury claim for damages from the party responsible for your accident.
We have created this guide to holiday accident claims to provide helpful information for those injured or who became sick whilst on holiday through the fault of a service provider such as an airline, hotel, package holiday company, car hire company or other.
Through this guide, we shall look at some of the circumstances in which British tourists and business travellers may be harmed whilst abroad as well as providing information on when and how you could claim compensation, how much you may be owed in our personal injury claims calculator and what time limits you may need to be aware of.
Getting In Touch With Our Accident Claims Team
If you have had an accident abroad and want to check if you are eligible to claim compensation or be connected to a personal injury solicitor from our panel, please call us today. Talk to us today to check what your claim may be worth. Dial 020 3870 4868 or use our online form to request a call back.
Services And Information
Everything You Need To Know About Holiday Accident Claims
In 2018 there were more than 71 million trips taken abroad by people from the UK. Whilst this does represent a small 1.1% dip on 2019, the number of trips abroad has steadily since 2012. With this in mind, it is easy to see why some of those travelling abroad may be injured in accidents which were not their fault.
However, whilst accidents abroad may be more common than thought, it does not mean that people should simply accept that an accident has happened and does not mean that they should be dissuaded from making an accident abroad claim.
People often worry that making a holiday accident claim may be more complicated than other types of claim. From the perspective of a claimant, the process should be similar. Having said this, you do need to be aware that depending on the party who caused your accident, your claim may be made in the country where the accident happened – thus being subject to that countries law relating to rights, time limits and settlements.
Later in this guide, we shall look at examples of UK law and international agreements which facilitate compensation claims or which confer rights on travellers and responsibilities on service providers.
What Is A Holiday Accident?
Holiday accident claims deal with many different circumstances, in fact, such claims may deal with many circumstances similar to accidents which happen in the UK. Put simply, a holiday accident is any accident abroad which was caused by the negligence of someone other than the claimant.
An example of a holiday accident could be someone being struck by objects falling from an overhead storage locker on a flight which was not secured by cabin crew or a hire car accident abroad. Accidents may also happen at your hotel, whilst using leisure or spa facilities, when on an organised excursion booked as part of a package holiday or other accidents relating to your flight. We should also note that people are able to claim compensation if their flight is delayed.
Next, we look at legislation and international agreements facilitating accident abroad compensation claims.
Conventions And International Agreements Governing Holiday Accident Claims
From a hire car accident abroad to a slip or fall on a cruise ship, there are many locations and circumstances in which people may be harmed and where they may need to claim compensation.
Depending on where and how you were injured, the cause of your accident and defendant, your solicitor may utilise some of the routes to holidaymaker rights and eligibility to claim compensation.
The 1999 Montreal Convention is an international agreement which establishes that an airline has liability for injuries (including fatal injuries) which have happened to their passengers. It also establishes the airlines' liability in terms of delay and loss of or damage to your luggage.
This is an article of UK legislation which establishes the responsibility of those providing either package holidays or what are called 'linked travel arrangements'. There are different levels of protection afforded to those who booked their holiday in these two different ways. Examples of such claims may include claims for road accidents abroad involving airport transfers pre-booked at the time of booking your holiday.
Under EU law if your flight to or from the UK is either cancelled or delayed, you could be eligible to claim compensation from the airline. There are set amounts relating to the length of delay and length of the flight.
There are specific rights conferred on those who travel either on cruise ships or ferries travelling to and from the UK (as well as on international cruises). You can find some examples of these above.
This is not a comprehensive list of ways in which people can make holiday accident claims.
British Traveler Accident Abroad Statistics
According to the Association of British Insurers (the insurance industry professional body), as many as 3,000 British travellers require emergency assistance or medical treatment abroad each week. On average medical claims made against travel insurance providers surpass £1,300.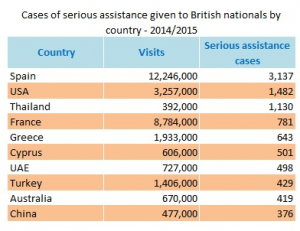 In the graphic to the right, you can also see which countries are visited by travellers from the UK and the number of people who suffered a serious injury in that country. Whilst some accident abroad compensation claims may only need to deal with minor injuries, others do involve very serious circumstances in which people have suffered a life-changing injury.
Medical expenses are some of the highest costs people may face if they are injured in an accident abroad. According to Post Office Travel Insurance, we can see that between 2011 and 2015 there were 167,000 medical cost claims collectively valued at £197 million.
Over the same period (2011 – 2015) the total value of claims made against travel insurance policies was £365 million. This was spread across 494,000 claims. You can see real-time travel statistics at the Post Office Travel Insurance.
What Are The Most Common Accidents Or Injuries On Holiday?
There are types of holidays which may carry more inherent risks than others. For example, a ski or snowboarding holiday, adventure holiday or one involving a lot of sporting activities may carry more risk of injury than a week on the beach. However, even very relaxed holidays could still lead to you being involved in a holiday accident and visiting a doctors surgery or hospital abroad.
Examples of reasons for seeking accident abroad compensation include:
Road accident abroad claims, such as those involving hire car accidents, motorcycle accidents and those involving airport transfer vehicles.
Injuries caused by sporting activities. If you take part in an activity such as skiing, rock climbing or water sports which were booked as a part of your holiday package, you should be provided with adequate supervision, instruction and equipment to stay safe when participating.
Illness caused by a lack of hygiene in your hotel, such as inadequate cleaning of facilities causing you to acquire an illness from a swimming pool or spa.
Other accidents caused by a lack of safety or maintenance at a hotel swimming pool, such as slips trips and falls due to broken tiles.
Food poisoning caused by food served in your hotel.
When travelling abroad, remember to keep details of either your travel insurance policy or EHIC card (if travelling within the EU) in a safe and accessible place in case you are injured or become sick and have to seek medical care.
Holiday Accident Compensation Calculator
Once people have established their eligibility to claim compensation, one common question asked of holiday accident solicitors is how much compensation they may be eligible to claim. The first thing to note is that as with other types of compensation claim, holiday accident claims may commonly be made up of two parts. These are general damages – awarded based on the injury or illness suffered, and special damages – awarded based on financial costs encountered.
In the accident abroad compensation calculator below you can see how much compensation you could be eligible to claim for specific types of injury.
| Location of injury | Severeness | Information on this injury | Potential award |
| --- | --- | --- | --- |
| Head | Extremely serious | Extremely serious levels of head injury. The injured person may remain in a vegatitive state. | £247,280 - £354,260 |
| Head | Moderate - serious | The effects of a serious head injury may cause physical, cognative or psychological effects and changes. | £13,430 - £247,280 |
| Face | Skeletal fracture(s) | Breaks and fractures affecting the bones in your face. | £13,080 - £21,000 |
| Eyes | Single level | Complete blindness / loss of sight | Potentially up to £235,630 |
| Back | Severe | Severe back injuries affecting the upper back may also affect the neck and / or shoulder joints. | £79,890 - £141,150 |
| Back | Moderate | Whilst the victim may recover, this may not be fully and there may be risidual levels of injury remaining. | £24,340 - £34,000 |
| Neck | Severe | The most severe forms of neck injury could present as paraplegia. | Potentially up to £130,060 |
| Neck | Moderate | Moderate neck injuries could affect the bones of the neck or soft tissues. Could include whiplash and affect the upper back or shoulders. | £21,910 - £33,750 |
| Shoulder | Serious | Injuries such as those to the bones, joint, or to the soft tissues. | £11,200 - £16,830 |
| Leg | Moderate | Moderate injuries could include breaks, fractures or soft tissue injuries. | £24,340 - £34,370 |
In addition to the figures in the accident abroad compensation calculator above, you could also be compensated for additional costs and expenses you have faced because of the accident, injury or illness happening. These expenses may include the cost of medical care abroad, the cost of returning to the UK or having to remain out of the UK longer than anticipated, lost enjoyment of your holiday and other expenses that are related to your accident taking place.
To check what you may be eligible to claim, please contact our panel of holiday accident solicitors today.
Hire Car And Road Accidents On holiday
The UK has some of the safest roads in the world with a very low rate of fatalities both compared by number of vehicles and in comparison to population – see international road safety comparisons here. What this may mean for those travelling abroad (even in Europe) there may be a higher chance of having an accident. If you have been injured on the roads abroad, you may need to make a road accident abroad claim.
Road accidents abroad could happen whilst you are being transported by an airport transfer (booked as part of your trip) or when using a hire car which is found to be faulty. Those driving and operating airport transfers or who are leasing vehicles to holidaymakers have a duty of care to ensure your safety and that the vehicle is safe to operate. If your transfer or vehicle was purchased as part of your package or linked-travel arrangements, you could make a road accident abroad claim.
Discuss your road accident abroad and find out if you're are eligible to claim by contacting a UK Lawyer today.
Package Holiday Accident Claims
For several years the UK has had strong legislation in place to protect people travelling on a package holiday. These rules may help people to make holiday accident claims in the event of an accident. In 2018 these rules were updated with The Package Travel and Linked Travel Arrangements Regulations – 2018. These regulations apply to holidays booked after July 1st 2018.
These regulations cover two types of travel arrangements. These are package holidays and linked travel arrangements. Package holidays have both financial and legal protection, whilst linked-travel arrangements are only financially protected. The financial protection for linked-travel arrangements will only protect travellers in the event of the company organising the sale becoming insolvent. It does not provide any protection in the event that a service provider (an airline for example) collapses or fails.
If you have been harmed due to a failure by your package holiday company or tour operator, contact one of our panel of personal injury lawyers to check your eligibility to claim compensation.
Slip And Fall Accidents Abroad
Slips and falls may happen as commonly whilst you are on holiday as when in the UK. hotels, holiday complexes, swimming pool areas, leisure facilities, ski trips and organised activities may all present different trip or fall hazards which could potentially cause injury if not correctly addressed by the service provider responsible. If the accident was the responsibility of your hotel, airport, airline, or the fault of a company providing an organised trip (booked as part of a package holiday) and if it occurred because of a failure on their part to ensure your safety, then this party may be liable to pay you compensation in the event of a slip, trip or fall causing your injury.
Slips and falls may result in simple sprains and strains or cuts and bruises, or they may result in you fracturing a wrist or ankle, or even sustaining a head injury. However you were injured, if another person was to blame you could have grounds to claim compensation through a law firm.
Claiming On Behalf Of A Family Member Injured Abroad
There may be circumstances in which the injured party is unable to claim on their own behalf. If this is the case, you may be able to act for them and assist them in their compensation claim with a UK Lawyer.
If the holiday accident claim involves an injury to a child or to a person who is determined to lack the mental capacity to claim on their own behalf, then you may act in their place. For example, those under the age of eighteen (18) are not able to bring legal claims in their own name. In such cases, an adult may be appointed as a 'litigation friend' and make the claim in their place. The compensation will be held for the claimant until they are 18. If no claim is made before the child turns eighteen they are then able to make the claim on their own behalf, abiding by the standard three-year time limit.
How Much Time Do I Have To Claim For An Accident Abroad?
Ass addressed above, there are circumstances in which the typical three-year personal injury claims time limit may not apply. Circumstances in which different time limits may apply could include some of the following situations.
Claims made in a different country
If your accident did not happen in the UK and the party responsible is solely based in this country, your claim may be made outside the UK. For example, if an accident took place in Spain and a Spanish party is liable, the claim may be brought in Spain. As such, Spanish time limits and compensation settlement guidelines would apply.
In-flight Injuries
If you are claiming compensation under the Montreal Convention for an in-flight injury you should be aware that there is a shorter two-year personal injury claims time limit which applies.
To check what time limit may apply to your claim, please talk to one of our panel of holiday accident lawyers today.
I Had An Accident Abroad, What Should I Do?
If you have had an accident abroad, below you can find information on what to do. Knowing what to do after an accident abroad can help you and your personal injury lawyer later when you are making your compensation claim. In the event of a holiday accident, the first thing you should do is always to seek any medical care needed. Your health should be your primary concern. When you do visit a doctor or hospital, please also obtain a copy of any medical reports or notes. This may be very useful medical evidence.
Following this, our accident abroad claims advice is that you take these steps in case you wish to claim injured overseas compensation when you get back to the UK.
Firstly we would recommend getting evidence of the accident taking place and the injuries that you have suffered. If possible either take photos of the accident and your injury or ask someone who you are travelling to do so. Most cameras and phones should have a date stamp on the image. We also recommend asking anyone who saw what took place for their contact details and if they can serve as a witness if necessary.
In the event of a road traffic accident make sure that you and the other road user exchange details such as contact information, insurance providers and vehicle registration details.
Do You Handle Holiday Accident Claims On A No Win No Fee Basis?
If you are considering making a holiday accident claim one of the easiest and most convenient ways to do so may be through what is called a no win no fee agreement. Through a no win no fee agreement a personal injury solicitor will provide you with the same level of service as would be provided under any other funding model. The main difference with a no win no fee agreement is that you will only need to pay for your solicitor's fees in the event that you are awarded compensation. This means that your financial risk is lowered compared to funding models with upfront costs. It may also make your accident abroad claim more affordable. To learn more about how no win no fee claims work, please read our guide.
Please contact UK Law today to see if our panel of solicitors are able to help you. We will listen to what happened to you whilst abroad on holiday to see if you are eligible to claim compensation. You can talk to our team today by using the details at the top of this page or dialling 020 3870 4868.
Essential Travel Safety Resources
In addition to the information discussed in this guide, you may also find the following resources helpful if injured specifically whilst on holiday or in other circumstances.
Injury Claims
Find out more about general personal injury claims you could make with a solicitor in this guide.
The Personal Injury Claim Process
Find out more about how the personal injury claims process works if you choose to make a holiday accident claim with our panel of solicitors.
FCO – Foreign Travel Advice
The UK Foreign and Commonwealth Office provides up-to-date travel and safety information for destinations around the world. Check the latest advice before you travel.
Travel Aware Campaign
Information from the government about how to stay safe when travelling abroad, such as advice relating to passports and travel insurance.