What Are My Rights After An Accident At Work In The UK?
A Guide To Employee Rights After An Accident At Work
If you're injured in an accident at work, you may be entitled to compensation. Certain questions can enter an employee's mind if they have a workplace accident. A common one is 'what are my rights after an accident at work?' There is legislation in the UK designed to protect the safety of workers. It also supports employees if they have a workplace accident that wasn't completely their fault.
In this guide, we explain wh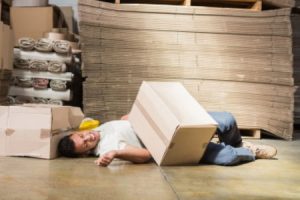 at your rights are as a worker if you are injured at work. We also discuss the laws in place which protect workers from potential dangers. The rules which employers must follow to protect their staff are also explained here. We also detail how you can use our services to support your potential workplace accident claim.
Get In Touch With Our Team
You can contact our team at UK Law for advice on making a personal injury claim. They can offer advice and other support on different types of claims including workplace accidents. You may be asking yourself 'what are my rights after an accident at work?' If you are, or you have other related questions, our personal injury claims team can offer free legal advice to answer such queries.
They are available to talk through our online chat function. You can also use our callback form if you wish. Or you can call us on 020 3870 4868
Services And Information
Everything You Need To Know About What Are My Rights After An Accident At Work?
Accidents at work refer to any incidents where someone was injured in their workplace. If someone is outside their main workplace but they are injured as a direct result of their work activity, that can also count. All companies have to follow certain legislation related to workplace safety. The legislation outlines the company's duty of care. It obliges them to do as much as can reasonably be expected to prevent accidents and injuries in work. Despite this though, accidents at work do sometimes happen.
Workers are entitled to make a compensation claim if they are injured physically and/or mentally at work through no fault of their own. Read on to learn more about the legislation which supports the safety of workers. We'll also go through the legal steps which workers and employers can and can't follow if a workplace accident occurs.
What Is An Accident At Work?
There is more than one way that an incident can be considered an accident at work. An obvious example is an accident which happens within a place of work. It could be considered a workplace accident if it is related to work carried out and/or the use of work equipment or the condition of the site or premises. Circumstances that can lead to a workplace accident vary. Examples include faulty work equipment, a tripping or falling hazard, spillages or an injury caused by manual handling.
If you are not in your place of work, but you are injured in an accident because of work activity, then that could also be considered an accident at work too. Accidents at work can be reported and claimed whether you are an employee, agency worker or self-employed and hired by a company.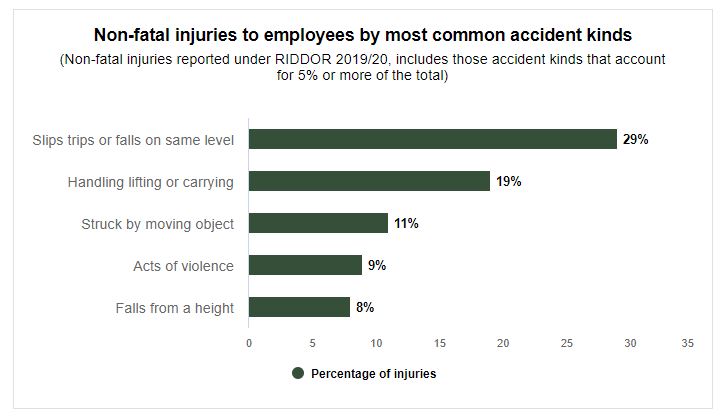 The graph above comes from the Health and Safety Executive. It shows the types of non-fatal accidents which were most often reported by employers under the Reporting of Injuries, Diseases and Dangerous Occurrences Regulations 2013 (RIDDOR).
Is My Employer Responsible For My Safety?
Your employer is legally responsible to protect the health and safety of you and every other member of staff they have. Various legislation (simplified on the Health and Safety Executive's website) gives companies legal obligations to follow regarding the protection of their employees. These responsibilities are commonly known as the employer's duty of care.
The exact requirements your employer must follow as their duty of care can vary. It depends on the type of company you work for and what the work environment is like. To summarise though, your employer must always take reasonable measures to minimise the risk to your health and wellbeing while carrying out your duties. As part of this, your employer should regularly inspect your workplace and identify and address any potential risks in the area identified.
Your employer is also responsible for implementing precautions if your work environment can be hazardous. You should also be adequately trained by your employer on any work equipment you use. Any manual handling procedures should be covered also. If a workplace accident happens to you and you're injured, then your employer could be found to have breached their care of duty. Such a breach entitles you to claim for compensation.
What Are The Health And Safety Laws In The Workplace?
Legislation in the UK exists to protect health and safety standards in workplaces. It also allows for legal action if standards ever fall below the requirements, causing injury. Laws that employers follow as part of their duty of care to protect their staff include (but are not limited to) the following:
This is one of the most important pieces of legislation regarding workplace health and safety laws. It sets out the general duties which employers have towards their workers and members of the public. It also outlines duties employees have to themselves and each other. It also includes certain duties which the self-employed have towards themselves and others.
This act legally protects people from discrimination in the workplace and in wider society. When it comes to an employer's duty of care, it is not just the risk of accidents they should minimise. Employers also have a responsibility to protect their staff from verbal abuse, physical assault and other actions which could be motivated by discrimination.
The Employment Rights Act 1996 (ERA) covers the rights that most employees have when they work. Section 44 of this Act protects workers from any detriment from their employer if they take (or refuse to take) certain actions on reasonable grounds of health and safety. For example, you could refuse to carry out a duty given by your employer because you had good reason to believe it would endanger you. In such cases, it would be deemed unfair if your employer dismissed you for this action.
What Are Your Rights If You Get Hurt At Work?
A question people may ask is what are my rights after an accident at work? You have the right to pursue a compensation claim if the injury was caused by someone else's neglect. You have the right to receive compensation. Also, you have the right to sick pay.
Your rights should also protect you from being mistreated by your employer. By law, they cannot treat you unfairly or dismiss you for getting hurt at work or making a claim. Sadly, some companies may not take action based on your rights. Some may fire you or deny you sick pay if you get injured at work. If such things happen, you can take legal action against this. You could claim any loss caused by an infringement of your rights by your employer.
If you are still asking yourself 'what are my rights after an accident at work?', you can contact us for free legal advice.
What Are My Rights When Working For An Agency?
If you are an agency worker, you may ask yourself 'what are my rights after an accident at work?' The answer is that you have similar rights to permanent workers. That includes the right to seek compensation if you are injured at work.
Also, if you have 12 weeks of continuous employment with the same employer, then the employer must treat you as they would a permanent staff member. This includes equality in terms of salary level and sick pay. 
Your employer, however, may be the agency you're working through. Be sure to check your contract which should define who your employer is. No matter who your employer is on paper, if you're injured at work through someone else's negligence, you could claim.
Workplace Accident Compensation Calculator
Following a workplace accident, a question you may have is how much compensation you are likely to receive. Even if you're already familiar with your rights, you may be unsure about how to work out your potential compensation if your claim succeeds. Compensation payouts for workplace accidents can vary a lot. A lot of different potential injuries and other financial losses can be factored in. The severity of injuries is another factor that influences compensation.
Below is a table we've added to help you calculate the potential compensation you could receive based on potential injuries following workplace accidents. The figures are estimates based on Judicial College guidelines. The numbers should only be treated as projections since many potential circumstances can influence the compensation you receive.
| Injury | Severity | Compensation |
| --- | --- | --- |
| Face Disfigurement - Scarring | Very Severe | £27,940 to £91,350 |
| Face Disfigurement - Scarring | Less Severe | £16,860 to £45,440 |
| Face Disfigurement - Scarring | Less Significant | £3,710 to £12,900 |
| Injuries Affecting Sight | Loss Of Sight In One Eye | £46,240 to £51,460 |
| Injuries Affecting Sight | Minor | £3,710 to £8,200 |
| Back Injury | Severe | £36,390 to £151,070 |
| Back Injury | Moderate | £11,730 to £36,390 |
| Back Injury | Minor | Up to £11,730 |
| Leg Injury | Loss Of Both Legs | £225,960 to £264,650 |
| Leg Injury | Less Serious | Up to £26,050 |
In addition to what is covered in the table, other types of injuries you may have experienced could get factored in. Money for special damages could be added to your compensation too. While injuries tend to fall under general damages, the special damages can include financial losses directly caused by the injuries you suffered. Special damages and general damages are the two heads of claim that your compensation would fall under.
Could You Seek Industrial Injury Benefits?
If you are disabled or become ill because of what happened at work, then you may be entitled to what is known as Industrial Injuries Disablement Benefits (IIDB). This could come in addition to compensation from a personal injury claim. IIDB is a fund provided by the UK Government which you could be entitled to if you suffer a workplace injury that causes disability or you have a particular work-related illness.
Certain criteria should be met to qualify for Industrial Injuries Disablement Benefits. Before you can receive it, it needs to be confirmed that you were employed when your accident happened. You may also receive it if you have been on an approved training scheme, course or event when the accident happened. Also, the accident which leads to your injury/illness must have occured in England, Wales or Scotland. There are some exceptions, however.
You may also need an examination before IIDB can be received. The exam helps assess your level of disablement. A percentage is recorded for your disability and you must be considered as having at least 14% disablement to receive IIDB. The amount you receive from IIDB varies depending on the percentage of your disability. The higher it is, the more you'll be paid.
Will You Still Be Paid By Your Employer?
You should still receive some form of pay, even if you have to take time off work due to an injury or illness. That still applies even if your injury or illness was caused directly by work itself. Following an accident at work, your employer, at minimum, should pay Statutory Sick Pay (SSP). This begins if you're off for more than four consecutive days. You may benefit from a more substantial sick leave scheme, but that depends on certain circumstances.
You may be a worker who isn't entitled to SSP or, if you are entitled to it, it may be far less than your typical earnings, which could make you concerned about your finances while absent from work. However, during a compensation claim, you may be able to claim loss of earnings from your injury at work.
Your compensation may be able to cover lost earnings which you would have received from work if you didn't get hurt. Other expenses you built up as a direct result of your injuries could also be recovered. That's as long as it's determined that the expenses only exist because of your workplace injury.
Could I Be Sacked Following A Workplace Accident?
By law, your employer should not sack you simply for being injured by a workplace accident. Your employer is also not meant to fire you if you claim following an accident in their workplace.
When an accident at work occurs, it is standard procedure for the accident to be reported to your employer. The accident should be recorded in the company accident book. This official record can be checked by the Health and Safety Executive (HSE) at any time. Reports in the company accident book should detail who was involved in the accident. This could prove valuable evidence if you are unfairly dismissed for a workplace accident.
If you are ever sacked for being in a workplace accident or for claiming, seek legal advice to see if you can claim for unfair dismissal. You can get free legal advice and expertise for this type of claim if you contact us by phone or via our online contact form.
How Much Time Do I Have To Claim For An Accident At Work?
If you have an accident at work, then you may wonder how much time you have to claim for it. In many circumstances, you hold the right to claim on your workplace accident as long as you start a claim within three years from the day of the accident. Alternatively, this could be the date you obtained knowledge that negligence at least contributed to the injury or illness. There are, however, exceptions to this rule. 
We strongly recommend that you begin legal proceedings for your claim as soon as possible. Some workplace accidents cases can take a while to begin. This can be due to their complexity. Therefore, any unnecessary delays could ultimately lead you to lose your right to claim compensation.
Ways the time limit can change
Certain circumstances can change how much time there is to make a claim on a work injury. For instance, you could get injured at work and lack the mental capacity to claim on your own behalf. If this happens, the three-year time limit is frozen. It will activate if and when you recover to the point where you can reasonably be expected to start a claim yourself. Alternatively, a representative could claim for your injury on your behalf while you still lack the mental capacity to claim yourself. This representative is known as a litigation friend and could be someone close to you like your next of kin, for instance.
If a child (anyone under 18) is injured in an accident in a workplace or as a direct result of work activity, then they can potentially have a personal injury claim made on their behalf. A litigation friend can represent them for this.
The three-year time limit for claims doesn't apply to injured children under the age of 18. However, if the child reaches the age of 18 and nobody has claimed on their behalf, then the three-year limit starts from the day of their 18th birthday. When the child reaches 18, they claim on their own behalf if they want to seek compensation.
I Suffered A Workplace Accident, What Should I Do?
If you are injured in a workplace accident, you may ask yourself what exact steps to follow. One of the first things you should do is get the medical care you need. You should also confirm that the accident is recorded in your company's accident report log. If you can't do this yourself, then ask someone you trust to do it for you. You should also obtain evidence of the medical treatment you received due to your injuries. This will prove useful when making a compensation claim later.
When you are recovered enough from your injuries, you should then collect other evidence. Extra evidence which could support your claim can include photos, CCTV footage and witness contact details. Anything that corroborates your side of the story will help your case. After doing this, you should then get in touch with a specialist solicitor about making your compensation claim.
We recommend that you select a fully qualified solicitor who specialises in workplace accident cases. Your chosen solicitor should help you with setting up your case. They should also be able to answer any relevant questions you may have, such as 'what are my rights after an accident at work?'
Do You Handle Workplace Accident Claims On A No Win No Fee Basis?
Here at UK Law, our panel is able to support your workplace accident claim on a No Win No Fee basis. Signing a contract with a solicitor from our panel for your case on a No Win No Fee basis provides certain guarantees. Importantly for claimants, the terms and conditions of payment are clearly established.
Under a No Win No Fee agreement, you enjoy several benefits. One is usually a guarantee that no solicitor fees need to be paid upfront. Another is a guarantee that no solicitor fees should need to be paid during the claim. If the case is ultimately unsuccessful, then you shouldn't need to pay your solicitor's legal fees. 
You will only need to pay your solicitor for their work if your case succeeds. Your No Win No Fee agreement should confirm that your solicitor will deduct a small percentage of the compensation awarded to you. This covers their payment and is typical of No Win No Fee contracts.
Contact Us For More Help
If you want the answer to questions like 'what are my rights after an accident at work?' then we can help. You can contact UK Law to get free specialist advice from our panel of lawyers. We can support personal injury claims including ones involving workplace accidents. We'll happily answer any query you may have about your legal rights following an accident at work.
You can reach our team online by:
Resources
Looking for more information about your legal rights after an accident at work? The sources included below are useful links on how workplace injuries should be reported. There are also resources explaining how the legal rights function for workers following an accident.
RIDDOR – Reporting of Injuries, Diseases and Dangerous Occurrences Regulations 2013
This page provides details on workplace injuries that should be reported under RIDDOR. RIDDOR puts duties on employers, self-employed workers and people in control of work premises to report certain incidents. These include certain serious workplace accidents, occupational diseases and specified near misses.
Government guide to compensation for injuries at work
This government page provides guides on how expenses and benefits work for employees who become workplace accident victims.
Health and Safety Executive statistics
This page gives you extensive access to statistics on workplace safety and accidents. The statistics from the Health and Safety Executive include details on the frequency and type of workplace injuries reported in the UK.
FAQs About What Are My Rights After An Accident At Work?
Do I get full pay if I have an accident at work?
If you take time off due to an accident at work, then the minimum pay you are legally entitled to is Statutory Sick Pay (SSP). (However, some people may not be eligible.) Your employer may offer you more funds as part of their sick leave scheme, but that depends on the company you work for.
What happens if an accident at work is not reported?
Employers are legally required to report certain workplace incidents, illnesses and near misses. These should be reported to the Health and Safety Executive via the RIDDOR. If a required report is not sent, then an employer can receive a hefty fine (potentially £20,000).
How long do I have to report an accident at work?
You should report a workplace accident you were involved in as soon as possible. In certain circumstances, this may not be possible for you. If that's the case, you should make sure someone you trust reports the accident for you. You should also confirm if the accident and injuries you've suffered are reportable through RIDDOR.
Thank you for reading our guide about your rights after an accident at work.
Writer PD
Checked by HT