Unexpected Turbulence Aviation Passenger Accidents
Whether you enjoy flying or not, it has become necessary for many of us to travel by aeroplane. Whether you're going abroad for a holiday or travelling within the UK on business, flying has become second nature to many of us. It is still considered to be one of the safest methods of transport, but there is one thing about flying that many of us dislike, and that is expected, or unexpected turbulence. Usually, when pilots and aircraft staff expect turbulence the flight crew will ask passengers to stay in their seats and fasten their seatbelts.
But what happens if you suffer an in-flight injury from unexpected turbulence due to a crew's failure to warn you to take to your seat?  This guide explains what you may need to know about claiming for inflight injuries on aeroplanes, and whether you could claim for an aviation accident caused by turbulence.
In the sections below, we discuss the different types of turbulence that could affect flights, such as clear air turbulence, frontal turbulence and thunderstorm turbulence to name but a few examples. We also look in detail at how to avoid injury on an aircraft, and what you should do if you suffer aviation injuries caused by turbulence. Covered in detail are answers to questions like 'Can you get whiplash from turbulence?', 'How long do I have to claim inflight injuries on aeroplanes compensation?' and 'Where can I find a personal injury lawyer to take on my claim?'
Get In Touch With Our Team
Here at UK Law, we are here to help you if you've suffered an air travel injury. While this guide focuses solely on an air travel injury caused by unexpected turbulence, we could offer advice and support on many other injury claims too. Whether you've suffered a trolley accident, a slip, trip or fall, or a burn or scald, we could assess your case for free to see if you could have a valid claim. We could also connect you with one of our panel of personal injury solicitors to help you with your claim under No Win No Fee terms. If you'd like our help, please call the team on 020 3870 4868.
Services And Information
Everything You Need To Know About Unexpected Turbulence Injury Claims
If you've been hurt due to unexpected turbulence upon an aircraft, you may have suffered a number of injuries. You could have suffered a neck injury such as whiplash, like in a car accident, or you could have a head injury such as a concussion if something fell on you during the turbulence. You may have had a slip, trip and fall in the aisle due to the aircraft lurching, or you may have suffered a burn or scald due to hot drinks being spilt on you. If the turbulence was unexpected, and you are injured, you could be under the misapprehension that there would be no way to claim compensation. We have created this guide to explain why this is not necessarily the case, and how you could claim compensation if you're injured through unexpected turbulence.
In the sections below, we explain turbulence in more detail, giving you information about what could cause turbulence and whether you could protect yourself from injury. We also explain the types of situation that could lead to a claim for inflight injuries on aeroplanes compensation. Further to this, we offer insight into how courts and lawyers calculate compensation and what could be included within a claim.
What Is An Unexpected Turbulence Aviation Passenger Accident?
Turbulence could affect an aircraft's smooth passage from departure to arrival at its destination. This phenomenon, which is caused by the changes in air direction and pressure, could cause an aircraft to lurch heavily about, and it may seem quite scary. While aircraft are built to withstand episodes of turbulence, if you're not strapped in, or luggage isn't secured properly in lockers, you could suffer a turbulence injury. While pilots and air traffic controllers have access to monitoring equipment to detect turbulence so it can be avoided, sometimes it is may not be possible to predict turbulence.
If unexpected turbulence occurs during a flight, and you're not given enough warning to sit down and strap yourself in your seat you could be injured. Under the Montreal Convention, you could be eligible to claim damages for death or personal injury. The Convention states that if an accident takes place in the course of any of the operations of embarking, disembarking or while you are onboard the aircraft, the carrier could be liable if you are able to prove the incident happened outside normal operations of the aircraft. The fault does not necessarily have to be established. However, not all countries are signed up to the Convention.
What Could I Claim For?
Just like many other personal injury claims, the compensation you could receive could include:
General damages – to compensate you for the suffering and pain (physical and emotional) caused to you
Special damages – to compensate for out of pocket expenses due to your injuries – this could include income loss
To find out what compensation you could be eligible to claim, why not call the UK Law team. We could assess your case and connect you with one of our panel of solicitors. They could fight for the maximum compensation possible for your claim.
Your Rights When You Fly
When you fly, you could have certain rights under the Montreal Convention 1999. This Convention establishes an airline's liability in cases where people suffer damage, loss, personal injury or death. While many countries have signed the Montreal Convention, some have not. If you'd like to find out whether your claim could come under the Montreal Convention, we would be happy to talk to you about this.
What Are The Causes Of Unexpected Turbulence?
If you've ever wondered what causes unexpected turbulence, there are several ways in which it could happen. In general terms, the major causes of turbulence include:
Wind
Rising air
A wake vortex from an aircraft
Mountains
Jet streams
In some cases, pilots may be aware in advance of their flight that turbulence could be possible. However, some unexpected turbulence could occur due to changing wind conditions during a flight.
Are There Different Kinds Of Turbulence?
You could experience a variety of different kinds of turbulence on a flight. Here, you can learn about them in more detail.
Thunderstorm turbulence
Thermal turbulence
Temperature inversion turbulence
Mountain wave turbulence
Mechanical turbulence
Frontal turbulence
Clear air turbulence or (CAT)
No matter what type of turbulence you've experienced, if you've suffered an air travel injury due to unexpected turbulence, why not call our team. We could assess your case to see if you could claim for such an accident on an aircraft.
Why Aircraft May Encounter Unexpected Turbulence
There are several reasons an aircraft may run into unexpected turbulence. Clear air turbulence could happen suddenly, and while aircraft have several monitors which assess air conditions, they may not give much warning if wind conditions change suddenly. Jet streams – this is a fast-moving, narrow column of air. There can be significant incidents of low-level wind shear relating to a jet stream. Thunderstorms can effects aircraft travelling less than 5000 feet over cumulonimbus clouds could experience clear air turbulence from strong vertical currents.
Unexpected Turbulence Aviation Passenger Accident Compensation Calculator
Depending on which country your accident on the aircraft happened in would determine how your claim was dealt with. If the accident and injury on the aircraft happened within England then it would go through the English Judiciary system and the Judicial College Guidelines would apply.
You might expect to see a personal injury claims calculator on this page to offer some guidance on compensation amounts. However, we've chosen to give you insight in a different way. An online calculator would not be able to offer you an accurate sum for compensation as it would not be able to take into account the specifics of your case. Medical evidence could heavily influence the compensation payout you could receive.
Lawyers could use this report and measure it against the Judicial College Guidelines. This publication could help lawyers come to a value for your injury claim. To give you some idea about the levels of compensation for various injuries, we've used figures from the guidelines. If you cannot see your injury here, we could give you further information over the phone.
| Injury Type | Compensation Bracket (Approx) | Notes |
| --- | --- | --- |
| Minor head/brain injury | £2,070 to £11,980 | Award would be calculated based on severity and length of symptoms, and any continuing headaches or other effects. Brain damage in these cases would be minimal if any occurred. |
| Chest injury ( C ) | £29,380 to £51,460 | Chest/lung damage causing continuing disabilities. |
| Chest injury ( G ) | Up to £3,710 | Soft tissue damage/rib fractures causing weeks of disability/serious pain. |
| Moderate Neck injury (ii) | £12,900 to £23,460 | Injuries that cause serious limitation on movement, permanent and recurring pain, such as wrench injuries, soft tissue damage and disc lesions that result in causing cervical spondylosis. |
| Moderate Back injury (ii) | £11,730 to £26,050 | Many common back injuries would fall into this bracket, including soft tissue damage that exacerbates/accelerates an existing condition over 5+ years. Ligament disturbance causing back pain could also feature. |
| Moderate Shoulder injury ( C ) | £7,410 to £11,980 | Soft tissue injuries the continue to produce symptoms for over 2 years. Frozen shoulders lasting approximately 2 years. |
| Fractured clavicle | £4,830 to £11,490 | Length of suffering and severity would be assessed when compensating in this bracket. |
| Less severe arm injuries | £18,020 to £36,770 | Causing significant disability, but where there could be a substantial level of recovery. |
If you make a successful claim then under English law you could claim both general damages and special damages. General damages are awards you can see in the table above. General damages are for the pain and suffering you have been caused because of your injuries. Special damages cover losses caused by your injuries such as medical costs, loss of earnings and travel-related expenses.
Is Unexpected Turbulence Increasing?
There have been reports that unexpected turbulence could be on the increase. Professor Paul D Williams, a University of Reading Professor of Atmospheric Science has been studying the concept of turbulence. Clear Air Turbulence or CAT is air masses moving in a turbulent fashion. There are no visible signs such as clouds so can make it really difficult for the aviation industry to plan ahead for instances of clear air turbulence. As mentioned previously jet streams can play a role in clear air turbulence.
Can Aviation Passengers Avoid In-flight Injuries?
While some inflight injuries caused by turbulence might seem unavoidable, there are various ways in which you could protect yourself from some risks of injury. These could include:
Following the safety rules – for example, if staff ask you to remain in your seat with the seatbelt fastened, you should do so.
Consider wearing your seatbelt at all times
Ensure you stow luggage away safely in overhead lockers
If you are not sitting when unexpected turbulence hits, you could:
Sit in the nearest empty seat and strap in
If there are no nearby seats, look for something to hold on to for safety reasons.
When you're close to or inside the toilet, grip the door handle
Aviation Passenger Safety Statistics
The rate of accidents per million departures has dropped significantly since 2008, which could be in some part due to the lower number of flights operating during the coronavirus pandemic. The graph below details the number of accidents per million departures from 2008-2019.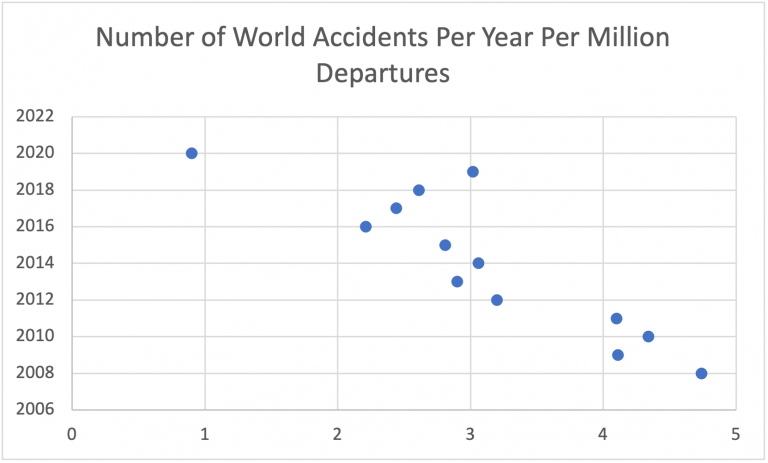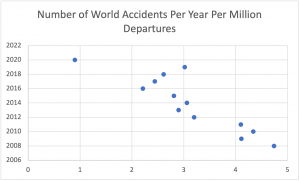 Are There Time Limits To Unexpected Turbulence Injury Claims?
According to the Montreal Convention 1999, there is a two-year limit for claims to be made. If you don't bring action within two years the right to damages would be extinguished.
I Suffered An Injury Caused By Unexpected Turbulence, What Should I Do?
If you suffer injuries on a flight due to turbulence, there are a few things that could help you, whether you wish to make a claim or not.
Seek medical attention – this way, you have a record of the incident, and you can get appropriate treatment or advice for managing your injury.
Collect contact details of witnesses
Take photographs of the scene and your injuries
Write a report of what has happened so you don't forget anything
Seek legal advice from a solicitor – we could help connect you with such a solicitor
Claim For A Unexpected Turbulence Injuries On A No Win No Fee Basis
If you've decided to go ahead with a claim for an in-flight injury caused by turbulence within England or Wales, you might be looking for a personal injury lawyer. You may also be wondering whether you'd have to pay them upfront for their help. If you work with a No Win No Fee solicitor on your turbulence injury claim, you would not pay them until your claim ends and your compensation comes through.
How Do No Win No Fee Unexpected Turbulence Claims Work?
Before your solicitor could take on your personal injury claim under these terms, they would need you to sign a No Win No Fee Agreement. This document sets out the small, legally capped percentage of your compensation as a success fee. This fee is only payable if the solicitor gets you compensation.
When the solicitor receives your signed agreement, they'll begin your claim for you.
They would attempt to negotiate a settlement with the liable party, and help you fight for compensation through the courts if it becomes necessary.
Your compensation payout comes through, the solicitor deducts the agreed success fee, and the balance is for your benefit.
We would be happy to talk to you in further detail about this type of claim. We could connect you with a solicitor who could take on your case under these terms. Simply use the contact form or call 020 3870 4868 to benefit from our guidance and support.
Related Claims Guides
More On The Montreal Convention – You can read more about the Montreal Convention on the IATA website.
Information On Passenger Travel To The EU Post-Brexit – You can find out what measure the government put in place to minimise passenger travel disruption post-Brexit.
Whiplash Guidance – The NHS has produced guidance on whiplash injuries. This could be useful to you if you've suffered this type of injury.
Employer Injury Claims – If you've been injured working on an aircraft, this guide could be of interest to you.
The Importance Of Accident Reporting – This guide explains the role of the accident report in personal injury claims against employers.
Denials Of Whiplash Claims – You can find out information on what happens if a whiplash claim is refused in this guide.
Unexpected Turbulence Claim FAQs
Could I Claim On Behalf Of A Child?
Yes, you can act as a litigation friend to make a claim on behalf of a child. Also if a person has mental incapabilities of making their own claim a litigation friend could also act on their behalf.
How Long Could My Claim Take?
How long a claim takes to process varies significantly. While straightforward simple cases where the liable party admits fault and offer compensation could be over relatively quickly, others may take some time. If a liable party argues against your claim, or your injuries are complex, the claims process could be longer.
Will I Have To Visit My Solicitor In Person?
Due to the many technological advancements made in recent years, it is not now necessary for you to visit your solicitor in person. You could use any one of the law firms across the UK for your unexpected turbulence claim. Even if you did want to visit your lawyer in person, this could still be possible, no matter where in the UK your lawyer is based. They could travel to visit you or you could visit them.
Could My Case Go To Court?
In some cases, a third party may settle a compensation claim with you without you needing to take them to court. Many personal injury claims settle out of court. However, if the liable party disputes your claim, your solicitor could file court paperwork and fight for compensation through the courts.
Writer NF
Checked by IE.