How To Claim For A Fatal Car Accident
If your relative or loved one has been involved in a fatal car accident, you could potentially claim compensation. In England and Wales, you could claim under the Fatal Accidents Act 1976 if a loved one died due to the negligence of another. 
To make a valid fatal accident claim, it is important the death was caused by a breach in duty of care by another. All road users have a duty of care to use the roads with standard care and skill. This can reduce the risk of accidents. The duty is outlined under The Highway Code. If this duty of care is breached, accidental death could occur. 
Continue reading to find out more about fatal car accident claims. If you have any further queries, feel free to get in touch with us at any time. Our advisors are available around the clock to help you and offer free legal guidance about your claim. If they think you could have a successful case, they could pass you on to a solicitor from our panel to start your claim today. 
Select A Section
What Are The Leading Causes Of Fatal Car Accidents?
The Department for Transport is the governmental body that monitors road traffic. They also collect relevant statistics on road traffic accidents. From their statistics on reported road casualties, we can see that there were 1,460 reported fatalities in Great Britain in 2020. 
Some causes or types of fatal car accidents include:
Failure to stop

Distraction

Speeding

Loss of control

Seatbelt issues

Being under the influence of drugs or alcohol

Failure to look properly
The graph below shows some of the road casualties caused in 2020 by some injudicious action. Injudicious action includes:
Disobeying automatic traffic signals

Following too close

Illegal turn or direction of travel

Travelling too fast for conditions

Disobeying 'Give Way' or 'Stop' signs or markings

Exceeding the speed limit

Disobeying double white lines

Vehicle travelling along the pavement

Disobeying pedestrian crossing facilities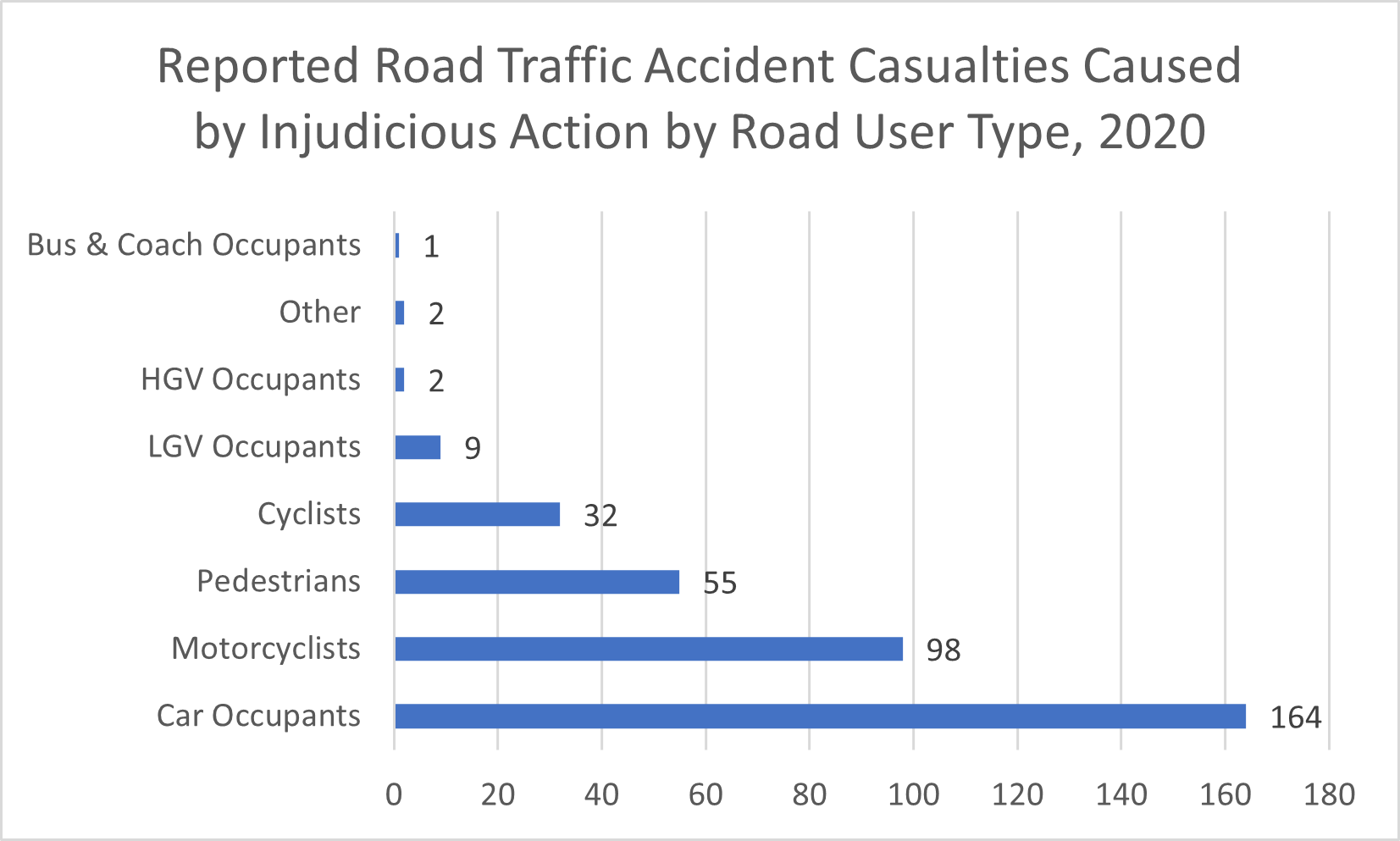 It is important to note that the numbers shown are only the reported incidents. Also, it may be difficult for a police officer to attend the scene of an accident after it has already occurred and accurately identify what caused it. 
If someone has performed an injudicious action on the roads, this is likely to be a breach of duty of care, as they are not acting in a way that reduces the risk of accidents to others. If your relative or loved one has been killed in such a way, you could potentially claim compensation. 
Fatal Hit And Run Accidents
Under the Road Traffic Act 1988, drivers must stop at the scene of an accident if they have caused damage or injury. The Sentencing Council considers failure to stop accidents a driving offence, and they can be met with fines, community service and even imprisonment. 
It is important to stop at the scene of an accident so that you can ensure that the other person is not harmed and to exchange details so that the correct parties can be contacted about claiming compensation for any damage. This can be especially important if you are concerned you may have caused a fatal car accident. You should check if the other party needs medical assistance and report the incident to the police as soon as possible. 
If someone failed to stop and aren't traceable, you could still claim. This would be done through the Motor Insurers' Bureau (MIB). A solicitor can support you with this process.
Can I Claim For The Death Of A Loved One? 
To claim for the death of a loved one after a fatal car accident, you need to be an eligible family member. Eligibility can be possible under the Fatal Accidents Act if the estate hasn't started a claim within 6 months of the death under the Law Reform (Miscellaneous Provisions) Act 1934.
Eligible family members under the Fatal Accidents Act include:
Spouses and ex-spouses

A civil partner or cohabiting partner that lived with the deceased for more than 2 years immediately prior to their passing

Children, including adopted children and those from marriage or civil partnerships

Parents

Guardians acting as a parent, such as step-parent, grandparents etc.

Siblings, aunts or uncles
If you fall under one of these categories, you could potentially claim for both the injuries the deceased sustained before they passed and your own losses. We will look at how this works in further detail in the next section. 
What Can You Be Compensated For After A Fatal Car Accident?
A fatal car accident claim could work in a few ways. If you are an eligible relative, you could potentially make a claim similar to a general personal injury claim, but on behalf of the deceased for any suffering they experienced before their passing. This only applies if the negligence of another party caused the accident. 
You can also claim for any personal losses that you have experienced as a result of the fatal car accident. This could include a loss of care, finances or services. For example, if your relative was the only person who would cook in the house, you could potentially claim for a loss of service. Or, if they were the sole breadwinner, you could claim a loss of income. 
If a child loses a parent, they could potentially claim loss of consortium. The loss of a parent can be unquantifiable in terms of a loss of care and emotional support.
It is also important to note that if a child is making a claim for financial dependency, there may need to be evidence of how long that child would be financially dependent. For example, if the child intended to attend university, they could be financially dependent for longer than a child who is not. 
Get in touch with our advisors today to find out more about what you could claim for in a fatal car accident claim. 
Calculating Damages For A Fatal Car Accident 
This section includes a table of potential compensation amounts you could claim for the suffering of a loved one. These figures are taken from the Judicial College Guidelines (JCG), a document used by legal professionals to help value personal injury claims. The figures in the JCG are drawn together from a calculation of previous cases, so they are not a guarantee for your specific claim.
| Severity | Amount | Notes |
| --- | --- | --- |
| Death and financial losses | £550,000+ | Payouts of this level often include loss of earnings and loss of pension, as well as compensation for pain and suffering. |
| Full Awareness | £11,770 to £22,350 | Lung damage or severe burns. There will have been full awareness for a short time. Extensive treatment will have been necessary, but consciousness will have fluctuated for 4-5 weeks. The death will have happened between 2 weeks and 3 months. |
| Followed by Unconsciousness | £9,870 to £10,010 | Extreme burns or lung damage. The result will have been serious pain and unconsciousness after 3 hours. Followed by death within 2 weeks. |
| Immediate Unconcsiousness (i) | £3,530 to £4,120 | Deceased will have been unconscious from the time of the accident. They will have died after 6 weeks have passed. |
| Immediate Unconcsiousness (ii) | £1,290 to £2,620 | The deceased was unconscious shortly after the accident. Death followed within a week. Compensation may be less if they died within the day. |
| Mental Anguish | £4,380 | A reduction in life expectancy or fear of impending death. |
You could also claim funeral expenses and a statutory Bereavement Award for a fatal car accident claim as well as other financial losses caused by the fatal accident. 
Funeral Expenses
If your relative or loved one died suddenly, you may not be financially prepared for the repercussions of this. Funerals can be expensive to plan, but some element of your compensation could cover the costs. You would need to provide evidence of the costs, such as receipts. 
Contact us at UK Law for more information to find out more about how you could claim funeral expenses. 
Claiming The Statutory Bereavement Award
Under the Fatal Accidents Act, you can also claim a statutory bereavement award. This is a set amount of compensation that the government can award to acknowledge your loss. To be eligible to claim this, you must be:
The wife, husband or civil partner of the deceased

A cohabiting partner of the deceased

The parents if the deceased was a legitimate minor who never married

The mother if the deceased was an illegitimate minor who never married
This is currently a set amount of compensation. If you successfully claimed the statutory bereavement award, you would receive £15,120. If more than one person related to the deceased applies for this, the amount is divided equally.
Dependency Claim
If you were dependent on the deceased for services (such as financial or emotional) you could claim for this. For example, the deceased may have covered the costs of bills for you. Or they may have taken care of the gardening.
Special Damages
Special damages compensate for the financial losses caused. For example, in certain circumstances, you may be able to recover the costs of transport you had to take to and from the hospital before the deceased passed.
Talk To Our Fatal Accident Claim Experts
You do not need a solicitor to make a fatal car accident claim. However, a solicitor can help support you through a difficult claim and ensure you get as much compensation as possible. They have the requisite knowledge to help you through every step of the claims process and make it smoother and easier for you. However, you may be wondering how you could afford a solicitor's fee. 
If you approach a solicitor to help you with your claim, they could potentially offer their services on a No Win No Fee basis. This is a way to fund your solicitor's services where you take minimal financial risk. 
If your fatal car accident claim does not succeed and you do not receive compensation, you will not be required to pay your solicitor their fee at all. Your solicitor also won't request their fee upfront or during the process of your case. 
Your solicitor would deduct a legally capped success fee from your compensation amount if the claim does succeed. This will occur before your compensation even reaches you, so you still don't have to concern yourself with paying them. Also, this success fee would not be deducted from any funeral expenses or bereavement payments you may have received. 
If you think a No Win No Fee agreement could work for you, why not contact our team of expert advisors today? They can further explain the fatal car accident claims process and could pass you on to a solicitor from our panel. The solicitors on our panel have years of experience and work hard towards you receiving compensation. 
Related Fatal Car Accident Claim Resources
Thank you for reading our guide about fatal car accident claims. We hope it answered any questions you may have had. For further related resources, please see below. 
What Should I Do If I Get Into a Car Accident? – Our guide on what you should do after being in a car accident. 
Car Accident Insurance Excess Fee Compensation – If you want to know how to claim compensation for your car insurance excess fee, our article could help you. 
Calculating Loss of Earnings Settlements – A handy guide on calculating loss of earnings payments in a personal injury claim. 
Get Help with Bereavement or Loss – An NHS page explaining support options after suffering bereavement. 
Support and Self-Care for Grief – Mind is a registered charity supporting those with mental health issues. This is their page on grief support. 
Understanding Grief – Cruse Bereavement Support is another registered charity in the UK aiming to support those who are grieving.
Other Guides You Can Check Out
If you need any more information about fatal car accident claims, get in touch with our advisors today. 
Writer IR
Checked by HT