Can I Claim For Faulty Automatic Door Accident?
Automatic doors are used at many different places such as supermarkets, hotels and office buildings. While they are generally safe to use, an accident can occur if an automatic door becomes faulty. A faulty automatic door accident may occur because of an issue that a negligent party is responsible for. Poor maintenance or manufacturing errors are some of the types of problems that could cause this type of accident. If negligence is proven the victim could pursue a claim for compensation.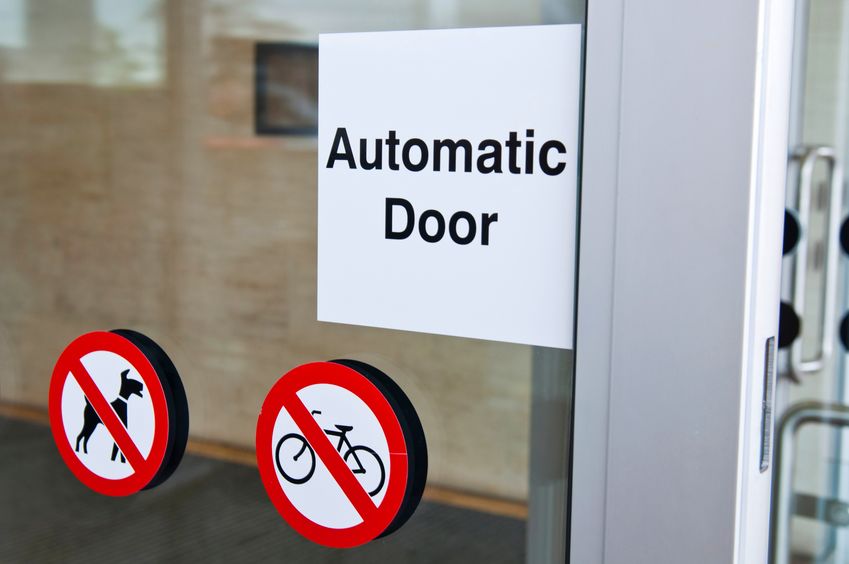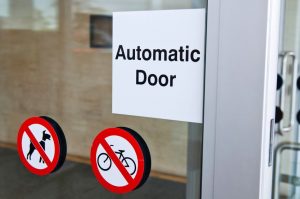 If you have been injured in a faulty automatic door accident that wasn't your fault, then you could look at claiming compensation against the liable party. In this guide, we'll discuss how faulty automatic door accidents can occur and how you could claim for injuries caused by such incidents.
Get In Touch With Our Team
Do you have questions about claiming compensation for an accident caused by problems with an automatic door? You can contact UK Law for free specialist advice on a variety of different personal injury claims.
To get in touch with us online, you can fill in either our claim online form or our call back form. You can also message us through our online live chat service. To speak to us on the phone, you can call us on 020 3870 4868
Services And Information
Everything You Need To Know About A Faulty Automatic Door Accident
If you have been injured because of a faulty automatic door, there are several relevant questions you may be looking to answer. Who can be held responsible for the accident? Can I claim compensation for my injuries? How do I go about making a personal injury claim for this type of accident? We will answer these and other relevant questions within this guide.
We'll also take a closer look at the types of issues that can cause an automatic door to become faulty. We'll also look at the different injuries a faulty automatic door accident can cause. Potential compensation payouts for this type of accident and time limits for claiming are other topics we'll address in this guide. We'll also explain how solicitors fees can be conditional on the claim succeeding.
What Is A Faulty Automatic Door Accident?
A faulty automatic door accident can refer to any occasion where someone was hurt because an automatic door was faulty. When an automatic door is used at a place such as a supermarket, office building or retail outlet, it usually means the door gets used a lot by visitors. Automatic doors are easy to use and allow swift travel in or out of a building. They do, however, require frequent maintenance and repairs, especially if they are used frequently throughout the day.
There are different types of faults which an automatic door could develop which could lead to an accident. Potential issues could include the following: 
An automatic door doesn't open at all when expected

The door opens slower than expected

An automatic door opens part-way but then pauses or stops completely

The door opens but then suddenly closes before it's meant to, potentially trapping someone
A faulty automatic door is much more likely to cause harm if people nearby are not aware that there's an issue with it. If a fault develops in an automatic door and reasonable steps have not been taken to warn people about the faulty door avoidable injuries could occur. 
Safety Of Automatic Doors
In Britain, there are responsibilities that apply to owners and controllers of premises that feature automatic doors or gates. These responsibilities are explained by the Health and Safety Executive, which is Britain's national regulator for workplace health and safety.
Those who install automatic doors and gates have a responsibility to carry out their work in a competent manner that follows manufacturers' instructions. User instructions should also be provided to the client on how to use and maintain the door/gate.
Owners of commercial or industrial premises should ensure that automatic doors or gates on their premises are safe. Regular inspections and maintenance of such doors and gates should also be arranged. Fully qualified installers/maintenance contractors should be hired by owners to carry out this work if necessary. 
If an owner of an automatic door or gate thinks it has become unsafe, then they should take steps to make it safe as soon as possible. Reasonable steps should be taken by the owner to make people aware that it should not currently be used.
Liability For Faulty Automatic Doors
If those who operate premises are aware that a door is faulty then they can be liable if they do not take action to either repair or replace the door or cordon it off so that people are aware of the hazard. To have a valid reason in which to make a personal injury claim after a faulty automatic door accident, three important points must be addressed; 
The controller of the space where the automatic doors were faulty owed you a duty of care.
They breached this duty owed to you through negligence.
Your injury was a result of this breach of duty.
If an automatic door became faulty and caused an accident because of poor installation or maintenance, then the company/individual responsible for that work may be held at least partially liable for damages caused. Certain legislation in the UK addresses responsibility for the safety of others this includes:
This legislation obliges manufacturers and suppliers of workplace machinery to follow stringent safety requirements when providing new equipment across the country. Under these regulations, 'machinery' is a broad term that covers many items. 
Primarily, the regulations require manufacturers to make sure that their machinery is safe for use. This can be achieved with various steps including testing programmes and preparing technical files. Earning safety certificates for the machinery may be another requirement.
Other Regulations And Legislation
There is other legislation implemented that requires equipment to be safe and regularly maintained when in use:
Calculate Compensation For A Faulty Automatic Door Accident
Are you starting a personal injury claim? If so, you may have questions regarding the amount of compensation you could receive from this type of injury. There can be a lot of variety in the different compensation payments offered following a personal injury. How much you could be offered depends a lot on what injuries you've suffered. How severe your injuries are and how they've impacted your quality of life is also taken into account.
You can view the table below to see compensation payout brackets for different types of injuries which you may claim for following a personal injury. The figures come from the Judicial College guidelines. During a compensation claim, a solicitor may use this publication to help work out the value of your injuries.
| Injury | Severity | Compensation |
| --- | --- | --- |
| Brain or Head Injury | Very Severe | £264,650 to £379,100 |
| Brain or Head Injury | Moderately Severe | £205,580 to £264,650 |
| Brain or Head Injury | Less Severe | £14,380 to £40,410 |
| Face Injury - Scarring | Very Severe | £27,940 to £91,350 |
| Face Injury - Scarring | Less Severe | £16,860 to £45,440 |
| Face Injury - Scarring | Less Significant | £3,710 to £12,900 |
| Back Injury | Moderate | £11,730 to £36,390 |
| Back Injury | Minor | From around £2,300 to £11,730 |
| Neck Injury | Severe | £42,680 to in the region of £139,210 |
| Neck Injury | Moderate | £7,410 to £36,120 |
The injuries and payouts in the table above could cover you for 'general damages'. Compensation for general damages is designed to cover you for any physical and mental injuries which you may have experienced. 
Compensation for special damages
You may also receive compensation for 'special damages'. These types of damages refer to any financial losses which can be directly linked to the subsequent injuries you've suffered. Examples of financial losses which may be covered under special damages can include the following:
Any loss of earnings due to having to take unpaid time off while recovering from your injuries.

The cost of medical care you've received in order to treat your injuries from the accident.

The cost of repairing or replacing personal property which was damaged in the accident you were in.

Any travel expenses which were put specifically towards receiving the medical treatment you need to treat your injuries. For instance, you may have needed to take train journeys to receive health treatments you required. The cost of the train tickets could be covered under special damages.
You can contact UK Law to receive a more specific compensation estimate based on the details of your potential case.
Types Of Injuries Caused By A Faulty Automatic Door Accident
Accidents caused by a lack of automatic door safety can cause a wide range of different injuries. Which injuries are more likely depends on numerous factors. These include how exactly an automatic door turned faulty and the type of impact it has on a victim. Anyone who picks up any injuries after an accident involving an automatic door should get medical care as soon as they can.
Traumatic Head Injuries
An accident with a faulty automatic door could lead someone to impact the ground or a nearby obstacle with their head. Or the door itself may strike the head with a lot of force. In such circumstances, the accident could lead to a traumatic head injury which, in severe cases, leaves lasting damage on the brain and/or skull.
Traumatic Amputations
Particularly severe accidents involving a faulty automatic door could lead to damage which necessitates the removal of a limb or part of a limb. Fingers, arms, hands or legs could get trapped in a faulty automatic door. Depending on how heavy the door is and how much damage is caused, a limb that gets caught may have only a temporary injury. In the most unfortunate cases, the limb could be smashed and risk a severe infection unless amputated.
Spinal And Other Back Injuries
A faulty automatic door accident could cause a fall that damages the back of a victim, including their spinal cord. Depending on how heavy the fall is, the victim may get away with just some bruises on their back which can lead to full recovery. In more serious cases, however, a fall may be hard enough to dislocate discs in the back or cause spinal cord issues. Such damage can cause a lot of pain on a long-term or even permanent basis.
Wrist And Hand Injuries
An impact or fall caused by a faulty automatic door could lead to sprain or fractures to a victim's hands or wrists. These upper extremities could get hurt while a victim is reacting to a fall caused by a faulty automatic door. Alternatively, a wrist or hand could get injured by getting caught in an automatic door that closed when it wasn't meant to.
Foot Injuries
Similar to injuries involving the hands or wrists, a person's feet may get sprained or fractured if caught by a faulty automatic door. This type of accident could cause a trip that leads to a heavy impact on a foot, or a foot may get jammed in a door that's both heavy and faulty.
Nose And Facial Injuries
The nose and face are other areas of the body which could be damaged by a faulty automatic door accident. A victim may hit their face into a door if it doesn't open like expected or suddenly shuts unexpectedly. Alternatively, the faulty door could cause a victim to trip and the impact from their fall could cut and/or break their nose and bones around the face.
Time Limits For Claims Against An Occupier Of A Property
There is a personal injury claim time limitation. A claim usually has to be started within three years of when the incident occurred. Or from the date of knowledge which can be the date you discovered your injuries were caused by negligence. 
In certain circumstances, the time limit for starting a claim could be put on hold, at least on a temporary basis. For instance, if a child is injured by a faulty automatic door, then the time limit for claiming is frozen until the child turns 18. Anyone below the age of 18 is unable to start a claim on their own behalf. However, a representative could potentially start a claim on behalf of a child. This type of representative is formally known as a litigation friend.
Another way the time limit for claiming could become frozen is when the injured party lacks the mental capacity to claim on their own behalf. A litigation friend could possibly start a claim on behalf of someone in this condition. If at some point the injured party recovers enough mental capacity to act on their own, then the time limit for starting a claim begins from the day this happens.
I Was Injured In A Faulty Automatic Door Accident, What Should I Do?
If you are injured by an accident involving a faulty automatic door, then the first priority should be getting the medical attention you require for your injuries. If the accident happens at a public building (like a shop) or your place of work, make sure the accident is reported to the relevant manager. While receiving medical treatment, it's worthwhile getting evidence of any treatment you receive if you intend to pursue a personal injury claim. Medical evidence could include medical notes and discharge letters.
Once you have sufficiently recovered from your injuries, you should then start gathering other evidence to support your claim. Other evidence could include witness contact details, CCTV footage and photos related to your injuries and accident.
After you've finished gathering evidence, you may then want to get in touch with a solicitor who can support your potential claim. Preferably, you'll want to hire a solicitor who has previous experience in handling claims involving faulty automatic doors or similar circumstances. If your solicitor has enough confidence in your case to support it, you can then sign an agreement with them. From this point, your solicitor will guide you through all the following steps needed to process your claim. You can contact UK Law if you have any questions about starting up a compensation claim.
Claim For Faulty A Automatic Door Accident On A No Win No Fee Basis
No Win No Fee agreements or Conditional Fee Agreements can be used to help fund the work your solicitor does when representing your case. If a solicitor agrees to support your claim, then you may sign a No Win No Fee agreement with them. This type of agreement can deliver several financial benefits, such as the following:
No legal fees will need to be paid upfront to your solicitor.

There's no requirement to pay legal fees during the process of your claim as well.

If your claim does not succeed, you will not be required to pay your solicitor's legal fees. This gives your solicitor lots of motivation to work hard on your case since they face extra risk.
If your No Win No Fee claim succeeds, then your solicitor will deduct a small percentage from your compensation to cover their legal fees. The amount they can charge is capped by law.
Contact Us For More Help
You can contact UK Law for more advice and support on personal injury claims. Our advisors can provide insight into a wide variety of compensation claims. You can contact us through the following methods:
Related Services
You can check out our personal injury claim guides on other types of accidents that may occur in a workplace or public area. Other guides available include the following:
A Guide On How To Claim For An Accident In A Public Place
This guide gives an overview of how you may be able to claim compensation for a variety of different accidents which may happen in a public place.
A Guide To Claiming For An Accident In A Shop
In this guide, we look at the different types of accidents which can happen in a shop. We also explain how you may be able to claim compensation for an accident within this environment.
What Are My Rights After An Accident At Work In The UK?
This guide discusses the legal rights designed to protect you and other employees following an accident at work.
We can advise on a wide variety of different personal injury claims, such as the following below:
How To Make Food Allergy Claims
A Guide To Car Accident Claims
How To Sue A Hairdresser For Cutting You
FAQs About A Faulty Automatic Door Accident
In this final section of our guide, we've answered some frequently asked questions regarding accidents caused by faulty automatic sliding doors.
What happens if you get injured in a store?
Have you been injured by a supermarket door accident or a faulty door in a similar type of store? If so, then you may be entitled to claim compensation. It will depend on the circumstances of the incident and the evidence available if another party was liable. To successfully claim, you'll need to establish with evidence how the store (or another party) acted negligently and how this contributed to your accident and injuries.
How do you report an accident in a shop?
If you have an accident in a shop, you should report it to the store's management. Make sure that the accident is recorded accurately in the store's accident log book.
Thanks for reading our guide about compensation claims for a faulty automatic door accident.
Writer PD
Checked by EI.