Who Has Responsibility For Recording Injuries At Work?
By Meg Berry. Last updated 13th January 2022. No matter what type of accident at work you suffer injuries in, it's vital that someone records it. Whether you're intending on making an injury claim against your employer if you hurt yourself at work, a workplace accident report is often a legal requirement. But who has the responsibility for recording injuries at work, what are those responsibilities and does an accident report log affect your ability to make a personal injury claim?
This guide answers common questions about who records injuries at work, and how an accident report could help you make a claim for compensation against your employer if the accident was their fault.
Get In Touch With Our Team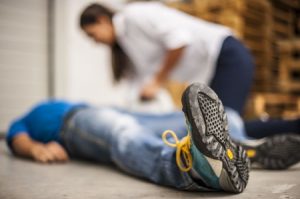 At UK Law, we're here to offer expert guidance and advice to those who've suffered a personal injury that wasn't their fault.
As well as giving you a wealth of useful information in this guide, we could also help you start your claim. Our advisors could answer any questions you have about your specific case.
If we believe you could have a strong case, our panel of lawyers could help you with your claim on a No Win No Fee basis. Why not contact us to find out more? You can reach the team on:
Telephone: 020 3870 4868
Claim online: Fill out your query using our online form.
Live chat: Speak with an advisor using the live chat function below.
Find More Information About Who Has The Responsibility For Recording Injuries At Work
Everything You Need To Know About Responsibility For Recording Injuries At Work
If you're interested in who has the responsibility for recording injuries at work, this might be because you or someone you know has been injured at work.
Or, you might be interested in finding out who reported your workplace accident, and where details of it would be so that you could use the report as evidence in a personal injury claim.
After all, details of the work-related incident that caused your injury recorded in an accident book could serve as useful evidence in such claims.
If you're claiming compensation for an accident that wasn't your fault at work, you would need to prove that the accident at work occurred. The accident report could assist with this.
But you would also need to provide evidence that your employer had breached their duty of care towards your health and safety at work, and that you were injured as a result.
Again, the accident book report could assist with some of this, but you would also need other evidence. We will explore this in a section further down in our guide.
How This Guide Could Help
In this guide, you'll find answers to common questions surrounding who is responsible for reporting accidents at work.
In the sections that follow, we offer insight into who needs to be notified following an accident in the workplace, and what should be included in an accident at work log.
Further to this, we explain what type of workplace injuries people could sustain.
We also provide insight into compensation payouts and finding a solicitor to help you fight your claim.
What Is A Reportable Accident Under RIDDOR?
There are many different types of accidents that could happen at work. Some accidents, illnesses, diseases and incidents are reportable under The Reporting of Injuries, Diseases and Dangerous Occurrences Regulations 2013, also known as RIDDOR.
What Are The RIDDOR Regulations?
RIDDOR is the legislation that requires people who control work premises and employers to keep records of certain reportable incidents. For instance:
Incidents that could cause harm to people (dangerous occurrences)
Specified diagnosed occupational diseases
Accidents related to work that cause specified injuries
Work-related accident deaths
Gas incidents
If you're wondering how to report injuries in the workplace, you could speak with your employer. Alternatively, contact our team on the number above.
What Accidents And Incidents At Work Are Reportable?
We have explored the incidents and injuries that must be reported under RIDOOR in the following sections.
Work-Related Accidents
For the avoidance of doubt, the Health and Safety Executive (HSE) states that workplace accidents are identifiable, separate and unintended incidents that cause physical injury to a person/persons.
Physical assaults, such as those causing a broken jaw, are included in this.
However, under RIDDOR, not all accidents need to be reported. Instead, only work-related accidents that result in a specific work-related reportable injury must be notified to the HSE. These include:
Death
Scalpings that require treatment in hospital
Thumb, arm, leg, finger, hand, toe or foot amputations
Fractures, unless they are to the toes, thumbs or fingers
A permanent reduction in or loss of sight
Crush injuries causing damage to internal organs
Head injury or asphyxia causing unconsciousness
Enclosed space induced injury which leads to heat-induced illness, like hypothermia
Enclosed space induced injury which leads to the injured party needing resuscitation or treatment at the hospital for over 24 hours
Serious burn injuries that cover over 10% of the injured party's body, or that damage the respiratory system, eyes, or vital organs
Injuries that lead to people being away from work or unable to perform their duties for 7 days consecutively following the incident
Dangerous Occurrences
Specified 'near misses' – these are incidents that have a high potential to cause death or serious injury. For example, electrical incidents causing explosions or fires.
You can find details of other dangerous occurrences on the HSE website.
Reportable Gas Incidents
Gas incidents that must be reported include incidents that involve someone being treated in hospital, dying or having lost consciousness due to exposure to gas.
If you're unsure who is responsible for making accident reports for a gas incident, contact our team for more information.
Who Is Responsible For Reporting Incidents In The Workplace?
Depending on the accident and the status of the person injured, different people may have the responsibility for recording injuries at work. Generally, though, only 'responsible persons' such as an employer, self-employed person or person in control of the work premises should report accidents under RIDDOR.
We have explored who is responsible for reporting incidents in more detail in the sections below.
Employers Or Persons In Control Of A Premises
If you are an employer or a person in control of premises, the rules are as follows:
Employers must report specified work-related injuries, near misses and diseases, as well as all work-related deaths.
Those who are in control of premises must report specified injuries to self-employed people and members of the public on your premises, dangerous occurrences (including some near misses) as well as work-related deaths.
Self Employed Accidents And Injuries
If a reportable accident happens while you're working on domestic premises or in your own premises you should make the accident report.
Similarly, if a doctor tells you that you have a work-related disease or illness, you have the responsibility for recording injuries at work of this type.
Should you suffer injuries while you're self-employed on someone else's premises, they have the responsibility for reporting.
Those Working For Employment Agencies
If the employment agency is an agency worker's legal employer, they should report injuries at work.
In cases of self-employed workers, where the accident occurred on the premises of a host, the host should report as the person in control of the premises.
If a person is self-employed and conducts agency work on their own premises, they should report an accident at work.
Accidents And Injuries Working Offshore
For offshore workplace accidents, the Offshore Installations and Pipeline Works (Management and Administration) Regulations 1995 would apply. This would involve the duty holder having the responsibility for recording injuries at work.
Gas Suppliers And Engineers
Importers, suppliers, fillers or conveyors of flammable gas who learn that someone has been taken unconscious, died or been taken to hospital due to the gas, the conveyor, filler, supplier or importer must report such incidents.
Gas engineers registered with the Gas Safe Register or their employers must report gas appliances and fittings that they believe to be dangerous if they believe they could cause someone harm.
Responsibility For Recording In Special Cases
Special cases could include wells, mines, pipelines and quarries. The rules are:
The manager of a mine has the responsibility for reporting injuries at work.
An operator of a quarry is responsible for reporting an accident at work.
For a closed tip, the mine owner associated with the tip should report.
If a dangerous occurrence happens at a pipeline, the operator has the responsibility, whereas at a non-water well, the licensee, in accordance with Section 3 of the Petroleum Act 1998 or the appointed supervisor, has responsibility.
Who Should Be Notified Following An Accident In The Workplace?
If an accident at work causes an injury to someone, and it is a reportable incident under RIDDOR, the responsible person should record it in the accident book. Those who have responsibility for reporting injuries at work should report the injuries to the HSE. They could do so online or by telephone.
In terms of notifying other people after an accident in the workplace, it would depend on the circumstances of the accident or injury. In some cases, an accident report may need to be sent to a regulator, who may also want to investigate the incident.
Additionally, other people who may need to be notified of a workplace accident may include:
The first aider
Police (if this incident included criminal acts)
Fire service – for incidents involving explosions or fire
Ambulance – in order to get urgent treatment
The injured party's next of kin
Accident At Work Compensation Calculator
If an employer has not taken reasonable care to protect your health and safety at work, they could be held liable for a workplace injury and you could make a personal injury claim against them.
Under Section 2 of the Health And Safety at Work etc. Act 1974, employers must take reasonable steps to protect workers' health and safety.
If they fail in this legal duty, you could be eligible to claim compensation as part of your personal injury claim. There may be two heads to your compensation settlement, general and special damages.
Special damages allow you to claim any out of pocket expenses, such as loss of earnings, care costs, medical and travel expenses.
General damages allow you to claim for any physical or psychological injuries sustained in an accident at work. But how do courts and lawyers arrive at compensation amounts? We have provided information on this question below.
Evidence Of A Work-Related Incident
Your personal injury lawyer would require evidence of any special damages caused by your injuries, such as bank statements, payslips and bills.
They would also need medical evidence to calculate the value of your injuries for general damages. You would, therefore, need to attend an independent medical assessment as part of the claim.
A medical professional would examine you and put together a report which details your injuries. This could be used to prove that your injuries were caused by the accident.
Lawyers and courts could also use this alongside the Judicial College Guidelines to help value your claim.
We have created the table below to give some idea of payout amounts for certain injuries. If you don't see yours here, you could call our team for further insight.
| Injury Site/Type | Severity level | 2019 JCG Guideline Bracket |
| --- | --- | --- |
| Work-related cases of upper limb disorder | Symptoms that resolve within 3 years | £8,110 to £10, 090 |
| Neck | Moderate (i-iii) | £7,410 to £36,120 |
| Back | Moderate (i-ii) | £11,730 to £36,390 |
| Pelvis/Hip | Moderate (i-ii) | £11,820 to £36,770 |
| Arm | Less severe (c) | £18,020 to £36,770 |
| Leg | Moderate (iv) | £26,050 to £36,790 |
| Leg | Very serious (ii) | £51,460 to £85,600 |
| Back | Severe (i-iii) | £36,390 to £151,070 |
| Arm | Severe (a) | £90,250 to £122,860 |
Responsibility For Recording Injuries At Work To Non-Workers
If a work-related accident occurs and a non-worker is injured and needs to be taken to the hospital for treatment, this must be reported. The person who has the responsibility to report injuries at work does not have to establish what kind of treatment was required.
If someone is taken to the hospital as a precaution, there is no need to report this if there is no apparent injury.
If accidents happen in a hospital, those with the responsibility to report only need to report if the injury is 'specified' as per the RIDOOR requirements outlined earlier in this guide.
Reporting Occupational Diseases
Under RIDDOR, the person who has responsibility for recording injuries at work must also report incidents of occupational disease. These could include:
Hand-arm vibration syndrome, or vibration white finger
Occupational dermatitis
Carpel tunnel syndrome
Severe hand or forearm cramp
Occupational cancer such as mesothelioma
Noise-induced hearing loss, also known as industrial deafness
Tenosynovitis or tendonitis in the hand or forearm
Diseases caused by exposure to a biological agent at work
If you develop an occupational disease due to your employer's failure to protect your safety and health at work, you could be eligible to claim compensation.
Why Record And Report Injuries At Work?
If you're wondering why there is a requirement to record and report injuries at work, there are several benefits to doing so. They include:
Keeping a record of injuries means that people can spot patterns, which could lead to them taking action to reduce incidents
They could act as proof of unsafe practices, or unsafe workplaces
They could serve as evidence in personal injury claims
By reporting injuries, you could be preventing the same thing from happening to someone else
No matter who has responsibility for recording injuries at work, if an accident occurred due to your employer's failure in their duty towards you, you could be eligible for compensation.
Claiming from an employer should not cause you problems at work as there is legislation in place to protect you. However, if you do face issues such as losing your job for making a claim, you could claim for unfair dismissal.
If it is your employer's fault you suffer injuries, you deserve to receive compensation for your suffering, pain and loss of amenity as well as for your associated expenses. For more information on how to start your claim, contact our team on the number above.
Are There Time Limits To Claim For Injuries At Work?
Time limits apply to most workplace accident claims as per the Limitation Act 1980. The personal injury claims time limit is generally 3 years. The three years could start from the accident date, or the date you gain the knowledge that your employer caused or contributed to the injury. However, some exceptions to this limit could apply:
Child accident claims – if a worker aged under 18 sustains injuries, a litigation friend could claim on their behalf. They would have up to the injured person's 18th birthday to claim. Once a child turns 18, if no one has claimed for them, they could launch their own claim. They would have until their 21st birthday to do so.
Mental capacity – if someone is deemed to not have sufficient mental capacity, there is no time limit that applies to claims made on their behalf. However, if they regain such capacity, the 3 year limitation period could apply from the date they regain capacity.
If you're unsure about what limitation period could apply to your claim, please don't hesitate to contact us. We could assess your case and advise you accordingly.
I Suffered An Injury At Work, What Should I Do?
If you sustain a workplace injury, the injury should be reported to the person who has responsibility for recording injuries at work. But there are other steps you might also want to take or get someone else to help you with if you're unable:
Get medical help – it would be wise to seek advice and treatment for managing your injury. This could also serve as a record of the accident.
Note witness details – if anyone saw what happened, ask for their contact details. They could provide a statement that could help your claim.
Take photographs – it could be worth photographing the scene of the incident as well as your injuries.
Get legal advice – we could help provide you with guidance and support to make a claim for compensation. We could even connect you with our panel of lawyers who could fight your case for you.
Claim For Injuries At Work On A No Win No Fee Basis
No matter who has the overall responsibility for recording injuries at work, if you suffer injuries due to your employer's negligence, you may want to make a personal injury claim.
You might be pleased to find that if a solicitor takes your case under No Win No Fee terms, you would only pay them at the end of your claim if your case was successful.
How Do No Win No Fee Claims Work?
When choosing to hire a solicitor under a No Win No Fee arrangement, such as a Conditional Fee Agreement (CFA), your lawyer would require you to sign an agreement before they worked on your claim.
Under the CFA, you and your lawyer would agree that you'd pay them a small legally capped percentage of your compensation if they achieved a payout for you (the success fee).
Most importantly, you wouldn't pay the success fee if your lawyer didn't get you any compensation.
When your solicitor receives the signed agreement, they could start work on your claim for you. They would approach the liable party and attempt to negotiate a settlement. If the liable party disputed your claim, your solicitor could help you take them to court to get the award you deserve.
Not all UK law firms have lawyers that work under these terms, however. If you would like to connect with a personal injury solicitor who does, we could help you.
Our panel of personal injury solicitors could take your case forward on a No Win No Fee basis. Whatever you decide, we would be happy to check your eligibility to claim for free and answer any questions you might have with no obligation to use our service.
All you need to do to begin is contact us using the following:
Telephone: 020 3870 4868
Claim online: Fill out your query using our online form.
Live chat: Speak with an advisor using the live chat function below.
Other Information
Health and Safety at Work etc Act 1974 – Here, you can read the act in full.
Good Practice Guidelines – The HSE has produced useful guidance on how employers can protect their employees.
Check Your Employment Status – If you're not sure whether you're employed, an agency worker or self-employed, you can find out here.
Guidance if no one witnessed your accident – We've produced a guide explaining more about witnesses of accidents.
What Are My Employer's Responsibilities? – You can read what responsibilities your employer has after a work accident here.
Self-Employed Accident At Work – Read our guide for further information on your rights as a self-employed worker.
FAQs About Who Has Responsibility For Recording Injuries At Work
What Information Should Be Reported And Recorded?
No matter who is responsible for recording injuries at work, they should do it properly. The information that people must record includes:
The place, date and time of the incident.
The ill or injured person's name and job title.
Illness or injury details and whether someone gave first aid. If so, reports should include what type of first aid.
What happened to the ill or injured person? (did they go home, go to the hospital, or go back to work)
The person who made the accident report log's name and signature.
Thanks for reading our guide on who has the responsibility for recording injuries at work.
Guide by JJ
Edited by BER