An Employer's Responsibilities Following a Workplace Accident
By Lewis Aaliyah. Last Updated 2nd June 2023. Welcome to this guide which explains accident at work employer's responsibilities in the UK. Do you know your employer's responsibilities after a workplace accident? Would you know if you had an accident at work, an employer has a responsibility to report it in certain instances?
This guide aims to help you understand your employer's responsibilities in regards to protecting your health, safety and wellbeing in the workplace. Some of the boundaries surrounding what your employer should and shouldn't do following a workplace injury can be confusing. We could clear them up for you and aid you in comprehending them more clearly.
If you've suffered an accident at work that was the fault of your employer, then call us today. Read on for our contact information and for more information about whether you could receive compensation following an accident in the workplace.
Get In Touch With Our Team After A Workplace Accident
There are a number of ways you can get in touch with us. Here are the main three:
Call us on 020 3870 4868.

Chat to us using the live chat feature in the bottom right corner.

You can also fill out our

claim online

form.
Services And Information
What Are Accidents In The Workplace?
Accidents in the workplace can occur through your own or someone else's negligence. If the accident occurs because your employer breached their duty to protect your safety and you're injured, you could make a claim. Such accidents could include:
A fall down stairs, resulting in a broken ankle because an employer was aware of it but didn't take the opportunity to fix a broken handrail.
An ice slipping incident resulting in a broken wrist because an employer didn't properly risk assess a hazardous walkway or lay down grit.
There are many ways in which you could be injured in the workplace. Your employer should report certain workplace accidents and injuries through RIDDOR. Additionally, you could report the incident yourself to the Labour Force Survey.
What Accidents In The Workplace Can You Claim For?
Employers' responsibilities are rarely limited to one specific aspect of the workplace. The Health and Safety at Work etc. Act 1974 outlines the ways that the safety of the workplace can generally be achieved.
Employers in various industries will often have different injuries and accidents to safeguard against. Some jobs may have greater inherent risks involved, whilst some will be much safer by comparison.
Slips, Trips and Falls 
This is a common way to be injured in the workplace, as you can see from the HSE's 2020-21 figures below.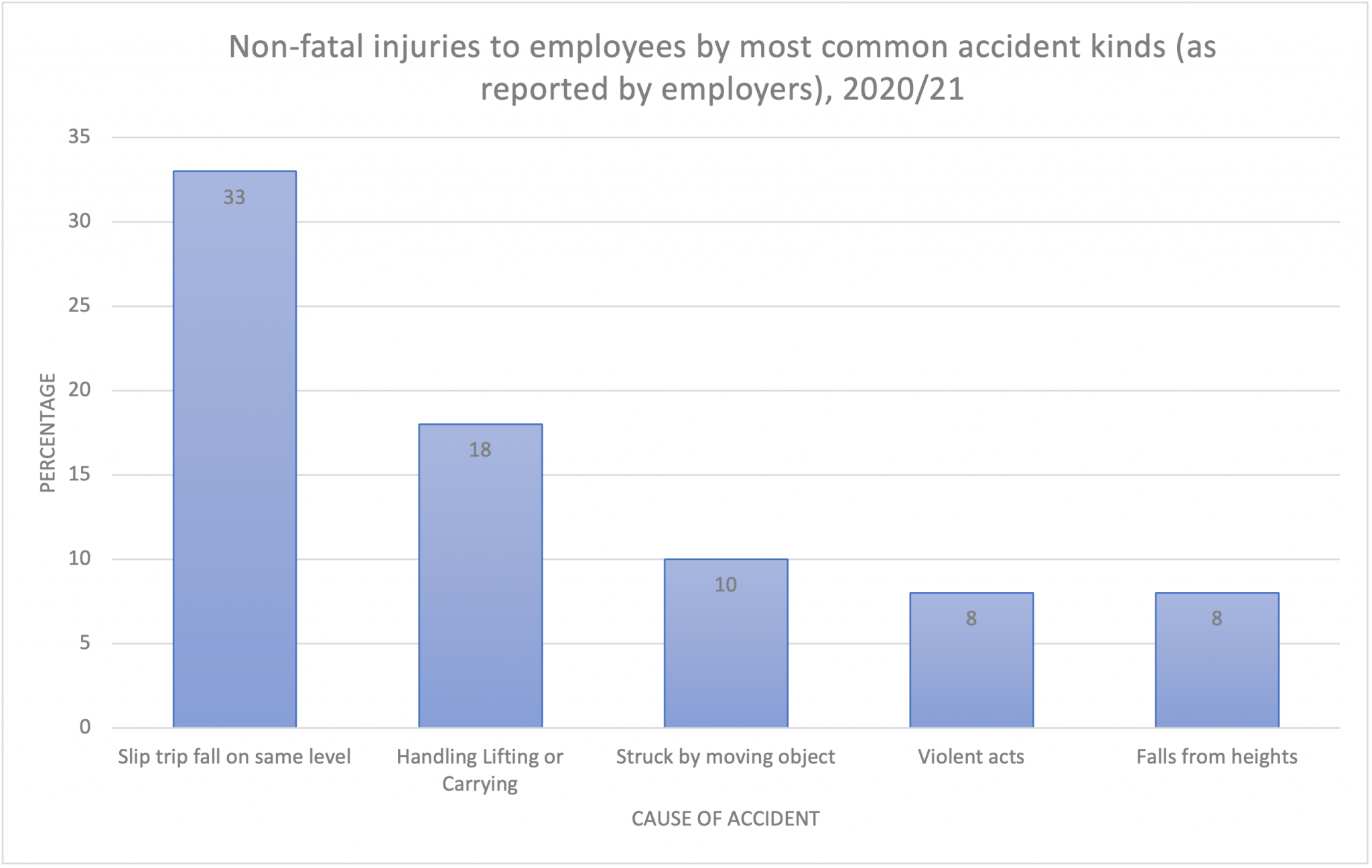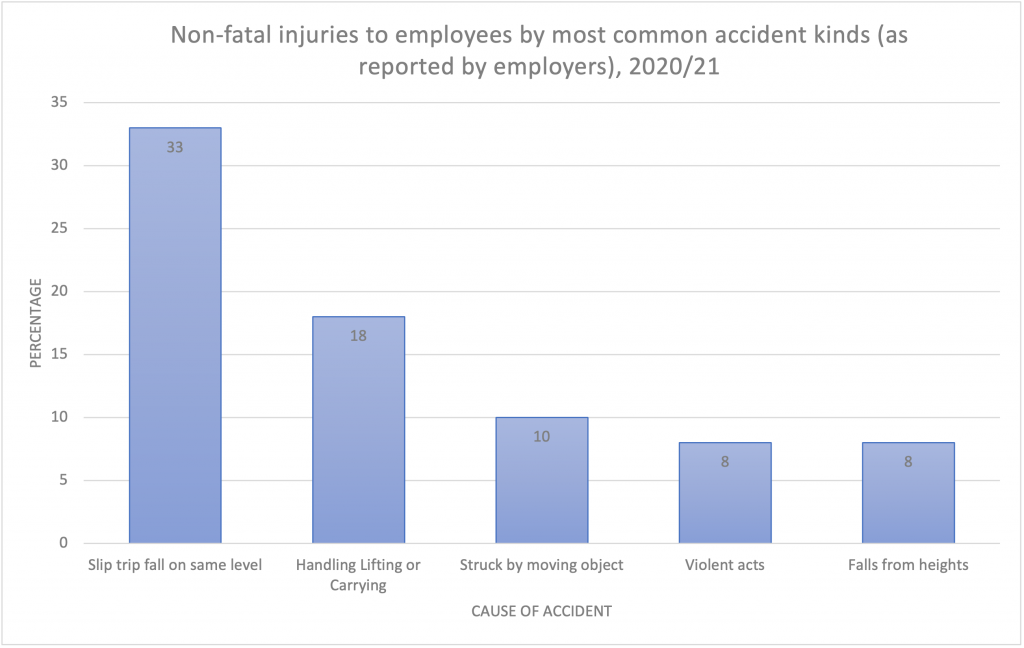 Falls on the same level can occur due to a number of reasons. They could take place due to poor or unsafe flooring conditions. For example, if a floor has been mopped then a wet floor sign should be put in place to warn passersby. If there is not clear and present signage, someone could walk over the wet area and fall. 
Falls such as this can cause injuries like:
Bruising

Soft tissue damage

Sprains

Fractures
Suffering an injury following a slip and fall accident at work could often be avoidable. It is the responsibility of your employer to ensure the safety conditions of all walking areas in the workplace.
Faulty Workplace Equipment 
Many employees require specialist equipment to properly perform their job. Industries that use heavy machinery can be particularly hazardous. For employers, their responsibilities include the supply and adequate maintenance of such equipment.
If your employer has not maintained or risk assessed equipment appropriately, this could lead to a workplace accident that you could hold them liable for. To find out more, why not get in touch today?
Work Road Traffic/Vehicle Accidents 
For employers, their responsibilities when staff are injured at work can extend to ensuring they have the appropriate requirements to operate the vehicle they require them to use for work purposes. This could include an industrial vehicle like a forklift truck, or even just a car.
If an employee is injured at work due to a fault with a vehicle, this too could also be the responsibility of the employer. That is, providing the employer failed to ensure adequate risk assessments were carried out. Any responsibilities being neglected could lead to a personal injury compensation claim.
Accident At Work Employer's Responsibilities For UK Workers – Repetitive Strain Injuries
Some working roles can involve tasks that require repetitive actions. In some instances, it is the responsibility of the employer to make sure workers are being properly rested to avoid repetitive strain injuries.
Accident At Work Employer's Responsibilities For UK Workers – Manual Handling Injuries
The Manual Handling Operations Regulations 1992 contains detailed procedures that must be followed when engaging in manual handling. Manual handling and lifting heavy loads cannot always be avoided in certain roles. If an employee needs to engage in strenuous activities such as these, they should receive the proper training.
An employee could be injured due to inadequate training. As a result, it could lead to a claim being filed.
How Much Could I Receive For an Injury in the Workplace?
To calculate an amount of compensation to award you for your workplace injury, legal professionals will look at:
The pain and distress your injury may have caused you
The financial losses your injury has led to
For the pain and distress of your workplace injury, you could be awarded an amount of compensation known as general damages. To give you an idea of general damages, we have included a table featuring injuries that a person could suffer in a workplace accident alongside potential awards for general damages they could receive. The table uses figures found in the 2022 edition of the Judicial College Guidelines which creates compensation brackets using previous court claims.
Injury
Comments
Amount
Psychiatric Damage Generally (a)
Severe problems with ability to cope with life and a very poor prognosis.
£54,830 to £115,730
Foot Injuries (b)
Amputation of one foot.
£83,960 to £109,650
Wrist Injuries (a)
Resulting in complete loss of function.
£47,620 to £59,860
Injuries to the Elbow (b)
Less severe elbow injuries causing impairment of function but not involving major surgery or substantial disability.
£15,650 to £32,010
Fractures of Cheekbones (i)
Serious fractures requiring surgery and having long-term consequences.
£10,200 to
£15,780

Achilles Tendon (d)
Minor injury resulting in some damage to the tendon.
£7,270 to
£12,590

Fractures of Jaws (iii)
Simple fracture and complete recovery.
£6,460 to
£8,730

Fractures of Nose or Nasal Complex (iv)
Simple undisplaced nose fracture with full recovery.
£1,710 to
£2,520

Neck Injury (c) (iii)
Minor neck injury where a full recovery is made within three months.
Up to £2,450
Special Damages For An Accident At Work
After an accident at work, you may also be eligible to claim special damages as part of your personal injury claim. This compensates you for the financial losses you have suffered due to your workplace injury.
However, to be able to claim special damages, you will need to provide proof of your losses. Bank statements, receipts and invoices could all be used as evidence.
Special damages could compensate you for:
Travel expenses, such as taxi fares to and from medical appointments.
A loss of earnings if you've required time off work to recover from your injuries.
Medical expenses, such as having to pay for prescriptions.
Get in touch with our advisors today to see if you could be eligible to make a personal injury claim. If they think you may have a strong case, they could connect you with one of the solicitors on our panel.
Your Employer's Duty Of Care To Keep You Safe At Work
As outlined in the Health and Safety at Work etc. Act 1974, your employer has a duty of care to keep you safe at work. By not taking reasonable steps to ensure your working environment is as safe as possible while you perform your role, they could be seen to be acting negligently. 
However, it is not entirely down to your employer to make sure that you don't get hurt at work. Part of the responsibility rests with you, the employee, as well. For a lot of employers, their responsibilities when staff are injured at work may have already been fulfilled. In other words, just because you have been injured in the workplace does not necessarily mean that your employer was the one at fault. 
If an employer has taken every reasonable step to make your working environment as safe as possible, they could suggest that your negligence caused your injuries. In some cases, your actions may have contributed to the injuries, though your employer could still be liable. If this is determined to be the case, then any compensation you receive could be reduced to account for your share of responsibility.
If you're unsure as to whether your injury was caused by a breach of duty of care, then get in touch with us today. Our advisors are ready and waiting to help clarify the situation for you and discuss your employer's responsibilities.
Employer's Duty To Record And Report Accidents In The Workplace
Employers should have an accident book at their place of work. Your employer has a responsibility to record injuries in the workplace. Details of how the accident occurred, including any signs of injury, are just some of the pieces of information that should be recorded in the accident book.
The accidents that lead to certain injuries must be reported through RIDDOR by the employer too. The list of reportable injuries includes:
Fractures other than fingers, thumbs and toes (that are diagnosed by a doctor)

Amputations

Serious burns

Loss of consciousness following a head injury or asphyxia
Injuries that have led to sight loss
Crush injuries to the head or torso that cause internal organ damage
Scalping that requires hospital treatment
If you've suffered a workplace injury that wasn't your fault and are concerned that your employer's responsibilities haven't appeared to include logging your injury, get in touch today.
What is an accident report book?
According to the HSE, the accident book is an essential document for workplaces with ten or more employees where the details of workplace accidents and injuries should be recorded.
Any reports in this book could also be used as key evidence for your claim.
What should be recorded in an accident book?
While only certain accidents and injuries need to be reported under RIDDOR, it's good practice for all workplace incidents to be recorded in the accident book.
Is it illegal to not have an accident book at work?
Only workplaces that have 10 or more employees on site are legally required to keep an accident log book.
Employer's Responsibilities After An Accident At Work
Following an injury in the workplace, your employer might want to ensure:
The accident log book is filled in.
Injuries that are reportable under RIDDOR are reported.
Call our advisors if you suffered an injury in a workplace accident caused by employer negligence, even if the accident log book wasn't filled in. We can also discuss your employer's responsibilities after an accident at work.
Do Employers Have To Give You Sick Pay?
"I had an accident at work does my employer have a responsibility to give me full pay?"
If you are injured in an accident at work, you might have to take time off work to recover. If you do, you may not receive the full amount of pay. If you could prove that your accident and injuries were due to your employer's breach of duty of care, you could claim loss of earnings.
Your employer must pay you statutory sick pay (SSP) if you're too injured or ill to work and you're eligible for it. At the time of writing, it reaches a maximum of £96.35 per week and is only payable for up to 28 weeks. There are certain factors that must be met to qualify for this payment, such as your average weekly earnings.
Employers may offer contractual or occupational sick pay. This could provide you with longer-term, full sick pay. However, this is not lawfully required. You can check your contract or ask your employer to see if they supply this.
How Much Time Do I Have To Claim For A Workplace Accident?
Claiming for an injury sustained in a workplace accident is a time-sensitive affair. In some circumstances, the time window to file your claim can function slightly differently.
General Accident Claims
There is a 3-year time limit for many personal injury claims. This means that you could have 3 years from the date of the injury to file a claim.
In some cases, you may not be aware of an injury or illness sustained through no fault of your own in a workplace. You may only become aware of the injury at a later date. In this case, you have 3 years from the date your symptoms are diagnosed as work-related or are given enough information to make the connection between your employment and your condition. This is known as the date of knowledge.
This can be difficult to prove. Therefore, it's important to gather medical information to back up your claims.
Child Accident Claims
The 3-year window works a little differently when claiming for a child injury. Anybody under 18 cannot pursue their own claim. Because of this, the 3-year time limit does not apply until their 18th birthday. Prior to this date, the claim could be made on their behalf by someone known as a litigation friend. A litigation friend can be a parent, guardian, friend or even a legal representative.
Alternatively, the victim themselves can pursue the claim after they turn 18. 
Claiming For Those Mentally Unable to Do So For Themselves
If the workplace accident has left the claimant in a reduced mental state (such as in a coma), then the 3-year window is frozen until they return to the mental state they were in before the injury. A litigation friend, however, could claim on their behalf.
If you need any help understanding your employer's responsibilities and how this could affect your claim, get in touch.
I Suffered An Accident At Work, What Should I Do?
There are a number of steps that could be vital to increase your chances of success further down the line. 
Seek medical care

: 

Making sure you receive medical treatment should take priority initially. Treatment may lead you to have access to medical records for evidence during your case.

Gather other evidence: Photographs of the hazards that caused your injury can also be important. Written witness statements and visual records of your wounds are also examples of relevant evidence.
Seek legal advice: This isn't necessary but is highly recommended.

A specialist personal injury solicitor should be able to help you take your next steps. Speaking to our advisors may result in you being put in touch with our panel of lawyers.
Injury In The Workplace – No Win No Fee Claims
A Conditional Fee Agreement is a form of No Win No Fee arrangement that is offered by some solicitors. As per this type of contract, you typically won't have to pay them for their services upfront or whilst the claims process takes place. 
Additionally, if your claim for a workplace injury is not successful, you won't have to pay your solicitor for their work. However, should you successfully claim compensation after negligence in the workplace, a legally capped success fee is deducted from your compensation. The Conditional Fee Agreements Order 2013 caps this amount.
Our panel of solicitors could offer you this type of No Win No Fee agreement following an accident at work in the UK. If you would like to be connected, speak to our advisors and they'll arrange a free consultation to determine if you have an eligible claim.
Below are a few ways you can contact us:
Other Information Related To Accident At Work Employer's Responsibilities For UK Workers
Here are some additional resources regarding this subject.
Crane Injury Claims – Compensation For Accidents At Work
How Do I Claim For An Electric Shock At Work?
Scaffolding Accident At Work – Can I Claim?
I Stood On A Nail At Work – Can I Claim?
How Much Could You Claim For A Roofer Accident At Work?
I Tripped Over An Obstruction At Work – Can I Claim?
How To Make Workplace Ladder Accident Claims
When Could You Make A Workplace Forklift Accident Claim?