How Do You Prove Employer Liability?
By Danielle Fletcher. Last updated 28th April 2023. Welcome to our guide looking at employer liability. While you're working, your employer has a responsibility to ensure your health, safety and wellbeing as much as is reasonably practical. This duty comes from several pieces of legislation which we'll explore throughout our guide.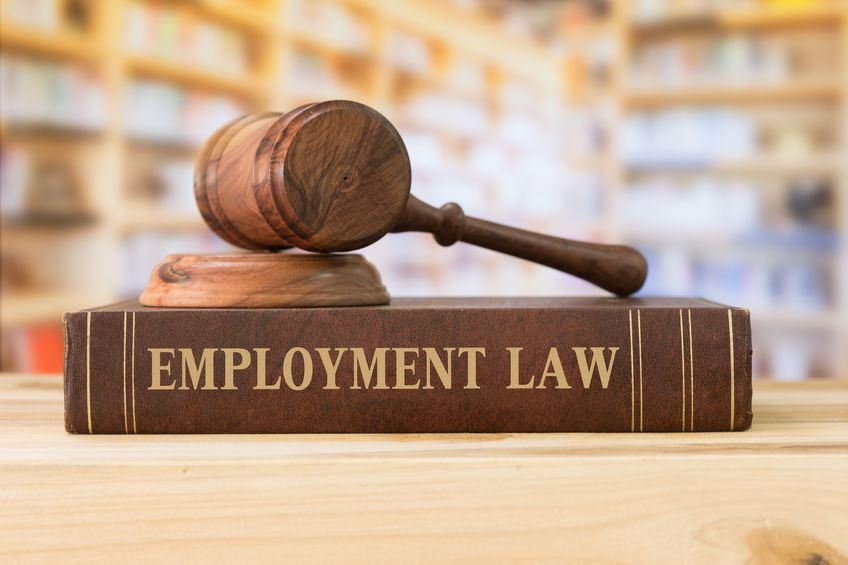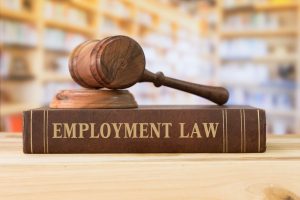 Accidents at work or workplace accidents can happen for all different kinds of reasons. In this particular guide, we are concentrating on accidents that have happened because of employer negligence.
For your employer to be liable for your suffering your case must meet certain criteria. 
Not all accidents that happen at work will mean employees are eligible to make a personal injury claim. In this guide, we will look at the duty of care, including how it could be breached through unsafe practices.
Also, we will look at the types of damages that are awarded in personal injury cases and how compensation is calculated. To conclude we examine how solicitors can be funded with No Win No Fee Agreements.
However, if you do have any questions after finishing this guide, or if you would like to start a claim today, you can get in touch with our team for free legal advice.
Get In Touch With Our Team
There are several ways you can get in touch with us.
Call us on 020 3870 4868
Chat to us using the live chat function in the bottom corner
You can claim online through our website
Find Out More About Employer Liability In The Sections Below
Everything You Need To Know About Employer Liability For An Injury
Employer liability refers to your employer's responsibility for your safety at work. If you suffer an injury at work, you need to prove that your employer's negligence caused it to claim compensation. We'll look at the evidence you could obtain in support of your claim later on in this guide.
As per various pieces of legislation, your employer needs to do all that is reasonably possible to prevent you from coming to harm while you're working. There are a number of things they can do to reduce and remove hazards to you and your colleagues in the workplace. We will look at these in greater detail later on. 
In order to hold a valid accident at work claim your case must meet the following criteria:
You were owed a duty of care
The duty was breached
Your injury or illness was caused by your employer's failure to uphold the duty of care they owed you
In some cases, there are workplace accidents that could lead to injuries through no fault of anyone. Instead, your employer may have done everything they reasonably could to address risks and hazards brought to their attention. For cases such as these, you may not be eligible to claim.
However, when injuries are preventable had the right health and safety policies been followed employers can be liable for any suffering caused.
What Is Employer Liability For Employee Safety?
Employer liability means your employer is responsible for your health and well being while you are at work. They can be liable for injuries caused because of their negligence. 
However, the Employers' Liability (Compulsory Insurance) Act 1969 establishes that all employers must have liability insurance by law. The act allows employees to make a claim without worrying about the financial impact their claim may have on the company.
Employer's Liability Insurance means that compensation awarded in successful claims made against a workplace is paid by the insurance. Therefore, it won't come from your employer directly or the profit margins of the business.
Employers Duty Of Care For Employee Safety
Under Section 2 of the Health And Safety At Work etc Act 1974, your employer has a responsibility to keep you as safe as practically possible while you are at work. As there are many risks that vary depending on the different workplaces, the specific responsibilities involved in employer liability might differ.
However, generally, your employer could carry out regular risk assessments to ensure that risks to safety in the workplace are properly managed. These assessments will enable them to identify hazards in the workplace that can then be removed or reduced. 
Employer Liability And Risks In The Workplace
Examples of hazards that could pose a risk to employees could include:
Unsafe floors: An employer who has identified the floors as a risk for causing injuries may need to take steps to ensure they have prevented or reduced the chance of slips, trips and falls from occurring. For example, they may need to provide employees with slip-resistant footwear.
Faulty equipment or machinery: An employer may have carried out a risk assessment and found that a piece of equipment was faulty. In these cases, they should do everything they reasonably can to ensure the equipment is safe for use. For example, they may need to make relevant repairs on the equipment before allowing employees to use it.
Dangerous substances or materials: Your employer may have implemented other measures to control the risk of working with hazardous substances. However, if there is still a risk after these controls have been implemented, and the hazard can't be reduced or removed any other way, your employer should provide you with Personal Protective Equipment (PPE).
If you're unsure whether your employer breached their duty of care, call our advisors. They can provide free advice on whether you could make a personal injury claim. Additionally, they could address any questions you have on employer liability.
If they think your case has a chance of success they may ask if you would like to be connected to our panel of personal injury solicitors. 
What Laws Protect Employees In The Workplace?
There are a number of laws in place to ensure employees protection while working. The Health and Safety at Work etc. Act 1974 (HASAWA) contains detailed information on the duty of care employers owe their employees.
However, there are other pieces of legislation that focus on employer liability in the workplace: 
Please note, these pieces of legislation have been amended as per The Health And Safety (Miscellaneous Amendments) Regulations 2002. For more information on the amendments, please read the legislation on the government website.
Employee Responsibility For Workplace Health And Safety
When looking at responsibilities in the workplace it's not just employer liability that should be focused on. As an employee, you also have a  responsibility to keep yourself and others in the workplace safe. This means that you should take on board all training, act responsibly, and fulfil your role as safely as possible.
You could be at fault for your own or someone else's injury if you:
Were under the influence of alcohol or other substances

Disregarded proper safety protocols

Acted in a way that carelessly put yourself or others in unnecessary danger.
Accident At Work Compensation Calculator
There are two heads that will make up a typical amount for your compensation claim. These are known as general damages and special damages. 
General damages account for your physical and psychological injuries. They also account for the impact that any injuries have had on your quality of life. For example, medical evidence may be used to address the severity of your injuries and the pain that you've experienced.
Furthermore, you may be invited to attend an additional medical exam to produce a current report on the full extent of your injuries.
Alongside medical evidence, the Judicial College Guidelines (JCG) is often used to help value your injury. The JCG contains a detailed list of injuries alongside guideline compensation brackets. The amounts vary depending on the severity of the injury and the timescale of the recovery.
Special damages are intended to reimburse you for past and future financial losses caused by your injuries. Therefore, the costs of things such as prescriptions, loss of earnings, and travel expenses can be included in the special damages head of your claim.
Below, we have included a table listing possible amounts for general damages. These figures are to be used as a guide only as compensation is calculated on a case by case basis. The figures are taken from the JCG. 
| Injury | Details | Example Compensation Award |
| --- | --- | --- |
| Injuries Affecting Sight | (b) Complete loss of sight in both eyes | In the region of £268,720 |
| Brain Damage | (e) Minor brain or head injury: The award given will depend on different factors such as severity, time taken to recover and whether any symptoms persist. | £2,070 to £11,980 |
| Chest Injuries | (e) Where someone has experienced residual lung damage after inhaling toxic fumes or smoke. | £5,000 to £11,820 |
| Shoulder Injuries | (e) Clavicle fracture | £4,830 to £11,490 |
| Wrist | (d) A complete or largely complete recovery from a fracture or soft tissue injury occurs after 1 year. | £6,080 to £10,350 |
| Post-Traumatic Stress Disorder | (d) Less severe: The person will have mostly made a full recovery and any symptoms that do persist will be minor. | £3,710 to £7,680 |
| Neck Injuries | (c) Minor: (iii) The person will have made a full recovery within three months. | Up to £2,300 |
For more information on how your claim involving employer liability may be valued, call our team.
How Do I Report An Accident At Work?
Accidents at work should be reported. You can report an accident by logging the incident in the accident book at your place of work. 
Depending on the severity of your injuries, you may be unable to fill out the accident book straight after the accident. In cases like these, a colleague who saw the accident take place can do this for you. You'll need to sign and confirm their account of the accident at a later date.
Reporting An Accident At Work To RIDDOR
There are certain kinds of incidents and injuries in the workplace under The Reporting of Injuries, Diseases and Dangerous Occurrences Regulations (RIDDOR). You can find a list of reportable incidents on the HSE website, however, some might include:
Industrial diseases, such as occupational asthma
Specified injuries, such as certain fractures
Gas incidents
Reports to RIDDOR must be made by a "responsible person". However, the responsible person may vary depending on the situation. Generally, though, it might include employers, self-employed people and those in charge of a workspace. 
Employer liability may be considered as a factor in your claim if your employer failed to take responsibility for reporting your accident.
Below is a graph we have created using statistics from the Health and Safety Executive (HSE). The graph highlights the most commonly reported non-fatal injuries by accident kind.
As you can see, slips, trips and falls on the same level were most commonly reported by employers under RIDDOR.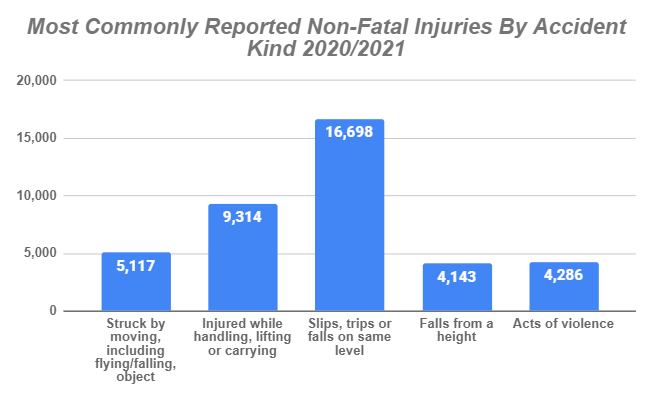 How Much Time Do I Have To Claim For An Injury At Work?
There is a personal injury claim time limit of three years. However, there are a few instances in which this time limit can differ in claims involving employer liability. We've listed the main ones below.
General Personal Injury Claims
In most cases, you will have 3 years from the date of the accident to make a personal injury claim.
However, some injuries may only be detected or diagnosed at a later date. In these cases, the time limit would run from the date you became aware that your employer's failings caused or contributed to the accident. 
Child Accident Claims
If you are under 18 years old, you cannot legally pursue your own claim. However, you could have your claim filed for you by a litigation friend. A parent, guardian or solicitor could apply to act as a litigation friend and claim on your behalf. Furthermore, while you're under 18, the three-year limit is suspended. 
If by the time you turn 18, no claim has been made on your behalf, the 3-year limit starts. This means that you can claim up until your 21st birthday.
Claiming on Behalf of Someone with a Reduced Mental Capacity
In cases where the claimant has a reduced mental capacity, the 3-year time limit is suspended indefinitely. During this time, someone could apply to act as a litigation friend to pursue the claim for them.
Alternatively, if the person regains their mental capacity, they will have three years from the recovery date.
Examples Of Evidence That Can Prove Negligence By Your Employer
As we discussed earlier, your employer owes you a duty of care while you are at work and carrying out work-related duties. Negligence by your employer occurs when you suffer injuries due to a breach in this duty. It is this you must prove if you would like to make a personal injury claim. Proving negligence in the UK can be done with evidence.
Examples of evidence that could be useful in a claim for a workplace accident include:
Videos of the accident, such as from CCTV.
Contact information from any witnesses. They can give a statement later in the claiming process.
A copy of your medical records. This can give information on the nature of the injury and what treatment you needed.
A copy of the incident report from the accident book. This should include your name, the date and time and details of the incident.
Call our advisors for free advice about proving employer liability. They can discuss what evidence you could submit in support of your claim.
Can Claims Against An Employer Be Handled On A No Win No Fee Basis?
A No Win No Fee arrangement is a contract between you and your solicitor that sets out the conditions they need to meet in order to be paid. If your case does not succeed, then you won't pay solicitor fees. You also don't need to make an upfront payment in order for them to start working on your claim. 
At the conclusion of a successful claim, your solicitor will take a success fee from your compensation payout to cover their costs. However, the fee is legally capped and something your solicitor will discuss with you before the claim begins.
To find out more about No Win No Fee agreements, or to start your claim involving employer liability today, get in touch with us by: 
Related Guides On Employer Liability And Accidents At Work
We've included some additional resources regarding employer liability and related subjects.
Your employer's legal responsibilities at work.
NHS advice on how to detect and treat sprains and strains.
Guidance on preventing slips, trips and falls at work.
Can you sue your employer while still working for them?
A helpful guide on your rights after an accident at work.
A useful guide on claims for injuries following inadequate training in the workplace.
Writer IB
Checked by NC
Thank you for reading our guide on employer liability.