Fracture Misdiagnosis Compensation Claims in the UK
By Danielle Fletcher. Last Updated 6th April 2023. Welcome to our guide looking at the process of claiming fracture misdiagnosis compensation. A broken bone injury can have a severe impact on your quality of life, and it's essential that you get treatment for this kind of injury as soon as possible. But when a fracture is misdiagnosed, this may not happen, and as a result, your condition could get worse. 
Fracture Misdiagnosis Compensation Claims
If you don't receive treatment for a broken bone, then this could result in the bone beginning to heal in the incorrect position. This could pose a risk of arthritis later on in life.
Furthermore, if you're suffering from a displaced fracture, where the broken ends of the bone are no longer in position, then the broken end of the bone could damage your internal organs. For instance, a broken rib that is not diagnosed could cause damage to the lungs or heart.
Not everyone who experienced a misdiagnosis will be a victim of medical negligence. It's possible for a doctor to misdiagnose your injury even when providing the right level of care. However, if the misdiagnosis occurred because of a breach of duty of care, then you could be entitled to compensation.
Get In Touch With Our Team 
You can contact our team of advisers to talk about your situation and receive 24/7 free legal advice. They can assess how much compensation you could receive if you make a medical negligence claim. If you have a valid case, they can connect you with a solicitor from our panel to work on your claim.
To get in touch with our friendly team of advisers, you can:
Call them on 020 3870 4868. An adviser is always available to offer you free legal advice.

Chat with one of our advisers via our live chat pop-up box for an immediate response.

Fill out our

claims form

to receive a reply at your earliest convenience.
Services And Information
Everything You Need To Know About Fracture Misdiagnosis Compensation Claims
This article will first explain what the misdiagnosis of a fracture is and the different types of bone fractures that you could seek medical attention for. Next, we will look at how fractures are misdiagnosed and what might happen if one is missed. Furthermore, we've included a compensation calculator table illustrating how much some injuries could be worth.
We'll also look at the factors that could impact your settlement. For example, we'll examine the significance of your financial loss or how long your treatment took. 
Next, we'll look at the time limits to making a medical negligence claim. We'll also provide advice on what steps you can take if you've suffered a misdiagnosed fracture.
Additionally, this article has a section discussing what No Win No Fee agreements are and how they can help you fund legal representation when making a claim. There will also be some additional related links near the end of the article to ensure you leave this guide as informed as possible. Finally, there will be a section answering some frequently asked questions about fracture misdiagnosis claims. 
What Is Fracture Misdiagnosis?
If a fracture is misdiagnosed, this means that you have not received a correct diagnosis for your condition. This could prevent you from getting the treatment you need.
A fracture misdiagnosis could occur because your condition is mistakenly diagnosed as something else. It could also mean that your fracture is completely missed.
In order to claim compensation for the misdiagnosis of a fracture, your circumstances need to meet two conditions. You need to show that your misdiagnosis happened because the doctor treating you breached their duty of care.
You also need to be able to show that the misdiagnosis of your condition led to it becoming worse than it would have if you'd received the right care. If you have suffered a broken bone, it's likely that you would have experienced some pain and suffering as a result. You will only be able to claim for the additional pain and suffering caused by the negligence.
Although statistics specifically surrounding fracture misdiagnosis aren't readily available to the public, the total number of clinical claims against the NHS can be found on the NHS Resolution website. The graph below shows NHS Resolution statistics and illustrates the total number of clinical claims closed with the payment of damages from 2016-2020.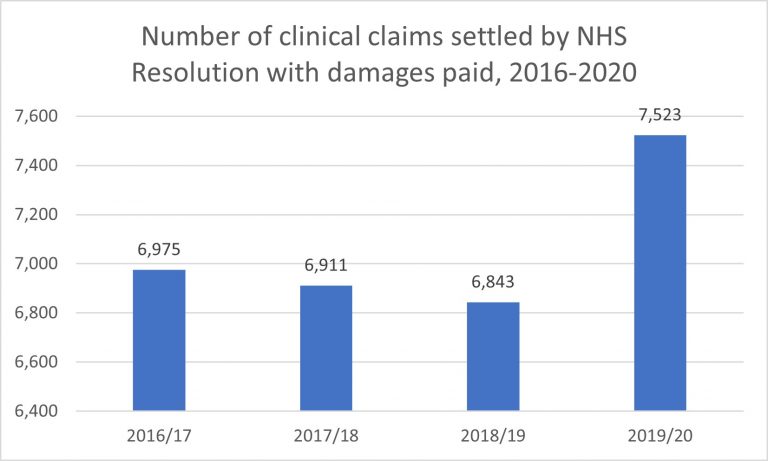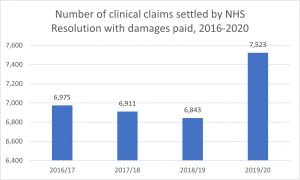 As you can see, the number of settled claims against the NHS where damages were paid rose by 548 between 2016/17 and 2019/20. The highest jump was between 2018/19 and 2019/20.
What Is A Bone Fracture?
A bone fracture is another term for a broken bone. Bone fractures can vary in severity. For instance, some bones might be badly broken into many small pieces and require surgery to heal.
Some fractures, on the other hand, may not need as much intervention. For example, a hairline fracture is where there is a small crack in the bone. These kinds of fractures are often less painful than others, and you may not even notice that you have broken a bone at all.
Here are some common types of fractures: 
Comminuted fracture: Where the bone is shattered in three or more places.
Transverse fracture: Where the fracture line runs horizontally through the bone 
Oblique fracture: The fracture has an angled pattern.
Open/compound fracture: In this kind of fracture, the broken end of the bone pierces the skin. It may then recede back into the wound, or alternatively, it could remain visible in the broken skin. 
Stable fracture: The broken ends of the bone aren't significantly out of place, and they line up well. 
There are several different ways that a fractured bone could be treated. For instance, in stable, closed fractures, it may be sufficient to immobilise the bone as it heals naturally. This could be done with plaster, a sling or a splint.
Some fractures may need surgery if they are comminuted or particularly displaced. This surgery will usually involve a surgeon inserting pins or plates into the bones to hold them in position as they heal.
How Are Fractures Misdiagnosed?
All healthcare providers have a duty of care towards their patients. This means that they have a responsibility to provide a level of care that is appropriate for the profession. Any standard of care that falls below this is medical negligence.
However, just because a doctor has misdiagnosed your condition does not mean that they have acted negligently. There are instances where a doctor could misdiagnose your condition while delivering care of an acceptable standard.
Below, we've included some ways a fracture could be misdiagnosed: 
The correct diagnostic tests (for example, an X-ray) is not ordered because your doctor mistakenly thinks that your fracture is a sprain.  

The right diagnostic test is ordered, but the results of the test are misinterpreted.
A diagnostic test like an X-ray is arranged, but it's carried out incorrectly, so the results aren't representative of your condition.
Your medical records or patient notes are swapped with those of another patient. This means that they receive your diagnosis, and your condition might be misdiagnosed as a result.
There are also other ways that a fracture can be misdiagnosed, so don't worry if your experience isn't listed above. Speak to our team of advisers to have a chat about the circumstances of your claim. 
What Happens If Bone Fractures Are Missed?
When you break a bone, it's essential that you receive medical attention as soon as possible. But as we have already mentioned, sometimes fractures are missed or mistakenly diagnosed as something else. This can have serious consequences on your health and wellbeing and, if it was the result of medical negligence, you might be able to claim.
Some consequences of a misdiagnosed fracture may include:
The bones healing in the wrong position. This can form a "malunion", which can cause bone pain, swelling and an increased risk of osteoarthritis. 

You may need surgery to correct the improper healing of the bone. This could increase your recovery time and leave you with scarring that you would not have if you'd received the proper level of care. 

In some cases, a broken bone could become infected. If this is not treated within the appropriate time frame, the infection could spread, which could lead to an amputation.
If you've suffered a misdiagnosed bone fracture because of clinical negligence, you may be able to make a claim. You can get in touch with our expert team of advisers to receive free legal advice. They may also be able to assess how much fracture misdiagnosis compensation you could be eligible for.
Compensation For The Misdiagnosis Of A Fracture
You may want to know how compensation could be awarded in fracture misdiagnosis claims. In this section, we look at what could be included in your settlement. However, each medical negligence compensation claim is different. For example, some claimants recover special damages, which we look at shortly.
If your claim is successful, general damages compensate for the physical pain and mental suffering caused by your misdiagnosis of a fracture. To help arrive at a figure for your injuries, legal professionals use the Judicial College Guidelines (JCG). This document provides guidance for pain and suffering with compensation brackets listed next to injuries in varying severities.
Our table below contains figures from the JCG. Due to the differences in claims, our table is only included for guidance. It does not represent what you will receive.
| Injury: | Severity: | Notes: | Compensation: |
| --- | --- | --- | --- |
| Leg injury | The most serious injuries short of amputation (i) | Damages awarded are similar to amputation as this requires the leg to be degloved (shortened). | £96,250 to £135,920 |
| Leg injury | Moderate | Complicated or multiple fractures or serious crushing injuries to one limb. | £27,760 to £39,200 |
| Ankle injury | Very severe | Ankle fractures that break the bone across the malleolus with severe soft-tissue damage. Future injury to the leg may carry with it the risk of below-knee amputation. | £50,060 to £69,700 |
| Ankle injury | Severe | No need for amputation but extremely severe and the person is little better off than if the arm had been amputated. | £31,310 to £50,060 |
| Ankle injury | Moderate | Fractures and ligamentous tears which increase the likelihood of disabilities, such as being unable to walk on uneven ground. | £13,740 to £26,590 |
| Ankle injury | Modest injuries | Fractures that are minor, undisplaced or less serious will usually fall in this bracket. | Up to £13,740 |
If you would like a free claim valuation, call our advisors. They're available 24 hours a day, 7 days a week with free advice.
What Could Impact Your Settlement?
Your compensation claim could be made up of two different kinds of damages. General damages award compensation for the physical and psychological effects the injury has had on your life. The awarded bracket depends on the severity of your injuries and how long your injury is likely to affect you.
To ascertain how much you will be paid in general damages, you will usually be invited to a medical assessment as part of your claim. Here, an independent expert will assess your condition and compile their findings in a report. This report will be used with the help of the Judicial College Guidelines to help value your claim.
Special damages give compensation for the financial impact the injury has had on your life. For example, if you had to pay out of pocket to travel to and from medical appointments, or took time off work, resulting in a loss of earnings, then you may be able to include this in your claim. However, it will be difficult to claim special damages if you don't provide evidence of your financial loss. 
Missed Fractures On An X-Ray Or MRI
You may think that a fracture can't be misdiagnosed if you've had an X-Ray or MRI scan, but this isn't the case. There are a number of different reasons that a fracture might be missed despite an X-ray being performed. 
In some circumstances, it may be the case that the fracture is difficult to see on the X-ray. For example, a hairline fracture may not be as visible on an X-ray as other kinds of fractures. 
It may also be the case that the X-ray was incorrectly performed, meaning that the fracture does not appear. This could be because the technician performing the X-ray made a mistake or because there was a problem with the X-ray machine. 
Furthermore, the X-ray could have been arranged and performed correctly, but a healthcare professional fails to interpret the results of the test properly. This could mean that your fracture is missed.
If any of the above has occurred and you can show that it happened as a result of medical negligence, then this could cause your condition to worsen more than it would have if you'd received the right level of care. If this is the case, you may be able to claim. Speak to our team today for more information.
Fracture Misdiagnosis Claim Time Limits
The general compensation claims time limit is three years. However, there are some exceptions to this time limit:
Child accident claims: If you're under 18, the three-year time limit only begins on your 18th birthday. Someone you trust can act as a

litigation friend

to claim on your behalf while you're still underage.

Mentally incapacitated: If someone lacks the mental capacity to make a claim, the three-year time limit starts in the event that they recover. If they don't recover, the time limit is suspended indefinitely, and a litigation friend can claim on behalf of them.
If you'd like to discuss claim time limits further, you can get in touch with our friendly team of advisers. They will be able to offer you free legal advice about the process of claiming. 
My Fracture Was Misdiagnosed, What Should I Do?
If you've suffered a misdiagnosed fracture, the first thing you should do is seek medical attention. This is important to ensure you receive the correct diagnosis and treatment for your fracture. Seeking medical attention also produces medical reports that can be used as evidence in your injury claim. 
Next, you should gather as much evidence as you can. For instance, you could provide photographs of your injuries and a record of the times that you have sought medical attention for your injuries.
You could also provide evidence of any financial losses that you have experienced as a result of your injuries. Examples of this evidence include payslips to demonstrate the loss of earnings you experienced or invoices for a carer that you needed to hire while you recovered. 
Finally, it's recommended that you work with a personal injury lawyer on your personal injury claim. While this isn't a legal obligation, specialist solicitors are experienced in helping claimants get more money in a compensation claim. Their guidance could make the process run more smoothly than it otherwise would. 
Claim For A Fracture Misdiagnosis On A No Win No Fee Basis 
Our panel of personal injury solicitors would be happy to discuss working on a No Win No Fee basis with you. This can also be called a Conditional Fee Agreement. A No Win No Fee claim is a contractual agreement between you and your lawyer. It sets out the conditions that need to be met before you pay them anything. With an agreement like this, you won't need to pay anything to your solicitor upfront or while the claim is ongoing. 
This kind of agreement means that if your case fails, you don't have to pay any of your solicitor's fees. If your case succeeds, your lawyer will deduct a small, legally capped percentage from your compensation.
You can contact our team of advisers today by:
Calling on 020 3870 4868. Our team of advisers are always available to help.

Filling in the

online claims form

. An adviser will reply at whatever time is best for you.

Chatting with our advisers via our live chat pop-up box for an immediate reply.
Other Information
Making A Claim If A Stroke Was Misdiagnosed
Missed Scaphoid Fracture Claims 
Claiming For Unnecessary Surgery 
How Do I Know If I've Broken A Bone? – If you suspect you may have a broken bone injury, this NHS guide includes the signs, treatment, and recovery for a bone fracture.
Advice After A Foot Fracture – This NHS guide advises you on what to do after suffering a broken foot. 
FAQs About Fracture Misdiagnosis
Can a fracture heal wrong?
Yes. If a fracture is left untreated, the bones can heal in the wrong place. This can lead to an increased risk of ongoing issues such as osteoporosis. 
Can I get compensation for misdiagnosis?
If the misdiagnosis was due to negligence on the part of a healthcare provider, you may be able to make a personal injury claim to receive fracture misdiagnosis compensation. You will need to show that the misdiagnosis caused your condition to worsen more than it would have if you'd received the right level of care. 
Can a doctor miss a broken bone?
Yes. Sometimes, X-Rays don't show the bone fracture due to the party of the body being difficult to photograph (for example, if the bones are small). Alternatively, your doctor may misinterpret the symptoms you're displaying and fail to order an X-ray to be performed at all. 
Thank you for reading our guide on fracture misdiagnosis compensation.
Writer HL
Checked by NC