What Is A Psychiatrist Data Breach Compensation Claim?
As we confide in a professional who is counselling us, the prospect of a psychiatrist data breach can be devastating. The details that we provide about who we are and what mental health challenges we are facing are intensely private.
The laws in this country primarily protect two types of processed information. Personal data is information that can identify a data subject and special category data is about the data subject.
With this in mind if you have proof that your personal data has been exposed or handled in away the goes against data protection laws call UK Law today. It's free, there's no obligation to start a claim and they could put you in touch with a data breach specialist to help:
Call us on 0203 870 4868
Contact us online
Use the 'live support' option, bottom right
Or read the sections below and click on highlighted resources
Select A Section
What Is A Breach Of Psychiatrist Confidentiality In The UK?
The Data Protection Act 2018 and the UK General Data Protection Regulation (UK GDPR) have placed a much greater level of emphasis on how carefully our personal data is collected, shared, and used. Because of this organisations (data controllers) that gather personal information and use it must adhere to core principles of good data practice. These are:
That the data is legally and fairly collected
There is a distinct purpose for collecting data
Data collected kept to a minimum
Data retained is accurate
And kept only for as long as necessary
Take personal accountability for it
Data is always protected.
An independent agency called the Information Commissioner's Office (ICO) can investigate and issue fines to any data controller that fails to adhere to data protection laws.
As an impacted data subject, can you claim after a UK GDPR data breach? Being eligible to make a personal data breach claim is subject to you being able to prove that the data controller allowed your information to be involved in a data breach and this caused you harm. The harm you suffer can be either/or financial or a negative impact on your health.
Illustrating Data Breach Rates In The UK
Provided by the ICO: these statistics show how many data security incidents happened per sector during the third fiscal quarter of 2021/22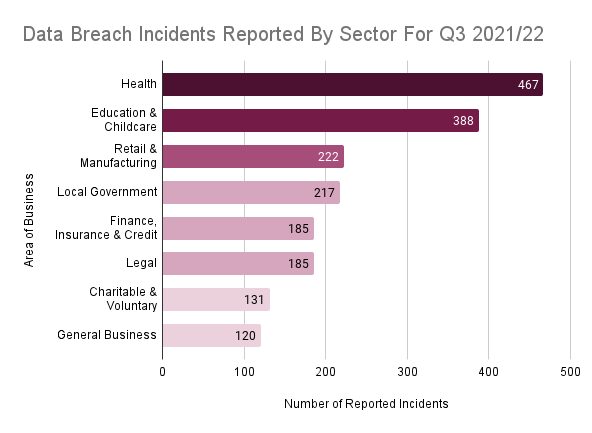 Do Data Protection Laws Protect Medical Records?
Health information is detailed under UK GDPR as special category data. This is personal data that has the potential to be particularly damaging to the data subject if it is breached.
In addition, health information includes:
Medical information that pertains to past, present, or future health details
Prognosis and treatment schedules
Genetic or biometric data
Health data must be given extra protection when it comes to processing. If any health information relating to you has been involved in a data breach call our advisors today and they can tell what your next steps could be.
Type of Data Covered By Data Protection Laws
Below we look at what data is protected under data security legislation:
Name and address
Contact details and email
Racial and ethnic details
Sexual orientation
Bank details – credit and debit card information
Criminal records
Immigration status
Health information.
What Could Cause A Psychiatrist Data Breach?
With this in mind, what type of circumstances could give rise to a psychiatrist data breach? Human error is the main reason for a data breach in many industries and healthcare provision is no different. But a data breach can be accidental or deliberate. Some scenarios:
Medical details emailed or posted to the wrong recipient
Processed personal data verbally disclosed between the psychiatrist, and others without a lawful basis.
Devices lost or stolen (Laptops, smartphones containing personal patient data, etc)
Emails forwarded with unredacted details or failure to use the Bcc (Blind copy carbon) facility to protect privacy.
Documents and data not properly locked away or secured
Data lost, altered, duplicated, or destroyed in a data security incident.
Another area of potential risk is if clinics or private practitioners fail to adequately protect data from outside attacks. Robust and suitable software defences should make it as difficult as possible for external hackers or cyber-criminals to infiltrate records and steal data.
Preventing A Psychiatrist Data Breach
What steps could a psychiatrist take to limit or reduce the risk of a data breach?
Ensure that data is secure on devices or in filing cabinets
Properly train staff to understand their data protection obligations
Put passwords and privileged access rules in place
Destroy data carefully when no longer needed
Discuss data protection with the patient and respond to any concerns
The ICO offers a wealth of detailed information to help all companies apply good data protection practices. Their aim is to help everyone avoid the potential anguish caused by data breaches by clearly explaining the law and what practical steps everyone can take to apply it.
What Could You Claim For A Psychiatrist Data Breach?
The consequences of a psychiatrist data breach can be tremendously distressing for the data subject. As well as having very sensitive information exposed about you, there is the potential to suffer financial losses.
A Court of Appeal case called Vidal-Hall v Google Inc set a precedent whereby it is now possible to claim damages for emotional distress without proof of financial damages. Non-material damages cover any emotional harm caused. The Judicial College Guidelines may be used to value the psychiatric and mental health impact of the data breach. The excerpt below is taken from the 2022 version of the JCG:
| Manner of Psychiatric Harm | How Severe? What JC Guidelines Award Is Listed? | Notes |
| --- | --- | --- |
| General Psychiatric Issues | (a) Severe Level - £54,830 to £115,730 | Significant impact on mental health with poor prognosis |
| General Psychiatric Issues | (b) Moderately Severe Level - £19,070 to £54,830 | Issues that create a permanent or long-standing disability which limits employment options |
| General Psychiatric Issues | (c) Moderate Level - £5,860 to £19,070 | Similar issues to those listed above but with a better prognosis by the time of trial |
| General Psychiatric Issues | (d) Lesser Severity Level - £1,540 to £5,860 | Reflective of how long the disability is and how badly daily activities are disturbed. May include a specific phobia or anxiety disorder |
| Post-Traumatic Stress Disorder (PTSD) | (a) Severe Level - £59,860 to £100,670 | Effects so significant that the person is unable to function at anything like pre-trauma levels |
| Post-Traumatic Stress Disorder (PTSD) | (b) Moderately Severe Level - £23,150 to £59,860 | Although a significant level of disability is present, some improvement comes with professional help |
| Post-Traumatic Stress Disorder (PTSD) | (c) Moderate Level - £8,180 to £23,150 | An overall recovery that leaves effects which are not severely disabling |
| Post-Traumatic Stress Disorder (PTSD) | (d) Less Severe Level -£3,950 to £8,180 | A full recovery within a 12 - 24 month period leaving minimal issues only |
Material damages relate to any financial losses:
Loss of earnings caused by the consequences of the data breach
Damage to a business or personal reputation
The need to replace IT devices to restore personal data integrity
Money stolen from banks or financial losses through credit card fraud
Counselling or therapy costs
These figures in the table are not compensation guarantees. They offer a guide only. You can also refer to our psychiatric and mental health compensation calculator for an idea of what may be appropriate.
Get Help With No Win No Fee Psychiatrist Data Breach Claims
You may choose to embark on a psychiatrist data breach claim independently. You could also seek professional legal representation. If you choose to do this, at UK Law we can connect you with a data breach solicitor working under a No Win No Fee agreement.
Also called Conditional Fee Agreements, contracts such as this require no immediate costs to hire or retain legal representation. A fee that is set at a maximum of 25% of the settlement amount only becomes due if the case is a success. No payment is required to the No Win No Fee solicitors if the case fails.
Therefore, with this in mind speak to our team today to see how you could initiate a claim after a psychiatrist data breach harmed you:
Get in touch on 0203 870 4868
Contact us online and request a callback
Or use the 'live support' option, bottom right
Related Medical Data Breach Resources
In addition to help starting a claim for a psychiatrist data breach, the guides below offer advice on related topics:
Writer FE
Checked by IE.