Failure To Redact Data Breach Compensation Claims
In this guide, we will look at the process of making a claim for harm caused by a failure to redact data breach. This could have an impact on your mental well-being as well your finances.
This guide will go through how information should be redacted and what you can do if you believe you have been harmed by a redaction failure data breach. We will also look at how your information rights are protected by legislation such as the Data Protection Act 2018 (DPA) and the UK General Data Protection Regulation (UK GDPR) and how this legislation can be breached. 
This article uses three terms: data subject, data controller and data processor. We've defined these terms below: 
 A data subject

refers to a natural person to whom personal data relates 

The data controller

refers to the entity that decides how personal data will be processed 

A data processor

refers to an entity that processed personal data on behalf of the controller. 
We will also discuss how the No Win No Fee arrangement could be a beneficial aid as you fund legal representation for your claim. If you are interested in finding out more about failure to redact data breach claims, then feel free to contact us.
You can do so using the details below:
Select A Section
What Is A Failure To Redact Data Breach?
Redacting is the process of editing or removing information from documentation before it is disclosed or published. It can be used to remove personal data from a document.
National Archives provide a redaction toolkit that can be used when an entity is looking to redact personal data from a document. Furthermore, the Information Commissioners' Office (ICO) has information on what you can do if someone makes a request that includes information about another data subject.
If the proper steps are not followed in relation to redacting information, then a data breach could occur. A data breach is a security incident that has an effect on the confidentiality, integrity or availability of personal data. It could be caused by human error or malicious intent.
In order to claim for a personal data breach, it needs to be proven that the data controller or the data subject did something wrong. If they did all that they could to protect your personal data, but a breach happened despite this, you'd be unlikely to be able to make a failure to redact data breach claim. 
Subject Access Request Statistics
According to statistics from the ICO, in the third quarter of the financial year 2021/22, there was an overall total of 2,404 data breaches across all sectors. Of that total, 101 were caused due to a failure to redact information.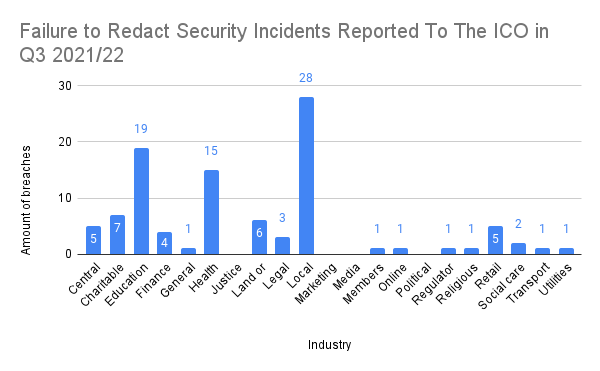 What Kind Of Information Should Be Redacted?
The types of personal data that should be redacted are: 
Full name 

Home address/email address

Date of birth

Medical information

Driving license 

Passport information

Phone number
Personal data is any information that can be used to identify a natural person. This includes information that can be used to identify you in isolation and information that needs to be combined with other information to identify you. If this is sent unredacted to someone with no lawful basis for doing so, for example via email, you may be able to claim. 
Our advisors are available to provide free advice and guidance for any additional information on the types of information that can be redacted. This service is available 24 hours a day, 7 days a week. If you have any questions or queries, no matter how minor they may seem, contact us. 
How Should Personal Information Be Redacted?
If your personal data has had to be redacted in the information that is being sent to someone else, then there is guidance relating to this.
The redaction toolkit from the National Archives emphasises the importance of ensuring that redacted information could potentially be deduced. For example, the redacted information could show up multiple times in a file. In this case, the context of the redaction could shed some light on the content of the information that was redacted.
It's also important that a copy of the original document is redacted rather than the document itself. If the original document is redacted, this could lead to the information being permanently unavailable.
For more information on how to make a failure to redact data breach claim, speak with us today. 
When Can You Object To Your Data Being Shared?
You can object to your personal data being processed. If a SAR is made that would involve you being identified, then the ICO recommends that the organisation redact information. If this cannot be done, the organisation should attempt to get your consent to share your data. 
In some cases, this might not be possible. For example, they may not have a contact number on file for you. In other cases, they can get in touch with you and request your consent, and you can decline.
However, in other cases, they aren't required to ask for your consent, for example, if they have a lawful basis for processing the data. They could also decline to request your consent if you being aware that the third party had made an SAR would not be appropriate. 
For more information on the lawful bases that need to apply before your personal data can be processed, speak with our team today. If you have a valid failure to redact data breach claim, you could be passed on to a lawyer from our panel.
Calculating Damages For A Failure To Redact Data Breach
When you make a compensation claim for harm caused by a personal data breach, you could be compensated for material and non-material damages.
Material damages are the financial impact of a personal data breach. If you have suffered any financial losses, you can claim these back. For example, if your credit card information was not redacted and you had money stolen as a result, you may be able to claim. 
Non-material damages refer to the mental harm that a personal data breach causes you. For example, if your medical records were lost in a data breach, you might experience stress or anxiety at the thought that someone could access this information about you.
The table below is an example of the types of harm you could suffer as a result of a personal data breach. These illustrative compensation brackets have been taken from the Judicial College guidelines. These guidelines are used to estimate the amount of data breach compensation that you could receive.
| Types of Mental Health Issues | Compensation Bracket | Description |
| --- | --- | --- |
| Mental Health: Severe | £51,460 to £108,620 | In the most severe cases, people will be suffering from problems with the ability to cope with life and work |
| Mental Health: Moderately Severe | £17,900 to £51,460 | This bracket includes a mental injury that causing significant problems but with a better prognosis than more serious instances. |
| Mental Health: Moderate | £5,500 to £17,900 | A marked improvement and good prognosis despite these kinds of symptoms. |
| Mental Health: Less Severe | £1,440 to £5,500 | Depends on the extent to which mental harm has affected daily activities. |
| Anxiety Disorder: Severe | £56,180 to £94,470 | The permanent effects of symptoms that resemble PTSD, could have an impact on the day-to-day function or the ability to work. |
| Anxiety Disorder: Moderately Severe | £21,730 to £56,180 | The effects have an impact on the person for the foreseeable future, resulting in a significant disability. |
| Anxiety Disorder: Moderate | £7,680 to £21,730 | Largely recovered, with some lingering PTSD-like symptoms that are not largely disabling. |
| Anxiety Disorder: Less Severe | £3,710 to £7,680 | Including symptoms that are similar to PTSD, there will be a full recovery in a period of two years. However, there may be some minor symptoms persisting over a longer period. |
Unlike in the past, you can claim for psychiatric harm caused by a failure to redact data breach even if you were not caused any financial harm. Get in touch with our advisors today for more information.
Begin Your Failure To Redact Data Breach Claim
Do you feel that you could benefit from the services of a solicitor, but are worried about the cost of hiring one? If so, you might be interested in making a claim with a No Win No Fee agreement in place. This is a kind of Conditional Fee Agreement (CFA). 
This kind of agreement allows you to work with a solicitor without worrying about paying them upfront or as the claim progresses. If you don't receive compensation, then you won't pay them anything at all. 
If you win your claim, then a solicitor will deduct a legally-limited success fee from your settlement award. This ensures that you get the majority of the compensation that your payout consists of.
If you're interested in hiring a solicitor for your claim, our team could help by assessing your case. Once they have assessed your claim, they could then provide a solicitor from our panel to represent you. 
You can contact us:
Learn More About Claims For UK GDPR Breaches
We have collected a variety of resources that we think you might find useful. See the links below: 
Additionally, we have included some external resources that you may find useful.
Do you need any further assistance on failure to redact data breach claims? If so, please get in touch with our teams via the details above. 
Writer ZS
NC