Optician Data Breach Compensation Claims
Your medical data, including any personal information held by an optician, is protected by law in the UK. An optician data breach could occur if your personal data is lost, altered, stolen, accessed by those who have no authority to see it, dislosed or destroyed in a security incident. This guide looks at how these incidents can happen, and why they may be the basis of a claim.
Claims are each based on a somewhat unique set of facts. In both the reasons the claim is being made, and in the types of damages sought. Therefore, you may not find all of your questions answered in this guide. We can only provide so much information on one page. But our experts advisors can answer any other questions you have. You can call and speak to them on  020 3870 4868. Or you can request that we call you back by messaging us via our contact form.
Select A Section:
What Is An Optician Data Breach?
An optician may store medical records about you and also collect any personal information such as your name, telephone number and financial information such as paying details. All this type of data is protected by data security laws. When an optician handles and processes such personal data they become what is known as a data controller. As the information they collect is about you, you are the data subject. Data controllers, must by law. protect and keep secure personal data they handle.
A personal data breach could lead to you suffering either/both mental health problems, and financial loss. As well as proving how you suffered you must also be able to show how the data controller i.e. the optician is liable for the data breach. That would mean proving they failed to meet data protection laws in securing your data correctly.
Applicable Laws And Regulations
In the UK, it is the Information Commissioner's Office (ICO) that is responsible for maintaining data security and privacy laws, as well as policing adherence to these laws. This is also the organisation to which you could make a complaint to and report a data breach.
Laws that apply to data security and privacy in the UK include the UK General Data Protection Regulation (UK GDPR). As well as the Data Protection Act 2018 (DPA).
Types Of Data Protected
Not all of your data is protected by law in the UK. Only certain types of data that are classified as personal or special in nature. Below, we have given some examples of each of these.
Special data – this term applies to all of the types of information and facts about you that could be exploited in some way. But that is not necessarily uniquely identifying. Examples would include your genome data, religious beliefs, trade union memberships, sexual identification, etc.
Personal data – this is all unique data to you, and that could be used to identify you in most cases. For example, your date of birth, email address, name, phone number, address, etc. Also, financial data such as your bank account information and the numbers of a credit card or debit card.
Medical Data Breach Statistics
Using data from the ICO, which publish data security trends each financial quarter, we were able to make this chart. It shows the cause of human error (non-cyber security-related) data security incidents in healthcare during Q3 2021/22.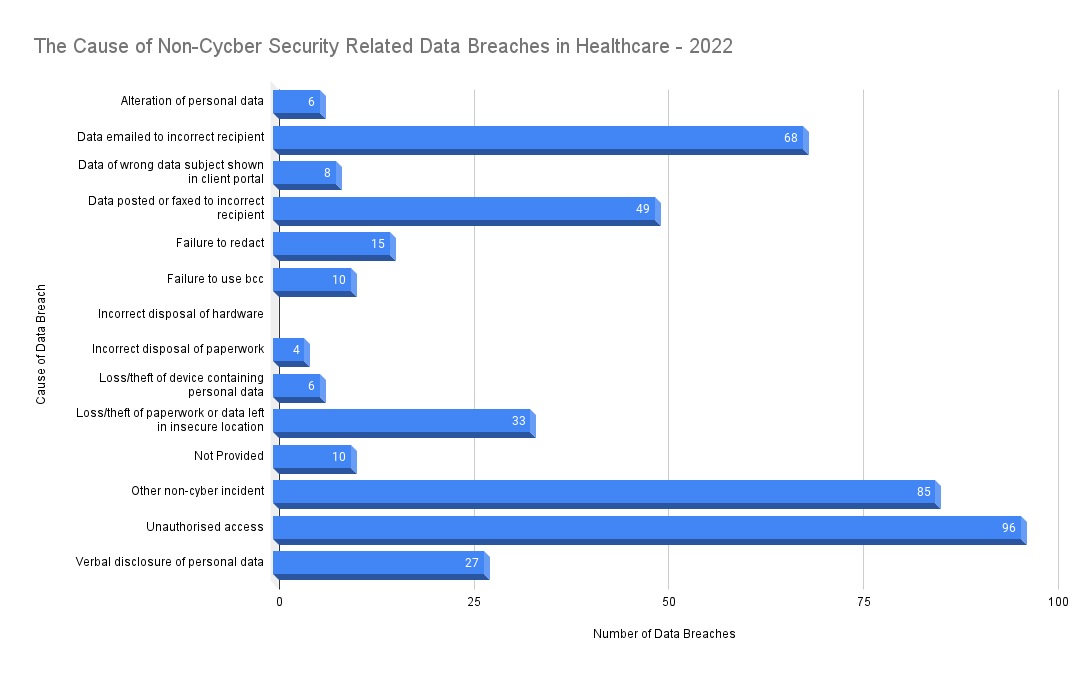 Does The UK GDPR Cover Medical Data?
The NHS publishes information on how it protects patient data, and the steps it takes to prevent a data protection breach. The UK GDPR adds extra protection to health information. As well as health data there are other types of data that also need extra protection these are grouped together as special category data. Also, it is only possible to process special category data if the data controller meets specific conditions in Article 9 of the UK GDPR.

How Do You Claim For An Optician Data Breach?
Before you start your compensation claim for an optician data breach, you might want to take a couple of initial steps first. We have outlined both of these below.
If you suspect that your personal information has been breached but have had no correspondence confirming this you can contact the data controller. You can ask if any of your information has been involved in a breach and what they plan on doing about it. When an organisation is aware of a serious breach they have to inform you without undue delay and also report it to the ICO.
However, you can also make a complaint to the ICO when you are not happy with how the data controller is dealing with your complaint. The ICO will generally not follow up on a complaint about a data breach if more than three months have passed since you last spoke to the organisation.
Why not contact us here at UKLaw to have your case assessed for free. Our expert advisors will answer all your questions and there is no obligation to proceed with any claim if you do not want to.

What Types Of Damages Could You Claim?
There was a precedent-setting case heard in the Court of Appeal in 2015. The case was Vidal-Hall and others v Google Inc. The claimants successfully won damages for mental injuries, even though no financial losses were faced by them.
There are two categories of damages you might claim for if an optician data breach exposed personal data and caused you harm or loss. The first of these is non-material damages. These would cover physical or psychological harm caused by the data breach. We have demonstrated non-material damages in a table in the next section.
The second, is material damages. These make up for financial losses. These could be losses caused by direct misuse of your data. For example, a cybercriminal using your cards to make purchases.

Optician Data Breach Compensation Calculator
We cannot give you an average amount for a data breach compensation payout. Every claim for a data protection breach is unique in some way. The Judicial College produces a set of guidelines for valuing injuries. These guidelines are used by the legal system when evaluating claims. We used the same guidelines to make the table below, which you can use to roughly estimate the level of compensation you might get.
| Mental Harm | Level of Severity | Compensation Brackets From Latest JCG 2022 | More Info |
| --- | --- | --- | --- |
| Post-Traumatic Stress Disorder (PTSD) | Severe | £59,860 to £100,670 | The person will struggle with all aspects of their life and the prognosis will be poor. |
| Post-Traumatic Stress Disorder (PTSD) | Moderately Severe | £23,150 to £59,860 | There will be disabling affects at the outset of the condition there could be improvements made with professional help. |
| Post-Traumatic Stress Disorder (PTSD) | Moderate | £8,180 to £23,150 | There will have been some recovery made and any remining symptoms will not be major. |
| Post-Traumatic Stress Disorder (PTSD) | Less Severe | £3,950 to £8,180 | Two years from the incident the claimant will have made a near full recovery. |
| Mental Injury | Severe | £54,830 to £115,730 | A severe psychological problem that would likely be a disability for the sufferer. Their ability to work would be impaired and their home life would suffer. A full recovery is likely not possible. |
| Mental Injury | Moderately Severe | £19,070 to £54,830 | The victim might be unable to work effectively, and their home life and personal relationships would be negatively impacted. |
| Mental Injury | Moderate | £5,860 to £19,070 | The victim might have suffered significant mental damage at first. But they will have recovered somewhat, and full recovery is likely. |
| Mental Injury | Less Severe | £1,540 to £5,860 | In the less severe bracket, the level of compensation is driven by factors such as how bad the mental harm was, and how long it lasted. |
Begin Your No Win No Fee Optician Data Breach Claim Today
A solicitor working under a No Win No Fee agreement could help you by processing data breach claims on your behalf. You wouldn't have to pay anything upfront. You also don't pay your lawyer a fee if the claim is lost. If the claim is a success though, a legally limited but modest success fee would be due to your solicitor.
Do you have other questions? Or are you ready to proceed with a claim for an optician data breach? Then get in touch with us using the info below.
Phone: 020 3870 4868
Where To Learn More About A Medical Data Breach Claim
Some additional links for you to refer to.
How to Understand Your Rights Under the UK GDPR
How To Find Out What Information Is Stored About You
And here are some other guides we have published.
Could You Claim For Stress Due To A Data Breach?
Failure To Redact Data Breach Compensation Claims
Writer CE
Checked by IE.