Motor Vehicle Accident And Injury Claims Explained
By Danielle Fletcher. Last Updated 1st June 2023. Welcome to our motor injury claim guide. Have you been in a road traffic accident that wasn't your fault? If your answer is 'yes', then you could look at filing a compensation claim.
That's what this guide will explain, as it covers everything from road accident statistics to claim criteria and potential settlement figures. By reading this guide, you may receive the necessary knowledge to confidently claim personal injury compensation.
Get In Touch With Our Team
Before reading the guide, keep in mind that you can discuss a motor injury claim with UK Law at any time. Our advisors are on-hand 24/7 to give free legal advice. What's more, you'll be under no obligation to proceed with the services of our panel of personal injury solicitors after getting in touch.
We can assist you whenever you're ready. Simply:
Just remember that you're under no pressure to file a motor injury claim just because you speak to our advisors. The final decision should be yours on whether or not to pursue legal action against the defendant.
Services And Information
Everything You Need To Know About Motor Injury Claims
In this guide, we provide a full breakdown of what a motor injury claim is. However, to make a personal injury compensation claim in the first place, you must meet three points of criteria. To begin with, the defendant owed you a duty of care (as per The Highway Code, for example).
Under the Highway Code, road users should use the roads with standard care and skill. They should avoid reckless road use that could cause others injury.
If the defendant breached this duty of care, which led to an accident taking place, and you were injured as a result, you could make a motor injury claim.
Please speak to our advisors for additional information.

What Is A Motor Injury Claim?
A motor injury claim would be a compensation claim for any motor accident (resulting in your injuries) that wasn't your fault. Motor vehicles can include cars, vans, motorcycles, buses, taxis, lorries, mopeds, bicycles or other vehicles. The premise would be that the driver of another vehicle caused an accident that harmed you.
Even if they stop their vehicle to check on you and exchange details, you could still claim for your injuries. As for the injuries themselves, these could range from minor fractures to permanent, life-changing damage. In extreme cases, you may even be claiming on behalf of someone that loses their life due to the accident, a child or someone who lacks the mental capacity to claim.
As for how accidents could happen, it may be that the road conditions aren't maintained as they're supposed to be and vehicles crash because of potholes, for instance.
Or it could be that the other vehicle is speeding and knocks you over because they didn't slow down.
Whatever the cause might be, if your injuries are due to someone else's negligence, you could have the right to seek compensation. Why not reach out if you have any queries about making a motor injury claim?
Making A Low-Value Car Accident Claim – The Whiplash Reform Programme
Your car accident claim may be impacted by the Whiplash Reform Programme. This changed how certain personal injury claims for a car accident are made in England and Wales. The reforms apply to those aged 18 or older who suffered injuries valued at £5,000 or less as a driver or passenger of a vehicle. This includes whiplash and minor soft-tissue injuries. If this applies to you, your claim will now be made via a different avenue.
Your whiplash injuries will be valued in line with the tariff set out in the Whiplash Injury Regulations 2021. These are fixed amounts.
Any additional injuries you suffered that are not covered by this tariff will be valued traditionally. Later in this guide, we look at how personal injury claims are valued.
If you are unsure which avenue you should take when making your road traffic accident claim, you can contact our advisors today.
How Safe Are The UK's Roads?
The UK's roads can, unfortunately, be the location for many accidents on an annual basis.
For instance, according to the Government's annual statistics, there were 1,460 reported road deaths in Great Britain during 2020. Furthermore, in the same report, it's revealed that 23,529 people were killed or seriously injured. Finally, when accounting for casualties of all severities in 2020, the figure stands at 115,584.
You can see the difference in total road casualties of all severities (as reported) in 2018, 2019 and 2020 in the graph below.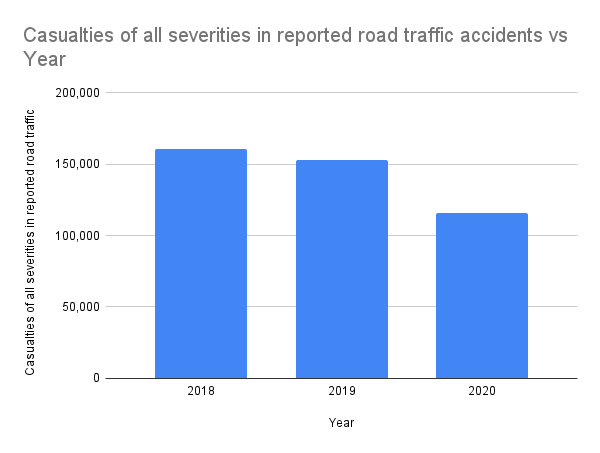 As you can see, road accidents remain all too common. If you happen to suffer injuries from a road accident that wasn't your fault, you might choose to file a motor injury claim. Contact us today to see if you can begin your claim.
Motor Accident Claims – Example Claims
Motor accident claims can be made for various reasons. To make a valid injury claim from a car accident, another road user needs to have breached their duty of care, resulting in your injury. Some of the scenarios that could lead to accident claims include:
Car collision: For example, a driver was driving above the speed limit and lost control of the car, causing a crash. If another party was injured, this could lead to a motor accident claim against the negligent driver.
Bad road conditions: If a car hits a large pothole unexpectedly, the driver may crash. The claim would be directed towards the party responsible for keeping the road safe, such as the council.
A car hitting a pedestrian: Pedestrians are considered to be the most vulnerable road users, so other road users are expected to take extra care around them.
A cyclist hit by a car: A cyclist being hit by a car could lead to a motor accident claim if the negligent driver caused them to be injured.
Hit by an uninsured driver: In certain scenarios, the driver responsible for the accident and for your injuries may be uninsured. You may be concerned this means you cannot make an injury claim from that car accident. In such a case, you could be able to claim compensation for your losses by making an MIB claim.
This list is not exhaustive. If you have been injured some other way, you could potentially still be eligible to claim. Get in touch with our advisors for more information.
Car Accident Compensation
A successful claim for car accident compensation could comprise of:
General damages: An amount to compensate you for the pain and suffering that your injuries had caused
Special damages: An amount to compensate you for any financial losses that are caused by your injuries
If you are claiming compensation for a car accident that happened in England or Wales, legal professionals will value your injuries using a publication called the Judicial College Guidelines (JCG). You can find figures from the JCG in the table below. However, compensation is assessed on a case-by-case basis, so these figures are not guaranteed.
| Injury | Severity | Compensation | Notes |
| --- | --- | --- | --- |
| Brain Injury | Very Severe (a) | £282,010 to £403,990 | Permanent brain damage that significantly impacts the victim's life & mental capacity. |
| Paraplegia | Severe (b) | £219,070 to £284,260 | Permanent paralysis reducing movement within the body & causing a reduction in life expectancy. |
| Back Injury | Severe (a) (i - iii) | £38,780 to £160,980 | Significant spinal cord damage requiring surgery & potentially preventing the victim from walking again. |
| Arm Injury | Injuries Resulting in Permanent and Substantial Disablement (b) | £39,170 to £59,860 | An arm injury that sees the victim suffer permanent nerve damage, thus limiting movement within the affected arm. |
| Neck | Severe (iii) | £45,470 to £55,990 | The award considers how long the claimant suffered with the most serious symptoms, how much treatment was required and the prognosis. |
| Hip and Pelvis | Severe (iii) | £39,170 to £52,500 | This bracket includes various hip and pelvis injuries, such as a fracture that causes degenerative changes and leg instability. |
| Severe leg injuries | Moderate (iv) | £27,760 to £39,200 | The award considers the extent of treatment, impact on employment, degenerative changes, future surgery, imperfection union of fractures, muscle wasting, limited joint movements, knee instability, unsightly scarring, and increased vulnerability to future damage. |
| Shoulder | Serious | £12,770 to £19,200 | This bracket includes dislocations along with damage to the lower brachial plexus, fractured humerus causing restricted shoulder movement, rotator cuff injuries with symptoms that persist after surgery and soft tissue injuries with permanent and intrusive symptoms. |
| Whiplash Tariff | With a minor psychological injury | £4,345 | This tariff is for claimants that have suffered whiplash with a minor psychological injury with symptoms lasting between 18-24 months. |
| Whiplash Tariff | Without a psychological injury | £4,215 | This tariff is for claimants that have suffered a whiplash injury with symptoms lasting between 18-24 months. |
Special damages you could claim for include:
Loss of earnings
Treatment or care costs
Requiring modifications to your home
Travel expenses
If you would like to learn more about how to make a road traffic accident compensation claim, please contact one of our advisers.
Local Authority And Highways Agency Claims
We noted earlier that road conditions could be the potential cause of the accident. Therefore, it's entirely possible that the defendant wouldn't be another motorist but rather your local council or the Highways Agency. After all, they have a duty of care to preserve the safety of locations under their control.
That includes taking care to ensure the safety of anyone using a public place or service, with roads being amongst them. Consequently, if you suffer injuries from poor an injury caused by a lack of timely road maintenance (potholes, faulty traffic lights, minimal street lighting etc.), you may wish to claim against the local authority.
Keep in mind that claiming can be a big step to take. Therefore, you need substantial evidence to support your case.
Please contact us, and we will provide advice on how to pursue this type of motor injury claim.

Untraced Driver And Uninsured Driver Claims
When making a motor injury claim, it's easy to assume that the client will have been able to take down the defendant's details. Additionally, they may assume that the defendant has insurance. However, what if this isn't the case?
What if the driver goes untraced by escaping the scene after a hit-and-run accident? Or perhaps the driver is known, but they don't have insurance? Could the victim still file a claim?
The simple answer is yes. In both scenarios, the would-be client would go through the Motor Insurers' Bureau (MIB) to make a claim. That's because the MIB specifically deals with claims involving untraced and uninsured drivers. A solicitor could support you with this.
Therefore, the person suffering injuries could still claim with the knowledge that they may receive the justice they deserve. Our panel of road traffic accident solicitors can also assist in this process; call us on the number above for legal advice.

How Long Will It Take To Get My Compensation?
The process of a motor injury claim can last a number of months. However, the time it takes can vary. For example, if there is overwhelming evidence in your favour and the defendant immediately accepts liability, that makes a quicker settlement more likely.
Once both parties agree on the settlement, the claimant may receive their settlement within a month, though it can take longer.
Interim Payments
The client may require some form of compensation before a settlement can be agreed upon. As long as the defendant has already admitted liability, the claimant could apply for an interim payment. This allows the claimant to receive a specific amount of money to cover their current costs for medication or home care, for example.
These expenses must relate in some way to the accident and their rehabilitation from the accident. Note, though, that any interim payments would be deducted from the final settlement.
Therefore, they would still receive the same figure overall, but part of the sum will be received in advance of the final agreement.
Please message us on our Live Chat if you have any queries.

How Much Time Do I Have To Begin My Claim?
You should be aware of what the time limit is to file your motor injury claim. The personal injury claims time limit is generally three years. This dates from when the accident happened or from the date of knowledge. The latter is the date that you become aware that negligence at least contributed to your injuries.
Note that this doesn't mean the claim has to reach its conclusion within a 3-year timeframe.
We should point out that the rules aren't the same for everyone. Indeed, the time limit differs slightly when it comes to children and those lacking mental capacity.
This is because those under 18 can't legally file claims themselves. However, certain adults could claim on their behalf as litigation friends. If the child turns 18 and nobody claimed on their behalf already, they would have 3 years from their 18th birthday to claim.
Meanwhile, those who lack the mental capacity to claim could do so when they recover. They'd have 3 years from the date of recovery. However, a litigation friend could make a claim on their behalf while they lack mental capacity.
Contact us for further insight on this topic.

I Suffered A Motor Vehicle Injury, What Should I Do?
Once you intend to file a motor injury claim, you need to begin building your evidence. This is something that your personal injury solicitor would help you with.  This could include any CCTV footage of the accident, as well as photographs of the scene and your injuries.
Gathering contact details of witnesses for statements could also help. The same goes for collecting the name, insurance and registration details of the defendant at the time.
A crucial element, though, is medical evidence. For example, you may have visited a medical professional following the incident. You could access these records.
As part of the claims process, you would attend a medical assessment with an independent medical professional to:
Prove your injuries were caused or worsened by the accident
Have the severity of your injuries assessed
Note that you may only decide to make a claim several years later. Therefore, an up-to-date medical check could help determine if there's long-lasting damage. Also, note that you may find that further health complications arise in the aftermath of your accident without your previous knowledge.
The medical assessment could prove this, strengthening your case even more. Message us today for advice on evidence to support your claim.

Pre-Action Protocols For Road Traffic Accident Claims
Pre-action protocols are actions the defendant and claimant should take before trying to settle their claim in court.
Though not a part of these protocols, the first step you could take is to contact us about your potential claim. Our advisors will assess your case and decide if our panel of solicitors are able to take it on.
If your claim is taken on, the defendant would receive a letter of claim asking them to accept liability. If they do so, then a settlement could be reached fairly quickly.
However, if they refuse liability or don't respond, then this could eventually lead to court proceedings. The claims process could take longer before a potential trial. During that time, though, the defendant may decide to accept liability. Negotiation for a settlement would begin at that stage, and you may receive compensation shortly after that.
In the unlikely event that it goes all the way to court, your solicitor would still be helping you.
To get in touch about a motor injury claim, simply:
We remind you that there's no obligation to proceed with a claim just because you're in touch with our advisors. What's more, they're available to help you 24/7 and give free legal advice.

Claim For A Motor Injury On A No Win No Fee Basis
If you're filing a motor injury claim, we suggest you do so with a No Win No Fee solicitor. Now, many potential claimants worry about the costs of taking legal action with a solicitor. Furthermore, they may have financial struggles beforehand, perhaps as a direct result of their road accident.
Therefore, making a claim could seem too daunting a prospect to consider. However, that's why our panel offer their services under a No Win No Fee agreement.
How does this work?
Firstly, our panel of personal injury solicitors will assess the potential success of your claim. If it is strong, they could take your claim under the terms and conditions of their No Win No Fee agreement.
This means that if the claim wins, you pay a success fee to your personal injury solicitor. The success fee has a legal cap so you don't lose a significant amount of your settlement.
However, if the case happens to be unsuccessful, you don't pay any solicitor fees whatsoever, hence the term No Win No Fee.
Furthermore, you don't pay any hidden costs, and you wouldn't pay any solicitor fees before or during the case. Drop us a message to find out more about No Win No Fee agreements.

Other Information
This motor injury claim guide aims to help you understand the claims process. However, we recognise that you may still want additional information. That's why we provide the following sources from our own website and credible external sources.
Starting with our site, we have a page all about car accident claims.
We also go into detail on cycle accident claims.
Furthermore, we spotlight the subject of a medical report for a compensation claim.
Meanwhile, the NHS has a breakdown of whiplash.
The Government's website goes into detail on interim payments.
Finally, you can learn more about the work of the Motor Insurers' Bureau (MIB).
Thank you for reading our motor injury claim guide.
Writer KS
Checked by HT