I Suffered Work-Related Injuries, Can I Claim?
Have you suffered work-related injuries that were caused by your employer's negligence? If so, you may be able to make an accident at work claim to seek compensation for your injuries.
All employers have a duty of care to protect your health and safety in the workplace. However, in some cases, they may fail to uphold the duty of care they owe which could cause their employees to sustain harm. If an accident at work injures you as a result of your employer failing to uphold their duty of care, you could be entitled to claim compensation for the pain and suffering you have experienced.
This guide will explain the process of how you could make a claim to seek the compensation you deserve. Also, we aim to provide information on the average payout for a personal injury claim in the UK.
If you have any further questions after reading our guide, please get in touch with a member of our team. You can contact us by:
Calling us on 020 3870 4868
Filling out the claim online form with your query.
Speaking with an advisor via the live chat feature below.
Select A Section
What Are The Most Common Work-Related Injuries?
According to the Health and Safety Executive (HSE), 441,000 people sustained a non-fatal workplace injury in 2020/21. These figures are according to self-reports from the Labour Force Survey (LFS).
Under the Reporting of Injuries, Diseases and Dangerous Occurrences Regulations 2013 (RIDDOR), employers are responsible for reporting certain injuries and incidents. The graph below shows employer reported non-fatal injuries by most common accident kinds as per reports made under RIDDOR.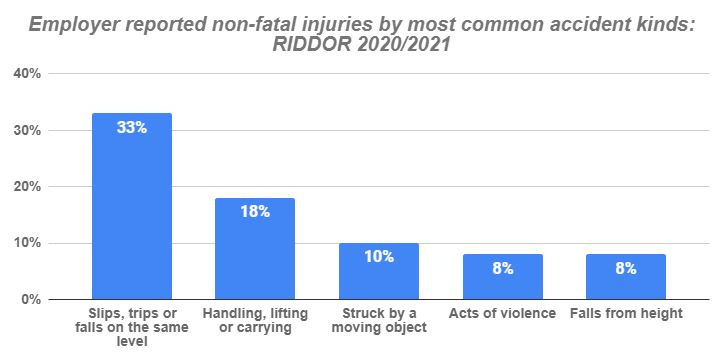 It's important to note that not all injuries reported to HSE are caused by negligence. However, the following examples show how an employer's negligence could cause someone to sustain work-related injuries:
Failure to remove or reduce the risk a hazard poses: You may have sustained a broken neck in a slip, trip or fall accident after a wet floor sign hadn't been put down.
Failure to provide Personal Protective Equipment (PPE): In some cases, your employer is required to provide PPE if they have taken all other reasonable steps to remove the risk of a hazard and the risk still remains. However, your employer may have failed to do so leading to you being exposed to harmful substances, such as carbon monoxide or asbestos.
Inadequate training: Your employer should provide adequate training to ensure you are doing your job safely. For instance, if your employer tasks you with manual handling, they should provide training on the correct way to do so. If they don't, it could result in you lifting heavy objects incorrectly and suffering a back injury.
Failure to carry out regular risk assessments: Your employer may have failed to carry out regular risk assessments to ensure work equipment is safe to use. As a result, someone could sustain a fractured leg in a fall from height due to a defective ladder.
Fatal Work-Related Injuries
According to RIDDOR, 142 people were killed in the workplace in 2020/21. There were many causes of fatal accidents at work, including:
Falls from a height
Being struck by a moving vehicle
Being trapped by something collapsing or overturning.
Preventing Injuries In High-Risk Workplaces
As per the Health and Safety at Work etc. Act 1974, employers have a duty of care to take reasonable steps to protect their employees from experiencing harm in the workplace.
The steps they must take will vary depending on the workplace industry but generally, employers should carry out regular risk assessments to highlight any hazards. If the risk assessment does highlight any hazards in the workplace, employers should take reasonable steps to either remove or reduce the risks a hazard poses.
Other steps they could take to prevent work-related injuries might include:
Providing adequate training
Providing PPE where necessary, such as gloves, goggles or masks
Communicating health and safety procedures to employees
However, there are situations where your employer may fail to uphold the responsibility they have towards you. If this results in an accident that causes you to sustain harm, you may be able to put forward a valid claim for compensation.
For more information, please get in touch with our team on the number above.
Reporting Work-Related Injuries
Under RIDDOR, employers, the self-employed and the person in control of work premises should report certain incidents and injuries, such as:
Death of workers and non-workers that have occurred as a result of a work-related accident
Certain specified injuries such as fractures, amputations, crush injuries, serious burns or scalds.
Injuries that have required an employee to take more than 7 days off work
Non-fatal accidents to non-workers, such as members of the public.
Additionally, any workplace that has more than 10 members of staff should have a workplace accident book. Any accidents at work should be recorded in the book, including details such as:
The time of your accident
The date of your accident
Where your accident took place
How your accident happened
The injury you sustained
When Can You Claim For Work-Related Injuries?
If you wish to claim compensation for work-related injuries, you must be able to demonstrate negligence occurred. Negligence involves when your employer has breached the duty of care they owed you and caused you to sustain harm as a result.
There are several steps you can take to build a strong claim, such as:
Seek medical advice: This can ensure you receive the correct treatment for the injuries you have sustained. Also, it can produce a medical record of your injuries which you can provide as evidence to support your claim. You may also be invited to attend an independent appointment to produce an up to date medical report on the full extent of your injuries.
Gather evidence: Evidence you could collect might include photographic evidence of your injuries and the accident, CCTV footage, witness contact details and a copy of your accident recorded in the accident workbook.
Seek legal advice: A solicitor could help you seek compensation for work-related injuries sustained as a result of your employer's negligence. They can help you gather relevant evidence and arrange for you to attend a medical appointment in your local area.
If you'd like to seek legal advice, our panel of solicitors could help. Get in touch with our team on the number above for more information.
Work-Related Injury Claim Limitation Period
According to the Limitation Act 1980, the time limit for making a personal injury claim is three years. The three years may start from the date that your accident occurred. However, there are sometimes exceptions to this rule.
Please contact our team today to find out more about the exceptions to the personal injury claims time limit.
What Could You Be Entitled To Claim After An Injury At Work?
Your compensation claim for work-related injuries may include two heads of claim; general and special damages. General damages compensate you for your injuries, both physical and psychological. The award you receive for your injuries will vary depending on:
The severity of your injuries
The extent to which they have impacted your quality of life
Medical evidence may be used to assess the nature of your injuries. Alongside this, the Judicial College Guidelines (JCG) may be used to help value your claim. We have used bracket compensation amounts set out in the JCG to create the table below.
As many factors will affect your claim, you should only use the figures as a guide. If you cannot see your injury listed, please call our team. An advisor can provide a free valuation of your injuries.
| Type Of Injury | Damages | Comments |
| --- | --- | --- |
| Wrist Injuries (A) | £44,690 to £56,180 | Where all function in the wrist has been lost. An arthrodesis may have been carried out. |
| Wrist Injuries (B) | £22,990 to £36,770 | An injury to the wrist which leads to significant disability which is permanent. There is still some useful movement. |
| Elbow Injuries - Less Severe (B) | £14,690 to £30,050 | An elbow injury which impairs its function. There is no significant disability and no major surgery is required. |
| Elbow Injuries - Moderate Or Minor (C) | Up to £11,820 | Most injuries to the elbow fall in this bracket. Examples could include lacerations, tennis elbow or simple fractures. |
| Knee Injuries - Moderate (i) | £13,920 to £24,580 | Examples of injuries could include cartilage tears, dislocations and injuries which lead to instability, wasting, weakness or other mild disability in the future. |
| Ankle Injuries - (C) Moderate | £12,900 to £24,950 | Injuries might include fractures and tears of the ligaments that lead to disabilities that are less serious. |
| Chest Injuries (E) | £5,000 to £11,820 | Inhalation of smoke or toxic fumes. This may leave some residual damage/ injury. This should not be severe enough to impact lung function permanently. |
| Chest Injuries (F) | £2,060 to £5,000 | Examples could include a collapsed lung. The person should recover fully without complications. |
| Chest Injuries (G) | Up to £3,710 | Soft tissue injuries or broken/ fractured ribs. The injury may cause a disability or pain that is serious in nature over several weeks. |
| Lung Disease (A) | £94,470 to £127,530 | The claimant may be young and suffer a serious disability. The injury may get progressively worse and lead to premature death. |
In addition, to general damages, your claim may include special damages. Special damages reimburse you for any financial costs associated with your injuries, provided you have evidence to support any losses. These might include medical costs, travel costs or loss of earnings.
Contact Us To Discuss No Win No Fee Claims
Our panel of solicitors could handle your accident at work claim on a No Win No Fee basis. This means you won't need to pay an upfront cost for a solicitor to begin working on your case. Also, you can avoid paying ongoing costs while your claim proceeds.
When you claim on this basis, you will pay a success fee if your claim is successful. The fee is deducted from your compensation as a legally capped percentage. However, your solicitor will make you aware of the fee before your claim proceeds. If your claim fails, you won't pay the success fee to your solicitor.
For more information about starting your claim for work-related injuries, get in touch with our team. An advisor could assess whether you hold a valid claim. If you do, they could appoint a solicitor from our panel to take your case on this basis. You can get in touch by:
Calling us on 020 3870 4868
Filling out the claim online form with your query.
Speaking with an advisor via the live chat feature below.
Related Services
Below, we have provided some other guides that you may find useful.
We have also provided some external resources that could help.
We hope this guide has helped. However, if you have any additional questions on claiming compensation for work-related injuries caused by your employer's negligence, call our team on the number above.