Claiming Compensation For A Permanent Injury
By Lewis Aaliyah. Last Updated 6th April 2023. Have you experienced a permanent injury that was caused by someone else's negligence? If so, you could be entitled to claim compensation. A permanent injury can be difficult to process. Furthermore, they can vary in severity. For example, a permanent injury could range from a broken or missing tooth to a severe brain injury.
This article will cover how much you could be awarded in permanent injury compensation. We'll also be talking about what could constitute a permanent injury. If you have any questions over the course of this guide, then please don't hesitate to get in touch.
How Much Could You Claim For A Permanent Injury?
Our team of personal injury advisors are waiting to help you. No question is too small. The more we know about the circumstances surrounding your injury, the more accurately we will be able to help you.
If you have a valid claim, then we may be able to connect you with a personal injury solicitor from our panel. You may even be able to pursue your claim on a No Win No Fee basis. Read on for more information, including our contact details.
Get In Touch With Our Team
There are a number of ways you can get in touch with us.
Call us on 020 3870 4868

Chat to our team using the pop-up window in the bottom right

Fill out our

online form

to see if you could have a claim
Services And Information
Everything You Need To Know About Permanent Injury Claims
In this guide, we will look at the process of claiming compensation for an injury that has had a permanent impact on you. We will begin by looking at what a permanent injury is, as well as some statistics related to injuries of this nature. 
 You may be wondering how compensation is calculated for an injury that will affect you for the rest of your life. We will take a closer look at how claims are valued and the different types of damages that could make up your settlement. 
Next, we will look at different kinds of personal injuries that you could sustain. We'll look at the different effects that each of these injuries could have on your quality of life.
You may be wondering whether there is a time limit to putting forward a personal injury claim. In this guide, we include a section looking at the limitation period that applies to starting a claim and the exceptions that can apply.
Finally, we will examine what No Win No Fee agreements are and the benefits that they can offer you when funding legal representation. To conclude, we will provide you with some additional resources and answer some commonly asked questions about permanent injury claims.
What Is At Permanent Injury?
A permanent injury is one that you will not recover from. Some permanent injuries might have less of an impact on your quality of life than others. For instance, if you chip one of your teeth in an accident, this would be classed as a permanent injury as your tooth cannot repair itself. However, a brain injury is also a permanent injury, and this kind of injury could have an impact on your personality and interaction with your environment.
One example of a location where permanent injuries can occur is in the workplace. Amputations are a kind of permanent injury that can occur in the workplace. As you can see from the graph below taken from the Health and Safety Executive (HSE), the number of workplace amputation injuries has been declining since 2014/15.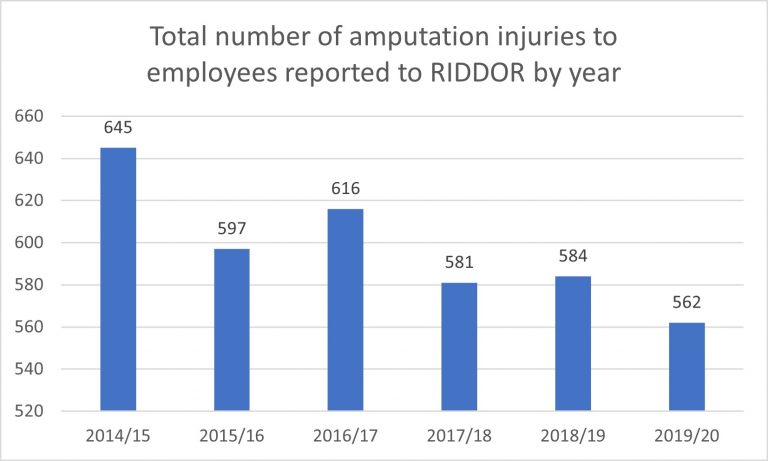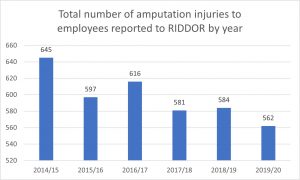 Types Of Permanent Injuries
There are a number of different kinds of permanent injuries. As we have already mentioned, some of these injuries could have a greater impact on your quality of life than others.
Some examples of permanent injuries include:
Severe burn injuries

Damage to, or loss of, your hearing or sight

Loss of teeth (including damage to teeth)

A permanent nerve injury

Bone or joint damage (e.g. a permanent arm injury or permanent ankle injury)

A spinal injury leading to things like paralysis or quadriplegia
This is just an example of some of the permanent injuries that could be sustained. If your particular injury isn't listed here, don't be discouraged. If you have suffered an injury that will affect you permanently as the result of someone else's negligence, then you could still have a valid claim.  Get in touch with us today, and we can help you establish whether you may be eligible for a permanent injury payout. 
Permanent Injury Settlement Amounts
You might be wondering, 'how much is a permanent injury worth?' There are two heads of claim to consider when working this out. The first is general damages, which address any pain, suffering or loss of amenity caused by your injuries. The latter relates to when you can't participate in activities that you usually would, such as going to the gym or playing sports.
To work out general damages, you may be asked to visit an independent medical expert. They will then assess your injuries and the impact they have had on you. The results of the assessment are included in a medical report, which your solicitor can use alongside the Judicial College Guidelines (JCG) to value your permanent injury claim.
Previously updated in April 2022, the JCG features an extensive list of injuries and how much they could be worth. We have taken examples of permanent injury compensation from the JCG to create the table below. Please only use the figures as guidance.
Permanent Injury
Description
Amount
Very Severe Brain Damage
Cases in these brackets will involve little to no meaningful to response to environment. The injured person will have little or no language function and will need full-time care.
£282,010 to £403,990
Severe Post-traumatic stress disorder
The injured person will be permanently unable to work or function at anything close to a pre-trauma level.
£59,860 to £100,670
Injuries Affecting the Senses
Total blindness and deafness.
In the region of
£403,990

Injuries Affecting Sight
Total blindness.
In the region of
£268,720

Injuries Affecting Sight (c. i)
Loss of sight in one eye where vision in the remaining eye has been seriously reduced and is at risk of deterioration.
£95,990 to £179,770
Injuries Affecting Sight
Total loss of one eye. The level of award within this bracket will be based on the psychiatric effect of this injury.
£54,830 to £65,710
Hearing
Injuries within this bracket will usually occur where hearing loss has occurred at an early age and this has affected speech development.
£109,650 to £140,660
Hearing
Total deafness.
£90,750 to £109,650



Hearing
Total loss of hearing in one ear. Higher awards will be made where there are other problems associated with this, like tinnitus or dizziness.
£31,310 to £45,540
Taste and smell
Total loss of taste and smell.
In the region of
£39,170

Lung
Where a young person has been injured in such a way that their life expectancy is seriously reduced.
£100,670 to £135,920
Reproductive System
Total loss of reproductive organs in a man.
In excess of £144,420
Reproductive System
Where a young man has been made totally impotent and sterile, and sexual function has been lost.
In excess of
£153,870

Reproductive System
Where infertility in a woman causes severe anxiety, depression, pain and scarring.
£114,900 to
£170,280

Teeth
Where several front teeth are lost or seriously damaged.
£8,730 to
£11,410

Teeth
Where back teeth have been permanently damaged.
£1,090 to
£1,710

Special Damages
Next, there is the matter of special damages. Special damages are awarded to reimburse you for any financial losses or additional costs that arise due to your injury. 
For example, let's say the claimant is 30 years old and cannot ever return to work because of their injury. Part of the special damages payment could consist of a figure calculated to cover their wages for the 35 years they would have worked up to the retirement age of 65.
Other things that can be included are medical costs that aren't included on the NHS, like physiotherapy. Special damages can also cover things like adaptations to your home that you need to cope with your injuries. 
It's very important to retain evidence of any expenditures. Otherwise, you may not be able to claim them back. In regard to loss of earnings and future losses, you'll need to be able to present payslips etc.
NHS employees used to be able to utilise a scheme known as the Permanent Injury Benefit. This offered compensation to those who were permanently injured or contracted a disease as a result of being employed by the NHS.
Unfortunately, the permanent injury benefit is no longer in operation. However, if NHS employees can provide evidence that they have had a delayed onset of symptoms and did not claim before the deadline of 30th March 2018, they may still claim up until 30th March 2038.
Permanent Paralysis And Quadriplegia
Paralysis is a condition that affects the control or sensation of a certain part of the body. The condition can be brought on in a number of ways, such as via physical trauma or as the result of a stroke. It can affect any part of the body, including the limbs and face.
Symptoms can manifest themselves as:
Stiffness

Muscle spasms

Numbness

Pain

Tingling

Flaccidness
One of the more severe forms of paralysis is quadriplegia. This is when the person cannot feel, move, or control any part of their body from the neck down. Some occasional sensation or movement may return with time. Unfortunately, it's rare that any significant recovery is made.
Quadriplegia can occur as the result of spinal injuries. This is where the spinal cord, which sends messages from your brain to the rest of your body, is damaged. 
Traumatic Brain And Head Injuries
A head injury or brain injury will often occur due to a blow or jolt to the head. Even if the skull is not fractured or penetrated, the force can still cause internal injuries such as torn brain tissue or a blood clot forming between the skull and brain.
Some incidents could only cause temporary symptoms, but others could result in severe damage and long term effects. This can include things like disorders of consciousness which include comas and vegetative states. Sometimes, these injuries can even be fatal.
Symptoms of traumatic brain injuries can vary greatly. If you have taken a blow to the head, it's always best to be checked over by a medical professional. Some symptoms may only develop at a much later date. However, some examples of possible effects of head injuries include:
Headaches

Nausea and vomiting

Dizziness

Drowsiness

Sensory issues like ringing ears, sensitivity to light and blind spots in your vision

Issues with memory and concentration

A change in personality 

Epilepsy
Permanent Scar Injuries And Disfigurement
Scars can vary in size, and there are a number of different kinds of scars that can have different properties.  For example, keloid scars are an especially problematic scar as they can be more raised and noticeable than other scars and can continue to grow beyond the original area of damage on the skin. They are caused by the skin's overproduction of collagen during the healing process. Anyone can get keloid scars.
Some causes of scars are:
Cuts or lacerations to the body

The result of a severe burn or scald injury

Caused by a fall on a rough or abrasive surface – these are called friction burns
Permanent Burn Injuries
Severe burns can be difficult to live with. In some cases, the damaged skin can be left in a constant state of discomfort, pain, and at risk of infection. They can also mar the appearance of someone, causing severe psychological distress. 
Skin grafts may also need to take place in some cases. This is when healthy skin is surgically removed from another, less visible part of the body and grafted onto the damaged area to aid in the healing process.
Spinal Cord Injuries
Injuries to the spinal cord can cause pain and discomfort in any area of the back, including the neck. The symptoms may just be limited to one particular area of the spine or affect the entire length of the spinal cord.
Any back injuries should be checked over by a medical professional. They can lead to some very serious conditions, such as partial paralysis.
Permanent Damage To Internal Organs
Damage to internal organs tends to happen in two main ways: blunt trauma and penetrating trauma. Blunt trauma is caused by being struck by something. Penetrating trauma will occur when the organ is penetrated by an external object. Both injuries can result in the total loss of an organ. Alternatively, they could result in reduced function, which could be permanent. 
For example, you could sustain a bruised kidney as the result of trauma from a blunt object. If the trauma is severe enough, then this may result in reduced function or even the need to have it removed. If the kidney had been penetrated during a violent attack, for example, it becomes more likely that you could lose the organ altogether. 
Permanent Loss Of Sight Or Hearing
Sensory organs such as the eyes can also suffer from permanent injuries. Even if they are not lost altogether, they could be left so damaged that your sight is removed or permanently reduced.
The same is true for hearing loss. Some conditions can cause hearing loss on a temporary basis, and they can also cause your hearing to be affected indefinitely. Hearing loss may also result in tinnitus, which can be permanent in nature. This is where you hear a ringing or "buzzing" inside your ear that is not caused by an outside source. 
Amputations And Limb Loss
In some cases, you can lose function in a limb without losing the limb itself. For instance, a serious brachial plexus injury may leave you little better off than if your arm had been lost completely. 
Sometimes, however, you can experience an injury that requires your limb to be amputated. Amputation might occur if your limb is infected or gangrenous, you have limited function in the limb, or it's undergone serious trauma. Some people who undergo amputation might be able to have a prosthetic limb fitted, but this isn't suitable for everyone.
Permanent Damage To The Bowels
Permanent damage to someone's bowels can be painful and alter how they live their lives, including how they are able to socialise. Injuries of this kind can result in incontinence or the use of a colostomy bag, which patients could be ashamed of and find very embarrassing. The psychological harm caused by an injury like this could affect the amount of compensation you could receive.
Permanent Injuries To Sexual Organs
Permanent injuries to sexual organs for either gender can result in large compensation awards. This is because they can severely limit or even completely remove the possibility of having sexual intercourse. Not only can these injuries be extremely painful, but they can also have an incredibly dire effect on the individual's mental health.
Furthermore, injuries to sexual organs will be valued based on the extent to which fertility was affected. If you sustain an injury to your reproductive system that permanently prevents you from having children, then this could increase your compensation award.
Time Limits To Claim For A Permanent Injury
Personal injury claims generally have a 3-year limit placed on them. You must start your claim within this time limit to prevent it from being statute-barred. This is stated in the Limitation Act 1980.
This time limit will usually start from the date that the accident took place but can also run from the "date of knowledge". This is the date you knew (or should have known) that your injuries were related to negligence. 
However, there are some exceptions to this. We have included some examples below.
Child Accident Claims
Underage claimants cannot legally pursue their own claim. Because of this, their time limit is suspended until they come of age. Then they will have 3 years from their 18th birthday to make a claim.
Prior to this date, a litigation friend can pursue their claim for them. This is an adult with the child's best interests in mind. They can be someone like a parent, guardian, friend, or legal professional.
Claiming on Behalf of Someone With a Reduced Mental Capacity
If someone lacks the mental capacity to make a claim, then the time limit is suspended. A litigation friend can claim on behalf of them while the time limit is suspended.
If the injured person regains the mental capacity to make a claim, then the three-year time limit runs from the date of recovery. In the event that they never recover, then the time limit is indefinitely suspended.
I Sustained A Permanent Injury, What Should I Do?
You should always seek medical attention following an injury. Even minor ones can develop into severe and possibly even permanent injuries. The medical records will also act as good evidence for later stages in your claim.
Other good forms of evidence you could gather are things like photographs of your injuries and the hazard that caused them. If there was CCTV coverage of the area, you have a legal right to request the footage, and it may provide evidence as to the circumstances of your accident.
Seeking legal advice will also be a very helpful step. While it's not a legal requirement, having a solicitor work on your behalf could make the claims process run more smoothly. Our advisors will be able to offer you guidance and information regarding your claim once you have answered a few of our questions. They could also connect you with a personal injury lawyer from our panel. 
Claim For A Permanent Injury On A No Win No Fee Basis
A No Win No Fee agreement means that you won't owe your solicitor any money unless your personal injury claim is successful. Following the conclusion of a successful claim, your solicitor is paid via a small, legally capped percentage taken from your payout. 
In addition to this, you won't be asked to pay anything upfront in order for them to start working on your claim. You also won't be asked to pay any ongoing fees.
Our panel of personal injury solicitors work with clients on a No Win No Fee basis.  Get in touch with our advisors, and we may be able to connect you with a lawyer from our panel.
Call us on 020 3870 4868

Chat to our team using the pop-up window in the bottom right

Fill out our

online form

to see if you could have a claim
Supporting Information
We've included some links to additional material you may find helpful.
FAQs About Permanent Injury Claims
Here are some answers to some of the questions we're often asked.
Can I claim if my child had a permanent injury?
Yes. Although no one under 18 can make a claim, you could pursue the claim for them. However, you would need to be appointed as their litigation friend.
Could I claim for multiple injuries?
Yes. If your accident has caused you multiple injuries, then all of these could be considered when valuing your claims. 
Could I claim if I was assaulted?
Yes, you can make a  claim if you've been injured as the result of a violent attack. This compensation is paid through a government-run scheme called the Criminal Injuries Compensation Authority (CICA).
Thank you for reading our guide on claiming for a permanent injury. We hope that you have found it useful.
Writer IB
Checked by NC