How to Report a Doctor For Medical Negligence – UK Guide
By Jo Jeffries. Last updated on 14th March 2022. Welcome to our guide on how to report a doctor in the UK for negligence.
If you've received treatment that has resulted in a new or exacerbated condition, you may want to report a doctor for medical negligence. If you feel that your health has been negatively impacted because of a medical mistake, then we may be able to help you. It can be difficult to know if the decline in your health was inevitable or a result of an avoidable error.
This guide aims to aid you in understanding when you may have been on the receiving end of medical negligence.
By getting in touch with us today, our expert advisors will be able to offer you advice in this area. We can deem whether you have a valid claim. If so, we may connect you with an experienced personal injury specialist from our panel.
Get In Touch With Our Team
There are a number of ways that you can reach us. The easiest ways are listed below:
Call us – 020 3870 4868

Speak to us using the live chat function in the bottom right corner

You can start your

claim online

through our website
Get in touch with us at any point if you need any clarification regarding this article. Read on for more information.
Services And Information
Everything You Need To Know About How To Report A Doctor For Medical Negligence
Cases of a doctor acting negligently can occur in a GP practice or a hospital. Both a general practitioner and a physician working in internal medicine can be reported for negligence. Sometimes a patient will be unhappy with their treatment and report a doctor for negligence. 
Taking legal action against a healthcare professional needs to be due to substandard care. A well-executed procedure that doesn't have the desired effect does not necessarily constitute negligence.
Doctors make mistakes like people in other professions. However, their errors can cause lasting damage and sometimes drastically alter a patient's life. To best avoid a medical negligence report, a doctor must be extra vigilant at all times.
Below, we'll cover various types of doctor negligence and advise you on your legal rights. If you have any questions or would like to proceed with a claim, please call us on the number above.
What Is Considered Negligence By A Doctor?
A doctor can be said to have acted negligently if their action or inaction results in their patient's health being negatively affected. The negligence can cause a new condition or injury to arise, or it can make an existing one worse.  In either circumstance, you'll have to report a doctor for medical negligence in order to make a claim for compensation.
However, your health being affected due to medical treatment does not necessarily mean that you will have a valid claim. It could be that your doctor has offered you different treatment options and explained the risks of each.
As long as everything is laid out for you to understand, then it may not be the fault of the physician that your health has suffered following the treatment that you opted for.
Medical negligence can be a grey and confusing area. It's always best to seek legal advice if you are unsure as to whether what you experienced makes you eligible to receive compensation for your injuries.
NHS Medical Negligence Statistics
You can report a doctor for medical negligence in a variety of settings. This includes your GP, but also doctors in hospitals and other medical facilities. It doesn't matter whether or not you received private treatment or you were seen at an NHS facility. This doesn't affect your eligibility to claim.
The statistics in the graph below show certain financial statistics regarding medical negligence claims made against the NHS in 2020/21. These figures have been taken from the latest NHS Annual Resolution Report. As you can see, there was a total of £2,209 million spent in costs associated with NHS medical negligence claims over this period.
However, this figure is not just made up of claims made against doctors. You can claim for medical negligence compensation if you have been injured by a dentist (dental negligence) or surgeon too. For example, if you have undergone unnecessary surgery.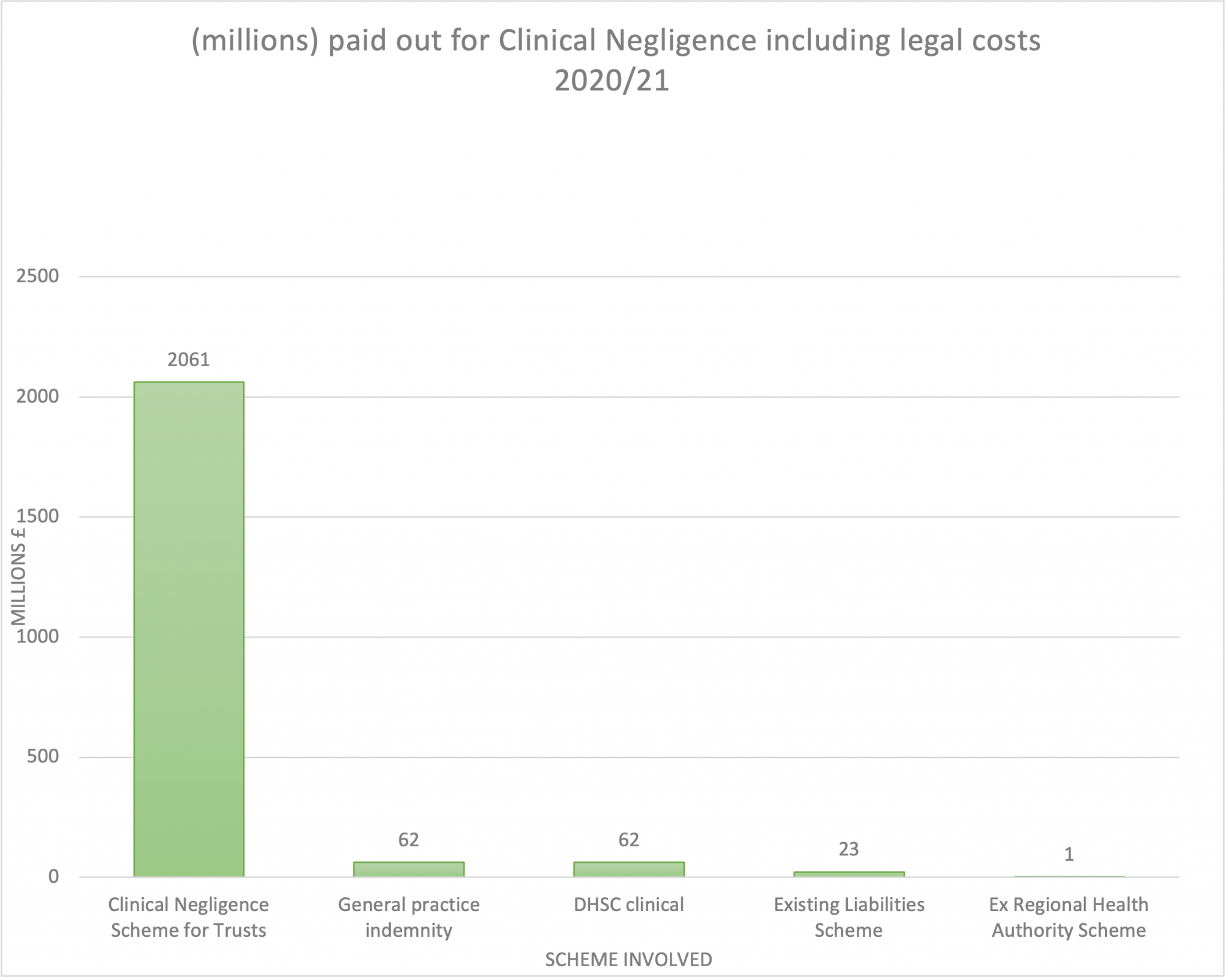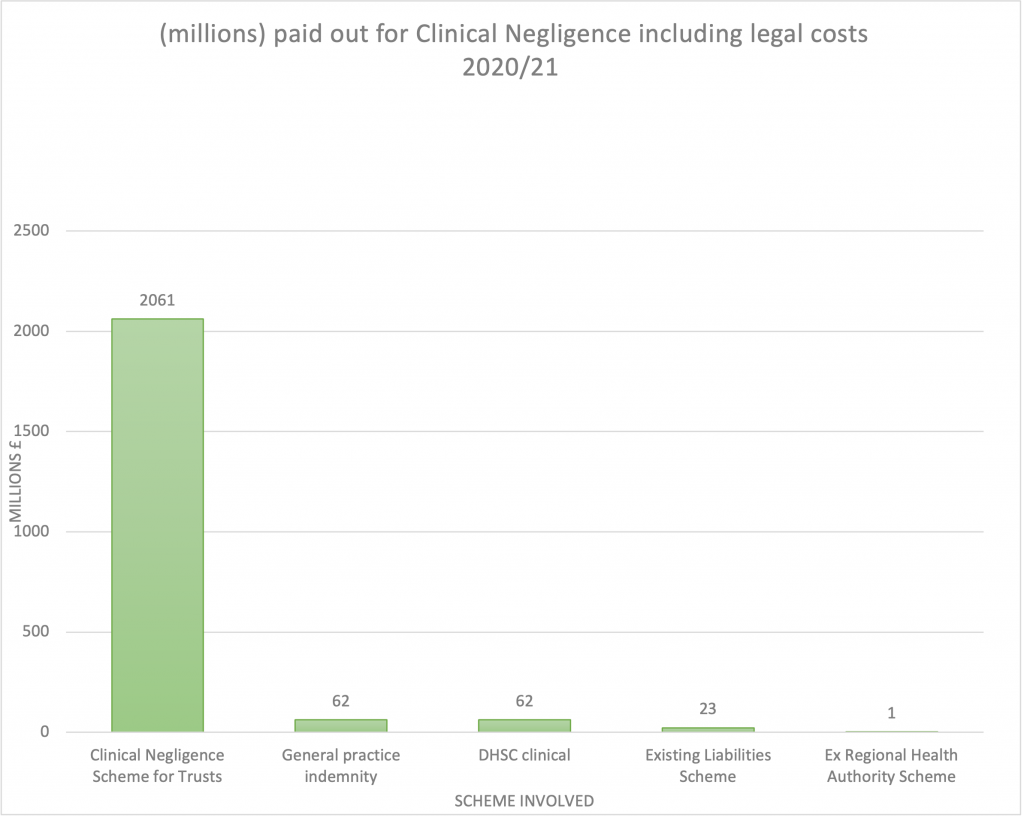 How Do I Know If I Have A Case For Medical Malpractice?
Knowing whether or not you've been the victim of medical malpractice can be tricky. There are often risks involved with many medical procedures and medications. Your doctor should explain these risks to you beforehand so that you can make an informed decision. 
If you understand the risks involved and choose to go ahead with the treatment, those same risks become yours to take. That isn't to say that mistakes can't still be made on the part of the doctor or GP. It could even be that the wrong treatment has been advised in the first place.
We've compiled a list below of some of the main reasons why you could report a doctor for negligence.
Types of medical negligence by a doctor
Misdiagnosis

–

This could cover diagnosing the wrong condition, taking too long to diagnose it, or missing it altogether

Malpractice resulting in injury
Negligent medical advice
Medication or prescription error – Such as your doctor prescribing you drugs that you're known to be allergic to, or prescribing too high or low a dosage, which could cause illness.
Wrong-site surgery –

This relates more to surgical negligence. There have been documented cases of surgery being performed on the wrong area of the body. Operations on the wrong patient have taken place too.

Loss of life –

Losing a loved one due to malpractice must be well-proven. Losing a loved one due to an unsalvageable medical condition or injury is unlikely to be considered malpractice.

Never Events –

serious and entirely preventable incidents that could lead to serious harm or death. Examples include wrong-site surgery and leaving foreign objects in a person's body after an operation. 
If you're unsure as to whether your experience falls under the category of clinical negligence, then get in touch with us today.
How Do You Prove Negligence By A Doctor?
Our advisors are often told, "I want to know how to report my doctor's surgery for negligence but they don't know how to prove it." 
The key to proving that a general practitioner or other medical professional is responsible for your decline in health is gathering evidence. The purpose of this evidence is to prove that the doctor breached the duty of care they owed to you, and as a result, you suffered harm.
This evidence can come in a number of forms but the most common is via your medical records. Your medical records should contain a detailed account of all medical treatment you have received. As an official document, all of the entries should be dated. This means it'll be easier to prove when your decline in health occurred and the most likely reason why.
There are other forms of evidence that could help you succeed when you report a doctor for medical negligence. Another could be witnesses. Anybody who was in the room with you may be able to corroborate your story regarding any medical wrongdoing.
If you decide to make a claim, our panel of clinical negligence lawyers can help obtain more specialised evidence too, such as medical reports from independent doctors. 
To learn more about the types of evidence required to prove a claim, please get in touch with our team.
Medical And Clinical Negligence Compensation Calculator
If you're awarded compensation for medical negligence, it could be comprised of two sums. These are known as general damages and special damages. 
General damages are the part of the payment intended to cover the physical pain and mental suffering occurring due to the accident. It is calculated using medical evidence obtained as part of the medical negligence claim, with reference also given to a publication known as the Judicial College Guidelines. 
The JCG is updated semi-regularly, with the last review happening in 2019. It features a detailed list of potential injuries and what they could stand to be worth. 
Special damages can be a little more flexible. This figure is calculated on a case-by-case basis to reimburse you for any financial loss caused due to your injury. It can also cover any future losses that are directly related to the incident.
It's very important to keep detailed financial records to prove the occurrences of these expenditures. For example, you will need to present paychecks to prove your loss of earnings. A failure to do so could see your claim for special damages rejected by the defendant. 
Below, as an alternative to a medical negligence claims calculator, we have provided a table featuring some examples of what general damages payments can be worth.
| Damages | Awarded For | Amount |
| --- | --- | --- |
| General | Loss of spleen where there is continuing risk of internal infection and disorders due to the damage to the immune system | £19,510 to £24,680 |
| General | Minor illness caused by a wrong medication error, with symptoms lasting for a few weeks or months. | £860 to £3,710 |
| General | Delay in diagnosing ectopic pregnancy but fertility not affected | £3,180 to £19,170 |
| General | Less serious leg injuries - Simple fracture of a femur with no damage to articular surfaces | £8,550 to £13,210 |
| General | An uncomplicated colles fracture | In the region of £6,970 |
| General | Moderate knee injuries - Fractures, ligamentous tears and the like which give rise to less serious disabilities such as difficulty in walking on uneven ground | £12,900 to £24,950 |
| General | Severe neck injuries - Usually involving serious fractures or damage to discs in the cervical spine | £61,710 to £122,860 |
For a more precise estimate, please get in touch with our team.
Report A Doctor To The NHS For Negligence
When people tell us, "I want to know how to report my doctor's surgery for negligence" we let them know that it can vary depending on where in the country they are. Whilst you can approach the doctor's surgery or hospital directly, some may find this too intimidating. If you have received private care, you may have no other option. Although some larger companies may have a complaints department.
For reports concerning NHS services, how you direct your claim will differ depending on where you are in Great Britain. England, Scotland and Wales all have a service available for you to report your doctor for negligence.
Report A Doctor To The NHS Ombudsman For Negligence
If you want to report a doctor for Medical negligence who works for the NHS, there is an alternative way for you to pursue this. This is by approaching another service known as the NHS Ombudsman. 
It is independent of the NHS and doesn't cost you anything to use. However, you must be able to prove that you have first attempted to resolve the complaint locally. You should not directly approach the Ombudsman as the first port of call.
Similar to reporting your doctor directly, the NHS Ombudsman's method of contact is regional. It depends on whether you are in England, Scotland or Wales.
How Do I Report A Doctor For Medical Negligence To The General Medical Council?
The General Medical Council (GMC) advises people that they should not be the first port of call when you want to report a doctor for negligence. You should initially address the doctor or their employer directly. 
However, if your concern could affect future public safety or the public opinion of doctors then you are advised to contact the GMC. They will ask you for information surrounding your experiences with the medical professional in question. Following this, they may launch an investigation to gather evidence to corroborate your claims.
How The General Medical Council Will Investigate A Negligent Doctor
The General Medical Council doesn't just receive reports from members of the public. They are also informed of potential contributors to future medical negligence by the police and even employers. 
Concerns the GMC encourages people to report include:
Doctors making repeated mistakes

Fraud or dishonesty

Discrimination against patients

Breaches of confidentiality
If a concern turns out to be valid, it's then determined what steps should be taken.
Steps The General Medical Council Can Take Against Negligent Doctors
The doctor's practice can be restricted if this is felt to be necessary. They can also be suspended, receive additional training, or be made to work under supervision. In some extreme cases, medical professionals have been removed from the medical register.
This is more commonly referred to as being, "struck off" and means that they are no longer allowed to practice medicine in the UK.
How Much Time Do I Have To Claim For Medical Negligence?
If you want to report a doctor for negligence, in most cases you will have 3 years to do so. This 3-year time limit should be abided by, but there are circumstances in which you may have longer to take legal action.
General Accident Claims
For many accident claims, you will have 3 years from the date of the accident to make a claim. If you wait longer than this, it becomes statute-barred under the Limitation Act 1980. This means it's unlikely that your case will be addressed.
However, there is an alternative date known as the date of knowledge. The date of knowledge is the date that you were made aware of your injury. In many cases, the date of the accident and the date of knowledge will be synonymous with one other.
This is not always the case, however. Your injuries can manifest or become detectable at a date later than your accident. This can be difficult to prove. Having medical evidence to back up your claims can be invaluable during your case.
Child Accident Claims
For claimants under 18, this 3-year time limit can be suspended. Children cannot legally pursue their own claim, so the time limit does not begin until their 18th birthday. From this date, they will have 3 years to claim.
A parent, guardian, friend, or legal representative can pursue a child's claim for them before they become an adult. Whilst doing so, they're known as a "litigation friend".
Claiming for Those with a Reduced Mental Capacity
In some cases, a claimant may not be able to make a claim themselves due to a reduced mental capacity. This could be due to things such as brain damage or being in a coma. In these instances, the 3-year time limit can be suspended until their mental capacity returns.
Similar to child accident claims, a litigation friend could also act on their behalf before this occurs.
These time limits can feel vague if you've never encountered them before. Our advisors can clear them up for you. The more we know about the circumstances surrounding your case, the accurately we will be able to assist you.
Do You Handle Negligence Claims Against A Doctor On A No Win No Fee Basis?
Our panel of specialist medical negligence lawyers often work with clients under a No Win No Fee agreement. Operating under this basis gives you much more financial safety. 
A No Win No Fee agreement means that you won't be responsible for paying your lawyer following the conclusion of a losing case. You also won't have to pay any fees upfront or during the claim. 
If your case is successful, your lawyer's success fee is covered by a legally capped percentage of the compensation you're awarded.
We always advise against representing yourself in a medical negligence case. If you lose a case without legal representation, you could be landed with legal costs worth a lot of money. No Win No Fee agreements can help make what can be a physically and emotionally tiring process, a little less stressful.
Find out today if you have a valid claim. Our advisors are waiting for you to get in touch and offer you advice on how you can proceed.
Call us – 020 3870 4868

Speak to us using the live chat function in the bottom right corner

You can start your

claim online

through our website
Other Information Relating To How To Report A Doctor In The UK
Here's some more information regarding medical negligence. Feel free to read at your leisure.
FAQs About Reporting A Doctor For Negligence
In this final section of our clinical negligence guide, we've included answers to some questions we often get asked.
How to report a doctor in the UK – How do you make a complaint about a doctor?
If you wish to make a complaint about a doctor, you should address their employer or themselves directly. Should this not achieve the desired results, you can approach the NHS Ombudsman. At this stage, you must be able to prove that you have tried to address the concern directly first.
If you are still not satisfied with the outcome, you could approach the General Medical Council.
What qualifies as medical negligence?
Medical negligence can involve a medical professional being responsible for an avoidable action/inaction which leads to the development or worsening of a patient's condition or injury.
The lines of what is negligence and what is not can get a little blurred at times. It's always best to check with a legal professional first before approaching who you believe should be held responsible. 
How do you prove medical negligence?
Proving medical negligence has taken place is always easier with solid evidence. Medical records are a very common form of evidence in cases such as these. Photographs can also assist you in winning your case. Written witness statements also often prove useful.
What is the difference between medical malpractice and medical negligence?
Medical negligence refers to when a patient's health is made worse unintentionally. It is usually the result of an accident rather than acting with intent.
Medical malpractice is when a medical professional knowingly deliver sub-standard care to a patient. 
How to report a doctor in the UK – Do I have to change practice?
If you want to make a complaint about a doctor in the UK, for example, your GP, you could contact the practice manager. This does not necessarily mean you'd have to change practice. You may prefer not to see that particular doctor again. You could ask the practice manager to put you under a different GP at the same practice. However, you could also opt to change practice if you prefer.
How to report a doctor in the UK – should I contact PALS?
If you are making a complaint about a service, you could contact PALS. They could give you advice about the NHS complaints procedure. They could also help you understand how the complaints process works.
However, if you've been harmed by medical negligence, they would not handle a claim for you. If you believe you could have a claim, why not speak to our team?
Thank you for reading our guide on how to report a doctor in the UK for medical negligence.