How To Make A Claim For Wrong Patient Medication Errors
This is a guide to claiming for wrong patient medication errors. If you are harmed due to clinical negligence involving medication, you may have a valid cause to make a claim. This guide aims to explain the process of claiming and what circumstances could entitle you to pursue compensation.
We will also explain what medical negligence is and the steps you can take if you're anticipating making a claim. You will benefit from the work of a solicitor when making a medical negligence claim, and for this reason, we also touch upon No Win No Fee agreements and how they can be used to fund your solicitor's service.
You can speak to one of our claim advisors to get the answers that you need by:
Select A Section:
When Could You Claim For Wrong Patient Medication Errors?
We are prescribed medication to treat the health conditions we have been diagnosed with. However, sometimes errors can occur with medication. This might include a wrong patient medication error where you're given drugs that are intended for someone else. If this happens as a result of medical negligence, then you could be entitled to claim compensation.
A medication error of this nature could include a prescription error whereby you're handed someone else's prescription in a pharmacy. It could also include a hospital error whereby you're administered medication that is intended for the person in the next bed.
If you are given medication that was meant for a different patient, you could suffer harm. Furthermore, if your medication is given to another patient, then this could mean that you go without the dose that you need. This could cause your injury to progress in a way it would not have if you'd received the drug you need.
What Is Duty Of Care?
Every medical professional that is involved in your healthcare in any way, has a duty of care towards you. This means that they need to provide you with a minimum standard of care.
If this duty is not fulfilled, then this could be considered medical negligence. If you're harmed as a result, you could be entitled to claim compensation.

Who Could I Make A Claim Against?
It can be possible to make claims for wrong patient medication errors either against the NHS or a private healthcare provider.
You can claim for a medication error made by a range of different healthcare professionals, including:
Doctors and GPs
Nurses
Dentists
Optometrists (for example, if they give you eye drops that are intended for someone else)
Statistics On Medication Errors
We created the graph below based on information from the British Medical Journal. It shows where medication errors are made the most in England, including wrong patient medication errors. As you can see, the majority of these errors were made at the point of administration.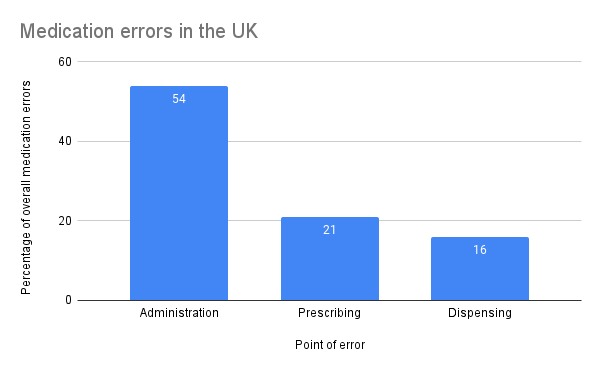 Claiming For Wrong Patient Medication Errors
There are steps that you can take if you are thinking about making a medical negligence claim for wrong patient medication errors:
Have your condition assessed. You should seek medical care to mitigate any risks to your health. Any notes added to your medical records can be used as evidence in a medical negligence claim.
Report the problem to any relevant parties. For example, you can report a doctor who you believe has acted negligently and prescribed you the wrong drug as a result.
Gather evidence. This is important in being able to prove medical negligence.
Seek legal advice. The intersection of law and medicine can be a complex area to navigate without the help of a professional. You may find that the services of a solicitor help you greatly when looking to make a claim.
What Do You Need To Prove Medical Negligence?
Below, we've included examples of some of the kinds of evidence you could provide to support your claim:
Photographs or a diary of your symptoms. You can only claim if medical negligence has caused you harm or worsened your condition.
Medical records. When you seek medical attention for your worsening condition, this will generate records. These can then be used to support your claim. In addition to this, you might be asked to attend an independent medical assessment as part of the process of claiming.
Evidence of financial losses. If you've suffered financially because of harm caused by medical negligence, then you could claim these back. Keep hold of receipts, bills and invoices, as well as payslips if you've taken any time off work.
The Bolam Test might also be used to determine whether or not the actions of the healthcare professional fall within an acceptable standard of care. This is where a group of healthcare professionals who are experienced in the relevant area of medicine are asked whether the duty of care was upheld.
For free legal advice on the process of gathering evidence for your wrong patient medication error claim, speak with an advisor today.

How Could We Help With Claims For Wrong Patient Medication Errors?
Those who have been harmed by a wrong patient medication errors resulting from medical negligence may be able to claim compensation; if this applies to you, we could help.
If you have a valid claim you could be connected with a No Win No Fee solicitor from our panel. They can help you with a number of different aspects of the claim, including:
Gathering evidence. They can identify all the aspects that could be included in your claim, as well as help you collect evidence to demonstrate these.
Arranging a medical assessment. This may be able to be done in your local area.
Advice on accepting an offer of compensation. They can tell you when they think you should accept an offer (although the final decision on doing so is up to you)
Use the information at the bottom of this page to get in touch with our team.

How Much Could Victims Of Wrong Patient Medication Errors Claim?
The physical or mental harm caused by wrong patient medication errors can be compensated through general damages. We have created the example compensation table below using guidelines that are produced by the Judicial College.
These guidelines are used by the legal system to help value claims. However, please be advised that these are only guidelines and the actual amount you receive could vary.
| Health Issue | Information | Compensation Level |
| --- | --- | --- |
| Kidney damage | Where both kidneys are seriously damaged or lost | £169,400 to £210,400 |
| Kidney damage | Total loss of kidney function or significant risk of urinary tract infection | Up to £63,980 |
| Kidney damage | Where one kidney is lost without any damage to the other | £30,770 to £44,880 |
| Bowels | Total loss of bowel and bladder function with other complications | Up to £184,200 |
| Bowels | Total loss of natural function with a dependence on colostomy | Up to £150,110 |
| Bowels | Severe abdominal injury causing impaired function and/or employment or diet restriction | £44,590 to £69,730 |
| Digestive system- Non-traumatic injury | An individual suffering from toxicosis suffers from symptoms such as diarrhoea, fever, and pain. It is not uncommon for the patient to have to remain in the hospital for several weeks. | £38,430 to £52,500 |
| Digestive system- Non-traumatic injury | Even though it is a serious condition, it doesn't last long. It usually takes about four weeks for diarrhoea, vomiting, and other gastrointestinal problems to subside. In some cases, mild symptoms may persist for a longer period of time. | £9,540 to £19,200 |
| Spleen | Where the spleen is lost, causing an ongoing risk of internal infection. | £20,800 to £26,290 |
| Spleen | Where there are minimal or no risks of internal infection due to immune system damage | £4,350 to £8,640 |
What Are Special Damages?
You may suffer monetary loss due to the harm you suffered as a result of medical negligence. You could claim these back under special damages.
Special damages can cover many different types of loss. For example, you could claim back lost income for taking time off work or the cost of care you need to cope with your condition that resulted from negligence. You can call and talk to one of our claim advisors to learn what special damages you may be entitled to.

No Win No Fee Wrong Patient Medication Errors Claims
Our team is available to answer any additional questions you may have at this stage. They can also evaluate your claim for you and tell you whether it is valid or not.
They may also offer to connect you with representation that offers No Win No Fee terms. This is also known as a Conditional Fee Agreement.
It means that you don't need to make an upfront payment or any as the claim is ongoing. Furthermore, if your claim is lost, you won't need to pay your lawyer.
The only time you'll be asked to pay them is in the event of a successful claim. Then, they will deduct a legally-capped percentage of your award.
If you need more information about making a claim for harm caused by medical negligence, then we can help. You can find the contact information for our team below.
Further Guides And Related Services
Here are some useful links to other sites.
General Medical Council- Duties of a doctor
And here are links to some of our other guides.
Time Limits For Making A Medical Negligence Claim
Claiming For A Surgical Procedure Gone Wrong
Writer CE
Checked by NC