Compensation For an Operation Gone Wrong
I Was Harmed By An Operation Which Has Gone Wrong, How Do I Claim Compensation?
We trust doctors, surgeons and medical professionals with our health and wellbeing, but things don't always go to plan. If you've been harmed by an operation gone wrong, you may be able to make a claim for compensation.
When we undergo an operation, we often do so with the expectation that we'll be better off having done so. So when an operation goes wrong, it can be incredibly frustrating and upsetting to come to terms with. Not only this but you could be left with physical injuries that affect you for a long time.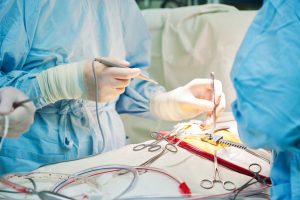 In order to be able to make a claim for compensation, you need to be able to show that your condition was caused or made worse by the procedure you underwent. If you're unsure, or you need help regarding your claim for a surgical procedure gone wrong, then we may be able to assist you.
Our expert legal advisors are on hand to answer your questions. Feel free to get in touch now to start your claim or if you need any clarification regarding the information you find in this guide.
Get In Touch With Our Team
There are a number of ways that you can reach out to us:
You can call us on 020 3870 4868.

Speak to us using the live chat window in the bottom right.

Claim online

using our website.
Services And Information
Everything You Need To Know About Operation Gone Wrong Claims
Every surgery, even a relatively straightforward procedure, carries with it an inherent risk. It is not always the fault of the surgeon for any mishaps that occur. 
However, all medical professionals, including surgeons, have a duty of care to their patients. If this duty is breached and you're injured as a result, you may be entitled to compensation. 
It's not just necessary surgeries related to health issues that you can claim compensation for in the event that they go wrong. Elective surgeries, which are generally voluntary, can also result in injury to the person being operated on. If the surgeon can be shown to be negligent, then you may be able to claim even though you chose to have the surgery.
What Are Operation Gone Wrong Claims?
Things can go wrong in all aspects of medical care. There are a number of things that can contribute to an operation going wrong. These can include:
Misdiagnosis

Prescribing the wrong medication

Misreading of paperwork

Improper or incomplete advice given
Over 2019/20, 15,550 clinical negligence claims were resolved by NHS Resolution. This is the arm of the NHS that deals with clinical and non-clinical claims. 
The vast majority of these claims were resolved without any need for court proceedings. Just over a quarter required court proceedings to reach a conclusion. Less than 1% of claims settled resulted in a trial. This goes to show just how uncommon it is for a case of this nature to reach the trial stage.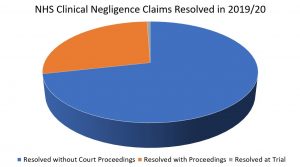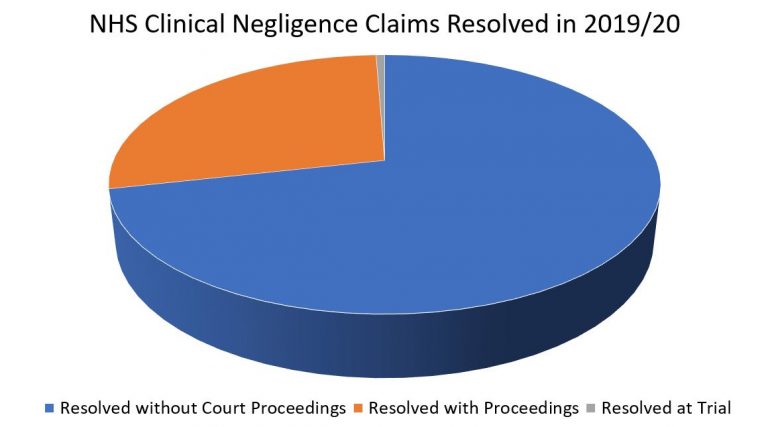 What Is Surgical Negligence?
Medical negligence is when an individual receives inadequate or substandard care when receiving treatment for an injury or condition. It can result in the patient developing new symptoms, or a pre-existing condition could be made worse.
Surgical negligence is a type of medical negligence specific to surgical procedures. It refers to when an operation leaves a patient with new or worsened symptoms due to mistakes being made. These mistakes can include things like infections caused by poor hygiene, surgery performed on the wrong site or foreign objects being left inside the patient.
If the level of care you received by the surgeon performing your operation fell short of the standards expected of their occupation, then it may be considered surgical negligence. Provided that the surgical negligence resulted in you being injured, you may be able to make a claim.
Surgical Never Events
A surgical never event is a serious but largely preventable error made during surgery. Never events must always be investigated under the Serious Incidents framework. 
These events have the potential to cause serious harm or even death in patients, but a specific incident does not need to have caused harm to be classed as a never event. However, in order for you to make a claim for compensation, you must have suffered some kind of injury or harm. A never event alone is not enough to form the basis for a claim for compensation. 
What are some examples of never events?
The NHS has provided a list of never events. These don't just cover surgical errors; the list of never events also includes medication errors, general errors and errors in mental health care. Below, we've included a list of some never events that might occur in a surgical setting. 
Wrong-site surgery

– This is where a surgical procedure is carried out on the wrong patient. It could also include a patient receiving the right treatment but at the wrong site (for example, where a knee replacement surgery is performed on the wrong knee).

Wrong implant/prosthesis

– When an implant or prosthetic device or component is surgically implanted into the patient, that differs from the one they had agreed upon. The location of the prosthesis being implanted can also be a factor. It should be noted that there are certain circumstances where a medical professional uses their clinical judgement and alters the implant required at the time of surgery

Retained foreign object post-procedure

– If a foreign object is left in a patient's body in error during surgery, this is classed as a never event and is an example of surgical negligence.  If the foreign object that's been left in your body causes you injury or harm, then you may be able to claim compensation. 
This is not a comprehensive list of surgical never events. If you feel that your health has been impacted due to an error during surgery, then get in touch with our advisors today.
How Could An Operation Gone Wrong Impact You?
People who suffer from an operation gone wrong may claim compensation as a result. Even if the surgery that went wrong was elective, such as cosmetic surgery, then the impact on your quality of life can be great. Sometimes, you may suffer from permanent effects. 
For instance, you may have had surgery performed on the wrong part of your body by a surgeon who acted negligently. This could then result in unsightly scarring and an uncomfortable and unnecessary recovery process from the surgery. Furthermore, you may then have to undergo surgery again on the correct site of the body.
Another way that surgical negligence can occur is through infections caused by poor hygiene. If your surgeon didn't adhere to the required standards of cleanliness when operating on you, this could result in you contracting an infection that could cause you to become very ill. However, it is important to note that all surgery carries some risk of surgical site infections, and just because you've contracted an infection does not mean that your surgeon breached their duty of care. 
If you've experienced an operation gone wrong and suffered injury or harm as a result, you may be able to claim compensation. Get in touch with our team today to find out more.
Operation Gone Wrong Claims Calculator
A typical compensation settlement can consist of two "heads" of claim; general damages and special damages. General damages make up the part of the settlement that accounts for any pain and suffering you've experienced as a result of negligence.
Whether it was necessary or elective surgery gone wrong don't necessarily matter; all surgeons have a duty of care to adhere to the standards of their profession. Failure to do so resulting in injury could lead to a claim. 
When calculating the general damages head of your claim, your solicitor will refer to a publication called the Judicial College Guidelines (JCG). The JCG contains guideline compensation brackets for different injuries of varying severities. 
There are also special damages to consider. This figure compensates you for the financial losses that you have incurred because of the incident. We have included a table below, demonstrating some examples of compensation awards for an operation gone wrong.
| Damages | Awarded For | Amount |
| --- | --- | --- |
| General | Loss of spleen - continuing risk of internal infection and disorders due to the damage to the immune system. | £19,510 to £24,680 |
| General | Infertility resulting from failure to diagnose ectopic pregnancy | £31,950 to £95,850 |
| General | Failed sterilisation resulting in an unwanted pregnancy | In the region of £9,570 |
| General | Where there has been a delay in diagnosing ectopic pregnancy but there's been no effect on fertility. | £3,180 to £19,170 |
| General | Less serious leg injuries - Left with metal implant and/or limp | £16,860 to £26,050 |
| General | Loss of one kidney with no damage to the other | £28,880 to £42,110 |
| General | Minor back injuries - Where a full recovery is made within three months | Up to £2,300 |
| General | Below-elbow amputation | £90,250 to £102,890 |
If you've suffered any of the effects listed above because of an operation gone wrong, you may be able to claim. Get in touch with our team today to get the process started.
What Could Cause Operations To Go Wrong?
There's no singular answer that can address the issue of why operations can go wrong. Sometimes, a problem with an operation may result from miscommunication between various departments about the needs of the patient. This may be the reason for wrong site surgery or for surgery performed on the wrong patient. 
Similarly, a surgeon's breach of duty of care can contribute to operations gone wrong. This may be the case if, because of a lack of concentration or care, they make a mistake in the surgery or leave a foreign object in the body. 
Surgical negligence can happen for a number of reasons. We will list some of them below.
Wrong Site Surgery
For someone to receive a procedure on the wrong part of the body (or sometimes performed on the wrong patient altogether) is an example of negligent behaviour. Patients' medical records should be checked and cross-referenced to ensure that all details are up to date. They need to be accurate to avoid being confused with the details of other patients.
Wrong site surgery could be the result on the part of the surgeon performing the operation, for instance, if they've failed to correctly read the patient's chart. It could also come about if the surgeon was given the wrong information. 
Wrong site surgery can result in an operation gone wrong claim. Even if the surgery was elective, you could still suffer ill effects if the surgery has been performed incorrectly. Other things such as scarring from unnecessary procedures can lead to avoidable anxiety and self-image issues.
 Unnecessary Surgery
Surgery can be quite an invasive experience. It can be physically and mentally tolling, and so patients will rarely undergo a procedure without careful consideration. There may even be a less invasive medical alternative.
An individual may be told they require surgery. But, if it turns out there were other treatment options available that they were not made aware of, then this could be seen as unnecessary surgery. 
You may also be able to claim if you were given surgery to treat a condition that you don't suffer from. Misdiagnosis can cause a number of issues, and if you've had incorrect surgery, then you could be able to make a claim. 
General Surgical Negligence
Mistakes with anaesthetic can cause patients to suffer unnecessary pain and discomfort during surgical procedures. Further damage caused by surgery can also be considered surgical negligence. Being unhappy with the outcome of surgery, complications related to recovery from surgery do not necessarily mean that negligence has occurred.
However, if it can be proven that the effects you're experiencing were the result of a medical professional neglecting their duty of care, you may be able to claim. Get in touch with our team to find out more.
How To Prevent An Operation From Going Wrong
Hospitals must make sure that all of their staff are properly trained and consistently adhering to the proper procedures. If an operation goes wrong, then you may be able to claim against the relevant NHS Trust. 
Therefore, it's in the hospital's best interests to launch a full investigation into any oversights or negligence that may have occurred. This reduces the possibility of mistakes happening again. If they do this, not only does it help safeguard against potential future claims, but the safety of their patients is further ensured, and their duty of care is upheld.
A patient can also question the doctor or surgeon's suggestions for treatment. It may be that a less invasive procedure could be possible before accepting surgery as their option. This could reduce the possibility of an unnecessary procedure being performed.
How Much Time Do I Have To Make An Operation Gone Wrong Claim
General Accident Claims
The time limit for making a clinical negligence claim is three years. This can be from the date of your injury. Alternatively, if the ill-effects of your surgeon's negligence were not apparent straight away, you can claim for three years from the "date of knowledge". This is the date you became aware that your injuries were the result of negligence.  
It's important to have an independent medical assessment as part of the claims process. This medical assessment can act as evidence in your claim
Child Accident Claims
The same 3-year time limit functions differently if the claimant is under 18 years old. It only begins when they legally become an adult. This is on their 18th birthday.
Whilst anyone under 18 cannot pursue their own claim, they can have a parent, guardian, friend or legal representative act on their behalf in claiming. This person would act as a litigation friend. Any settlement payout received will be paid into a legally protected account, which becomes available to the claimant on their 18th birthday.
Claiming For Somebody with a Reduced Mental Capacity
If the injured party lacks the capacity to claim for themselves, a claim can be made within 3 years of their mental state returning to as it was beforehand. Otherwise, a litigation friend can pursue the claim for them, and the 3-year time limit does not apply.
I Was Harmed By An Operation Which Had Gone Wrong, What Should I Do?
There are three main steps you should take once the harm caused by an operation gone wrong has been uncovered.
Seek medical care

Gather evidence relating to the circumstances of your claim

Seek legal advice about making a claim
Other evidence could come in the form of witness statements. For example, if you were told surgery was your only option, yet this turned out later not to be the case, anyone who heard the medical profession say this could act as a witness.
Once you have enough evidence gathered, then the next step is to seek professional legal advice. This is where we can start to help you more directly. The more you let us know about the circumstances surrounding your accident, whether it's lip surgery gone wrong or an unnecessary amputation, the more accurate information and advice we will be able to supply you with. If it's deemed possible that you have a valid clinical negligence claim, we may be able to put you with our panel of lawyers.
Contact us
Speak to us today, and we can get to process started together:
Phone us on 020 3870 4868.

You can use the live chat window in the bottom right corner of this page.

Alternatively,

claim online

using our website.
Can Operation Gone Wrong Claims Be Handled On A No Win No Fee Basis?
Whilst it is legally permitted to represent yourself during the process of a medical negligence claim, it is strongly advised that you seek legal representation from a solicitor who is well versed in this kind of claim. However, you may be concerned that in order to do so, you will have to pay substantial legal fees. In some cases, these need to be paid before they begin work on your claim. 
By working under a No Win No Fee agreement, you won't be responsible for any legal fees to your solicitor if you lose your case. You also won't need to pay anything before your claim begins or while it's ongoing. 
At the conclusion of a winning case, your solicitor takes their payment in the form of a legally capped fee from your final settlement payout. The fee they take is agreed upon before they begin working on your case. This way of pursuing your case reduces the financial costs associated with legal representation.
Other Information
We have assembled some additional reading material for you to better understand this kind of claim.
FAQs About Operation Gone Wrong Claims
What happens if an operation goes wrong?
If an operation goes wrong, it can be for reasons other than medical or surgical negligence. But if you suspect negligent behaviour, obtain legal advice to find out if you have a valid claim for compensation.
Can you sue if an operation goes wrong?
Not being happy with the outcome of the surgery is often a different matter to the procedure actually negatively affecting your health. Patients receiving elective cosmetic or plastic surgery may not be satisfied with the final outcome. This doesn't necessarily mean that they're entitled to make a claim. Similarly, there may be complications with necessary surgical procedures that aren't necessarily the result of negligence.
How long after a medical mistake can you sue?
You have 3 years from the date the mistake took place. However, sometimes this three-year time limit will run from the "date of knowledge", or the date you became aware that your injuries resulted from negligence. It's advised that you pursue a claim as soon as possible following an injury to prevent the case from being statute-barred. 
Written by IB
Edited by NC