How To Claim With A Data Protection Solicitor
By Megan Newton. Last Updated 15th November 2022. This guide will aim to provide information about how to make a personal data breach claim with a data protection solicitor. We will look at some of the ways a data breach can happen or harm you, and the role of a data protection solicitor when claiming for such incidents. Do I need to use data protection solicitors near me? No, you can use any solicitor you like, no matter where they are located.
Your claim will have aspects that are unique to your situation. We say this so that you understand that we cannot cover everything in one short guide. Therefore, if you have unanswered questions, we urge you to call and talk to one of our claim advisors on 020 3870 4868. Or if you prefer, request a callback by using our contact form.
Select A Section:
What Is A Data Protection Solicitor?
In certain circumstances, if you have fallen foul of a breach of data protection, solicitors could potentially help you to claim for monetary losses or mental hardship. Every organisation that stores and processes your personal or special category data (data controllers), must ensure it is kept safe and secure.
To be eligible to claim financial losses or psychological injuries, stress or trauma caused by a data breach, firstly, you must be able to demonstrate that identifiable or sensitive data was included in the data security incident.
Secondly, you will need to prove that the data controller, the organisation responsible for protecting your personal data, was liable for the breach taking place. This may mean showing how they failed in their duty to adhere to data protection laws.
And lastly, you must have suffered as a consequence of the breach.
Applicable Legislation
The Information Commissioner's Office (ICO) is responsible for managing data security and privacy laws in the UK. It is also within the mandate of the ICO to take punitive action against any organisation that fails to conform to applicable laws.
Data protection laws include; the Data Protection Act 2018 (DPA), and the UK General Data Protection Regulation (UK GDPR).
What Data Does Legislation Cover?
UK data security and privacy laws do not protect all of your data. Only data that is categorised as special or personal. Below, we have given some examples of these types of data.
Personal data – this would include things such as your phone number, date of birth, address, name, and email address. As well as information such as your bank account, debit card or credit card numbers.
Special data – this would be, for example, your racial/ethnic background, religious beliefs, trade union memberships, sexual persuasion, etc.
Data Protection Breach Statistics
Using data that was made available by the ICO, we created the bar chart you see below. It relates to the types of data security incidents caused by human error. It covers the third financial quarter Q3 of 2021/22.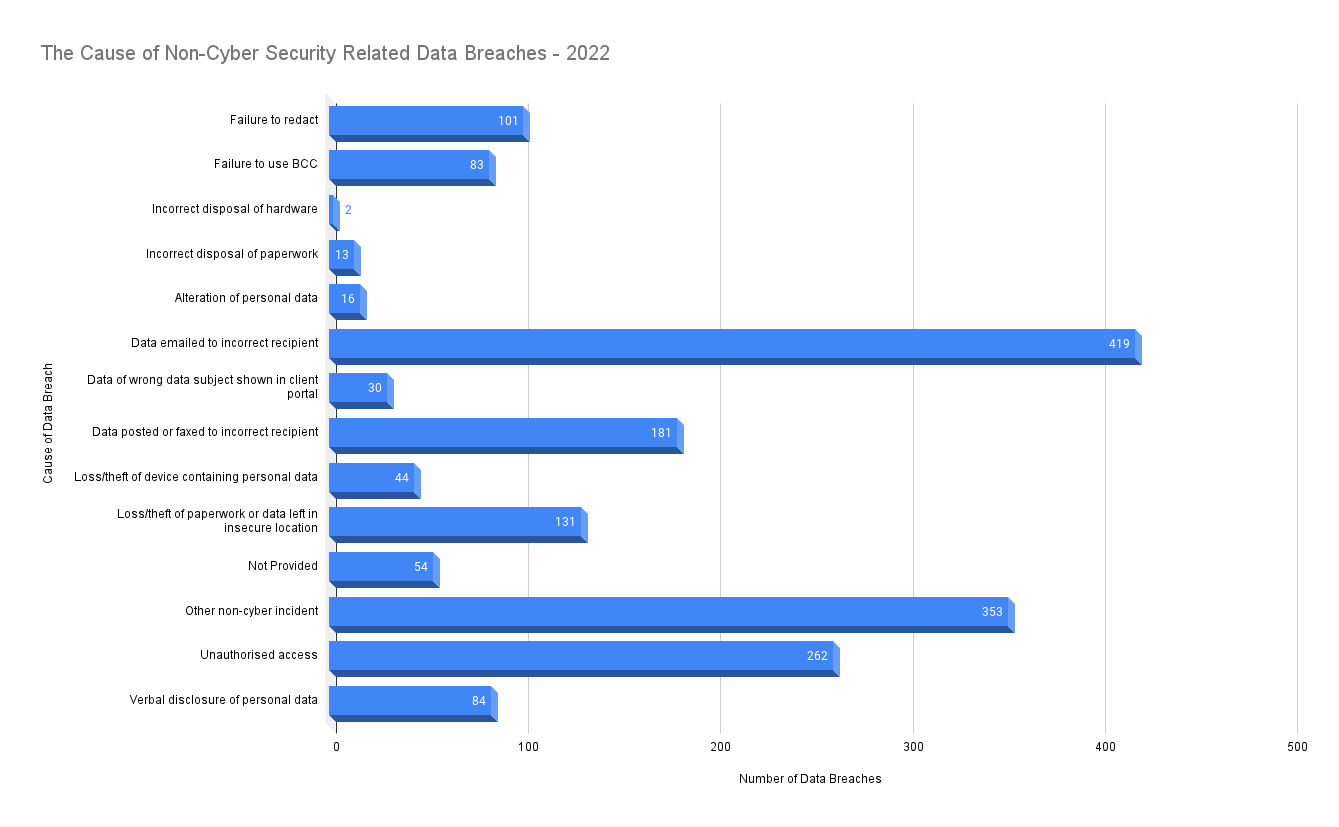 Types Of Data Protection Breaches
As you can see by looking at the graph in the previous section, there are a number of common ways that human error can result in a data breach. Below, we have given some example scenarios of how a data breach could occur that data protection breach solicitors could potentially help you claim for.
A mass email is sent, but your email address is left exposed, as the BCC box was not used.
A misdirected fax, sent to the wrong recipient, exposed your data.
Your data was stored on a digital device that was stolen or lost and not password protected.
Paper-based records are disposed of, without doing so by following regulatory requirements to obfusticate them first.
These are a few examples of the types of incidents that a data protection solicitor could potentially help you to claim for. Talk to a claim advisor to find out if you have a potentially valid claim.
Data Breach Claims
Following a personal data breach, a solicitor could help you with pursuing a claim. A solicitor who specialises in data breach claims could help you with your case as they can provide years of expertise, knowledge, and experience in the subject.
They can help you with forming the basis of your claim, gathering evidence, and various other aspects of the claims process.
However, in order to claim compensation for a data breach, you must prove the following:
The organisation's failings must have caused the data breach.
Your personal information was compromised in the data breach.
As a result of this, you suffered psychological harm or financial losses.
Remember, if an organisation can prove that they did all they could to protect your personal data, but it was still breached, you might not be able to make a claim.
Contact our advisors today to find out whether you are eligible to make a claim. If they believe you are, they could connect you with a data breach solicitor from our panel.
How Do I Know If I Have Been Affected By A Data Breach?
Under the UK GDPR if an organisation has suffered a data breach, whether they are responsible for it or not, must inform you, the data subject, of the breach if it affects your rights and freedoms. It is important to keep hold of any notifications that state your data has been exposed. This is in case you wish to make a claim.
The organisation also need to report this type of serious breach to the ICO within 72 hours of becoming aware of it. The ICO may fine the organisation after an investigation. However, they do not award compensation.
In such a case, you can contact the organisation you believe has breached your data and ask for information. You may also like to report the data breach to the ICO.

How Much Could You Claim With A Data Protection Solicitor?
There was a case heard in the Court of Appeal in 2015, that set the precedent for claiming non-material damages (for harm, pain and suffering) when not claiming for monetary loss. This case was Vidal-Hall and others v Google Inc.
As each claim is unique, we cannot give you an average amount of compensation a data protection solicitor might win for you. Instead, we have created the table below. It gives examples of compensation ranges for different psychological injuries such as post-traumatic stress disorder (PTSD).
We referred to the updated 2022 guidelines that are produced by the Judicial College to create this table. The same guidelines that the legal system uses to value injuries.
You may also be able to recoup any financial losses caused by the data breach as material damages. This would include both past and predicted losses. But you will need to provide documented evidence to claim.
| Type of Harm | Severity Level | Notes | Amount |
| --- | --- | --- | --- |
| Psychological Harm | Severe | Serious problems coping with daily life and will have a poor prognosis. | £54,830 to £115,730 |
| Psychological Harm | Moderately Severe | A more optimistic prognosis. However there person will still suffer with significant problems. | £19,070 to £54,830 |
| Psychological Harm | Moderate | Whilst there were various problems, the person will have made significant improvements. | £5,860 to £19,070 |
| Psychological Harm | Less Severe | How long the person suffered as well as other factors will affect how much is awarded. | £1,540 to £5,860 |
| Anxiety Disorder | Severe | The claimant will unlikely be able to function the same as pre-trauma. All areas of life will be negatively affected. | £59,860 to £100,670 |
| Anxiety Disorder | Moderately Severe | A better prognosis, with the possibility of some recovery with help from a professional. | £23,150 to £59,860 |
| Anxiety Disorder | Moderate | The person has almost completely recovered, and the remaining symptoms should not cause a significant impairment. | £8,180 to £23,150 |
| Anxiety Disorder | Less Severe | After two years the person will have completely recovered, with only potential minor symptoms persisting after this time. | £3,950 to £8,180 |
Get Help From A Data Protection Solicitor
Do you need to find a data protection solicitor in the UK? Then we can help you.
Call our expert advisors who will be able to inform you if you have a valid personal data breach claim. They can also connect you to a No Win No Fee data breach claim solicitor if you have a good chance of being awarded compenstaion.
Generally, you would sign a Conditional Fee Agreement CFA. This would explain how the solicitor would be paid their success fee. There are no upfront solicitor fees. But if the claim is a success, you will need to pay your lawyer a small success fee, which is legally limited.
Do you have more questions? Or would you like us to help organise a data protection solicitor to begin your claim for you? Then use the information below to get in touch.
Telephone number: 020 3870 4868
Learn More About Claiming With A Data Breach Solicitor
Here are some useful external links for you.
What To Do If Your Data Has Been Breached
How Does Data Protection Work?
Here are some other guides that we have published.
Data Subject Rights Following A Breach Of Data Protection
Lost Medical Records Compensation Claims In The UK
Can I Claim For A Data Breach If My Personal Data Was Not Locked Away Or Secured?
Writer EC.
Checked by IE.