Psychiatric And Mental Health Compensation Calculator
Welcome to guide, looking at how to use our mental health compensation calculator. When you're involved in an accident, you might expect that you could sustain injuries. These might include things like a bone fracture, soft tissue injury and a broken tooth.
Psychiatric Injury Compensation Calculator
However, you may not realise that you could also experience psychological repercussions as the result of an accident. While these conditions might not be as easy to spot as the physical impact of the injury, they can be very debilitating.
For instance, a mental illness might stop you from doing the things you usually do. This might prevent you from working. In addition to this, it could stop you from enjoying life generally.
Get In Touch With Our Team 
You may want to ask some additional questions about the process of claiming after you finish reading this guide. Fortunately, our panel of personal injury solicitors are here and ready to help you. They can answer any queries you might have about your specific claim.
To contact UK Law, call 020 3870 4868, fill out our contact form or use our 24/7 Live Chat. There's no obligation to pursue a claim just because you speak to us, and we're available 24/7.
Services And Information
Everything You Need To Know About Mental Health Compensation Calculators
In this guide, we will look at what psychiatric injuries are and the types of mental health issues you could experience because of negligence. We'll also examine some statistics related to mental health issues.
Furthermore, we will look at the time limits that apply to these kinds of claims. We'll also examine the steps you can take if you've experienced a mental injury as the result of negligence.
In order to be eligible to claim compensation for your injuries, you need to prove that:
The defendant owed you a duty of care;
They breached this duty of care towards you;
You experienced a psychiatric injury as a result.
Providing evidence of this duty of care breach is essential for psychological injuries claims to be a success. Read on or contact us for further information about how to identify when a breach of duty of care has occurred.
What Is A Mental Health Compensation Calculator?
A mental health compensation calculator is an online tool that allows claimants to learn what they may receive. There is a range of different factors that can affect the amount of compensation you receive. For instance, the severity of the injury and the length of time it takes to recover will impact the award you receive.
There are a number of different psychiatric injuries that you could sustain as the result of an accident. For example, you might suffer from Post-Traumatic Stress Disorder as the result of an accident on the road. This might mean that you're unable to drive or even travel in a car after the accident.
It's also possible to suffer from psychiatric injuries as a result of physical injuries. For example, head injuries can cause mental health conditions like a change in personality, depression and anxiety.
What's more, you could suffer from psychological repercussions if an injury has changed the way you live your life. For example, you might be injured in a way that negatively affects your appearance or undergo an amputation that means you cannot do the things you usually do. This could cause you to become depressed as a result.
A mental health compensation calculator could be very useful as you consider a compensation claim. Please get in touch with our expert team for more advice.
How Common Are Mental Health Problems?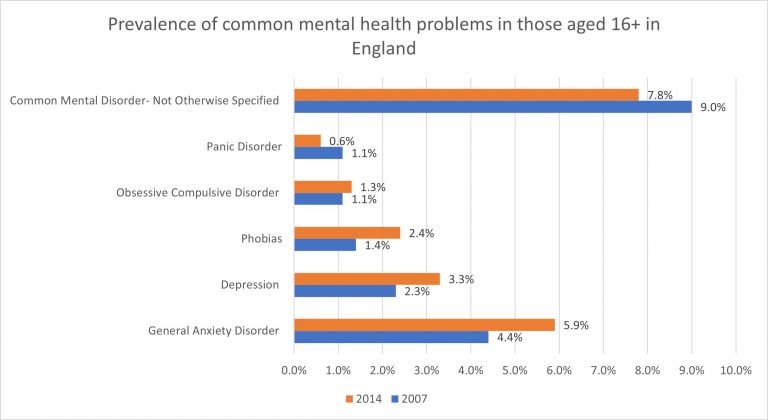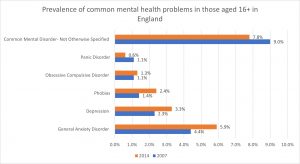 The graph above comes from statistics from the Mental Health Foundation. It shows the prevalence of different mental health problems in England.
It shows that many different kinds of mental health conditions increased between 2007 and 2014. The exception to this is panic disorder, the rate of which saw a decrease in 0.5 percentage points.
If you're experiencing a mental health disorder that was caused by the negligence of someone who owed you a duty of care, then you may be able to claim. Speak to a member of our team today for more information.
Types of Mental Health Issues
There are a number of different kinds of mental health issues that could affect you after an accident that was caused by someone else. These include:
Anxiety: This is an uneasy feeling, like worry or fear. Everyone experiences feelings like these at some point or another. However, if you're unable to control these feelings, and they're brought on by a wide range of different issues and situations, you might be suffering from Generalised Anxiety Disorder.
Depression: As with anxiety, many people will feel sad or down throughout the course of their life. But when your sadness or low moods persist over a period of weeks or months, this could be caused by clinical depression.
Post-traumatic stress disorder (PTSD): PTSD is a kind of panic disorder. It's usually caused by a really stressful, scary or distressing event. Someone with PTSD might experience flashbacks to the traumatic experience.
Panic disorder: If you suffer from panic disorder, it means that you experience panic all the time instead of just as a response to dangerous or stressful situations.
Insomnia: Insomnia is a regular problem with sleeping. Someone with insomnia might not get the rest they need to do what they need to during the day.
This is not an all-encompassing list of the mental effects that an accident can have. Even if you don't see your condition in the list above, you may still be able to claim. Speak with us today for more information on using our mental health compensation calculator.
Mental Health Injuries Caused By Traumatic Brain Damage
Mental health conditions can be caused by an emotional reaction to an accident or incident happening. For instance, you may be involved in a serious car accident and are afraid it could happen again, making you anxious and uncomfortable going outside.
However, mental health conditions can also be caused by the physical effects of an injury. Specifically, if you suffer a Traumatic Brain Injury (TBI), then this could cause a wide range of mental health issues.
A TBI can cause someone's personality to change. For instance, they may be more or less emotional than they were before the accident. In addition to this, people can go on to develop conditions like depression, PTSD and anxiety.
If you have suffered a brain injury as a result of negligence and feel that the injuries have impacted your quality of life, speak to us today. A member of our team could help value your claim.
Mental Health Compensation Calculator
Some websites offer personal injury compensation calculators. However, we have instead chosen to illustrate some guideline compensation amounts in the table below.
These figures come from guidelines released by the Judicial College. They have looked at previous successful compensation claims and worked out guideline compensation brackets for a range of different injuries.
Please note that these should only be used as guidance rather than a guaranteed series of payout figures. Message us via the 24/7 Live Chat service that we offer if you have any questions.
| Injury | Severity | Compensation | Notes |
| --- | --- | --- | --- |
| Post-Traumatic Stress Disorder (PTSD) | Severe | £56,180 to £94,470 | Permanent psychological trauma that prevents the victim from properly functioning and/or working. |
| Post-Traumatic Stress Disorder (PTSD) | Moderately severe | £21,730 to £56,180 | As opposed to more serious cases, there will be a better prognosis for recovery with some professional help. |
| Post-Traumatic Stress Disorder (PTSD) | Moderate | £7,680 to £21,730 | A recovery will have mostly been made and if there are any continuing effects they won't be disabling. |
| Post-Traumatic Stress Disorder (PTSD) | Less Severe | £3,710 to £7,680 | A virtual recovery will have been made. If there are any symptoms that last for longer than 2 years, they will be minor. |
| Brain Damage | Moderate (i) | £140,870 to £205,580 | A moderate to severe intellectual disability and a change in personality |
| Brain Damage | Moderate (ii) | £85,150 to £140,870 | A moderate to modest intellectual disability and a change in personality |
There are two potential heads of claim in a typical compensation settlement. The first of these is general damages, which is the payment made for your pain and suffering. This is what the figures in this table relate to.
In order to work out the general damages head of your claim, you will usually be asked to attend a medical assessment with an independent expert. This expert will assess your injuries and compile a medical report, which will be used with the help of the above guidelines to value your claim.
Special damages are the part of your claim that covers any financial loss you have experienced. For example, you may have experienced a loss of earnings if you have had to take time off work.
For more information on how a mental health compensation calculator could help you, speak with a member of our team today.
Could You Sue Mental Services For Negligent Care?
When you seek medical attention for an illness or condition, you're entitled to a minimum standard of care from the health professional who treats you. This is the case whether you're seeking care for a physical condition or a mental disorder.
When this standard of care is not reached, this is an example of medical negligence. And if you have been caused direct harm or your condition has gotten worse because of medical negligence, you may be able to claim.
In some cases, negligent medical treatment could cause you to develop a mental health condition that you did not already have. For example, your doctor may have given you incorrect advice on how to manage your diabetes, which led to you having your leg amputated. This could cause you depression and stress as you have to adjust your lifestyle to cope with your disability.
If you can demonstrate that the negligence of the doctor caused you to lose your leg and that your mental health issues arose as a direct result, then you may be able to claim.
In other scenarios, it may be that you seek medical attention for your mental health issues, and the negligence of your doctor or psychologist causes these to get worse. For instance, you might be given medication for a mental health issue that should only be taken for a short amount of time. However, your doctor keeps prescribing it to you. After initially seeming to improve, your symptoms could begin to get much worse.
If you can prove that your condition has worsened more than it would have if you'd gotten the right level of care, you may be able to claim. Speak to our team for more information on claiming for psychological damage caused by medical negligence.
Why Use A Mental Health Compensation Calculator?
When you make a claim for compensation, there are a number of benefits that this offers to you. First of all, you will receive compensation that takes into consideration how the injury has affected you.
While this compensation cannot undo the effect the injury has had on you, it can help to return you to the position you were in before the accident as much as possible. For instance, you may be able to pay for counselling services that improve your mental health.
Furthermore, making a claim goes some way to holding the at-fault party responsible. When the relevant party has paid out the compensation you are owed, they will be keen for an expensive incident like this not to happen again. As a result, you may feel better knowing that others are less likely to suffer the way you have suffered.
A mental health compensation calculator can help you to value your claim for compensation. This can give you a realistic expectation of how much you could be awarded. Speak to our team to find out more today about how much your claim could be worth.
How Much Time Do I Have To Claim For Mental Health Injuries?
When you claim compensation for harm caused to you, whether mentally or physically, by third party negligence, there is generally a three-year time limit to doing so, however, there are some exceptions that apply.
For instance, the symptoms of some mental injuries might not be apparent straight away. If this is the case, you would need to start the claim within three years of the date that you realised your symptoms were related to negligence.
If you suffered mental harm as a result of negligence while you were under 18, the time limit is suspended, and a litigation friend can claim on your behalf. Once you turn 18, you have three years to make a claim yourself, provided that one has not already been made.
If the injured person doesn't have the mental capacity to claim, a litigation friend can do so on behalf of them. While they don't have the mental capacity to claim, the time limit is suspended. It only begins again in the event that they recover.
If you would like to know more about the time limits that apply to making psychological injury claims, speak to us today. Otherwise, read on to find out more about the steps you should take after being injured in this way.
I Suffered Harmful Mental Health Effects, What Should I Do?
If you have experienced a mental injury because of an incident that was caused by negligence, then the first thing you should do is seek medical attention. This will allow you to get treatment for the harm you have experienced but will also act as evidence to support your claim.
You may also be able to collect evidence as to the circumstances of the accident or incident that caused you to be injured. For instance, if you're suffering from PTSD as a result of an accident at work, you could obtain a copy of the accident book report or witness details of any colleagues who saw it happen. If the accident happened in a public place, then things like witness details or CCTV footage could support your version of what happened.
You should also collect evidence of the expenses you have incurred to support the special damages head of your claim. For example, you might provide an invoice for a course of counselling that you have had to pay for. This could then be added to the value of your claim.
Finally, while it's not a legal requirement, we do recommend that you seek the representation of a specialist solicitor to work on your claim. Not only could they help you get more money from your claim, but they could also ensure that the process runs much more smoothly than it otherwise would.
Claim For A Mental Health Injuries On A No Win No Fee Basis 
If you decide to use the services of a lawyer, you might be concerned about upfront or ongoing fees that you could incur. However, a No Win No Fee agreement could help.
Here's how:
Under a No Win No Fee agreement, you will only pay a success fee to your personal injury solicitor if the claim wins;
That success fee has a legal percentage cap, meaning that you're always guaranteed the majority of the compensation paid to you;
If, however, they fail to secure you compensation, you don't pay anything to your solicitor;
Furthermore, you only pay your solicitor at the end of a case rather than beforehand or throughout.
All of this emphasises why No Win No Fee is very beneficial to a claimant seeking legal representation for a mental health injuries claim. Please speak to our advisors if you need a further breakdown of No Win No Fee agreements.
Check If You Are Eligible To Claim
We hope that you have found this guide useful. If you have any more questions or would like to begin the claims process today, we can help.
Our friendly team of advisors are available to speak with you and assess the value of your claim. If your claim has a good chance of success, you could be connected with a personal injury lawyer from our panel.
You can get in touch with UK Law by telephoning 020 3870 4868, completing the contact form or messaging us on our Live Chat.
Related Claims
We hope you now have a much greater understanding of mental health compensation calculators. This also includes having more knowledge about mental health issues. However, if you wish to find out more information, check out these additional research links below.
To start with, there is our page that looks at slips, trips and falls.
There is also our page that looks at claims against the NHS for clinical negligence.
We have a separate section that provides further insight into medical negligence claims.
The NHS has its own page focusing on anxiety.
They also have a tool to find mental health charities and helplines.
Furthermore, they have their own page on post-traumatic stress disorder (PTSD).
FAQs About Mental Health Claims
Could you claim for anxiety?
Yes, you could claim compensation for anxiety, though you need medical evidence to support such a claim. You would also need to show that your anxiety was directly caused by negligence.
What about physical injuries?
Physical injuries such as traumatic brain injuries (TBIs) could absolutely be the basis for a compensation claim. So could other physical injuries like broken bones, soft tissue injuries and burns.
How long will it take to get my payout?
The length of time it takes your claim to process will depend on how complex the claim is.
Could I claim against an employer?
You can make a claim against an employer if their negligence is the cause of you suffering your injuries. This should not cause any problems with your employer.
Thank you for reading our mental health compensation calculator guide.
Writer KS
Checked by NC