How Much Compensation Could I Get For Being Knocked Off My Bicycle?
This guide aims to answer the question, 'how much compensation for being knocked off my bicycle?' If you've been injured in a bicycle accident due to the negligence of another road user, you could potentially claim compensation. 
All road users have a duty of care towards one another to behave in a way that reduces the risk of accidents. The Highway Code helps with this, as it outlines appropriate behaviour for all road users. Motorists must adhere to the standard skill and care of the average motorist. Other road users such as cyclists, pedestrians and motorcyclists can access The Highway Code for more detailed guidance. 
If someone breaches this duty of care, it could lead to accidents and injury. To make a valid personal injury claim after a road traffic accident, you would need to evidence that a breach of duty of care caused your injuries. You should also know that you may not be able to claim against other cyclists or pedestrians as they may not have the relevant insurance. 
Read on to learn about how much compensation for being knocked off your bicycle you could claim. To talk to someone directly about your claim, get in touch with our advisors. They can give free legal advice about your case and could connect you to a solicitor from our panel. 
Select A Section
What Are The Main Causes Of Being Knocked Off Your Bike?
There are a variety of ways someone could accidentally knock you off your bicycle. Some examples include:
     

Vehicles reversing out of a driveway

     

Junction accidents

and faulty traffic light accidents

     

Merging traffic accidents

     

Drivers failing to observe a cyclist

     

Car dooring accidents
A car dooring accident is when a driver or passenger opens a vehicle door into the path of an oncoming cyclist. If someone opens their door without checking their surroundings first, you could be knocked from your bike and harmed. 
However, this list is not exhaustive. If a road user has knocked you off your bicycle in another way, causing you harm, you could potentially still claim compensation. To find out more, get in touch with our expert advisors today. 
How Many Cyclists Are Injured On The UK's Roads?
The Department for Transport is a branch of the government that collates statistics on road traffic accidents in Great Britain. From these statistics, we can see that 16,766 accidents involving pedal cyclists occurred in 2020. For a further breakdown of how severe these were, please see below.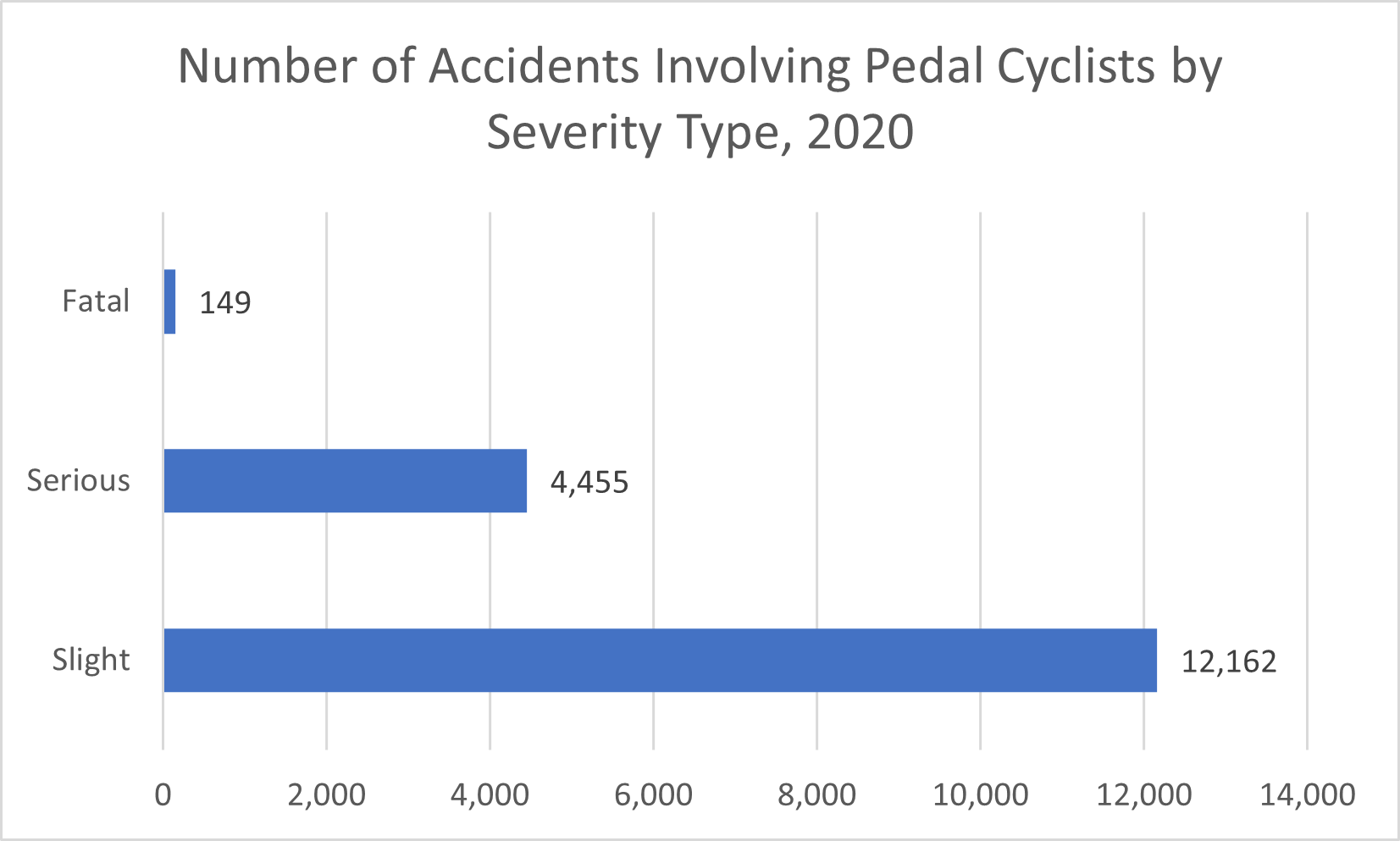 How Could You Be Injured?
If someone knocks you off your bicycle, many injuries could result. You could potentially suffer:
For example, if you were knocked off your bike when merging into traffic, you could have lacerations and a broken knee. 
Or, if a vehicle did not leave you enough space on the road, you could even potentially suffer a compression or crush injury. 
However, if you've been harmed in some other way by someone knocking you off your bicycle, you could potentially still claim. To find out more, call our team of advisors. 
Should You Claim After Being Knocked Off Your Bicycle?
If another road user has knocked you off your bike and you've been injured as a result, we recommend that you seek medical attention as a priority. For more severe injuries, you may need to find your nearest emergency centre or call for help on 999. If your injuries are minor, you could ring the non-emergency number 111 or visit your GP for treatment and advice. 
Once you have been suitably treated for any injuries, you could start to think about gathering evidence for a personal injury claim. You are only eligible to make a personal injury claim if you were not responsible or only partially responsible for the accident. You can still claim if you were partially responsible, but your compensation is reduced according to your liability. 
Though you do not need the help of a solicitor to collect evidence, we recommend that you hire one. They can have the requisite knowledge to help you gather the evidence that could be most pertinent for your case. This could include:
Medical records

Police records

Contact details of any witnesses (for statements later in the process)

Photographs
The solicitors on our panel have years of experience to bring to your claim and could give you a better chance of success. To talk to a solicitor from our panel, get in touch with our advisors today. 
Will The Changes To Road Accident Claims Affect My Case?
The Civil Liability Act 2018 and The Whiplash Injury Regulations 2021 paved the way for the Whiplash Reform Programme. This changed the process of low-value road traffic accident claims. Essentially, you would claim through an online portal if you were the driver or passenger of a vehicle in a road traffic accident. 
Whiplash could be a soft tissue injury in the neck, shoulder, or back that is associated with a tendon, ligament, or muscle. It could also be a lesser damaged muscle, strain, tear rupture, sprain in the neck, back or shoulder. However, even if you don't suffer a whiplash injury in particular, if any injury is valued below £5,000, you would need to claim through the online portal.
However, these rules do not apply to cyclists, so they should not affect your claim. To find out more about these new whiplash claims rules, get in touch with our advisors. 
How Much Compensation Could I Get For Being Knocked Off My Bicycle?
This section aims to answer the question, 'how much compensation for being knocked off my bicycle can I claim?' Please see below for a compensation table including bracketed payout amounts you could receive in a cycling accident claim. 
These figures can be found in the Judicial College Guidelines, a document used by legal professionals to help value general damages in personal injury claims. This element of your payout compensates you for any suffering you have experienced as a direct result of your accident or injury. However, it is important to note that these figures are not a guarantee, as they are estimates calculated from past cases. 
For a more accurate calculation of what you could receive, you will attend an independent medical appointment. A medical professional will evaluate the severity of your injuries and consider how they may continue to affect your quality of life. The results of this assessment will be key evidence and can be used to help calculate the amount of your general damages. 
| Injury | Severity | Amount | Notes |
| --- | --- | --- | --- |
| Brain | Moderate (iii) | £40,410 to £85,150 | The ability to work is reduced, concentration and memory are affected, and there is a small risk of epilepsy. If there is any dependence on others, it is limited. |
| Head | Minor | £2,070 to £11,980 | Brain damage, if present, will be minimal. This bracket will also be judged on the period taken to recover, the severity of the original injury and the extent of continuing symptoms. |
| Arm | Less Severe | £18,020 to £36,770 | There will have been significant disabilities, but a substantial degree of recovery will have occurred or be expected. |
| Toe | Moderate | Up to £9,010 | Simple fractures or the exacerbation of a pre-existing condition. Laceration injuries to one or more toes. |
| Jaw | (i) | £28,610 to £42,730 | Very serious multiple fractures that necessitate prolonged treatment. There will be permanent consequences, such as restriction with eating, severe pain, and/or a risk of arthritis. |
| Hand | (q) | £33,330 to £51,460 | Loss of the thumb. |
| Neck | Minor (iii) | Up to £2,300 | Where a full recovery is made within 3 months. |
| Knee | Severe (i) | £65,440 to £90,290 | Serious knee injuries caused by a disruption in the joint, development of osteoarthritis, ligament damage. The result could be a need for lengthy treatment, considerable pain and loss of function. |
| Ankle | Modest | Up to £12,900 | Minor or undisplaced fractures, ligament injuries and sprains. |
| Eye | Minor | £3,710 to £8,200 | This could include injuries caused by being struck in the eye, exposed to fumes or smoke, or splashed by liquids. There may be initial pain and some temporary interference with vision. |
Special Damages 
Your payout amount could also include special damages. This intends to cover the costs of any specific financial losses you have experienced because of your accident. It's also possible to claim for future potential losses, such as a continued loss of earnings if you cannot work due to a related disability. Some other examples of potential special damages include:
Medical treatments the NHS isn't able to cover

Property damage

Travel expenses

Adaptions to the home or independent supports, such as crutches
If you would like to claim special damages as part of your compensation, it is important to give proof. You would also need evidence that your losses directly resulted from your injury. For example, you could provide an invoice for a wheelchair ramp added to your home if your injuries necessitated this. 
Contact Us If You Have Been Knocked Off Your Bicycle
Hopefully, you now understand how much compensation for being knocked off your bicycle you could claim. You don't need a solicitor to help you make a claim, but we always recommend that you hire one. The right solicitor could be the difference between success and failure. But you could be worried about the costs of hiring a solicitor. 
No Win No Fee agreements were introduced as a way to fund the work of a solicitor. In these types of agreements, you won't be required to pay a solicitor's fee upfront or during your claim. In fact, if your solicitor does not succeed in helping you claim compensation, you won't be required to pay them their fee at all.
Your solicitor would take their payment in the form of a success fee if your claim succeeds. The success fee is legally capped so that you can keep the majority of your compensation amount. Your solicitor would deduct this fee from your compensation amount before it is paid to you. 
The solicitors on our panel offer their services on a No Win No Fee basis so that you can feel more financially secure in your claim. Get in touch with our team of advisors today to find out more. They can put you in touch with a solicitor from our panel, who can represent you in your bike accident claim. 
Find Out More About Cycling Safety And Accident Claims
We hope you've now got a clearer answer to the question, 'how much compensation could I seek for being knocked off my bicycle?' To find out more, please see below. 
Accidents in the Street – If you've been involved in an accident in the street, learn how you could claim compensation. 
Cyclist Hit by a Car – Find out how to claim as a cyclist who was hit by a car. 
How to Claim for an Accident in a Public Place – If you've been injured in an accident in a public place, you could be entitled to compensation. Find out how here. 
2022 Highway Code Changes – The Government guide to the recent changes made in The Highway Code.
Road Traffic Act 1988 – The legislation outlining what constitutes an offence on the roads. 
Royal Society for the Prevention of Accidents – This registered UK charity aims to reduce the number of accidents by providing advice and guidance. 
Thank you for reading our article answering the question, 'how much compensation for being knocked off my bicycle could I claim?'
Writer IR
Checked by HT