What Are Your Rights After An Allergic Reaction At Harvester?
Harvester is a farmhouse-style restaurant chain with over 230 outlets in the UK. They provide an impressive range of hot and cold meals and beverages. Many of which are child-friendly and vegetarian. But what happens if your restaurant meal includes an ingredient that's not so friendly to you? In this article, we look at what your rights maybe if you suffer an allergic reaction at Harvester restaurants.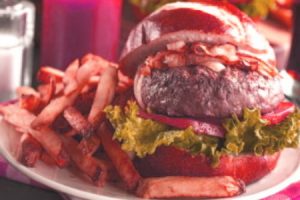 You may be reading this as someone who has already consumed something at a restaurant that didn't agree with you, even though you checked beforehand. The consequences of undisclosed ingredients in foods can be disastrous for those who suffer from food allergies.
Looking at how the law regards the responsibility of restaurants to be clear about allergens, we explain how you could construct a case for compensation with legal help. To discover if you could be eligible for allergic reaction compensation, call our team for help right now by:
Call our friendly advisors on 020 3870 4868
Write or email us at UK Law.co.uk
Use the 'live support' option, bottom right of this screen
Services And Information
Everything You Need To Know About Your Rights After An Allergic Reaction At Harvester
Are you reading this article because you have suffered an allergic reaction at a Harvester restaurant? Certain food groups can trigger very unpleasant symptoms and under certain circumstances can result in the victim needing emergency intervention or hospitalisation. Extreme allergic reaction is known as anaphylaxis and can be life-threatening. In addition to this, the recovery period required can create a whole array of additional money problems.
Allergic reaction compensation amounts can be calculated to help with this. We explain how working directly with a No Win No Fee personal injury solicitor can help you build a compelling argument for damages against a third party. Your solicitor can help arrange a medical assessment to back up your claim. In addition, we explain what proof you can use to validate lost expenses associated with it.
It's important to be sure that you did everything you could to avoid coming into contact with the allergen. We look at the laws in the UK around how food in public is described, packaged, handled and served. If it's the case that a restaurant breached its legal responsibilities and failed to provide correct allergen information, our team can help you start the compensation process right now.
What Is An Allergic Reaction At Harvester?
When the body consumes an ingredient it believes to be a threat it releases chemicals within the body to act as a defence. It is not the allergens that cause the symptoms but the defence mechanism the body releases.
It's important to note that cross-contamination can happen in any restaurant, particularly in fast-paced environments with a steady turnover of diners. With the best of intentions, utensils can become shared or used to prepare several different dishes. Cross-contamination can easily happen this way.
Clearly, given the seriousness of anaphylactic shock and the ease that certain foodstuffs can make their way into other dishes, it's in the interests of everyone to be as clear about food as possible. Allergic reaction at Harvester restaurants is avoided by clearly informing the diner before they order their meal about the potential risks of cross-contamination. Clarity around each individual menu item could be given.
What Are The Causes Of Allergic Reactions In Restaurants?
An allergic reaction from foods happens when the body misreads a certain protein as a threat and activates its defence mechanism against that protein. You can develop an allergy from many different types of food, but fourteen main ones have been identified as the most common triggers:
Dairy (milk, cream, cheese)
Nuts (peanuts, pine nuts, almonds, cashews, walnuts)
Soya beans
Fish
Shellfish (crab, prawns, lobster)
Molluscs (oysters)
Wheat
Gluten
Celery
Lupin
Mustard seeds
Sulphur dioxide
Egg
Fruit
The smallest trace of any of these ingredients can be all it takes to create shortness of breath, swollen throat, skin rash and vomiting. Modern food preparation procedures mean that conveyor belt packaging and sharing may mean that these different ingredients may come into contact with each other. Food outlets and restaurants can do all they can to avoid mixing foods that trigger intolerance, but if there's a lapse in due care in the kitchen, it can be very easy for vulnerable diners to suffer an attack.
Common Symptoms Of An Allergic Reaction
The NHS offers clear advice about allergen symptoms and its more extreme version – anaphylaxis. There are three main definitions of food allergy:
IgE-mediated food allergy – the most common type is triggered when the immune system produces an antibody immunoglobulin E (IgE). Symptoms can happen a few seconds or minutes after eating the allergen. There's an increased risk of anaphylaxis with this type of allergy.
Non-IgE-mediated food allergy – these allergic reactions are not caused by immunoglobulin E, but by other immune system cells. This type of allergy can sometimes be difficult to diagnose as the symptoms can take longer to start and present themselves.
Mixed IgE and non-IgE-mediated food allergies – some people can experience symptoms from both types.
There are 2 million people in the UK with food allergy issues, so it's never been more important to know what the signs are and how to appropriately deal with them if it happens whilst dining in a restaurant. The usual symptoms of an allergic reaction are:
An itching or burning sensation inside the mouth, throat or ears
A sudden or unusual raised red rash that is itchy
Swelling around the face or eyes, also affecting lips, tongue and the roof of the mouth
Vomiting and diarrhoea
Anaphylaxis symptoms are similar but more acute and sudden:
Breathing difficulties
Trouble swallowing or speaking, feelings of throat closing over
Feeling dizzy or faint
Collapse/coma
It's important to note that food allergies can be very serious. If you see someone experiencing the signs of anaphylaxis or have them yourself, it's essential to seek medical attention immediately.
Your Rights To Be Informed Of Allergens
Obviously, restaurants and sufferers are keen to avoid allergic reactions on their premises. The Food Safety Standards is an independent government department set up to regulate the safety of food served and sold in the UK. Their remit now covers our consumer rights to be told what's in our food, where it came from and what condition it should be in. When you eat in public or from takeaways, you would expect that;
That the food you look at on menus, chalkboards and websites is as described
Ingredients should be detailed and clearly listed
That staff are knowledgeable enough to answer questions about allergens
What Allergens Could Harvester Warn You About?
Harvester serves 30 million meals a year to happy customers. It's inevitable that a percentage of those diners may have allergen conditions related to the 14 key trigger ingredients listed above. Mindful of this, allergic reaction at Harvester restaurants can be limited by providing the customer with as much detailed information as possible so that they can make an informed choice about the meals they order.
It is preferred that the 14 main allergens, as shown above, are fully listed and preferably in a bold typeface that distinguishes the text from the rest of the menu. Furthermore, fully listed and detailed ingredients could also be available to the customer either on the menu or upon request.
Calculating Claims For An Allergic Reaction At Harvester
If you were exposed to an allergen in a restaurant from neglect or error, a personal injury lawyer can help you calculate damages. Taking their lead from a publication called The Judicial College Guidelines, the amounts below show what general damages are possible for injuries caused by an allergic reaction. These amounts try to reflect the pain and suffering the injuries have caused you.
| Injury | Compensation |
| --- | --- |
| Severe toxicosis | £36,060 to £49,270 |
| Serious but short-lived poisoning | £8,950 to £18,020 |
| Food poisoning causing discomfort | £3,710 to £8,950 |
| Disabling pain | £860 to £3,710 |
| Dermatitis of both hands | £12,900 to £18,020 |
| Dermatitis of one or both hands | £8,110 to £10,710 |
| Itching, irritation of, and/or rashes | £1,600 to £3,710 |
It's important to note that these amounts are merely suggestions based on previous cases. They simply provide you with an appropriate figure applicable to your injuries. With this calculation, you can start to build a case for compensation.
As well as these general damages, you can take into account all the lost amounts of money that your illness may have created. Perhaps you lost work and missed anticipated income? Did the sickness mean you needed emergency childcare? The costs of certain medical treatments. Special damages are a way for you to get all these expenses collected together under one claim for compensation.
Knowing The Laws On Exposure To Allergens In A Restaurant
We have a personal responsibility to avoid risk. There are reasonable limits as to what we can expect restaurants to warn us about. It can be helpful to defend ourselves against potential risk by understanding the ways in which food is sold:
Prepacked food must include a full ingredients list that includes any of the 14 known allergens should be emphasised to make it as clear and readily understandable as possible.
Non-pre packed or loose sold food includes consumables from places such as a bakery, butcher, fishmonger or delicatessen. The vendor must be able to provide you with either verbal or written information of any of the 14 allergens contained in the foods.
Prepacked for direct sale (PPDS) is an area that does not currently require a label that displays a full ingredients list. This will change in Oct 2021 after which it will be law to include allergen indicators.
Eating out – the restaurant or cafe or takeaway should provide you with allergy information on their menu or a prompt that explains where you can access this information. Staff answering allergen related queries.
'May contain' – is a phrase that establishments can use to inform customers about potentially small amounts of an allergen in a product. Whilst it is not law to label food with 'may contain' warnings it is a good way to alert customers to potential hazards and enable them to manage their choices.
'Not suitable for' is another precautionary allergen labelling that alerts customers to a risk of the unintentional presence of the allergen in the food.
The Law
Furthermore, under Articles 14 and 16 of The Food Safety Act 1990 you have a legal right to expect food to be offered to you as described, in a fit state for consumption and not presented in a misleading way. This means for example, that soya, or peanuts or milk should be described in their primary state rather than as tofu, tahini or whey. Whilst restaurants are keen to make their food sound interesting, it's essential that information is clear.
What Is Classed As A Catering Establishment?
A catering establishment is somewhere that provides food in the normal course of their business. It is usually a term that applies to restaurants and cafes. But it can also apply to:
Fast-food outlets
Mobile vans that may sell burgers or hot dogs
Any establishment that serves food in a regular or sporadic fashion to support other events like arts centres or theatres.
In addition to this, schools, catering companies, pubs, wine bars and venue-hire operators are all obliged to comply with food safety standard laws.
Given the necessity for food and the prevalence of firms willing to provide it, catering establishments can start up anywhere as long as they register. You can speak to our friendly advisors about guidance on food allergy issues that arose in any establishment licensed to sell to the public if you are unsure.
Eligibility To Claim Allergic Reaction Compensation
You may be reading this because you are wondering if you have an eligible claim for an allergic reaction at Harvester or any other restaurant? When you contact our helpful advisors at UK Law, we could answer that question in a matter of moments. A brief, informal chat is all it takes to establish how valid your claim could be. Our team can offer you on the spot appraisals. They could connect you with a personal injury solicitor from our panel that could represent your case on a No Win No fee basis.
When you work with a personal injury lawyer, they can offer solid advice about how to gather evidence and help you get a medical assessment that proves your injuries. This can form the foundation of a successful personal injury case against a restaurant if they failed to properly alert you to the allergen risk. Speak to our team now for help to start a claim for allergen exposure compensation.
The Consumer Rights Act 2015 And Restaurants
The Consumer Rights Act protects the consumer from being provided with poor quality and harmful products. It should also be as described. You have the right under this law to request a refund if it fails to meet these standards.
A personal injury solicitor can really help in situations like this. The legal jargon and technicalities of starting a case for personal injury can be demanding. The right lawyer can calculate exactly what to ask for on your behalf. By reflecting on the many ways an allergen exposure problem has directly harmed you, they can ensure that you are compensated fairly.
What Is The Time Limit To Claim For An Allergic Reaction In A Restaurant?
Personal injury claims have a three-year time limit. This starts from the moment either you fall ill. Or from when you are diagnosed with an illness caused by negligence. If it is a child that has suffered a litigation friend can act on their behalf up until they turn 18. If no claim is made the 3-year time limit begins on their 18th birthday.
I Suffered An Allergic Reaction At Harvester, What Should I Do?
Whether you are wanting to make a personal injury claim the following steps may help;
Firstly, if you or another diner is having a severe allergic reaction to food, call 999 immediately. Anaphylactic shock can be fatal.
For other allergic reactions, it is always best to get some medical help/
Secondly, retain the receipt or proof of purchase as evidence of what you ordered
Check with the restaurant that this is what the waiter/waitress gave you
Check with the chef that they prepared it in an expected way. Also, that they did not include any 'personal interpretations' of the dish with added ingredients
Photograph the meal if it helps
Use the reports from the ambulance crew as medical evidence
Arrange a medical assessment with a GP to substantiate your claims of illness/damage
Call our advisors for free advice.
Following these steps, it can be possible to gather important evidence if you are wanting to make a personal injury claim. To find out if you have a valid allergic reaction claim against Harvester call our advisors any time of the day or night. In a friendly chat, they can assess your case along with any evidence you have for free.
Claim For An Allergic Reaction At Harvester On A No Win No Fee Basis
Once you've decided to start a personal injury case, you can manage the claim yourself. It's not essential to use legal representation. However, this can be fraught with problems. Using a solicitor to represent your case can be very beneficial. Apart from gathering all the evidence, putting the case to the third party and representing you in court, if it was to go that far, their service means you can recover with little stress. In addition to this, the advice and experience your No Win No Fee solicitor can supply may give your case a much greater chance of success.
The benefits of No Win No Fee personal injury solicitors don't end there. You can start a claim for compensation without needing to pay any upfront fees. No Win No Fee solicitors take a small percentage from the total settlement you might receive of cases that win. If the case fails, you don't have to pay anything to your solicitor.
A No Win No Fee solicitor will be frank about your cases chance of success at the start. As their fee derives from winning cases, it's in their interests to accept only solid claims.
Useful Resources
Thank you for reading this guide about your rights after an allergic reaction at Harvester restaurants. To sum up, we hope that the information has provided you with extra resources to make a decision. Further information about how to claim compensation is below.
call our team for help right now by:
Call our friendly advisors on 020 3870 4868
Write or email us at UK Law.co.uk
Use the 'live support' option, bottom right of this screen
In addition to cases that involve food poisoning, UK Law can help if you had an accident whilst on holiday, or if you were involved in a slip and fall accident in a public place. We can also offer advice about accidents at work. Get in touch with our friendly team and we can offer help with any type of personal injury that was not your fault. As well as this, you can read more about ordering meals safely when out and also, advice on vegan food and allergens. Lastly, statistics for all kinds of allergies.
FAQs About Your Rights After An Allergic Reaction At Harvester
Can I sue a restaurant for an allergic reaction?
To hold a valid personal injury claim you must be able to show;
The business you hold responsible had a duty of care to you.
This duty of care was breached negligently.
You suffered an allergic reaction as a consequence.
How do I claim for a child?
'Litigation Friends' are adults who represent minors in court. They can be family members. Or those who have the child's best interests at heart and act for them in their case. It can also be applicable for people who are unable to represent themselves due to diminished mental capabilities.
What's the best way to avoid allergens in a restaurant?
Examine the menu very carefully. Double-check with staff and cooks. If you have any doubts choose another restaurant.
Writer FE
Checked by EI.