Allergic Reaction at Nando's
Have you had an allergic reaction at Nando's? If so, you may be entitled to compensation provided you can prove the restaurant breached their duty of care. Whether you have a nut allergy, egg allergy, milk allergy, or any other food allergy, you could have a serious allergic reaction at Nando's if you aren't made aware of allergens present in the items on the menu.
Even if you are made aware of and avoid certain dishes containing allergens that may affect you, errors or complacency can still occur. Nando's staff may fail in carrying out your requests to omit certain ingredients that could cause you to have an allergic reaction. So in this scenario, could you make a personal injury claim? Your rights associated with such a scenario are what we are going to cover over the course of this article.
If you've suffered an allergic reaction in a Nando's restaurant and want to know if you can make a personal injury claim, then read on for more information. Matters such as these can be difficult to fully comprehend and your rights can feel unclear. 
Get in touch with our team today to find out if you can make a claim on a No Win No Fee basis. If you have any questions surrounding any injuries caused by your food allergy reaction at Nando's then speak to us and we will answer your questions.
Get In Touch With Our Team
There are a few ways you can speak to us regarding your allergic reaction at Nando's. You can:
Call us on 020 3870 4868

Chat to us using the live chat window in the bottom right corner

See if you have a

claim online

through our website
Services And Information
Everything You Need To Know About Your Rights After An Allergic Reaction At Nando's
An allergic reaction at Nando's would fall under the category of personal injuries. Therefore, if the staff ignore or mismanage your request to omit allergens from your order then this could be considered negligence. 
The same is also true if your attention is not brought to allergens present in items on the menu. For example, if you have any nut allergies and you make your server aware of this, they should provide accurate advice on what you can order. Menus should also provide allergen advice, or notices of where information can be obtained.
If you ask to adjust a dish to remove an allergen and the restaurant agrees, they should comply. However, there is no obligation on their part to agree. Restaurants should also take steps to avoid cross-contaminating dishes too. . 
If the staff fail in any of these tasks and your health is affected, then you could have a valid allergic reaction claim if you can prove the failings of the restaurant.
Below, we'll explore these issues in more detail. If you have any questions at all, no matter how small, get in touch.
What Is An Allergic Reaction At Nando's
Food allergies are becoming increasingly common. Because of this, the number of people making hospital visits for an allergic reaction is also on the rise. 
Anaphylaxis is one of the more severe allergic reactions that can occur and can be life-threatening. A food allergy can bring on anaphylaxis and requires immediate treatment. The immediate treatment is often an adrenaline auto-injector if the person suffering the reaction has one. Sometimes they may not have access to their auto-injector or may not have known they had a food allergy so will not have access to adrenaline.
Many cases of anaphylaxis will result in hospital visits. Hospital admissions are on the rise, too. In 2015-16, there were 4,479 hospital admissions for anaphylaxis in England. In 2018-19, this figure had risen by over 1,000 cases to 5,497. These figures don't include details of the setting or cause of what triggered their anaphylactic shock, but some negligence claims may have arisen from these cases.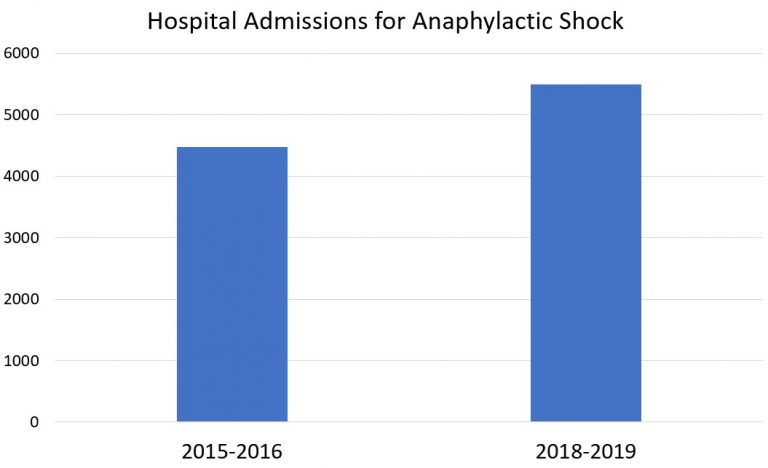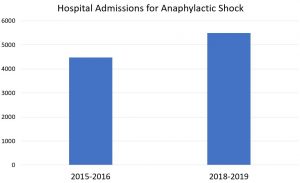 What Are Common Allergens?
There are quite a few ingredients and food groups that could trigger an allergic reaction. Some are more common than others, and different people will experience different reactions of varying severity. 
We've included a table below detailing some of the more common triggers which could affect someone's food allergy. This is not an exhaustive list and should not be used in an official capacity. It's merely to help give a better understanding of what a food allergy could be.
| Condition | Examples of Triggers |
| --- | --- |
| Nut allergy | Peanuts, almonds, pecans, etc. |
| Egg allergy | Animal eggs  - often used in recipes such as cakes |
| Milk allergy | Most often cow milk, but sometimes milk from other animals such as goats and sheep |
| Dairy allergy | Products containing milk such as cream, butter, ice cream etc |
| Wheat allergy | Often ground into flour and used in things like bread, pasta, breakfast cereal etc |
| Soy allergy | A product of soybeans, used in cooking and some dairy-free milk alternatives |
| Fruit allergy | Some can be allergic to multiple fruits, whilst others can have reactions to just a select few - pineapple, strawberries etc |
| Cereal allergy | Can appear in many things like flours and bread |
| Gluten allergy | Bread, pasta, crackers etc - commonly confused with gluten intolerance, which can cause discomfort but not necessarily an allergic reaction |
| Celery allergy | A vegetable that can feature in many recipes such as soups |
| Seafood allergy | Used to refer to consumable creatures harvested from the sea |
| Fish allergy | Cod, haddock, mackerel, etc. |
| Lupin allergy | A legume in the same family as peanuts, eaten whole or ground up for flours and such |
| Mustard allergy | Often a condiment, made from mustard seeds which can be used in a variety of recipes |
| Shellfish allergy | Lobster, crab, mussels, etc |
| Sulphur dioxide allergy (Sulfites) | Used in the preservation and preparation of many foodstuffs - those allergic/sensitive to sulfites need to be very aware |
Possible Symptoms Of An Allergic Reaction At Nando's
To give an example of an allergic reaction at Nando's, a peanut allergy may be triggered by an item on the menu. If someone dining at Nando's has a peanut allergy and asks for this ingredient to be removed, which was agreed to by the restaurant, but they failed to comply and the person consumes a dish containing peanuts, then they could suffer any of the following oral allergy symptoms:
Tingling or itching in the mouth

A raised, red rash (sometimes isn't raised)

Swelling of body parts (often the face, mouth and/or throat)

Inability or finding it difficult to swallow and/or breathe

Lightheadedness

Nausea/vomiting

Abdominal pain and/or diarrhoea

Symptoms similar to hay fever such as itchy eyes or sneezing

Anaphylaxis (in severe cases) 
Some people who make an allergic reaction claim may suffer more than one of these from the same encounter. If you experienced any of these symptoms following an allergic reaction at Nando's due to negligence then get in touch with our team today. We can help you get started on potentially claiming allergic reaction compensation.
Do I Have The Right To Be Informed Of Common Allergens?
There are 14 main allergens, many of which have been listed in the table above. If you have an allergy or food intolerance then it's advisable to avoid your trigger. 
When you're dining out at Nando's, any items on the menu containing one or more of these 14 allergens should be available in writing. If not, the staff should be able to direct you to where the information is available, or provide it themselves. Some outlets have a dedicated allergy menu which you could be given.
In the event your particular allergy is not included in this list of 14 allergens then you should always check with the staff at the restaurant if what you wish to order is safe for you.
If you can prove that this information is withheld from you, incorrectly displayed or wrong advice is given, then you could have a legal right to make an allergic reaction claim if your health is affected as a result.
What Allergens Should Nando's Warn You About?
To avoid you having an allergic reaction at Nando's, you should be informed about the presence of any of the 14 allergens relating to food. Whilst this is a legal requirement, some things may slip through the cracks. 
If you have an allergy then it's always best to double-check with staff that what you want to order isn't likely to trigger any oral allergy symptoms.
Compensation Calculator For An Allergic Reaction At Nando's
For personal injury claims, there are two main figures to consider when discussing amounts of compensation. There are general damages and special damages. Special damages we will discuss a little later. General damages are awarded to the claimant to address the pain and suffering experienced due to their injuries.
This figure is calculated using a publication called the Judicial College Guidelines (JCG). It is updated semi-regularly, with the last review coming in 2019. The JCG contains a detailed list of what certain injuries could be worth in compensation. The amount can vary depending on the severity of the injury. We've included some examples in the table below. The figures have been taken from the latest edition of the JCG.
| Injury/Illness | Description | Amount |
| --- | --- | --- |
| Illness resulting from non-traumatic injury | Severe toxicosis causing serious acute pain, vomiting, diarrhoea and fever, requiring hospital admission for some days or weeks | £36,060 to £49.270 |
| Illness resulting from non-traumatic injury | Varying degrees of disabling pain, cramps, and diarrhoea continuing from some days or weeks | £860 to £3,710 |
| Food poisoning | Serious but short-lived food poisoning, diarrhoea, and vomiting diminishing over two to four weeks with some remaining discomfort and disturbance of bowel function and impact on sex life and enjoyment of food over a few years. | £8,950 to £18,020 |
| Food poisoning | Food poisoning causing significant discomfort, stomach cramps, alteration of bowel function and fatigue. Hospital admission for some days with symptoms lasting for a few weeks but complete recovery within a year or two | £3,710 to £8,950 |
| Brain Damage | Moderate - cases in which there is a moderate to modest intellectual deficit, the ability to work is greatly reduced if not removed and there is some risk of epilepsy  | £85,150 to £140,870 |
| Brain or head injury | Minor - brain damage, if any, will have been minimal | £2,070 to £11,980 |
| Epilepsy | Established grand mal | £95,710 to £140,870 |
| Epilepsy  | Established Petit Mal | £51,460 to £123,340 |
| Teeth | Loss of or serious damage to several front teeth | £8,200 to £10,710 |
| Teeth | Loss of or damage to back teeth: per tooth | £1,020 to £1,600 |
Special damages function slightly differently. Special damages are a more bespoke fee. They're intended to reimburse the claimant for any financial losses caused by their injury. They're calculated on a case-by-case basis and can be quite tricky to work out, especially during the early stages of a claim.
To give an example, you may miss time at work due to your injury. Part of the special damages fee may consist of the money you would have earned during this period. Things such as medical expenses and damage to your property may also be considered eligible for reimbursement.
Laws On Allergic Reactions In Restaurants
There are many regulations relating to food law that must be followed. This includes rules regardings allergens and how their presence on the menu should be displayed. 
As mentioned earlier in this article, all 14 allergens must be displayed in written form on the menu, or there should be a notice advising customers where this information can be found. 
The absence of this information could lead to an allergic reaction. At Nando's, the menu is often consistent across all of their sites so this should be relatively easy to achieve.
Some key food laws include:
For more, check out this guide on key regulations.
What Is Classed As A Catering Establishment?
The food industry can distribute its products to consumers in a number of ways. All of these establishments/methods of distribution must still comply with the rules of displaying allergen information. Otherwise, following an allergic reaction, compensation could be claimed.
A catering establishment is classed as a place of business where as part of their daily operations, food is prepared to be consumed by customers directly. These could be places like a café, restaurant, hospital or school. This would make Nando's a catering establishment. They must therefore follow the legal requirements regarding making their customers aware of any allergens in the food that they serve.
Do You Have A Right To Make An Allergic Reaction Claim?
Following an allergic reaction at Nando's, you have a legal right to make a personal injury claim if you have evidence that the restaurant breached its duty of care. Negligence in this instance would mean your requests to omit certain ingredients being ignored or handled incorrectly. Not properly listing allergens on their menu and failing to provide any means of checking allergen information could also be classed as negligence.
If you did not pay due care to listed allergens or did not make your server aware of your allergies then it could affect your claim if you were to suffer a reaction. The fault for your injuries could also be split between yourself and Nando's too. 
Sometimes knowing who was to blame can be hard to interpret if you've suffered an allergic reaction. Call us today and we will help to clear up your circumstances. We may be able to start you on the path to a No Win No Fee claim.
Restaurant Customer Rights Under The Consumer Rights Act 2015
The Consumer Rights Act 2015 is in place to clearly establish your rights following incidents such as an allergic reaction at Nando's. For example, if you suffer an allergy in the UK then you are entitled to write to the restaurant asking to be reimbursed for the price of the meal that caused your allergy symptoms. 
However, you should be wary of doing this if you're also planning on making a personal injury claim. This is because receiving a refund for your meal could be interpreted as settling the matter altogether.
Are There Time Limits To Claim For An Allergic Reaction?
Following something triggering your food allergy in the UK, the Limitation Act 1980 states that you have 3 years to make a personal injury claim. However, there are a few circumstances where this time limit can be extended or even suspended in some cases. We have included some examples below of how the personal injury claims time limit can vary.
General Accident Claims
For most personal injury claims, the time limit is 3 years. This means you have 3 years from the date of the accident to make a claim. However, if your symptoms only begin at a date following when you suspect the case took place then this is called the date of knowledge. It's possible that the date of knowledge could be used as the starting point for your 3-year time limit.
Child Accident Claims
Claimant's under 18 cannot pursue their own claim, so their time limit is suspended until they are an adult. Prior to this date, a litigation friend can make the claim on their behalf. A litigation friend is an adult affiliated with the underage claimant. This could include their parent, guardian, friend, or legal representative. 
Claiming on Behalf of Someone with a Reduced Mental Capacity
If an accident causes the claimant to suffer a reduced mental capacity then the 3-year time limit to make a No Win No Fee personal injury claim will again be suspended. This suspension will remain in place until their mental capacity returns. If it doesn't, or if the reduced mental capacity is unrelated to the injury, the suspension may remain in place indefinitely. A litigation friend can also claim on their behalf.
I Suffered An Allergic Reaction At Nando's, What Should I Do?
Following an allergic reaction at Nando's, seeking medical care should be your initial priority. Even if you are administered an adrenaline auto-injector after experiencing anaphylaxis, you could have other symptoms that could persist and cause you harm. It's always best to be looked over by a medical professional following an allergic reaction, even if you think you have recovered.
You should also gather evidence relating to your claim. A copy of the menu should be obtained if the allergen that has affected you was not listed near what you ordered. Photos of any physical symptoms and witness statements can also help your claim be successful. Receipts detailing any requests made could also prove useful, as well as witness statements from those you were with.
Claim For A Allergic Reaction At Nando's On A No Win No Fee Basis
You could make a claim for your allergic reaction at Nando's on a No Win No Fee basis. This means that you wouldn't be responsible for covering your lawyer's legal fees unless your personal injury claim was successful. If you win your claim, your solicitor will be paid via a small percentage taken from your settlement amount. This percentage is kept small by law to protect the majority of your settlement amount.
Our panel of solicitors regularly work with clients under a No Win No Fee arrangement. If you get in touch with us then they may be able to do the same for you. 
The more we know about your circumstances, the more accurately we will be able to help you. A personal injury claims calculator is unlikely to be very accurate when coming up with a fee for an allergic reaction at Nando's. It's always best to speak to a real person (like our advisors) for a more accurate valuation.
Remember, there's more than one way to reach out to us. You can:
Call us on 020 3870 4868

Chat to us using the live chat window in the bottom right corner

See if you have a

claim online

through our website
Useful Information
We've included some helpful links on the subject of allergic reactions.
FAQs About Your Rights After An Allergic Reaction At Nando's
We've answered some of the most common questions that we're asked about allergic reaction claims. Take a look at the answers below.
Are restaurants responsible for food allergies?
Restaurants can be responsible for food allergies but they are not always. For example, if you fail to alert staff of any allergies you may have and suffer a reaction as a result, then it's unlikely the restaurant would be to blame unless dishes contained ingredients that hadn't been advertised, or if cross-contamination took place.
How do restaurants deal with allergies?
Restaurant staff should be able to supply all diners with as much information regarding allergens present as possible. This could be on their menu, a notice, or via staff. Once the order has been made, a manager on shift should oversee the preparation of the food to ensure all relevant safety measures are being taken.
How many allergic reactions happen in restaurants?
They are fairly common, 1 in 3 people who suffer from a food allergy reported having a reaction whilst dining in a restaurant.
What are the most common allergies?
Dairy, gluten, nuts, soy and shellfish are amongst just some of the more common food allergies that people can suffer from.
We hope you found this guide about having an allergic reaction at Nando's helpful. Thank you for reading.
Guide by YD
Edited BER