How Do I Make A Hand Injury At Work Claim?
After an accident at work caused by negligence, do you need to make a hand injury at work claim? Perhaps missing health and safety regulations meant that your hand was damaged by faulty machinery or during the course of a fall?
Ensuring you are safe at work is a key requirement of the Health and Safety At Work etc Act 1974 and if your employer failed to properly implement this law in some way, causing you injury, you could have an eligible claim to be compensated.
Our personal injury claim advisors at UK Law could help you right now by assessing for free your hand injury at work claim. Simply get in touch using our contact details below or read on:
Contact our personal injury advisors free on 0203 870 4868
Fill out the 'call back' form or contact us online
Alternatively, access instant help through our 'live support' option
Select A Section
What Do I Need To Make A Hand Injury At Work Claim?
You may be confused or unsure about what a hand injury at work claim may entail? This guide will explain how medical or financial evidence can be used to calculate two types of damages that you may be eligible for. The advice we offer can enable you to start a claim either independently or with the help of a personal injury solicitor.
In the chaos after a hand injury at work, pulling together evidence of negligence may be the last thing on your mind. But a good place to start is to ensure you report the accident at work and always seek medical advice, this is so you receive the treatment you need to make a full recovery, but also so that your medical records can be updated with your injury.
Witness details in case a statement is needed later on about the accident and photographic proof of injury can also be evidence that is useful to obtain as early as possible. Please be aware that there is a three-year time limit to starting a personal injury claim.
Common Workplace Hand Injuries
There are numerous ways a hand could sustain an injury in the workplace. Obviously, each work environment may present its own particular set of hazards depending on the nature of the activity, but some typically encountered injuries at work could potentially include:
Hand Injury Statistics
The statistics below come from RIDSITE which collects data on the prevalence and type of workplace injuries. The excerpt below shows how common hand injuries were for the period 2020/21: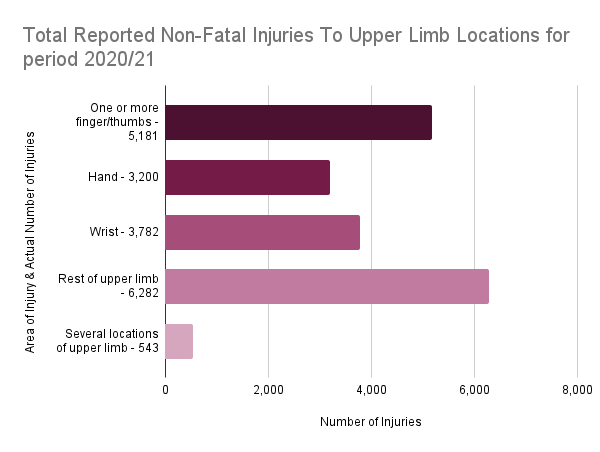 Source: https://www.hse.gov.uk/statistics/tables/ridsite.xlsx
How Does The Injury Claim Process Work?
In the immediate aftermath of a hand injury at work, the most important thing is to get your injuries attended to. If you believe that your employer is at fault for causing the accident you may be considering making a personal injury claim.
To be eligible to claim for an accident at work that has caused a hand injury you must demonstrate 3 key criteria:
Your employer owed you a duty of care at the time of the accident.
This duty was breached because health and safety was not adhered to
Your injury was caused by this negligence.
To gather evidence to prove liability and the extent of your suffering, the following steps can help:
Ensure the accident book notes your injury
Report the accident and injury to your supervisor or management
Take photos of the area or cause of injury
Keep a detailed diary of events
Request CCTV footage if possible
Ask witnesses to the event if they are prepared to give a statement at a later date
Start to consider legal options
In practice, most employers are keen to see that their staff are looked after. They may accept liability. If you accept any offer before speaking to a legal representative the claim would be considered settled and you would be unable to request any further damages. Therefore, it's important that you settle for the right amount and a personal injury solicitor can offer essential advice on this.
How Long After A Workplace Injury Could I Claim?
According to the Limitation Act 1980, there is normally a three-year period in which a claim for personal injury compensation must be started. This date can commence from either when the accident occurred, or the date that you first started to notice damage to your health because of the accident.
There are exceptions to the Limitation Act. For example, if you are under the age of 18, the three-year period can start from this birthday, giving you until age 21 before the deadline ends.
Alternatively, someone can act on a minor's behalf and commence a claim immediately. This role is known as a 'litigation friend' and can also help those who lack the capacity to represent themselves in personal injury claims. A litigation friend can be any concerned party with the claimant's best interests at heart. Speak with our team to discuss further who can assume the duties in a case like this.
Calculating Damages For A Hand Injury At Work Claim
Calculating damages in a hand injury at work claim relies firstly on the results of a medical assessment and report with an impartial medical professional. They can examine the hand and deliver their opinion on the extent of the injuries. Their report can:
Validate your claim of injury and confirm how the injury might have caused them
Give a prognosis and idea of any medical needs in the future
Form a starting point for assessing 'general' damages
The pain, suffering, or loss of amenity that accompanies injury can be compensated by looking at publications such as the Judicial College Guidelines. Guides such as these are not meant to provide certified compensation amounts, they only act as a guide of what could be appropriate as general damages. The table illustrates:
| Injury Area - Hand | Notes | JC Guideline award bracket |
| --- | --- | --- |
| Effective or total loss of both hands (a) | Profound injury, causing total loss of use | £132,040 to £189,110 |
| Damage of a serious level to both hands (b) | Permanent loss of function and cosmetic disability | £52,310 to £79,360 |
| Total or effective loss of single hand | Crush or traumatic amputation injuries | £90,250 to £102,890 |
| Index, middle or ring finger amputations (d) | Leaving the hand and its grip largely useless | £58,100 to £85,170 |
| Serious injuries to the hand (e) | A reduction of use by 50% in that hand, rejoined digits that leave the hand clawed or clumsy | £27,220 to £58,100 |
| Severe finger fracture (f) | Possible need for partial amputation, loss of sensation and function | Up to £34,480 |
| Less severe hand injuries (g) | Crush injuries that may not require surgery but still with loss of function | £13,570 to £27,220 |
| Hand injuries of a moderate nature (h) | Cuts, punctures and soft tissue injuries with top end of bracket referring to cases where surgery failed to help | £5,260 to £12,460 |
| Very serious thumb injuries | Cases where the thumb has been torn from the hand, leaving it deformed or useless | £18,390 to £32,850 |
| Minor hand, finger or thumb injuries (v) | Refers to fractures that heal within 6 months mostly as well as scarring injuries | Up to £4,461 |
Special damages
As well as general damages, you might be in a position to prove that you lost money because of your hand injury? Did you need to pay out for medical help or were you unable to work at all, resulting in a fall in income? Special damages mean that if you can prove these out-of-pocket expenses, you could claim back:
Travel expenses to essential hospital or work
Help to cook, clean, and shop
Adaptations to utensils or other domestic needs at home
Medical needs not always available on the NHS
Again, it's important to stress that you need documentation to prove these expenses to you. Why not call our team and discuss other financial expenses related to your hand injury at work claim.
Start A No Win No Fee Claim By Contacting Us
Starting a hand injury at work claim against your employer can seem intimidating. Whilst you are perfectly entitled to represent yourself without legal help, there are many advantages of working with a solicitor. One of them is the No Win No Fee agreement.
Legal contracts such as this mean that you only need to pay your legal representation if your case wins. Even then it's only a maximum limit of 25% of the settlement which means you always benefit the most. Should the case fail they require no fees.
You can hire a No Win No Fee solicitor at no initial cost or any as the case progresses. Learn more about how our panel of personal injury solicitors could help you:
Call us free on 0203 870 4868
Use the 'call back' form or contact us online
Or access help with your hand injury at work claim through our 'live support' option
Further Help and Advice
Please use the resources below for help with your hand injury at work claim or feel free to get in touch: