How Much Are Partial Finger Amputation Compensation Payouts Worth
If you have lost part of your finger in an accident caused by someone else's negligence, you could be entitled to partial finger amputation compensation. You could be compensated for any physical injuries, psychological suffering and any monetary losses that you experience as a result.
While many injuries will cause problems but heal quickly, some will never recover. One such permanent injury is a partial finger amputation. Losing part of your finger can cause problems for the rest of your life and affect your ability to work. Later on in this guide, we'll look at how much compensation you could be paid. We'll also explain how the claims process works.
What Are Partial Finger Amputation Claims Worth?
We can provide free legal advice if you're considering claiming. Our team of specialists will explain your options during a no-obligation telephone consultation.
If it looks like you've got a reasonable chance of success, we could pass your case to a personal injury lawyer from our panel. They operate a No Win No Fee service for any case they take on; we'll explain the benefits that this can offer later on in this guide.
If you're interested in claiming compensation for a partially amputated finger, why not call our team on 020 3870 4868? To learn more about how claims work before contacting us, please read on.
Select A Section
A Guide On How Much Partial Finger Amputation Compensation Payouts Are Worth
Claiming compensation for a partial finger amputation might be possible if your accident happened because of somebody else's breach of duty of care. For example, you may have lost part of your finger in a gym injury caused by faulty equipment, after being hit by a car or because you were injured at work after not being given any safety equipment. If so, you could have grounds to claim.
As we continue through this guide, we'll explain some of the reasons why you might be able to claim. We'll also look at how you prove liability for your injuries and what sorts of accidents could lead to partial finger amputation compensation.
We believe that the best way of being compensated fairly for any type of injury is to use a specialist solicitor. We have an experienced panel of solicitors who have years of experience helping with different types of claims. If you pursue a claim with a solicitor, you may find the claims process easier as you will have the benefit of their guidance and support.
If you do want to make a claim, you should check you have time to do so. The time limit for personal injury claims is generally 3-years.
Ideally, you should contact a solicitor as soon as you're able to do so to prevent the claim from becoming statute-barred. There are some exceptions that apply to the time limit, however. Get in touch with us today to find out more.

What Are Partial Finger Amputations?
Partial finger amputations are where you lose part of your finger. There are two types of amputation that you could claim for. Surgical amputation is where part of your finger is removed during surgery, whereas traumatic amputation is where part of your finger is detached during an accident. In either case, partial finger amputation compensation might be possible if the amputation occurred due to somebody else's negligence.
 Before a solicitor takes your claim on, they'll check whether:
The defendant owed you a duty of care; and
A negligent act meant that duty was broken and caused an accident; and
Your finger was partially amputated as a direct result of the accident.
If you believe your case meets the criteria listed, why not call today? We'll check whether a personal injury solicitor from our panel might be able to represent you.
Causes Of A Partial Finger Amputation
Let's now look at some scenarios that might result in a partial finger amputation compensation claim. Don't be concerned if there's not one similar to yours; we could still help you begin your claim.
Scenarios that could lead to a partial finger amputation claim include:
Road traffic accident claims. An example here could be where a car pulls out at a junction but fails to spot a motorcyclist and hits them. If the rider lost part of their finger in the crash, they could make a claim.
Accident at work claims. Your employer must try to keep you safe at work. Therefore, if you cut part of your finger off due to a faulty piece of machinery, you could claim.
Slips, trips and falls. If you slipped on a wet floor without any warning signs, for example, a claim for your injuries might be possible. While it's unlikely that a slip or trip would traumatically amputate your finger, the digit could be badly crushed in the fall, meaning that it needs to be surgically amputated.
In order to claim, you need to show that you were owed a duty of care that was breached, leading to your injuries. Get in touch with our team today for more information on the duty of care that you're owed.
Medical Negligence Causing Partial Amputations
Where an NHS medical professional or one working privately causes you to lose part of your finger through negligence, you could claim compensation. The claim would usually be directed towards the healthcare provider or the NHS trust.
When you seek attention for a medical condition, you're entitled to a minimum standard of care from every healthcare provider who treats you. Sometimes, however, the care you receive is below this standard. This is referred to as negligence.
It's important to note that just because a doctor was negligent does not mean that you would be able to claim. You need to show that their negligence caused your condition to be worse than you would have if you'd gotten the right care.
For example, you may have experienced a severe finger fracture that was originally misdiagnosed and which needed to be amputated. If you would have required an amputation even if you'd been treated correctly initially, then you would not be able to claim.
Complications in medical care that could lead to a partial finger amputation include:
Delayed treatment meant your finger had to be amputated to save it.
The wrong finger was amputated during surgery.
However, it is important to note that just because complications arose in your treatment does not mean you would be able to claim. Sometimes, a doctor can be administering the right level of care, but problems arise anyway.
If you'd like to seek partial finger amputation compensation for injuries resulting from medical negligence, please call today. Our team will be happy to offer free legal advice.

Surgical Vs Traumatic Amputations
Before reading about this article, you might've thought about amputations being operations carried out under anaesthetic. These operations are performed to remove limbs to either stop a disease from spreading or to improve the patient's quality of life.
However, traumatic amputations are also possible. These happen when a body part is traumatically removed or severed from the body.
They can occur when a sharp object severs the limb. Examples include being cut by a saw in the workplace, where the hand goes through a glass window or the finger being trapped in a chopping device in manufacturing.
You cannot claim compensation if the amputation was not caused by the negligence of the party who had a responsibility to keep you safe. Therefore, you would need to show that a breach of duty of care caused the accident to happen.
The risks of traumatic amputations include shock, blood loss and infection. They should be treated as a medical emergency, as they can be potentially fatal.
To discuss whether we could help you claim partial finger amputation compensation, why not contact us today? One of our advisors could offer you free legal advice about the process of claiming.

Treating And Caring For Amputation Sites
When you undergo a surgical amputation, it could be for a number of reasons. For example, your finger may be gangrenous, infected or seriously damaged because of a crushing injury.
Your healthcare provider will be able to offer you advice and guidance about caring for the site of the amputation. For example, you might be given a compression garment to reduce swelling in the area.
You might also be offered a prosthetic. This isn't appropriate for everyone; however, if you do have a prosthetic finger fitted, your physiotherapist will make sure you know how to use it.
You might also experience psychiatric effects after you've had a finger amputated. Not only will you have to cope with the way you can use your hand changing, but you may find that your sense of body image has been affected, too.
However, there are a number of charities that can help you adjust to life after an amputation. And if you have experienced psychological injury following a finger amputation, a compensation claim could take this into account.

Liability In Partial Finger Amputation Compensation Cases
Whatever scenario led to your partial finger amputation, you'll need to prove that a third party was liable if you'd like to claim compensation. To do this, evidence will be required.
Where possible, there are some steps we'd suggest you take following the accident. These include:
Reporting the accident. If you've had an accident at work or in a public place, an accident report should be filled out to record what happened. This report could be used to help prove where and when the accident took place, as well as the circumstances that led to it.
Take photographs. Following your accident, it may be helpful to take a few pictures of the aftermath of the accident. These will hopefully show the root cause of the accident if taken before anything is moved or repaired.
Obtain video recordings. If the place where your accident was captured on camera, you can request a copy of the recording. This might include security or CCTV cameras as well as dashcam devices.
Obtain medical records. When you're treated at a hospital or minor injuries unit, the details of your injuries and treatment will be recorded. Later on, you could request a copy as evidence in your case.
Take details of witnesses. If someone else saw the accident happen, then a statement from them might support your claim.
An advisor from our team can go through your evidence with you to check the strength of your claim. Therefore, why not call today to see how we can help?

Calculating Partial Finger Amputation Compensation Payouts
It is now time to look at how much compensation might be awarded as partial finger amputation compensation. We have provided figures from the Judicial College in our table below, as this is what's used by lawyers and insurers to help value claims.
Settlement amounts can vary, so please use these figures for guidance. If your claim is accepted by a solicitor on our panel, they'll explain what you could claim for once they've assessed your case properly.
| Injury Type | Severity | Compensation | Details |
| --- | --- | --- | --- |
| Finger Injuries | Loss (l) | £3,710 to £7,390 | Loss of the terminal phalanx of the middle or ring fingers. |
| | Amputation (m) | £8,110 to £11,490 | Complete amputation of the little finger. |
| | Amputation (p) | Around £23,460 | Loss of the terminal phalanx of the middle and index fingers. |
| | Loss (q) | £33,330 to £51,460 | The total loss of the thumb. |
| Hand injuries | Loss (a) | £132,040 to £189,110 | Complete or effective loss of both hands. |
| | Loss (c) | £90,250 to £102,890 | Complete or effective loss of a single hand. |
When making a personal injury claim, you'll need a medical assessment. This will be performed independently by a medical expert. You'll usually be seen locally, so you don't need to worry about travelling too far. The expert will examine your injuries and talk with you about how they've affected you. Also, they'll refer to any medical notes available to them.
After your appointment, the specialist will list your injuries in a report and explain your prognosis. The report will then be sent to all parties concerned with your claim, and your claim will be valued based on the information included in it.

Further Types Of Damages Payable
The pain and suffering caused by your finger injury is just one thing you could be compensated for. Additionally, you could claim if you've lost any money because of your injuries.
This could cover any additional costs or expenses incurred. Importantly, you will need evidence of these costs, so remember to keep hold of receipts and similar documents.
This part of your claim is called special damages. Within it, you could claim for expenses like:
Medical costs. You might be able to claim for any prescription fees or the cost of private medical care if needed.
Care costs. If you needed to be looked after because your injuries prevented you from carrying out daily tasks, the cost of a carer could be claimed. This could be possible even if a loved one supported you.
Loss of earnings. Taking time off from work because of your injuries can become expensive. Therefore, the difference between your normal salary and what you received whilst recovering could be claimed back.
Travel expenses. There is a chance you had to pay for fuel, public transport or parking when visiting the hospital for your injuries. If that's the case, these costs might be claimed back.
Vehicle or home alterations. If changes to your home or vehicle will help you to cope with your injuries, you could claim the cost of any work back.
Future lost income. There are occasions where finger amputation injuries could affect your ability to work. Therefore, you might need to claim back the future loss of earnings based on age, job prospects and salary.
Please call today so that we can review what could be included in your claim. If your claim has a good chance of success, you could be appointed a personal injury lawyer from our panel.

No Win No Fee Partial Finger Amputation Compensation Payouts
You may have heard the phrase "No Win No Fee" before in the context of personal injury claims. But what exactly does this term mean?
A No Win No Fee agreement can also be referred to as a Conditional Fee Agreement (CFA). It outlines the criteria that need to be met before you'll need to pay your solicitor's fees.
The main point is you won't pay any at all if you do not win your claim. You also won't be asked to pay anything upfront or while your solicitor is working on your case. 
Should your case be settled in your favour, you'll pay a success fee. This means your solicitor will deduct an agreed percentage of your compensation. This percentage is capped legally, so you can't be overcharged.
Call today if you'd like to check whether you could use a No Win No Fee solicitor from our panel. You can also get in touch with any questions you have about claims of this nature.

Why Choose Our Injury Claims Team?
We want to help you achieve the compensation you deserve for your injuries. That's why our team provides free legal advice and guidance on the claims process.
If your case has strong enough grounds to be accepted by a solicitor on our panel, they will:
Collate evidence to support your claim.
Arrange for a local medical assessment.
File the claim with the defendant.
Deal with all queries so that you're not bombarded with legal or medical questions.
Update you regularly.
Answer any questions you might have.
Attempt to achieve the highest possible compensation amount possible.
All this work is carried out by your solicitor on a No Win No Fee basis. Please call today to learn more.

Get In Contact With Us
We would like to thank you for visiting this page about partial finger amputation compensation. If you would like free legal advice on starting your claim, you can:
Call our specialist advisors on 020 3870 4868.
Use our live chat service to discuss your claim online.
Claim online, and we'll arrange for a specialist to call you back.
Our service includes a telephone consultation to review your claim. There's no obligation to claim, and we'll provide free legal advice about your options.
If the claim appears suitable, we could refer you to a personal injury solicitor from our panel. Importantly, any accepted claim will be processed by your solicitor on a No Win No Fee basis.
Learn More
In this part of our guide, we have supplied some links to resources that could help you further if you decide to claim partial finger amputation compensation.
Cycle Accident Claims – Details on claiming for injuries sustained during a no-fault cycling accident.
Inadequate Safety Training – Advice on claiming if a workplace accident was caused by inadequate training.
Manual Handling Claims – Our guide about claiming for injuries caused by lifting and carrying in the workplace.
NHS Amputation Advice– A page on the NHS site with advice and guidance for those undergoing an amputation.
Broken Finger Advice – NHS guidance on what to do if you've broken your finger.
Motor Insurers Bureau – If you've suffered a partial finger amputation in an accident with an uninsured driver, the MIB could allow you to claim.

Surgical Never Event Statistics
The NHS has a list of Never Events. These are occurrences that should never happen if the correct procedures are followed.
One example of a never event is where the wrong limb is amputated; for example, the right arm should've been amputated, but the left one was in error.
Statistics relating to never events show that the most common kind of never event that occurred between April 2021 and March 2021 were wrong-site surgeries. We have created the below graph using these statistics to illustrate the frequency of these Never Events.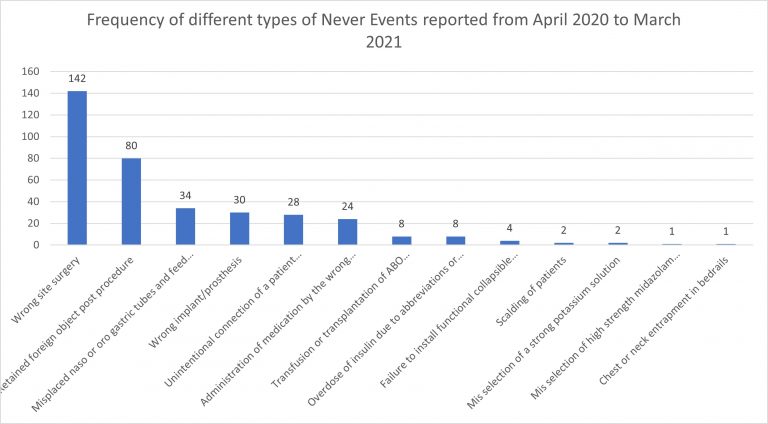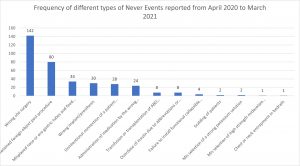 FAQs On Partial Finger Amputations
As we have reached the end of our guide, we've provided some answers to questions about partial finger amputation compensation for you here.
What is a partial traumatic amputation?
When an amputation is carried out as part of medical treatment, it is called a surgical amputation. However, if you lose part of a limb during an accident, this is referred to as traumatic amputation. Partial traumatic amputation is where the accident severs the limb but where it is not completely detached.
What is the most common mechanism of injury in traumatic amputation?
We don't have any statistics which show the most common cause of injuries in traumatic amputations. However, traumatic amputations can come about due to things like the finger being caught in a piece of moving machinery.
How long do I have to claim for partial finger amputations?
Any personal injury claim generally has a 3-year time limit. However, some exceptions apply. Speak to our team for more information.
Thanks for reading this article on partial finger amputation compensation claims.
Writer TR
Checked by NC