Pedestrian Accident Claims Against Road Users
By Emily Mochi. Last updated 26th April 2023. This guide focuses on pedestrian accident claims and whether or not you could be eligible to make a personal injury claim. Compensation could be owed to you if your injuries were caused by the negligence of another road user.
You may have heard of a new way of making a claim for road traffic accident injuries below the value of £5,000. It's a government portal called the Whiplash Reform Programme. Unfortunately, only drivers and their passengers over the age of 18 can make a claim in this way. This means that pedestrians are ineligible to claim through the Programme, as well as:
Cyclists

Sidecar passengers
However, this doesn't mean that you can't still make a personal injury claim if you're injured as a pedestrian. Potentially, you can. It just means you need to claim in the traditional way rather than through the Programme.
Get in touch with our advisors today. If we think you could be eligible to receive compensation for your injuries, then we could connect you with an expert personal injury solicitor from our panel. They all work on a No Win No Fee basis.
Read on for more information on pedestrian accident claims. You'll also find details on how to reach us below.
Select A Section
What Are Pedestrian Accident Claims?
As with all other road users, pedestrians have rules specific to them laid out in The Highway Code. By following these rules, the risk to themselves and others can be reduced.
If any road users choose not to obey the rules in The Highway Code, it can lead to accidents and sometimes injuries.
A pedestrian accident claim can arise when they are struck by a vehicle or motorbike; for example, if they are hit by a car at a junction. If the pedestrian is injured as a result, then they may be able to make a claim for compensation against the road user responsible.
Was I Owed A Duty Of Care?
Establishing that whoever injured you owed you a duty of care is important to do in all areas of personal injury law. This is true even when making pedestrian accident claims. 
All road users have an obligation to use the roads with standard care and skill, which helps reduce the risk of injury to themselves and others around them. This includes pedestrians. The duty of care can be observed by following the guidelines in The Highway Code. 
If these guidelines are not followed and an accident takes place as a result, then the duty of care is said to have been breached. 
Furthermore, if you are injured due to this breach, then you could be owed compensation. Accidents without injuries are not enough to make pedestrian accident claims. 
Who Could Be Liable?
The Highway Code has recently been updated. There are 8 changes that you need to know as a road user. There are a number of changes to guidelines for cyclists, but there are also updates regarding the right of way of pedestrians.
For example, the updates clarify a pedestrian's right of way when crossing the road at a junction. It's stated that when a pedestrian is crossing the road or is waiting to cross, then drivers should give way for them to do so. If the driver were not to follow these guidelines then they may collide with the pedestrian. This could result in injury. 
Additionally, cyclists are now asked now to pass those travelling on foot when riding in shared spaces. A similar incident could occur where a cyclist chooses to ignore this advice and hits a pedestrian.
It is also possible that a pedestrian could be partially at fault for their own injuries. For example, they may make no effort to check for traffic before running out into the road to cross and are hit by a moving vehicle. If this were the case, then you may still be able to claim. The compensation would be reduced accordingly. 
What Percentage Of Accidents Involve Pedestrians?
Government statistics regarding reported casualties in Great Britain for the year ending June 2021 show that the amount of pedestrian casualties has decreased on a month-by-month basis in recent years.
When the January and February figures for 2021 are measured up against their 2017-2019 counterparts, there was a decrease of 59% in both months. You can see the rest of the figures in the graph below.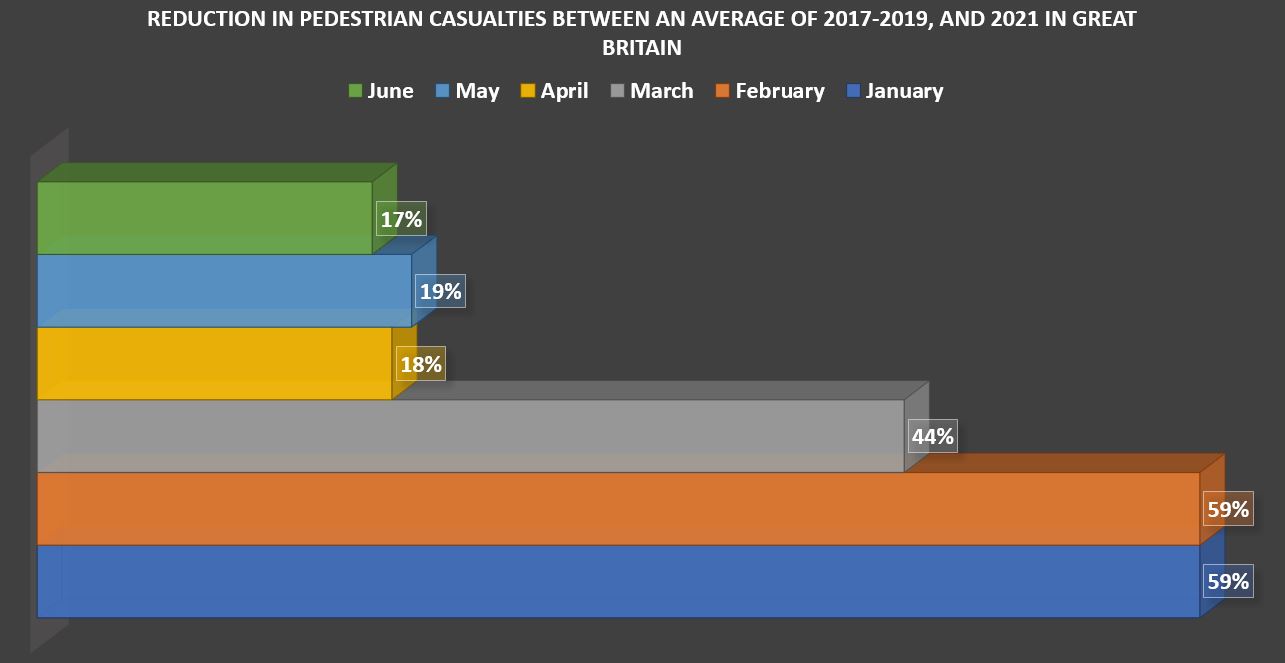 What Is The Time Limit For Pedestrian Claims Against A Driver?
With pedestrian claims, it is important to know the time limits involved. When making a pedestrian claim against a driver, the Limitation Act 1980 states that generally, you will have three years from the date of your accident to start legal proceedings when claiming for a personal injury.
However, there are exceptions to this time limit:
If a person was under eighteen, this can suspend the time limitation. It will resume on their eighteenth birthday, from which they are given three years to start their claim. 

An individual who lacks the mental capacity to claim can give grounds for the time limit to pause. If the person regains their mental capacity to put a claim forward, they will have three years from the day of their recovery. 
A suitable person can also make a claim on behalf of the injured individual. They would do this by applying to the courts to act as a litigation friend. 
For further advice on pedestrian claims, please continue to read our guide or get in contact with an advisor from our team for assistance. 
How Do Pedestrian Accident Claims Work?
In order to make a pedestrian accident claim, you could use the services of a solicitor. Though it's not necessary (you could claim alone), a legal professional's advice can be beneficial. You could take the steps below.
Notify The Defendant
You'll need to tell those who you believe to be responsible for your injuries that you intend to make a claim against them. You can do this by telling them directly, or by informing their insurance company. They should have an insurance policy in place by law in case circumstances such as these arise.
If you are the victim of a hit and run or the driver is uninsured, you can still make a claim. However, it would be made through the Motor Insurers' Bureau (MIB) instead. The personal injury solicitors on our panel can still help you make a claim through the MIB.
Gather Evidence
You will need to be able to prove that your accident injury was caused by the other side's negligence. You can do this by gathering as much quality evidence as possible. Examples include:
Photographs/CCTV footage
Witness contact details for statements at a later date
Independent medical assessment.

Our panel can organise this so that it is as close as possible to your house. This way, travel can be kept to a minimum.
Negotiating A Settlement
The defendant's insurance company may offer you a settlement for your injuries. We advise that you seek legal advice before accepting any offers. This is because some initial offers could be lower than what you could be awarded in the long run.
If an agreement cannot be reached, then the case would go to court to be settled. However, this is the last resort and often the least desirable option for either party. 

Because of this, only a very small percentage of personal injury claims such as pedestrian accident claims will ever reach the courtroom. 
Check Our Pedestrian Accident Claims Calculator And See What You Could Claim
The value of pedestrian accident claims varies on a case-by-case basis. There is no set fee that's awarded to all victims. This section focuses on how compensation can be calculated.
Personal injury compensation can often be made up of two main payments. They are known as general damages and special damages. General damages are awarded to account for your physical and mental injuries sustained because of the road traffic accident. 
Legal professionals may use a publication called the Judicial College Guidelines (JCG) to aid in valuing a general damages payment. We have included some of the potential amounts for various injuries in the table below. 
| Injury | Level of Severity | Description | Guidelines |
| --- | --- | --- | --- |
| Knee | Severe (a) (i) | The injury is serious, the joint is disrupted and there is gross ligamentous damage. | £69,730 to £96,210 |
| Head/brain | Moderate (c) (iii) | The ability to work and concentration/memory have been affected. Very limited dependence on others | £43,060 to £90,720 |
| Digestive system | Damage Resulting From Traumatic Injury (a) (i) | Damage of a severe nature with ongoing discomfort/pain. | £43,010 to £61,910 |
| Neck | Severe (a) (iii) | Fractures/dislocation or other damage of a severe nature such as ruptured tendons. | £45,470 to £55,990 |
| Deafness/Tinnitus | Total Loss of Hearing in One Ear (c) | Higher award if there are associated problems such as headaches or tinnitus. | £31,310 to £45,540 |
| Arm | Less Severe (c) | Disabilities have been significant but a large part of the recovery has taken place. | £19,200 to £39,170 |
| Post-traumatic stress disorder | Moderate (c) | Person will have almost completely recovered without any grossly disabling continuing issues. | £8,180 to £23,150 |
| Pelvis/hip | Lesser Injuries (c) (i) | Whilst the injury will have been significant, there will be little or no residual disability. | £3,950 to £12,590 |
| Back | Minor (c) (i) | Full recovery to only a nuisance level in around 2-5 years without the need for surgery. | £7,890 to £12,510 |
| Shoulder | Fracture of Clavicle (e) | The extent of the fracture and the symptoms and level of disability will be accounted for. | £5,150 to £12,240 |
Another figure that can be included in pedestrian accident claims is known as special damages. This amount is calculated in order to reimburse you for expenditures and financial losses that have occurred as a result of your injuries. You must have proof to back up the amounts you are claiming for. Receipts and payslips are a good example of this.
Some instances of what can be considered eligible special expenses are:
Damage to property
Medical expenses
Travel costs
Get in touch if you have any questions about how your compensation could be calculated.
Talk To A Road Accident Claims Solicitor
All of the solicitors on our panel work on a No Win No Fee basis. This is also known as a conditional fee agreement (CFA). What this means is that if you enlist their services, then you are not required to cover their fee if your claim is unsuccessful. This can reduce the financial risk of funding a solicitor's services.
You are only required to pay your lawyer if they assist you in winning your claim. Their fee is covered by a small percentage taken from your settlement amount. The percentage is kept low by law.
If funding legal help in this way sounds like it would benefit you, get in touch with our advisors today. Once we know more about your circumstances, the better guidance we will be able to offer. It's best not to hesitate as claims have a time limit placed on them under the Limitation Act 1980.
References
You'll find some links below to additional information that may be helpful.
Our general guide regarding road traffic accident claims.
Claims caused by faulty traffic lights.
How to claim as a cyclist who has been hit by a car.
Find out how to appoint a litigation friend to claim on your behalf in certain circumstances.
You have the right to request CCTV footage of yourself.
Advice from the NHS on the topic of broken bones.
We hope our guide on pedestrian accident claims has proved useful. If you have any more questions, get in touch.
Writer IB
Checked by HT