Birth Injury Compensation Calculator – How Much Could I Claim?
By Cat Way. Last Updated 27th June 2022. Welcome to our guide exploring how a birth injury caused by medical negligence might occur and how you may be able to make a claim. We've included an alternative to a birth injury compensation calculator to give you an idea of what injuries you could seek compensation for. 
When you seek medical attention, you have the right to receive a minimum standard of care. This is the case whether you're seeking care from the NHS or a private healthcare centre.
Medical negligence occurs when a medical professional fails to provide you with the correct level of care. If this substandard level of care directly causes you harm or a worsening of your condition, you could make a medical negligence claim.
Birth Injury Negligence Claims
Our guide will explore the process of making a medical negligence claim, including the evidence you'll need to support your case and the time limits that apply to starting a claim. 
Additionally, we understand that you may be making this claim on behalf of someone else. We'll look at the time limits and exceptions available to submit your claim further down in our guide. 
If you have any questions whilst reading, you can contact a member of our team, and they can provide further help and advice. 
Get In Touch With Our Team
Please get in touch if you have any questions; our advisors are available 24/7 and are happy to help with any queries you may have. There are a few ways you can contact us; see below for our details and choose the option that suits you best:
Phone number 020 3870 4868
Fill out our call-back request form, and an advisor will get back to you

Chat with an advisor via live chat at the bottom of the page
Alternatively, you can select a section below, and it will take you straight to the information you need. 
Services And Information
Everything You Need To Know About Birth Injury Compensation Calculators
In order to make a birth injury claim, you must be able to demonstrate that you suffered medical negligence. You need to prove that a medical professional provided substandard care that resulted in you or your baby suffering an avoidable injury or preventable harm. 
If you can prove that these things took place, you could make a claim to seek compensation. Our guide will look at different birth injuries you or your child may have suffered and examples of how a medical professional may have been liable.  
However, it's important to note that some complications that occur during medical treatment aren't caused by negligence. For instance, there are some risks that come with giving birth, such as tears and bruising, that can't be prevented. As these are likely to occur even if the doctor is acting within the standards of their profession, you would not be able to claim. 
Furthermore, there are instances where birth injuries could occur even if the doctor was providing a correct standard of care. For instance, a broken brachial plexus injury could occur while the doctor is administering the right care. If the doctor did everything they could to avoid this, and it happened anyway, then you would not be able to claim.
How is medical negligence determined?
To ascertain whether the harm caused was the result of medical negligence, the Bolam test will often be carried out. This is where a group of the doctor's peers (i.e. a panel of medical professionals who specialise in the same field) will be asked whether they believe the care administered was of the right standard. If they say that it wasn't, then negligence will have been said to occur.
For more information about making a claim for a birth injury, please read on. Or you can call a member of our team today for free legal advice.
Tips On Proving A Claim For Traumatic Birth Compensation
An important part of making a claim for traumatic birth compensation is being able to prove that the harm suffered was caused by medical negligence. If you choose to hire legal representation, your solicitor can help give more clarity on what evidence you might need to help strengthen your claim.
Some examples of evidence that could be used to help prove a claim for traumatic birth compensation include:
Medical records: Medical records such as your patient chart can provide some insight into the treatment you received. This can include medications you were prescribed or actions taken during your care that could have resulted in the birth injury.
CCTV: Some hospitals are outfitted with CCTV. If you believe that negligent activity was caught on camera, you may be able to request the footage.
Photographs: Taking photographs of the injury creates a visual record of the harm you or your child may have suffered and may help to strengthen your claim.
Witness statements: A legal professional can take the statements of anyone who might have witnessed the suspected negligence. For example, if a spouse or partner was in the delivery room, or any other medical professionals attending to your case, they could potentially corroborate your version of events.
To learn more about how a solicitor from our panel could help you strengthen your case, contact our team of advisors today. Alternatively, keep reading to learn more about why there is no average birth injury settlement in the UK, and to find out how birth injuries can occur.
What Is A Birth Injury Compensation Calculator?
A birth injury compensation calculator is a way to work out how much your claim is worth and what you could claim for. You could be compensated for both physical and psychological trauma after you were provided with an unacceptable standard of care.  
There are various types of ways a doctor could provide substandard care, such as:
Failing to spot early signs of prenatal conditions in both mother and child, meaning that proper monitoring is not carried out during childbirth and an injury occurs as a result

Prescribing the wrong medication or wrong dosage of medication 

Poor aftercare resulting in infections developing in mother and baby
Each of these could have effects on the health of both you and your baby, whether physical or psychological. If this is the case for you, you could seek compensation. 
Get in touch with our team today for more information on making a birth injury claim. Or you can read on to find out more information about birth injuries. 
What Is The Most Common Type Of Birth Injury?
There are various types of injuries that could affect both mothers and babies. Some of these injuries could cause severe, long-lasting effects.  
The following sections will explore the injuries you or your baby could experience during childbirth. 
Birth injuries to mothers
There are various ways a mother could suffer an avoidable injury during childbirth or during pregnancy. The following are examples of  birth injuries affecting the mother:
A doctor failing to spot signs of pre-eclampsia and treat the mother accordingly. This could lead to complications that cause fatal brain damage in the mother 
Your cesarean section goes wrong after a mistake by the doctor causes them to perforate your bowels  

A midwife failing to ensure the placenta was delivered resulting in severe infection and blood loss

Anaesthetic errors causing the mother's blood pressure to drop very low 
As we've already mentioned, not all incidents of complications during childbirth will be the result of medical negligence. But if you think that your injury, illness or worsening of your condition happened because you weren't provided with the correct care, you may be able to claim. 
Birth injuries to children
As well as birth injuries to mothers, there are various ways a baby could be injured during childbirth. For instance:
Brain damage that resulted from the baby's oxygen levels dropping

Cerebral palsy caused by bleeding on the baby's brain not being spotted

A brachial plexus injury causing paralysis in the arm
Sometimes, your baby may be injured in one of the ways listed above, even if the correct standard of care was administered. But sometimes, it can be the result of medical negligence.
If you would like to know more about the process of claiming, speak to our team today. They can help you understand the next steps you need to take to seek compensation.
Erb's, Cerebral And Klumpke's Palsy Injuries
Erb's and Klumpke's palsy both involve damage to the brachial plexus. This is a network of nerves in the shoulder that aid in sending signals from the spinal cord to the arms and hands. Cerebral palsy is caused by a problem in the brain and is a long term condition. 
The following section aims to provide information on the different types of palsy injuries that could occur before, during or after birth. Additionally, we'll explore the symptoms of each one and the impact it could have on a child's life.
What is Klumpke's palsy?
Klumpke's palsy is an injury caused during birth where the lower brachial plexus becomes paralysed.  Unlike many forms of brachial plexus injury, which affect the shoulder and upper arm, Klumpke's palsy affects muscles in the hand as well as the wrist, fingers and forearm. 
What is Erb's Palsy?
Erb's palsy is where the upper arm becomes paralysed as the result of a brachial plexus injury. It often happens during childbirth, and children who suffer from it have difficulty moving the affected arm. 
A brachial plexus injury leading to Erb's palsy might occur during a difficult delivery. These might include deliveries of large babies or instances where the child is breech. If the baby's neck is stretched, this could also stretch the nerves, which could cause injury.
Not all instances of brachial plexus injury will happen as the result of negligence. For instance, the birth could become complicated, meaning that the midwife or doctor has to exert force to pull the baby from the birth canal to prevent further harm. This could cause damage to the brachial plexus but would still be within the correct standard of care that the doctor is expected to administer.
Children with Erb's palsy can make a full recovery if treated correctly. They may be offered physiotherapy by a doctor as part of a treatment.
What is Cerebral Palsy?
Cerebral Palsy affect movement and coordination. They are life-long, and there is no cure. It's often caused by a problem with the brain and can develop at any stage of pregnancy, as well as during or after birth. 
The condition could be caused by:
Bleeding in the baby's brain or reduced blood or oxygen supply

An infection that is left untreated in the mother or baby

The baby not getting enough oxygen during a difficult childbirth
Unfortunately, the condition is lifelong and can affect the children's involvement in different activities. The charity Scope provides helpful information and support for families and children dealing with the condition.
Birth Injury And Trauma Statistics
According to the Birth Trauma Association, 30,000 women a year experience birth trauma in the UK.
Birth trauma might include post-traumatic stress disorder (PTSD) caused by a difficult birth or things going differently as expected, such as the need for an emergency c-section. Additionally, it might include injuries to you and your baby that occur during childbirth. If these injuries were caused by the negligence of those who are treating you, you could be entitled to make a claim. 
Furthermore, according to research conducted by the Royal College of Obstetricians and Gynaecologists, 1,123 of the nearly 700,000 term babies born in the UK in 2016 died or suffered severe brain injuries before or during childbirth.
The graph below highlights the nature of the injuries they suffered. It shows that the most common form of harm was a severe head injury.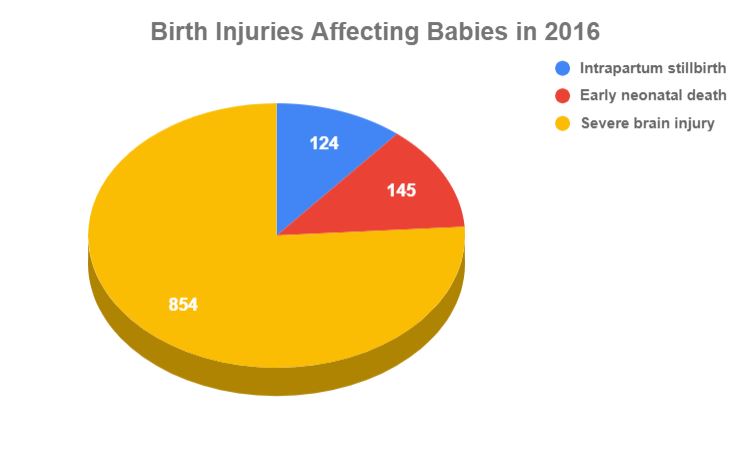 The research also found that 71% of babies might have had a different outcome if they had received different care. For instance, some of the failings of medical professionals included:
Not identifying or acting on relevant risk factors

Issues relating to monitoring fetal wellbeing with Cardiotocography (CTG) and blood sampling 

Issues with education or training 
Birth Injury Compensation Calculator
Provided that you have a valid claim, you could begin the process of seeking compensation for the harm you've suffered. This might either be physical or psychological harm. You could also be compensated for any financial loss you have experienced as a result of your injuries.
The first part of your claim is known as general damages. General damages will compensate you for the physical or psychological harm you have experienced. They will take into consideration multiple factors to determine how much compensation you receive for said injuries, for instance, the severity of the injury and how badly it's impacted your quality of life. The amount of time it will take you to recover will also be taken into consideration.
Additionally, some claims also include special damages which compensate you for any financial losses. This could include:
Loss of earnings: If the injury has left you unable to work for a long period of time or will prevent you from returning to work in the future.
Care costs: You could claim the cost of having a professional carer to look after you. You may also be able to claim for the cost of care for any dependants, for example, childcare.
Medical costs: For any specialist treatment such as physiotherapy or counselling that you cannot get for free on the NHS.
You'll need to provide evidence of any of the costs you have incurred as a result of your injuries. For instance, you could provide receipts, bills and invoices to show the financial losses you have incurred.
How much is my birth injury claim worth?
We have created a table listing different injuries you or your child may have suffered during birth. The figures in the table have been provided by the Judicial College who produce a document that is often used to help value claims.
When you make a claim, you will often be invited to a medical assessment with an independent expert. This meeting will allow them to compile a report detailing your injuries and their prognosis. This report will be used with the help of the Judicial College Guidelines to help value your claim.
As the figures in the table are often different to the compensation settlements awarded, you should only use them as examples.
| Injury type | Additional details | Compensation figures |
| --- | --- | --- |
| Tetraplelgia/ Quadriplegia | A few factors will be considered for this injury including the level of pain, life expectancy and sensory impact. | £304,630 to £379,100 |
| Paraplegia | Various factors will be considered for this injury including the level of pain, the impact on a person's independence, the psychological affect and life expectancy. | £205,580 to £266,740 |
| Brain damage | Very severe brain damage that results in the person needing full-time care for conditions such as cerebral palsy. | £264,650 to £379,100 |
| Brain damage | Moderate brain damage (iii) where the person's memory and concentration is affected and there may be a small risk of the person developing epilepsy. | £40,410 to £85,150 |
| Shoulder | Severe shoulder injury that involves damage to the brachial plexus and results in a permanent disability. | £18,020 to £45,070 |
| Shoulder | Serious shoulder injury where the lower part of the brachial plexus is damaged. | £11,980 to £18,020 |
| Female Reproductive System | Where an injury has resulted in infertility alongside depression, anxiety, pain and scarring. | £107,810 to £158,970 |
It's important to note that when you are claiming for harm caused by medical negligence, you will only receive compensation for the additional pain and suffering caused by the negligence and not the pain overall. For instance, it's likely that during childbirth, you would have experienced some pain, bruising etc. The compensation you receive will only reflect the harm caused to you by the negligence and not your condition overall.
For more information on how compensation may be calculated, you can speak to a member of our team, and they can help.
What Are The Long-Term Effects Of Birth Injuries?
The psychological effects of some birth injuries could last a long time, and in some cases, may even be permanent. These include things like:
Post-natal depression

Post-traumatic stress disorder 
Additionally, you could have suffered a severe injury that results in long term physical effects that mean you're unable to carry out daily tasks. For instance, you may not be able to cook or clean for yourself after experiencing nerve damage as a result of negligence in childbirth.
Furthermore, there could be a severe impact on your child depending on the condition they've suffered. For instance, cerebral palsy affects physical development and can result in learning difficulties.
Get in touch with our team today for free legal advice about birth injury claims. If they feel your claim has a good chance of success, they could connect you with a lawyer from our panel to represent you.
What Duty Of Care Do Midwives, Nurses And Doctors Have?
Nurses and midwives must be part of the Nurses and Midwifery Council (NMC) register in order to practice in the UK. They set out the professional standards of practice and behaviour for nurses, midwives and nursing associates.
The NMC's code of conduct must be upheld by all registered nurses and midwives when they're providing direct care to individuals. 
The common themes that run throughout the code include:
Prioritising people. This means putting patients needs and interests first, making their care and safety the main concern. 

Practise effectively. Nurses and midwives should assess the needs of patients, deliver or advise on treatment without unreasonable delay to the best of abilities or act on the available evidence.

Preserve safety by working within the limits of competence to ensure patient and public safety isn't put at risk.

Promote professionalism and trust, uphold the reputation of the profession and be committed to the standards of practice and behaviour.
Failing to adhere to this duty of care can result in avoidable harm occurring to the mother or baby during birth. For more information on claiming for injuries caused by a midwife, nurse or doctor breaching their duty of care, you can contact our team.
Who Could Claim For A Birth Injury?
As a mother, you could claim compensation for the injuries you've suffered yourself, or you could claim on behalf of your baby for the harm they suffered. You would need to act as a litigation friend to claim for your child. 
Additionally, someone could claim on behalf of the mother and baby if they suffered fatal birth injuries. Similarly, someone could act as a litigation friend if the mother lacks the mental capacity to pursue her own claim.  
Speak to one of our advisors about getting started today. Alternatively, see below for more information on the process of starting a claim. 
Is There A Time Limit For A Birth Injury Claim?
For medical negligence claims, you generally have three years to put forward your case. The three years can start from the date of the incident or the date you became aware that your injuries or condition were caused by negligence. The latter is called the "date of knowledge".
In other situations, these time limits may vary. For example, in child accident claims, anyone under the age of 18 will have three years starting from the date they turn 18. While they're still underage, a litigation friend can claim on their behalf.
If someone doesn't have the mental capacity to submit the claim on their own behalf, a litigation friend could do it for them. They have three years from a recovery date to submit the claim themselves. If they don't recover, the three years will be paused indefinitely.
For further details on the time limits for medical negligence claims, call our team on the number at the top of the page.
I Suffered A Birth Injury Or Trauma, What Should I Do?
When making a medical negligence compensation claim, there are a number of things that you can do to ensure that your case is as strong as possible. It's important that you seek medical evidence for the harm you were caused. This means that you will get the treatment you need, and there will be evidence of your injuries on record.
You should also collect evidence to show how you've been affected financially by the situation. For instance, you could show payslips that prove you've lost out on earnings or invoices from childcare costs.
It can help to seek legal representation from an expert medical negligence solicitor who has experience handling similar claims. See below for how our team could put you in touch with a solicitor from our panel.
Birth Injury Compensation Calculator – No Win No Fee Claims 
When you make a compensation claim, you can do so on a No Win No Fee basis. This means that:
Your solicitor won't ask you for any upfront fees, and you won't pay anything while they work on your claim.
If your claim is unsuccessful, you won't be asked to pay them anything.
In the event of a successful claim, a success fee will be deducted from your compensation by your solicitor.
Speak to our team, and they can determine whether your claim is valid, and, if it is, a solicitor from our panel can be appointed to your case.
Get in touch using the following details:
By calling 020 3870 4868
Fill out our call-back request form, and an advisor will get back to you

Chat with an advisor via live chat at the bottom of the page
Useful Pages
The Nurses and Midwifery Council could provide more information on determining the duty of care you may have been owed. 
The Erb's Palsy Group has useful information for families and children dealing with the condition.
Visit the Royal College of Obstetricians and Gynaecologists for further statistics on birth injuries.
See our guide for more information on medical negligence claims.
For details on how to report a doctor for medical negligence, our guide could help.
If you need advice on medical negligence claims against the NHS, visit our guide.
FAQs About Birth Injury Compensation Calculators
The following section will provide answers to commonly asked questions about different stages of making a medical negligence claim for a birth injury. 
How is injury compensation calculated?
Compensation for injuries may be calculated using medical evidence in the form of doctors records and an additional assessment. Also, the Judicial College Guidelines may be referred to. 
What is the average payout for medical negligence UK?
As each case is so different, it can be difficult to give an average estimate for negligence claims. However, our injury table above could provide some example figures.
How do you prove birth injury?
In order to prove whether your birth injury was caused by medical negligence, you'll need to obtain forms of evidence—for instance, medical records or documents. 
Thank you for reading our birth injury compensation calculator guide. We hope you found it helpful.
Writer NC
Checked by AC