What Are Your Rights After An Allergic Reaction At KFC?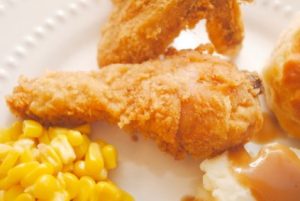 Welcome to our guide exploring what you could do following an allergic reaction at KFC.
People who suffer from a food allergy manage their condition by avoiding food that triggers an allergic reaction. Restaurants help allergy sufferers make informed decisions by providing diners with food allergen information. However, there are circumstances where you could suffer an allergic reaction due to the restaurant's negligence.
If you suffered an allergic reaction because of a restaurant's negligence, you could be eligible to make a food allergy claim.
What can UK Law offer you?
A free no-obligation personal injury claims consultation with our advisors.
The services of our panel of lawyers if you have a valid, favourable claim.
The option to have your claim handled on a No Win No Fee basis.
Get In Touch With Our Team
If you have proof of a justifiable claim, contact UK Law today. An advisor will be happy to speak to you in-depth about your circumstances. And if we can see that you have a favourable case, our panel of expert solicitors could start working on your case.
Contact us using the details below to get started:
Call us on 020 3870 4868
Please fill out our online claim form for a callback when it suits you
Chat with an advisor right now, using the Live Support widget on your screen.
Services And Information
What Is An Allergic Reaction At KFC?
Kentucky Fried Chicken (KFC) is a popular chain of American fast-food restaurants. KFC operates over 900 branches in the UK and employs around 24,000 people. The restaurants allow customers to eat in, purchase takeaway, and some offer a drive-through option.
An allergic reaction can happen for different reasons. If a person is aware of their own allergy, they are responsible for taking measures to ensure they don't suffer a reaction. For example, they should check the allergen information that KFC provides.
However, as careful as the customer might be, there could be an incident where a restaurant is responsible for their allergic reaction. If the restaurant neglectfully caused an allergic reaction, it could be held liable for any injuries caused.
Possible Causes Of Allergic Reactions At KFC
A food allergy is a medical condition of the immune system. Food allergies can happen if the immune system mistakes an otherwise harmless food substance as a threat. When this food is consumed, the immune system releases chemicals into the body to fight the threat.
Any allergic reaction at a restaurant could happen because
The restaurant provided incorrect allergen information on its menu.
The server may agree to have an allergen removed from a meal, but fail to do so.
There may be incorrect information regarding cross-contamination.
The above could be seen as negligence on the part of the restaurant. If you experience an allergic reaction without being aware of having an allergy, the restaurant wouldn't be held liable.
Additionally, if you were aware you had an allergy but neglected to check the allergen menu or seek advice from the appropriate source, the restaurant may not be liable for your suffering.
Common Symptoms Of An Allergic Reaction
There are various symptoms of an allergic reaction. The most common kind of allergic reaction is an IgE-mediated food allergy. It can cause the below symptoms.
A condition called angioedema causes the face, throat, mouth (or other parts of the body) to become swollen
Urticaria is also known as hives. This is a raised, red rash that feels itchy
Dizziness
Vomiting
Abdominal pain
Finding it hard to swallow
What is the most serious allergic reaction to food?
Unfortunately, some people experience a life-threatening type of allergic reaction called anaphylaxis. This is also known as anaphylactic shock. Anaphylaxis is a life-threatening condition and should be treated as a medical emergency. The NHS advises to call an ambulance immediately and apply first aid if someone is exhibiting the signs of anaphylaxis.
A person suffering from the symptoms of anaphylaxis may experience the following:
Firstly, their breathing may become more shallow.
Secondly, their heart rate may increase.
Thirdly, their skin may feel clammy to the touch.
In addition, the person may experience feelings of confusion or disorientation.
What's more, the person may experience dizziness or faintness. After that, they may collapse and lose consciousness.
Individuals who experience an anaphylactic reaction may slip into a coma. Anaphylaxis may also prove fatal.
Your Right To Be Informed Of A Potential Allergen
Laws regarding food safety require food businesses to provide allergen information. Businesses that sell or serve non-prepacked food should provide information if meals contain any of the main 14 allergy types.
The 14 main allergens are:
Nuts
Milk
Soya
Molluscs
Cereals with gluten
Fish
Mustard
Crustaceans
Eggs
Peanuts
Sesame seeds
Celery
Sulphur dioxide (sulphites)
Lupin
A restaurant could provide you with this information in an online allergen menu. Food businesses must provide allergen information in writing if they sell food directly to customers.
If you ask the server for allergen information, they should be able to advise you or let you know where you can find the written information. Whatever the circumstances, the food serving business needs to make allergen information accessible for loose foods.
We consider the definition of loose foods and prepacked foods below.
What Allergy Warning Should A Fast Food Eatery Provide?
Loose foods are any foods that aren't prepacked. Most restaurants serve mainly loose foods. The menu may disclose what allergens are contained in the meals. So long as the restaurant has made the allergen information easily accessible (and correct) for these meals, they would be acting accordingly.
Prepacked foods are packed at a different site from the one where they're sold. For prepacked foods, allergen information should be listed in the ingredients. The 14 allergens in the section above should be clearly marked. For example, they might be listed in bold font.
Prepacked for direct sale foods are packed on the same site they're sold from. From 1st October 2021, these foods require an ingredient list with allergens clearly labelled. Before October 1st 2021, the allergen information needed to be accessible, but not labelled on the product.
What happens if a restaurant fails to provide adequate written information for food allergy sufferers? Well, if you suffer an allergic reaction because an allergen menu (for example) didn't disclose that there was a risk of cross-contamination or that there was an allergen in the food, you could claim.
Calculate Compensation For An Allergic Reaction At KFC
You can use the compensation table below to estimate how much you may be able to claim for allergic reaction injuries caused by someone else's negligence. The table contains general damages but does not include special damages.
General damages compensate you for physical and psychological injury. Special damages compensate for financial loss.
The compensation amounts included in this table are based on guidelines by the Judicial College. These guidelines may be used by solicitors to value injuries.
| Injury | Severity | Description | Amount |
| --- | --- | --- | --- |
| Illness/Damage caused by Non-traumatic Injury | (i) Severe | Causing serious pain, diarrhea, vomiting and fever (for example). Claimant would be hospitalised for a few days or weeks and would have continuing symptoms that affect enjoyment of life. | £36,060 to £49,270 |
| Illness/Damage caused by Non-traumatic Injury | (ii) Serious | Short-lived but serious reaction with symptoms lasting between 2 and 4 weeks. | £8,950 to £18,020 |
| Illness/Damage caused by Non-traumatic Injury | (iii) Significant | Symptoms may last for weeks but a complete recovery would be made within 2 years. Hospital admission would be required for days. | £3,710 to £8,950 |
| Illness/Damage caused by Non-traumatic Injury | (iv) Varying degrees of pain | Pain would be disabling and may continue for a few days or weeks. | Up to £3,710 |
| Mental Anguish | (E) Fear of impending death | A reduction of life or fear of impending death. | £4,380 |
Of course, every compensation claim is different. Our advisors can accurately estimate how much compensation you could be owed based on your individual circumstances. Call us today to see whether you could claim allergic reaction compensation.
What Special Damages Can You Claim?
Compensation payouts can include general damages and special damages. General damages is one head of claim. It compensates you for physical and mental suffering including loss of amenity. The other head of claim is special damages. This compensates you for any financial loss you've experienced due to your injuries.
Here are some examples of special damages you may be able to claim:
Medical expenses
Travel expenses (to and from the hospital for example)
Care expenses
Reimbursement for loss of earnings if you took unpaid leave to recover, for example
You could claim special damages providing the financial losses are caused by your injuries and providing you have evidence. Evidence would include bills, receipts and travel tickets, for example.
The Law And Allergic Reactions In Fast Food Chains
The Food Safety Act 1990 is the framework for other food safety legislation in England, Wales and Scotland.
Section 14
Section 14 requires food to be of the nature or substance that the consumer asks for. For example, you may ask for an allergen to be removed and the server may say they can do so but fail to.
Section 15
Section 15 focuses on the false description or presentation of food. Food should be as advertised. Food that is marketed in or presented in a manner that misleads consumers is not allowed. Therefore, food cannot be marketed as gluten-free if it contains gluten.
For example, if an ingredient list or allergen menu doesn't list one of the 14 allergens (even though it's knowingly contained in the meal), the description could be false.
What Are Catering Establishments?
A catering establishment is a business that serves food to paying customers, such as a restaurant, cafe, or college cafeteria. A catering establishment can also be a food business that offers eat-in and takeaway options.
Catering establishments might sell loose foods, prepacked foods or prepacked for direct sale foods. They would need to follow the relevant rules regarding food safety.
Check You Are Eligible To Make An Allergic Reaction Claim
You could claim compensation for an allergic reaction if your injuries were caused by negligence on the part of the business. This could include the following causes of allergic reactions:
The restaurant provided the wrong allergen information on their menu or food packaging, misinforming you.
You requested an allergenic ingredient to be removed, and the business agreed to do it. However, after that, they failed to remove the ingredient.
You informed your server that you suffer from a food allergy, and your server misinforms you that there are no allergens in your meal.
There was no warning of cross-contamination available, despite your efforts to find it. However, the meal you ate was cross-contaminated with an allergen.
Call UK Law today if you believe you are eligible to claim compensation. Our skilled panel of lawyers could handle your case if they can see that you have rightful grounds to make an allergy claim.
Statutory Rights Under The Consumer Rights Act 2015
The Consumer Rights Act 2015 states that all goods that consumers purchase should meet the following criteria:
Firstly, the items should be fit-for-purpose
Secondly, the items should be as described
And finally, the items should be of satisfactory quality.
A customer could suffer an allergic reaction if the food contains ingredients that are not supposed to be present according to the available information. Therefore, you may be eligible to claim compensation if a restaurant has breached the Consumer Rights Act 2015, causing you injury.
Fast Food Allergic Reaction Claim Time Limits
There is a 3-year personal injury claim time limit. This limitation begins the day of the incident or the date you gained knowledge that negligence at least contributed to your allergic reaction. We recommend you contact UK Law right away to avoid falling outside of the time limit.
Are there any exceptions to this rule? Yes, children who have suffered an allergic reaction at a restaurant due to negligence cannot claim compensation for themselves. Therefore, a child who has been injured at a restaurant due to negligence could wait until their 18th birthday. Then they would have three years to begin their compensation claim.
Alternatively, before their 18th birthday, certain people can act as a litigation friend and claim compensation on the child's behalf.
Similarly, a litigation friend could claim compensation on behalf of an individual who does not have the mental capacity to claim. If the person regains mental capacity, the 3-year time limit would start from when they begin their recovery and regain capacity.
I Had An Allergic Reaction At KFC; What Should I Do?
You would need to collect evidence to support your compensation claim if you have suffered an allergic reaction due to a fast-food restaurant's negligence. Though you may not have been able to do all of the below, any of them could help your case:
Save the item of food that caused your allergic reaction if you have not finished eating it.
Take a photograph of the menu if the allergen information is wrong.
Speak to eyewitnesses and ask if you can have their names and contact details. These people may be able to provide a witness statement to support you.
Ask for any CCTV tapes in use at the restaurant, which could be used as evidence.
Go to a doctor or hospital so that a doctor can diagnose your injuries. Your medical records could be used as evidence to support your claim.
UK Law could offer you free legal advice about claiming compensation for an allergic reaction. What's more, we could connect you with our panel of lawyers to start working on your claim if we can see that you are owed compensation.
Claims For An Allergic Reaction At KFC On A No Win No Fee Basis
Our panel of solicitors offer their services on a No Win No Fee basis.
What does this mean?
With A No Win No Fee claim, you don't pay your solicitors fees upfront. Instead, you sign a Conditional Fee Agreement. (This is the formal term for a No Win No Fee agreement.)
You would agree to pay a success fee if you win your claim. This means that your solicitor won't charge you a success fee in the event that your claim is not successful. If that happens, they won't require you to pay any solicitor fees.
Many claimants prefer to use a No Win No Fee agreement as the financial risk of funding a solicitor is lower. What's more, it could be easier to pay as you don't have to pay the solicitor's fee upfront. There are also no ongoing solicitor fees. You'd only pay them if the claim wins and it only after your compensation comes through.
To see if you could make a No Win No Fee agreement, contact us today to speak to an advisor.
You can contact us using the details below.
Call our claims helpline on 020 3870 4868
Fill out our online claim form to request a callback at a time best for you
Alternatively, please type a question into our Live Support widget to speak to an advisor
Related Claims Guides
We hope you have found this guide on what could happen after an allergic reaction at KFC helpful. You might also want to read more about personal injury claims in the following guides.
External Guides
An NHS guide to understanding your food allergy
A Food Standards Agency guide to food allergy and intolerance
Government advice on Natasha's Law
Thank you for reading our guide exploring what could happen after an allergic reaction at KFC.
Writer AL
Checked by HT